Today, I'll show you how to paint wicker furniture. You can easily update wicker, rattan or woven furniture with a fresh coat of paint so it looks new again.
Follow these same steps for painting outdoor woven furniture too! I'll cover what paint to use on wicker furniture and how to get a perfect paint job on wicker and woven furniture and cover a few furniture painting tips too.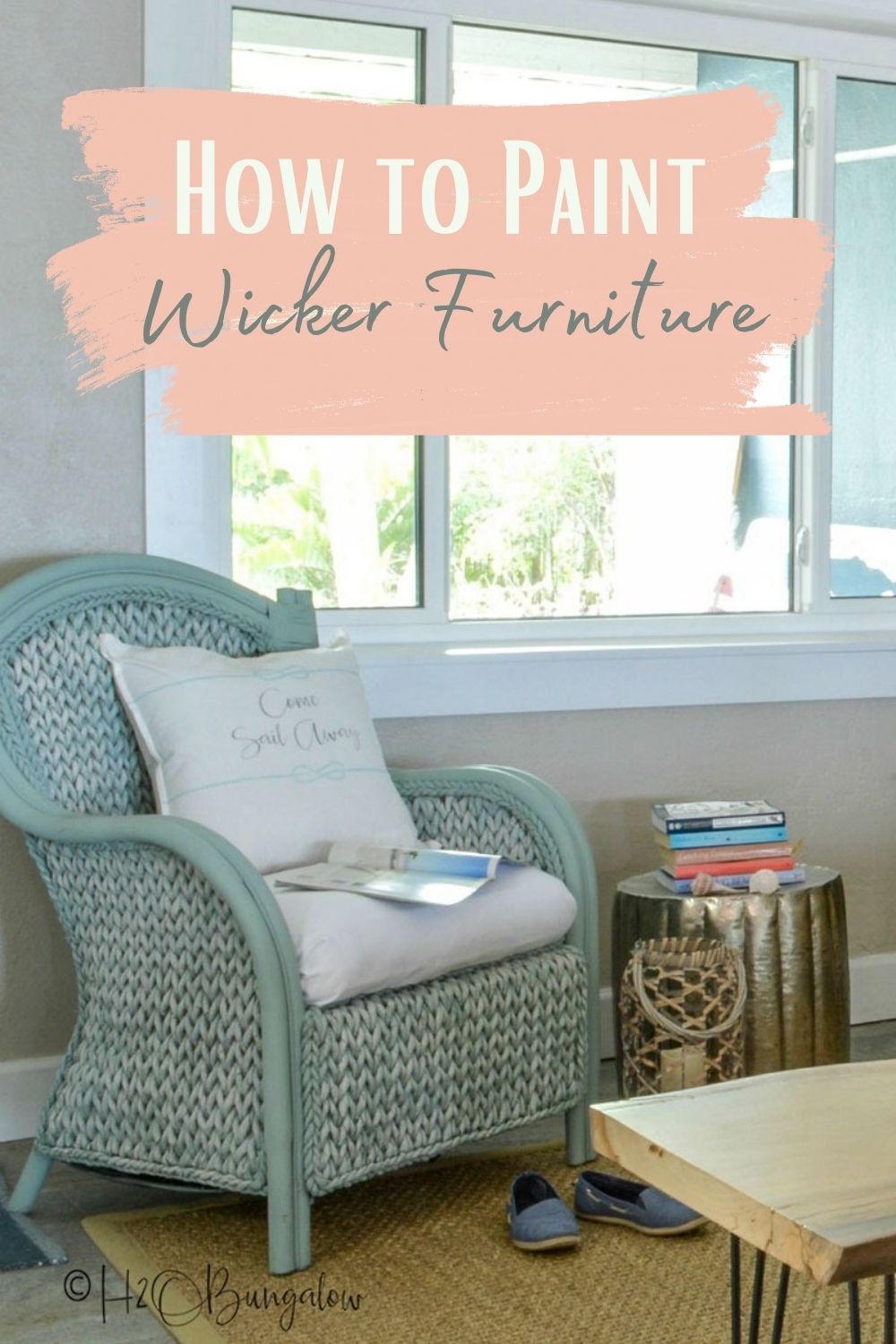 This post was sponsored by HomeRight. Those of you who follow my blog know how much I love HomeRight products and how often I use them. Click here to see more HomeRight paint projects I've done!
What is the best way to paint wicker furniture?
You can paint wood wicker and woven resin furniture one of three ways:
Use a paintbrush – The least expensive method but not recommended! Getting paint into all the nooks and crannies of wicker furniture takes forever, it's hard to get an even coat and almost impossible to get deep inside the wicker strands of wood. Plus, you'll ruin your good paintbrush by pouncing it into the woven wicker while trying to work in the paint.
Spray Paint – This will work on small projects. The downside is that a good quality spray paint is expensive. Spray paint is usually thin, can be hard to apply evenly, has limited colors, and well…looks like spray paint. All of those items affect the quality of how your painted furniture looks in the end.
Paint Sprayer – By far the best choice for painting any kind of wood or resin woven, indoor or outdoor wicker furniture. A paint sprayer gives the most consistent smooth overall finish by far, can be used with a wide variety of paints, and is the fastest for large projects.
Bottom line is, why go to all of the trouble and expense of a DIY wicker furniture paint job if it won't look amazing in the end?
I used about 3 cups of paint when I painted this wicker chair. Using the paint sprayer I was able to get a factory-quality finish with no dark wood showing through anywhere. Oh! It's a smooth finish as well, there isn't one drip or brush mark!
Update: Would I paint my wicker chair again? In a heartbeat! It's been about 3-4 years since I finished this DIY project and it still looks as good as the day I painted it!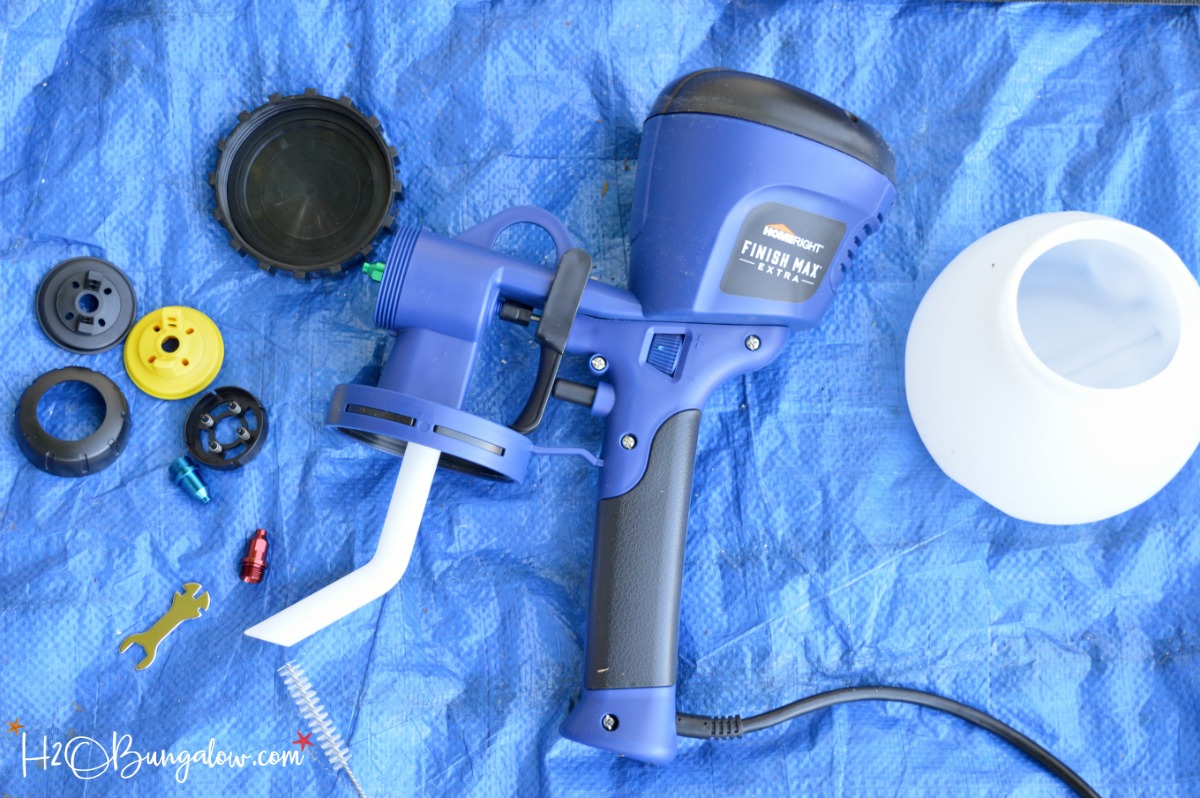 This post contains affiliate links, as an Amazon affiliate I earn a fee from qualifying purchases at no additional cost to you. Thank you for supporting H2OBungalow!
How To Paint Wicker Furniture
Supplies needed to paint wicker furniture, rattan or woven furniture:
I made a quick 3 minute video that shows how to paint wicker furniture. I think seeing the steps shows how easy it was to use the Finish Max Extra paint sprayer. It was almost 95 degrees the day I did this so if look hot, I was! It's the challenge of having due dates and being a DIY blogger.
Step 1. Repair and clean the wicker furniture before painting.
If you need to make any repairs to your woven or rattan furniture do it before moving on to the next step.
You can prepare your furniture for painting, clean and degloss it all at the same time. Remove loose dust and dirt by vacuuming if needed first. You may need to use a brush and a hose to rinse if there's a lot of dust build-up inside of the woven wood.
Next, wipe your chair or item well with Simple Green and a clean cloth. Simple Green will clean and degloss your surface at the same time. Deglossing is a must when painting and gives the new paint a better surface to adhere to and prevent flaking.
Allow your furniture to dry thoroughly before moving on to the next step.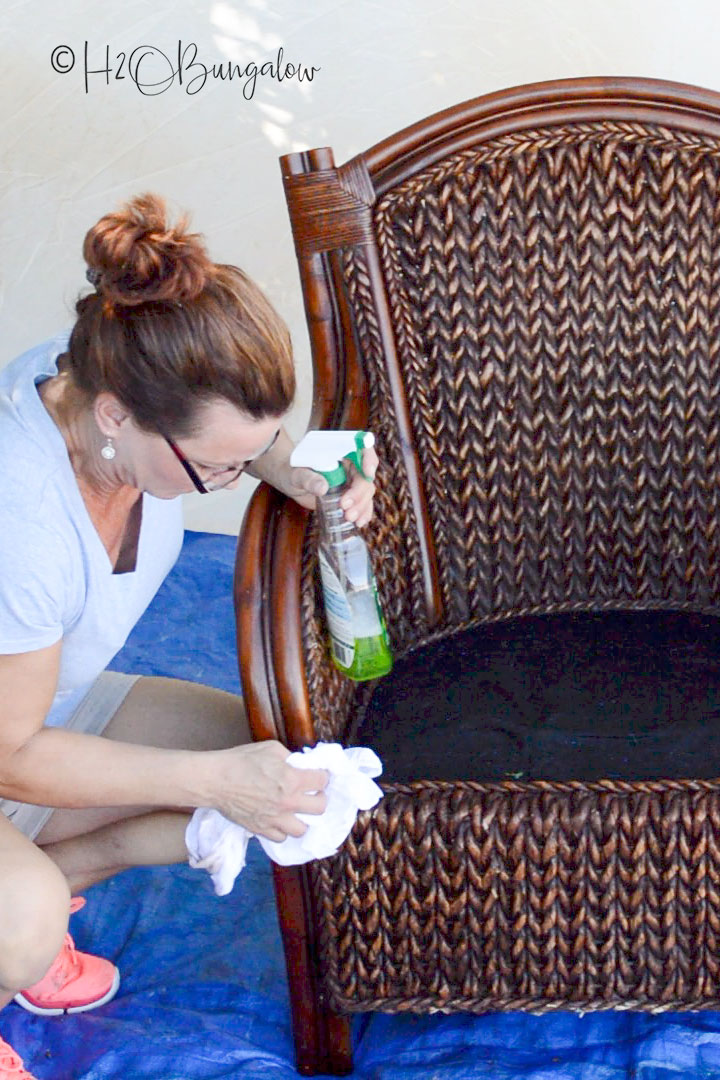 Step 2. Tape-off areas that you don't want to be painted.
Use painter's tape and plastic drop cloths to protect any areas that you don't want to be painted. Garbage bags cut down to size work great for chairs and small furniture pieces!
Tape Tip: To get precise taped areas, tape the edges of your furniture item first, pressing down on the outside edge of the tape. Next, tape the plastic drop cloth to the first layer of tape with another layer of tape. The first layer gives precise edges and the second layer attaches the drop cloth. Works like a charm!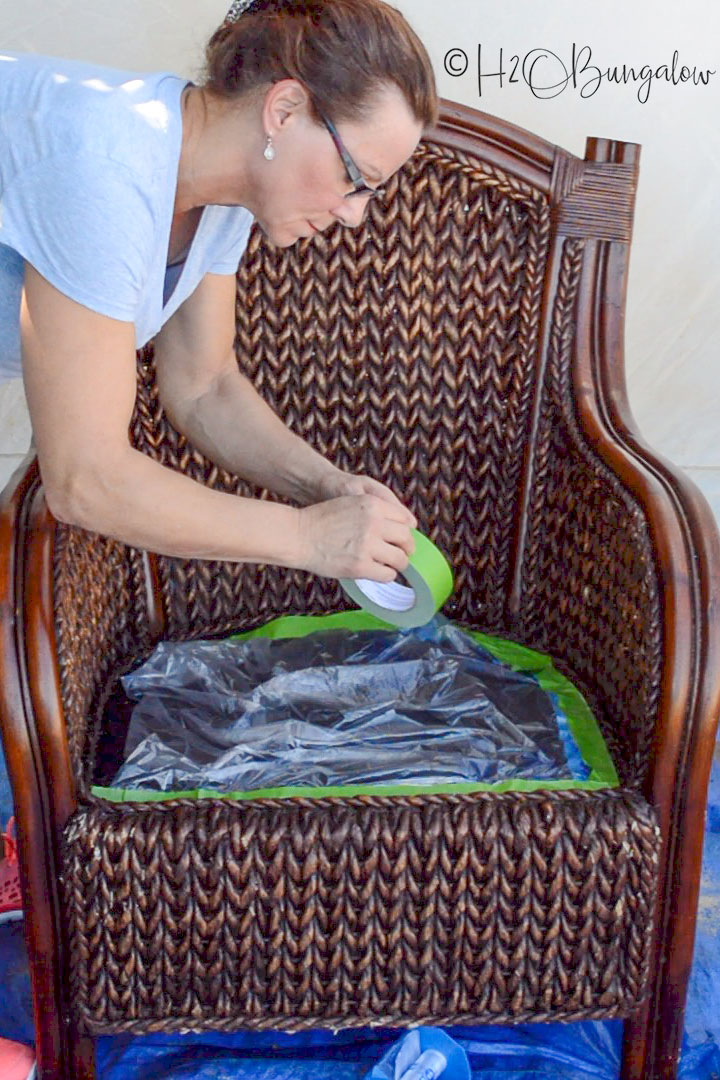 Step 3. Mix paint and prepare the paint sprayer
Now you're ready to paint.
Which paints are best for painting wicker furniture?
You can use chalk paint, mineral paint, milk paint, urethane, or even oil-based paint on wicker, rattan and woven furniture.
If you're using chalk, mineral, or milk paint, it needs to be self-sealing! Self-sealing paint means it does not need a wax or another type of clear top coat to seal it to your furniture item. It should list that it is self-sealing on the label. If you're not sure ask before investing in your paint.
I promise you…you don't want to try to wax wicker furniture by hand!
You can use a urethane which is a newer paint to the market. Sherwin Williams has an excellent one. It's pricey but worth it and it dries very hard and is durable. I used it on my Kitchen Island makeover.
The one paint I would not recommend is latex. The latex base does not dry as hard as other paints so it's not as long lasting.
If you are painting outdoor woven furniture use high-quality outdoor paint. It will last longer, has UV blocking built-in, and be fade resistant.
How to prepare the paint for the paint sprayer.
First, you'll need to mix the paint to the proper consistency. I slowly added water until my paint was the consistency of thin pancake batter. I used about three cups of paint to paint my wicker armchair.
Tip: Add some water to the bottom of the paint container first before adding paint and the paint will mix better and quicker.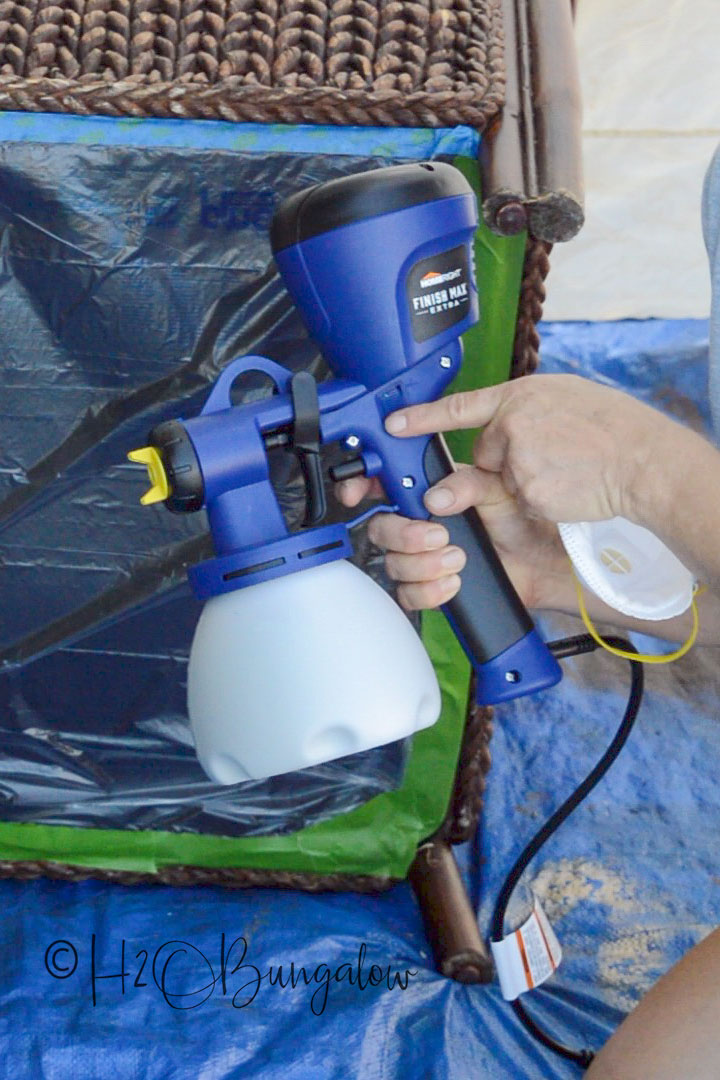 My HomerRight Super Finish Max comes with four tips for spraying different types of paint. I used the green tip for this project. Use a piece of cardboard to test the paint flow and spray pattern. It's easy to adjust the spray flow on the Finish Max Extra with the little dial that's located on the handle.
Step 4. Begin Painting from the underside or back.
I like to start at the bottom/underside of my furniture when painting so I can see how the paint sprayer is coating my piece before moving on to the more visible areas. Paint with a slow and even back and forth motion. Apply paint from different angles to get an even coat of paint into the nooks and crannies on your woven furniture.
You'll need to apply at least two coats of paint. Wait for the first coat of paint to dry before applying another layer of paint. Flush your paint sprayer with clear water in between coats so the paint doesn't dry in the sprayer while you wait.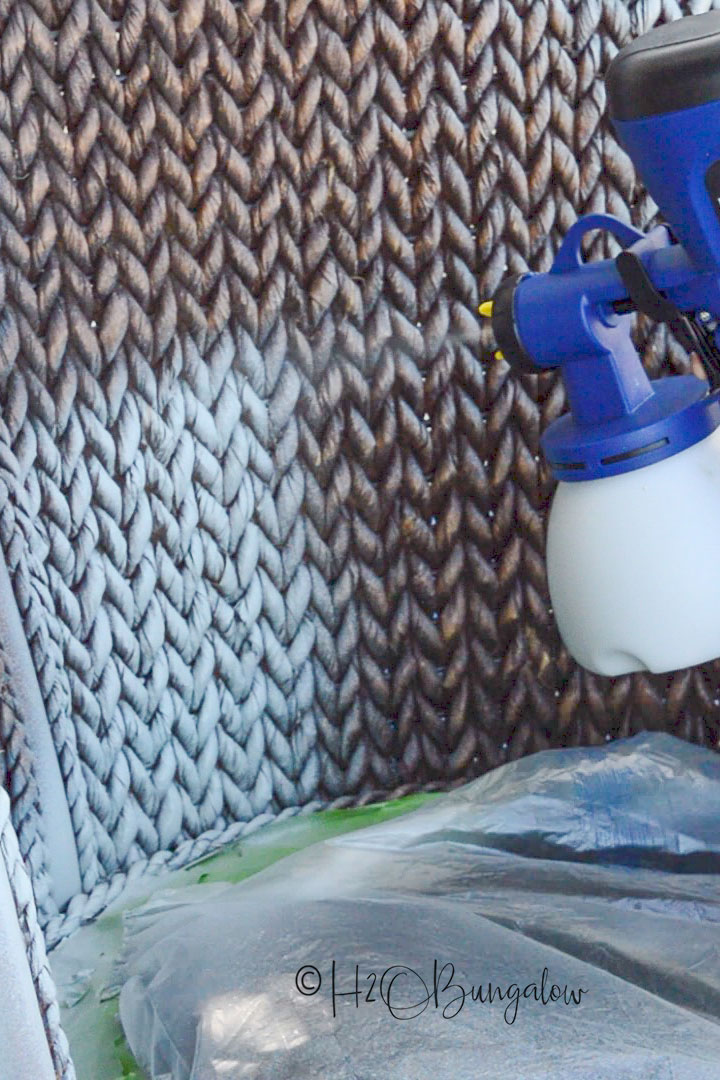 Step 5. Allow it to completely dry.
Allow the paint to dry to the touch before taking off painter's tape and protective plastic. Then as hard as it may be, wait and let the paint cure before using your freshly painted wicker furniture!
I usually wait for about 2 weeks to allow the paint to harden and cure. Waiting makes a huge difference when it comes to how well the paint holds up.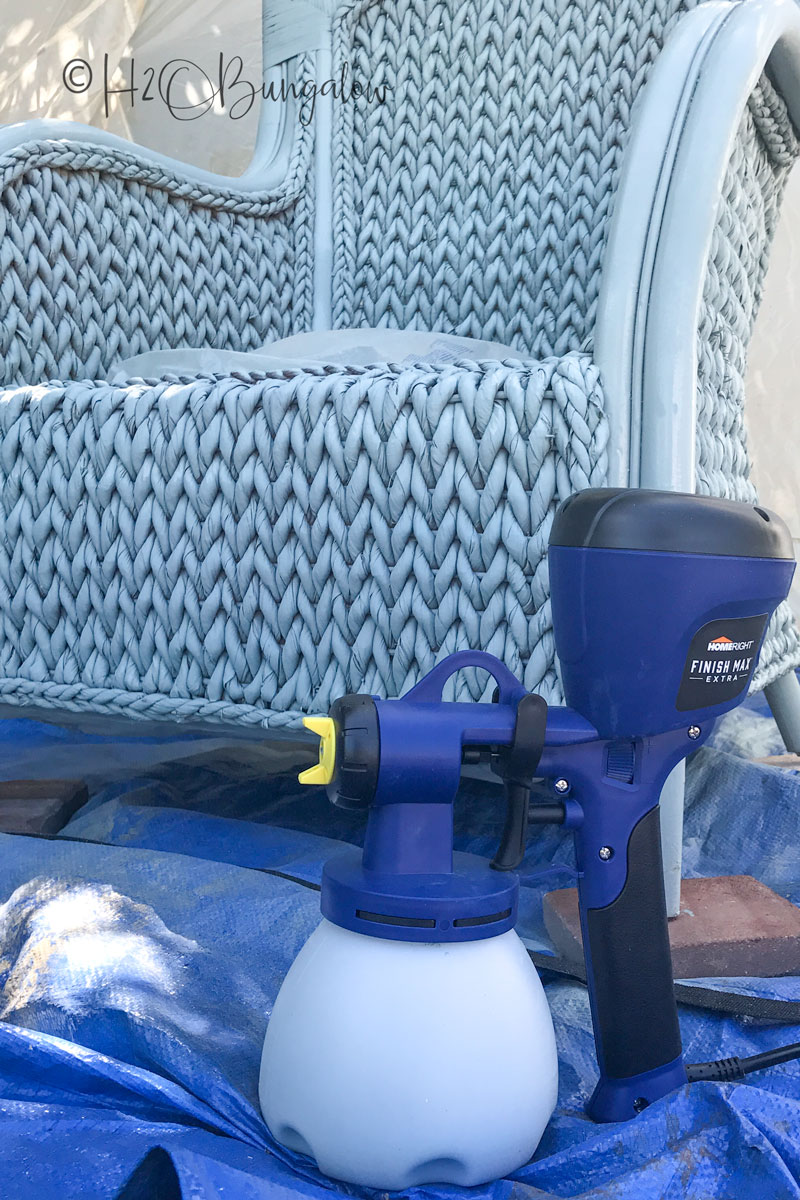 Add optional finishing detail.
This step is optional. Dry brushing paint in a contrasting color on the wicker chair adds dimension.
I share a good example of a dry brushing technique in my Bakers Rack makeover tutorial. Use a clean painter's rag to wipe off excess paint. Dry-brushing paint on wicker furniture looks best when the layer of paint you're adding is not perfectly even.
This step always adds a nice depth to a paint project.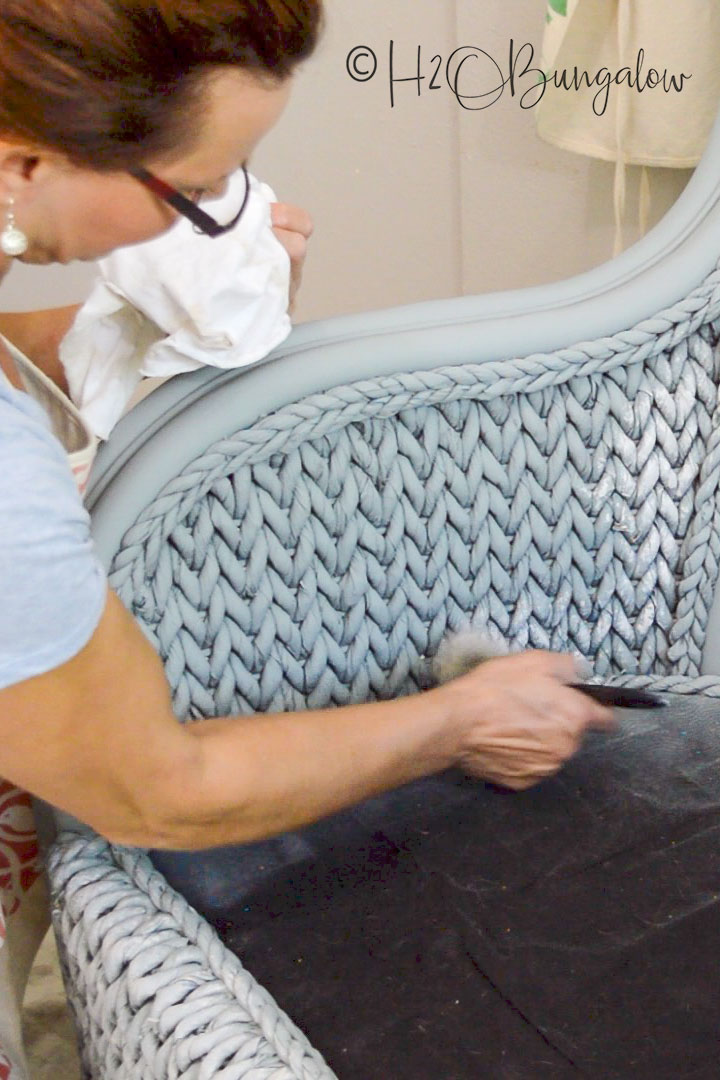 What I love about using the Finish Max Extra was that it comes with different spray tips for different types of paint. In other words, it's versatile for many types of projects. I've used them for years and they last a long time when you take care of them.
Clean-up is easy with water based paint like I used. I just ran water through the sprayer and rinsed the individual sprayer pieces. I would have spent the same amount of time washing out a paintbrush.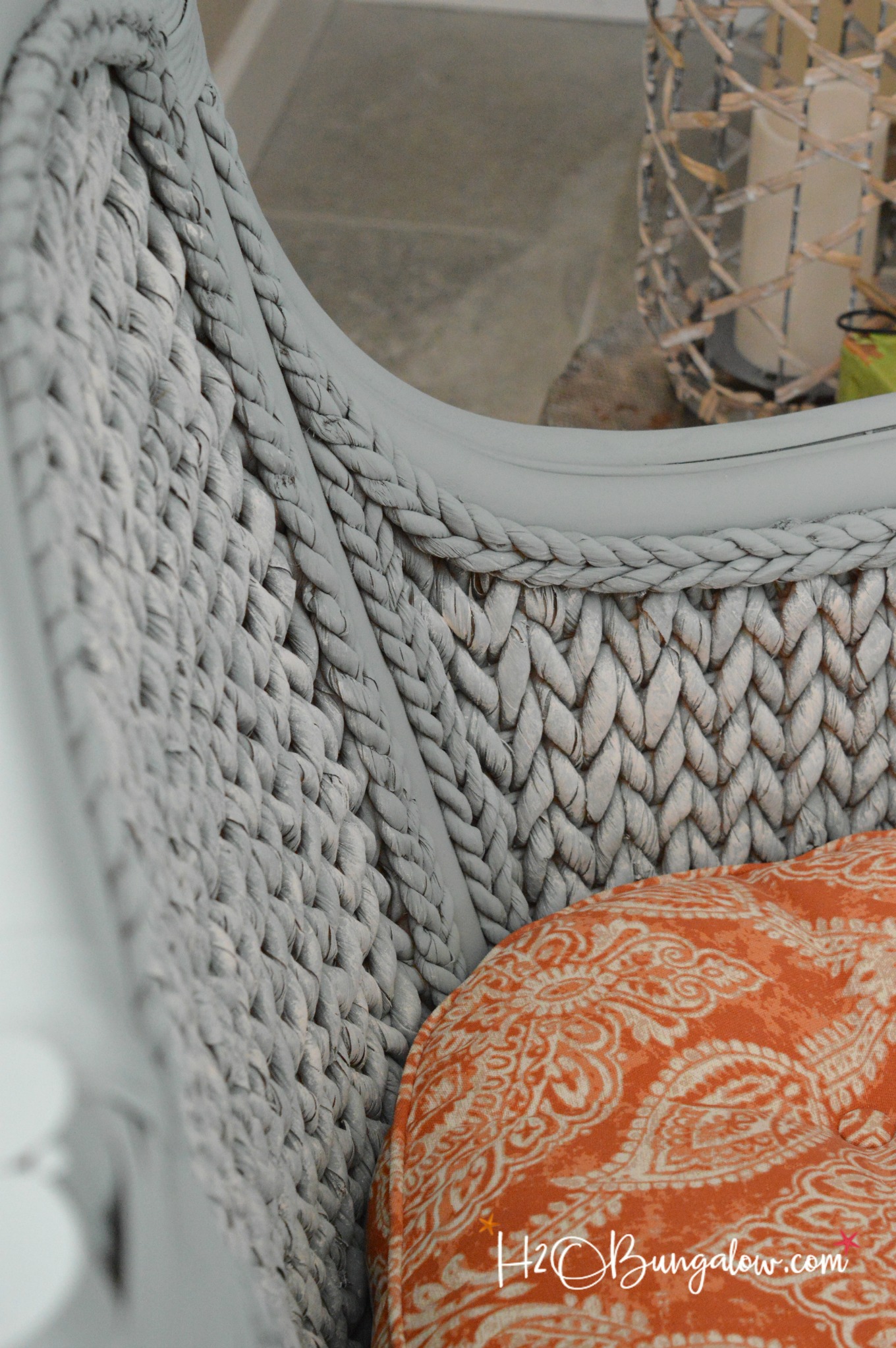 My painted wicker looks great next to my wall-mounted TV cabinet. I changed out the orange cushion for the neutral off-white and like it much better.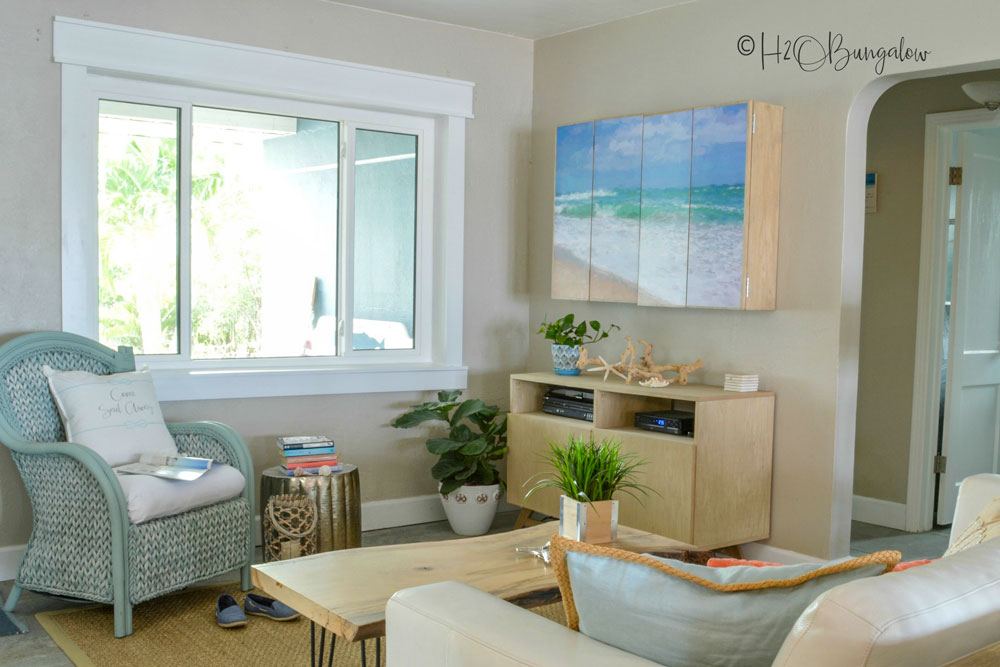 All in all, I think it's a big improvement. I'm loving this color so much better than the original dark wood!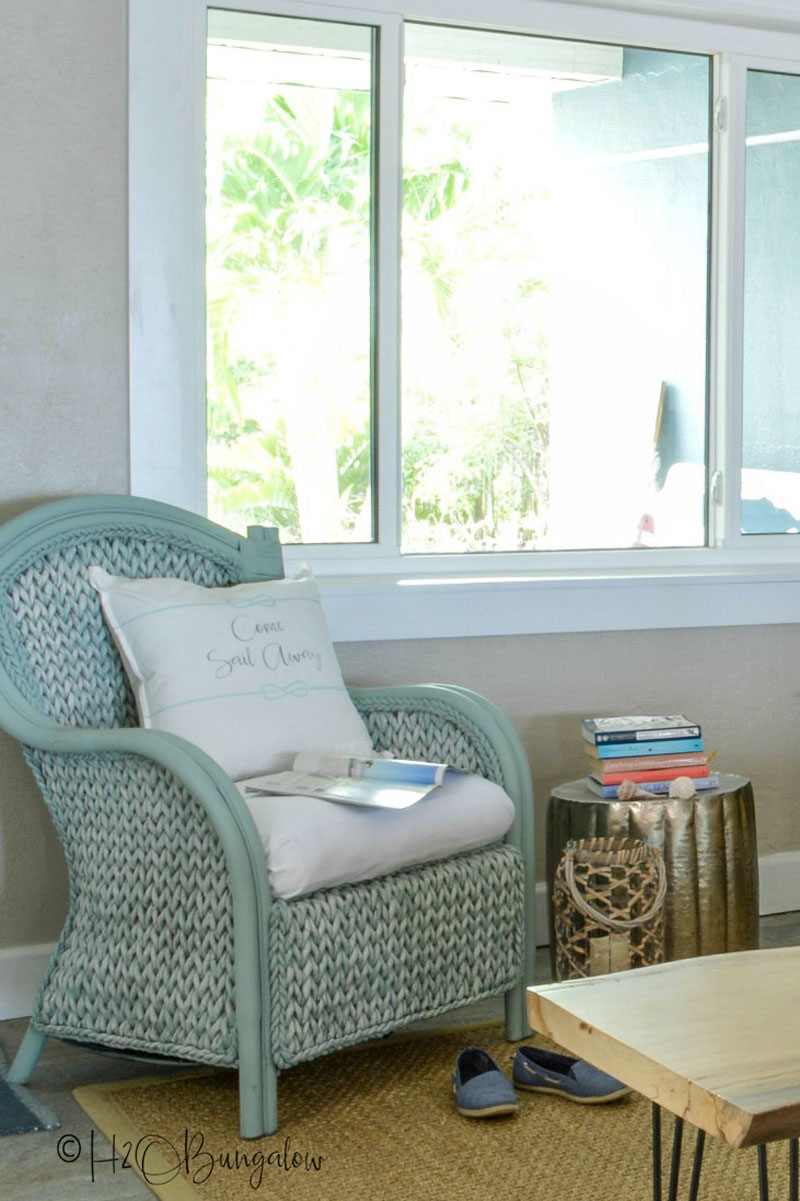 Pin this project for later and share with your friends on Facebook!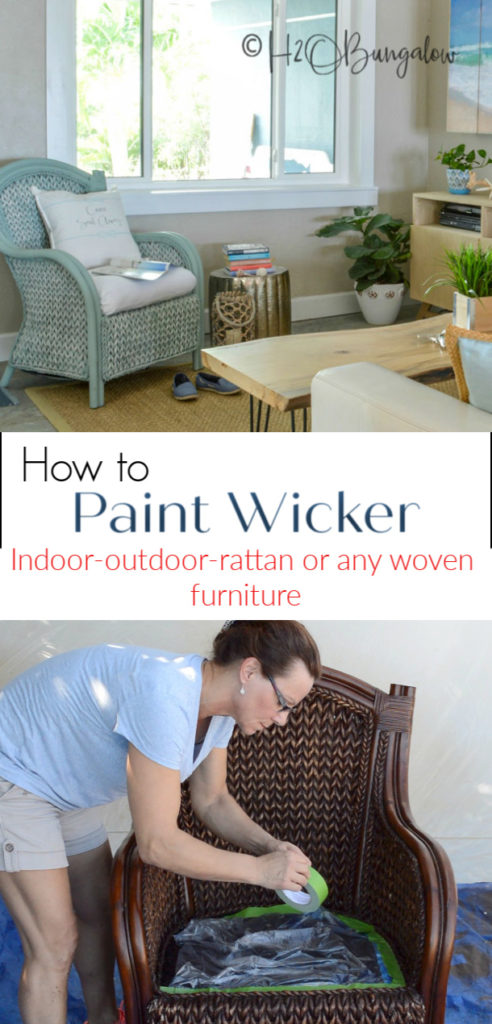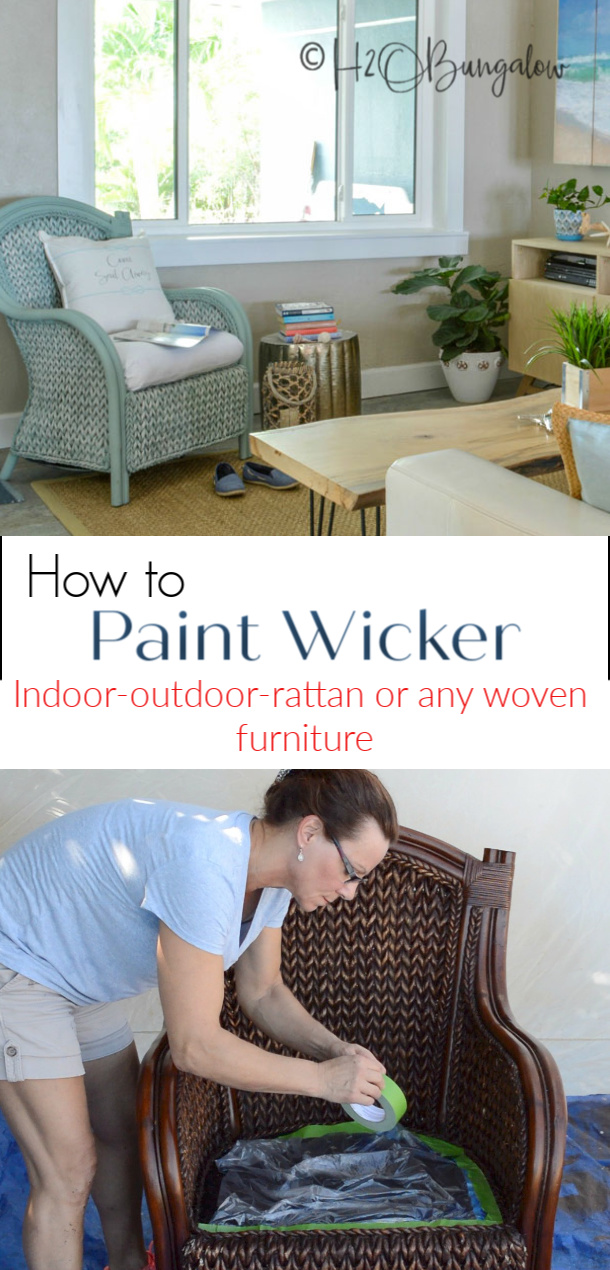 Do you have a piece of furniture that really needs a makeover? Learn How To Prepare Furniture For Painting and how to Paint Over Dark Colors.