Like most of our home improvement projects, my DIY rustic mirror frame has been a long time in the works. This months theme for the Power Tool Challenge Team is home improvement, and was the perfect motivation to check this big item off the wish list.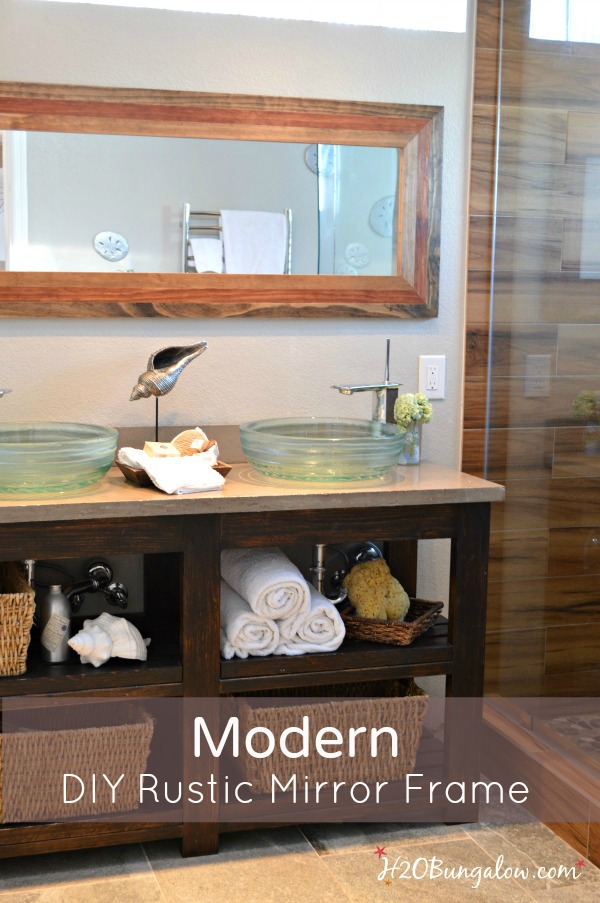 I could have picked any one of the many projects on my wish list, baseboards, a closet redo, our front yard fence outside. I picked a DIY project that has been on the list for over a year and it's something I need everyday. My master bathroom mirror. When we finished the construction in our contemporary master bath remodel, I leaned a cheap plastic framed mirror against the wall with full intention of tackling the project soon after.
…and there it sat.
For months I bent down and put myself in odd angles to see what my hair looked like when I was drying it.
I made a cheap door mirror into a beautiful DIY rustic bathroom mirror.
I'm excited to share this DIY project with you! I use affiliate links to help you find the products I used for this project.
Supplies to build a modern rustic mirror frame
Tools
I used three different colors of stain on each layer around the DIY mirror frame. Start by staining your boards. Be sure to stain the outside edge and inside edge. Cut wood as needed to fit for the 4 sides of the DIY rustic mirror frame factor in a 15″ margin, which allows for 6″ on each end that will fit the frame angle and a little extra.
Next, mark your boards and drill connecting holes with the Kreg Jig. One note here, drill the Kreg Jig holes on the center boards going out instead of the other way around (like I did). You won't have the drilled edges visible in your finished DIY rustic mirror frame.
I realized this after I drilled my holes.
I like to mark all over the back of my boards to avoid mistakes. Items like where to line up, and where to put Kreg Jig holes are helpful.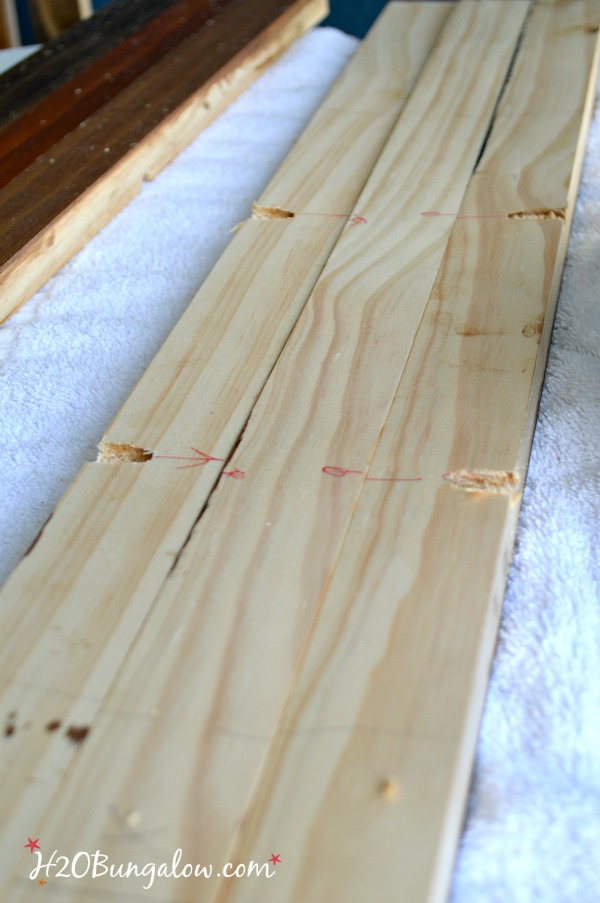 Connect the boards on a flat surface to get the best fit. I used a 1″ Kreg Jig screw for this project. If you need help choosing which screws to use in your projects, this Screw Selector Wheel is a huge help 🙂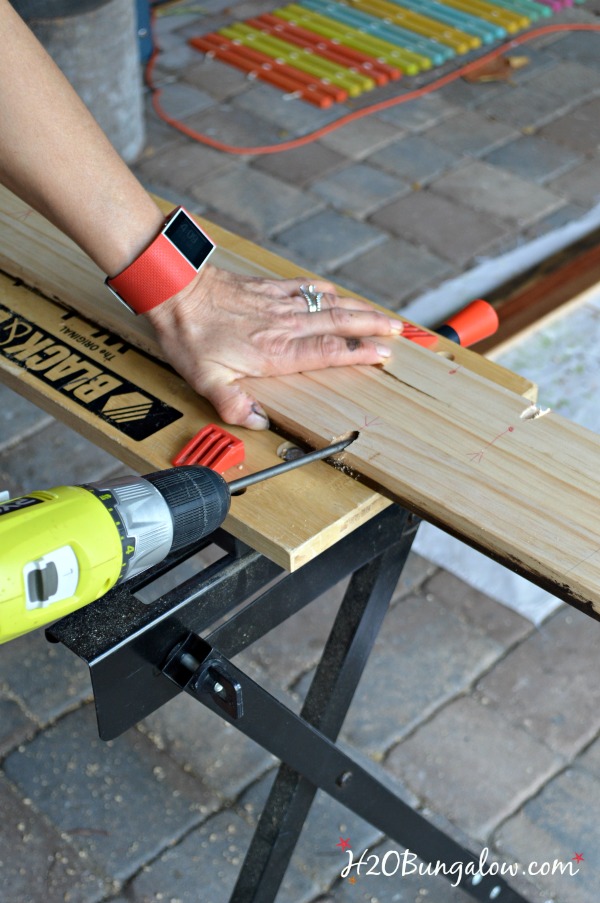 After the boards are connected, you'll cut your 45 degree angles with the compound miter saw. Touch up the stained boards if needed at the edges. I like to wax stain instead of adding a clear topcoat. I'll share that technique another time.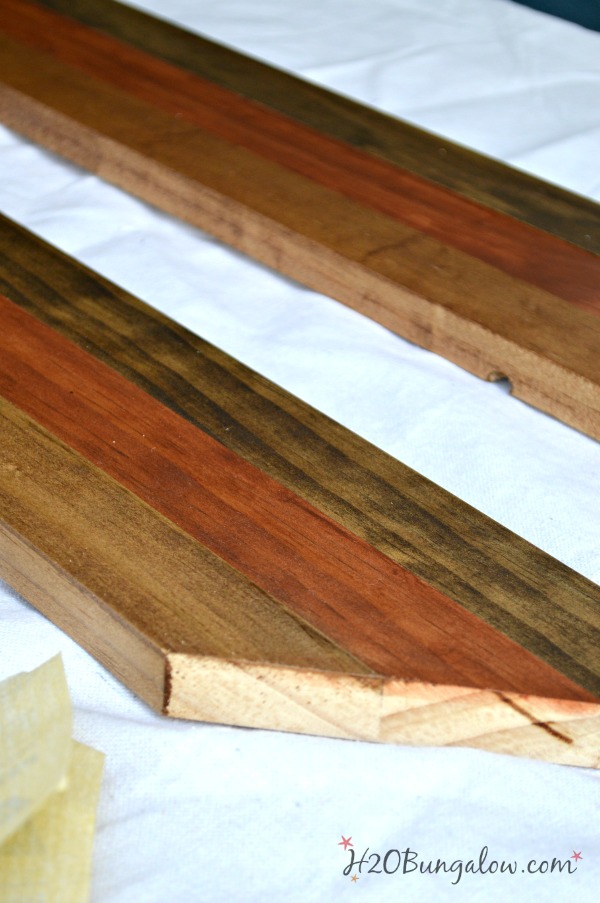 Cut a groove to hold the mirror on the inside of the frame with a table saw. I set the blade to cut a hair more than 1/8″ deep and 1/4′ wide to fit the thickness of the mirror and to make a shelf for it to rest on.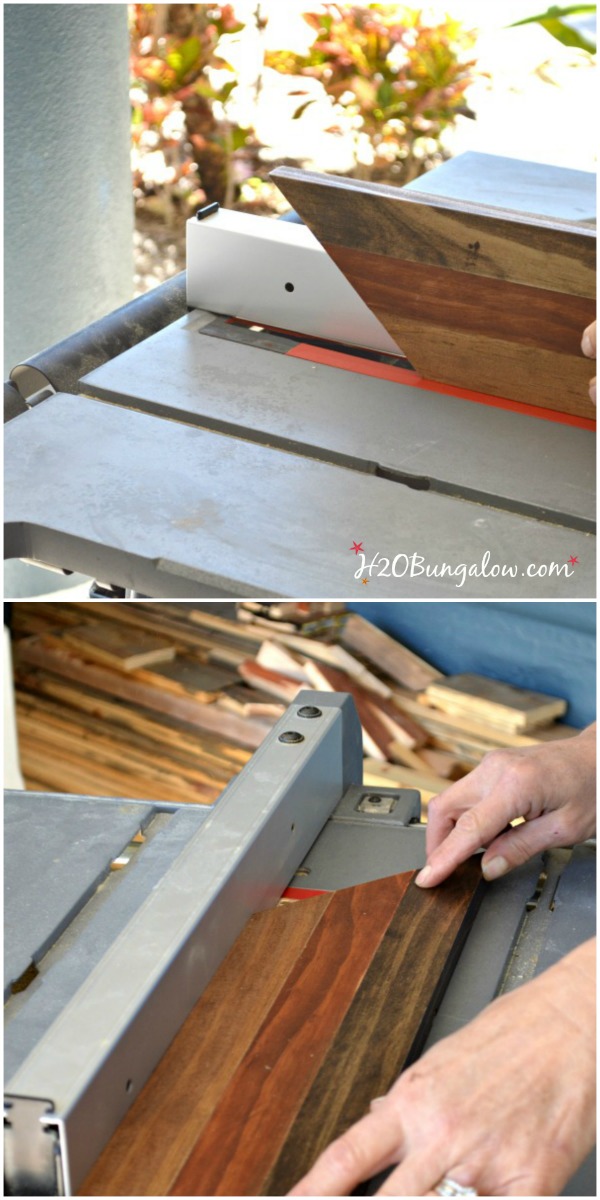 I always test my cuts and pieces as I work my way through a project. Make sure the 45 degree angles fit well and the frame is square. Make any adjustments if needed. If everything is good, move on to the next step. Cut two Kreg Jig holes on each end of the side pieces of the DIY rustic mirror frame.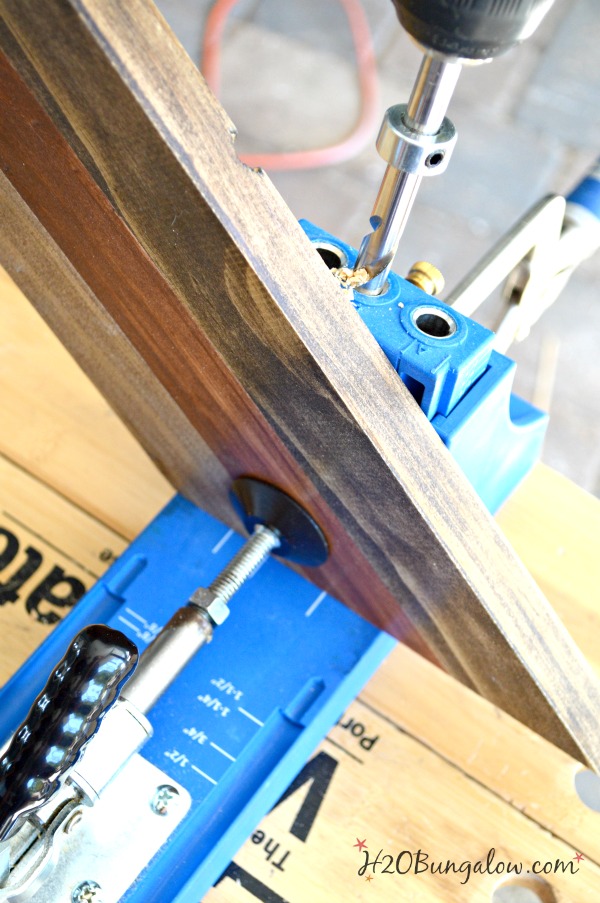 This mirror was mounted on a closet door when we moved in. Can we say U-G-L-Y?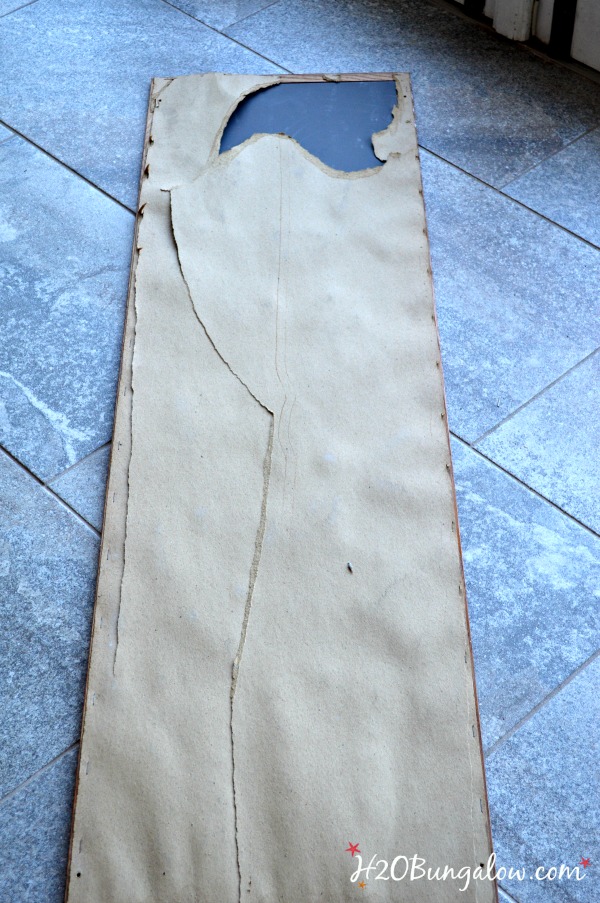 Before connecting the frame parts, fit the mirror in place and once again, be sure everything fits as it should. I ended up tweaking the end grooves to 1/16″deeper to get a better fit on the corners my DIY mirror frame.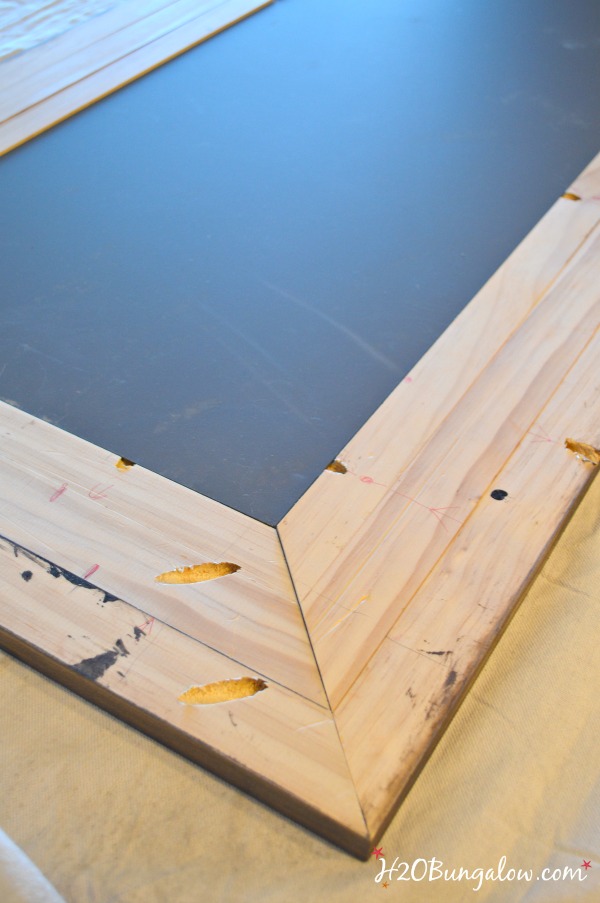 I completely forgot to take a picture of what holds the mirror in place. I used 5″ Simpsons Strong Tie plates (linked in the supply list) at each corner and at the top and bottom center to hold the mirror in place. We had a little play so I cut pieces of cardboard to put under the plate like a shim. It worked like a charm!
I cut a 12″ French Cleat in half with a hacksaw to hold my DIY rustic mirror project.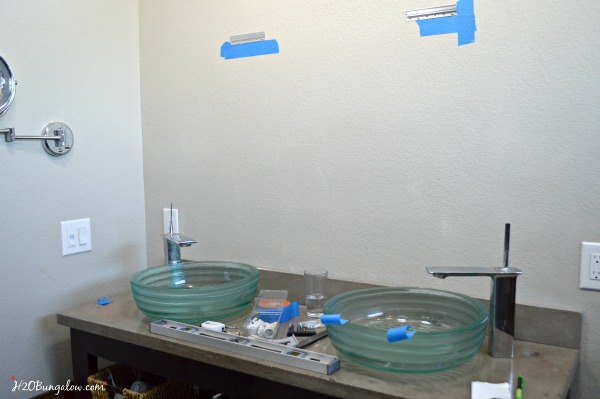 So, what do you think?
Me?
I'm thrilled! The reason I made my mirror long and narrow is our shower is oversized and in wood look tiles. A traditional vanity size mirror would have made our bath look overly crowded and busy. We'll use a full length mirror elsewhere.
I like that my DIY rustic mirror frame is also modern and a bit unique. It fits our contemporary bath and style.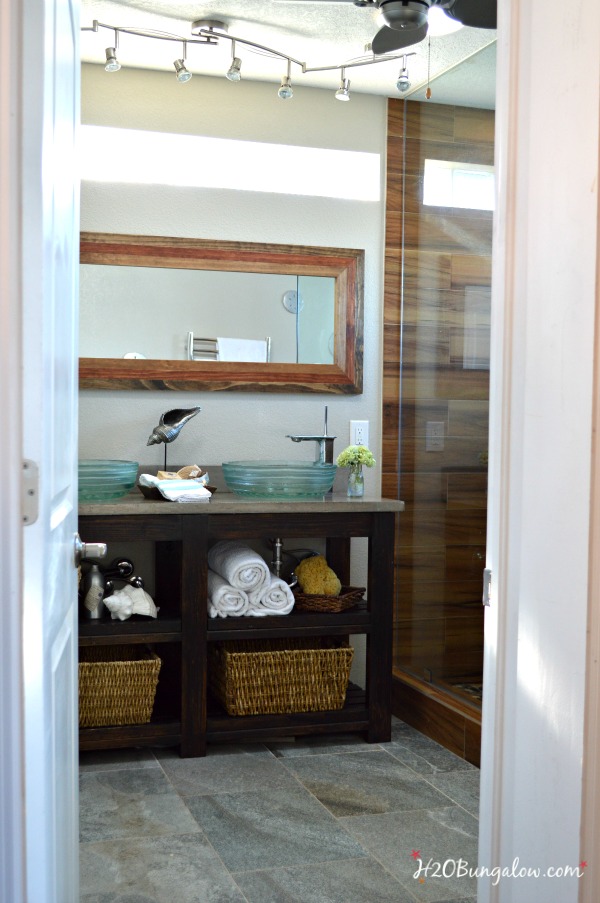 No more bad hair days! I finally get to see the back of my head when I'm drying my hair 🙂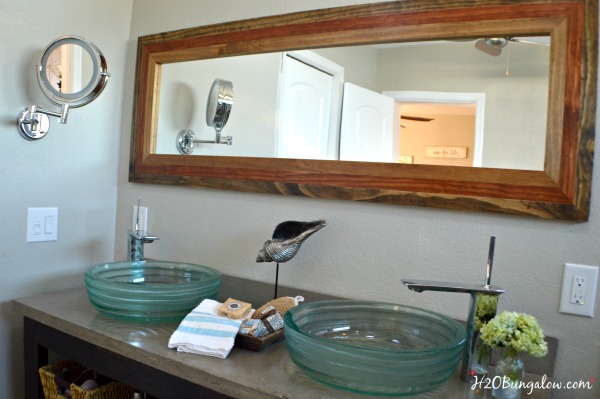 The room also looks brighter.
The blue on my Bath storage cabinet makeover really pops with the wood tones. See my silver sand dollars on the wall? They were from leftover concrete when I made the concrete counter for the vanity.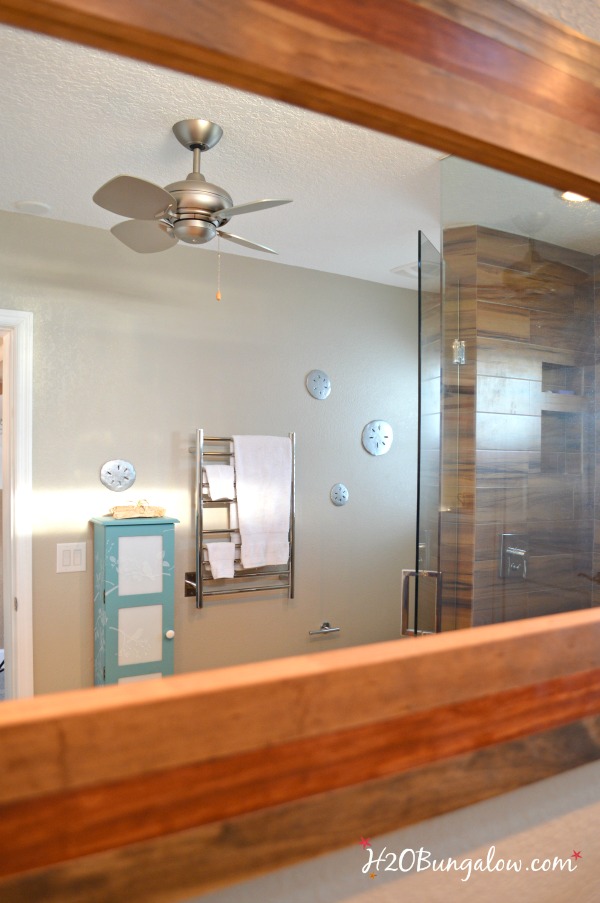 The simple and modern lines of the three toned stacked wood mirror frame work well with the DIY open shelf vanity I built. I share free downloadable plans for the project in that tutorial.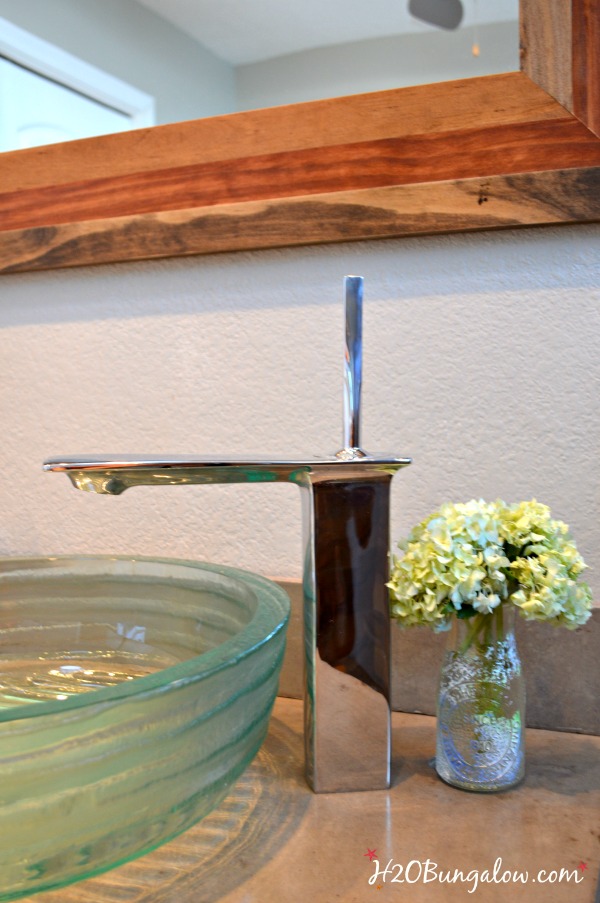 This DIY rustic mirror frame for my master bath vanity completes my contemporary master bath renovation project and room.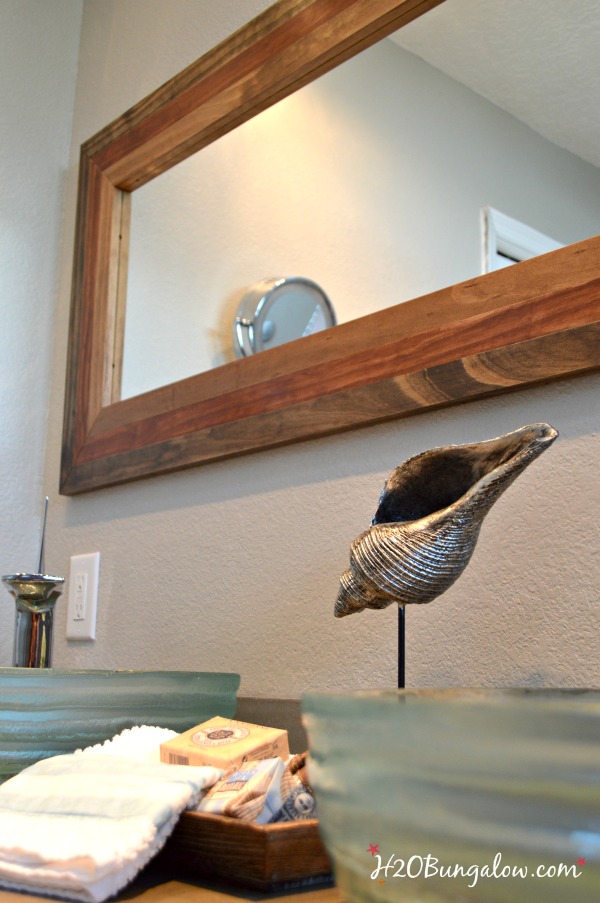 Next month I'll tackle another big project on my list, like maybe baseboards;)
I can thank my friends from the Power Tool Challenge Team for the motivation to finish my much needed DIY bathroom vanity mirror project!
Be sure to take a look below and check out the other fabulous home improvement projects my friends and team mates have shared for this months Home Improvement theme of the Power Tool Challenge Team.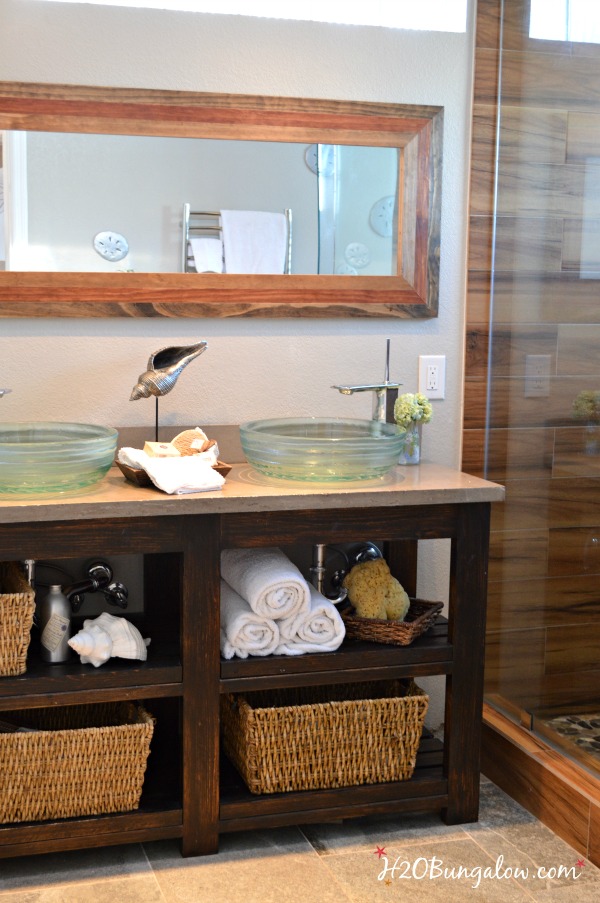 s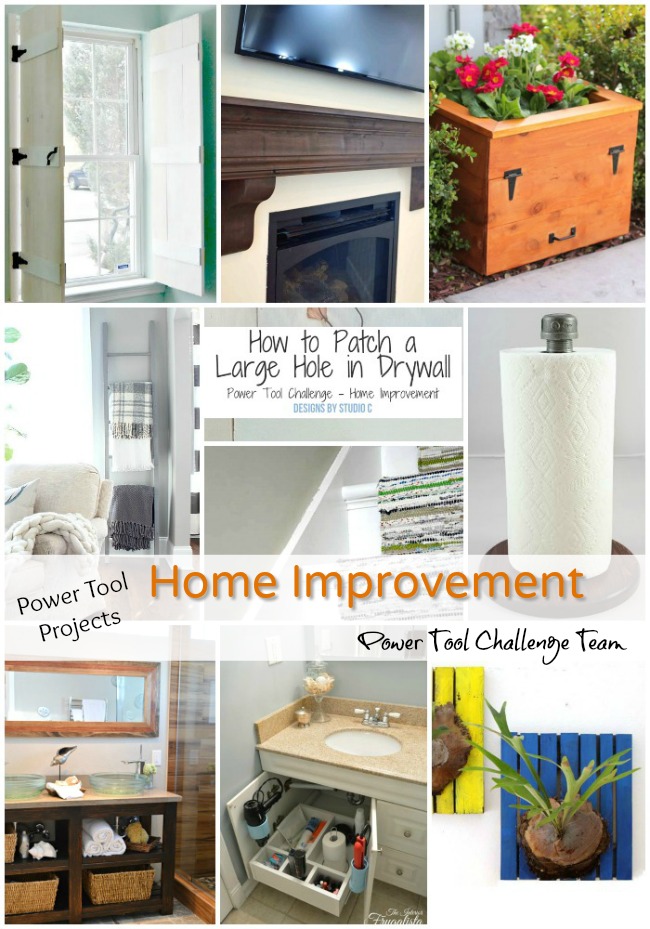 DIY Shutters Create And Babble
DIY Fireplace Mantel Shelf Her Tool Belt
Industrial Paper Towel Holder by Virginia Sweet Pea
Blanket Ladder by Refresh Restyle
Cedar Hose Planter by Kim Six Fix
DIY Vanity Sliding Drawer by Interior Frugalista
How To Patch A Hole In Drywall by Designs By Studio C
Wall Mount Staghorn Fern by A Piece Of Rainbow
DIY Painted Stairs Makeover by Thrift Diving
DIY Modern Rustic Mirror by H2OBungalow
s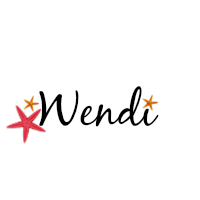 Love a good dose of DIY home decor, home improvement, the challenge of woodworking and creative ways to make your home look fabulous?
Me too!
I'd love to share mine with you. Click here to sign up for my post emails and I'll send a quick note when I have a new project to share.
Social media fan? Don't be shy say hello! I love when you guys do that! I'm interactive on Facebook and I share lots of other projects and, useful inspiration for the home and content I don't share anywhere else. Follow H2OBungalow on Facebook and Instagram!
I use affiliate links in my posts. If you should make a purchase I will receive an itty bitty commission at no cost to you. Thank you in advance for supporting my blog and two fur-ball cats who believe they are privileged.