It will officially be spring in another week and I'm ready to roll up my sleeves and start my spring cleaning. This year I made a big batch of homemade cleanser for the task. It was easy and I used just a few kitchen items I had on hand. You'll see my natural citrus peel cleaner recipe below and a few variations I've tried too.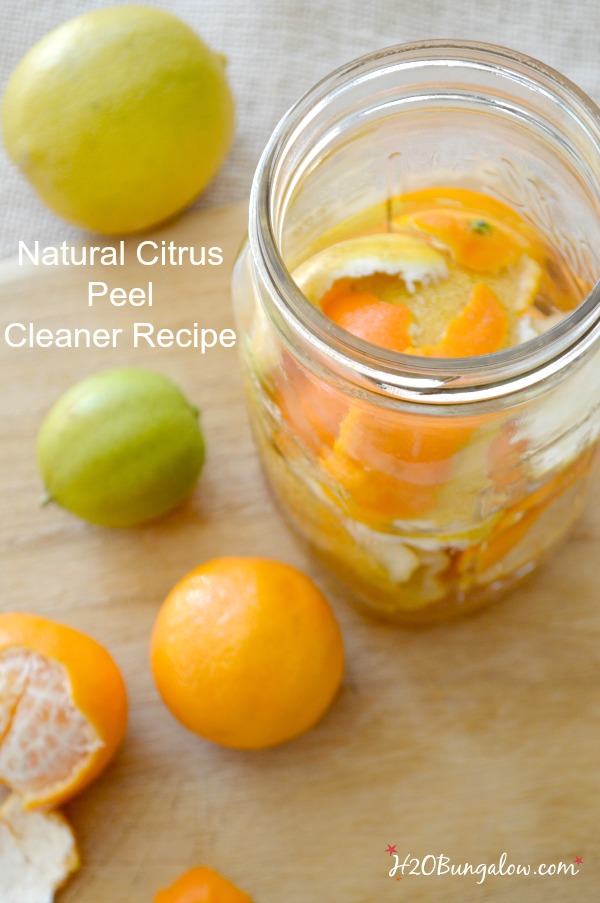 What I love about this citrus peel cleaner recipe is how versatile it is. Use as is for general and light cleaning or beef it up for heavy-duty cleaning jobs.
Natural Citrus Peel Cleaner Recipe Base
Make the citrus peel cleaner with these simple ingredients you probably already have in your kitchen.
citrus peels
white vinegar
Mason jar or other glass jar with lid
Items you can add for tougher cleaning jobs
baking soda
Dawn dish detergent
Put citrus peels in a Mason Jar and cover with white vinegar. Put the lid back on the jar securely and put away for 2 or more weeks. The longer the solution sits, the more it looses the vinegar smell and the fresh citrus scents develop.
I forgot about mine and it sat for about a month. It didn't smell like vinegar at all when I opened 🙂
Mix the amount of DIY Natural Citrus Cleaner as it's needed and let the base continue steeping in the citrus peels longer.
Beef Up The Strength For Big Cleaning Jobs

I mix about 1/4 cup of the citrus vinegar solution in a squirt bottle that holds about 24 ounces and fill the rest with water. If you're used to cleaning with vinegar alone, this is all you'll need to do. If you'd like a little extra cleaning power add a few drops of Dawn dish detergent to the mix.
By the way guys, I don't use my citrus peel and vinegar cleaner on granite, marble or my concrete countertops. Anything acidic like lemon juice or vinegar is not good for these surfaces. Over time it will dull the shine!
Make a DIY Citrus Peel Soft Scrub
Mix a batch of the base and add a teaspoon of baking soda. Caution, it will fizz! Stir well to let the fizz die down before putting the lid back on. This works fabulous for tubs and stainless steel sinks.
I've cleaned my tub exclusively with baking soda since we finished our family bath makeover. That recommendation came with the tub from the manufacturer. I like the added power of the citrus vinegar and it freshens the pipes as it rinses down the drain tool. For big jobs, I've sprinkled the baking soda directly in the tub and squirted it with my natural citrus peel cleaner and just wiped. It took off soap residue like a charm:)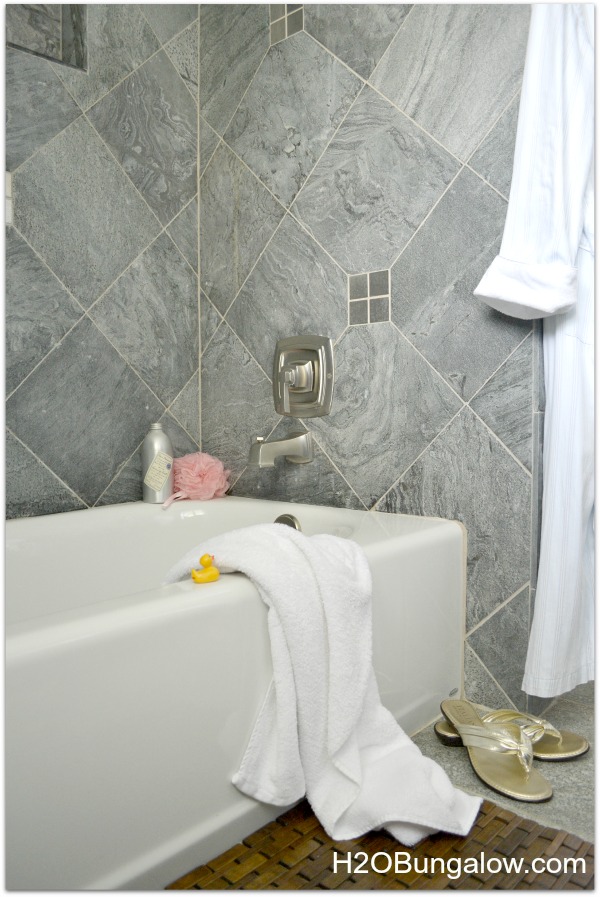 DIY Citrus Cleaner Works Great on Glass and Windows
Now that I've finished our bedroom makeover and added curtains to the window, I want them sparkly clean. Spray and wipe with a lint free cloth or better yet, wadded up newspaper to clean windows and glass.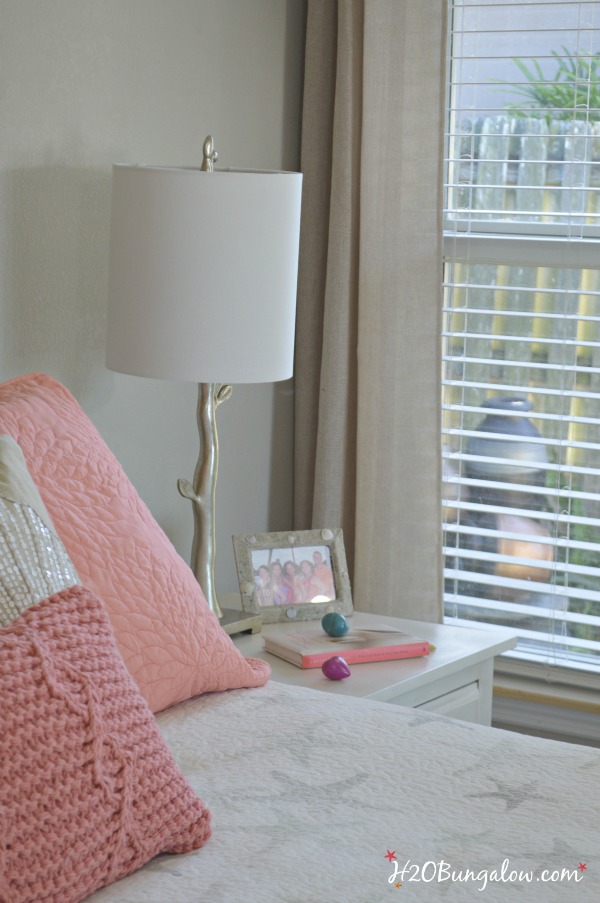 I'm loving this gentle natural cleaner for my pantry shelves and kitchen drawers. My door ledges and baseboards are next on my spring cleaning list. I could go on, but need to do more cleaning than talking at this point;)
I've found the easiest way to tackle spring chores it to tackle one job or a piece of a big spring cleaning job each day. That way it doesn't feel so overwhelming.
I prefer to use kitchen ingredients to make my own cleansers whenever possible. Try this natural citrus peel cleaner recipe and see how many other ways you can find to use it too.
What's your biggest spring cleaning task? Share in the comment section!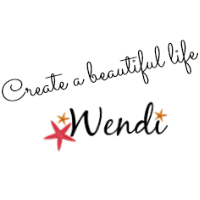 You'll find my project linked up to these fabulous parties!
Love a good dose of DIY home decor, home improvement, the challenge of woodworking and creative ways to make your home look fabulous?
Me too!
I'd love to share mine with you. Click here to sign up for my post emails and I'll send a quick note when I have a new project to share.
Social media fan? Don't be shy say hello! I love when you guys do that! I'm interactive on Facebook and I share lots of other projects and, useful inspiration for the home and content I don't share anywhere else. Follow H2OBungalow on Facebook and Instagram!
I use affiliate links in my posts. If you should make a purchase I will receive an itty bitty commission at no cost to you. Thank you in advance for supporting my blog and two fur-ball cats who believe they are privileged.