Bring on Summer! Wow, I can't believe I finally bit the bullet and changed out the entry to a yellow painted front door guys! A few weeks ago we had a big discussion on my H2OBungalow Facebook page over whether or not I should update my front porch and paint the front door yellow. I've been on the fence about changing the door color for months. My little entry is now so ready for summer, sporting a bright and cheery new color!
Don't you think?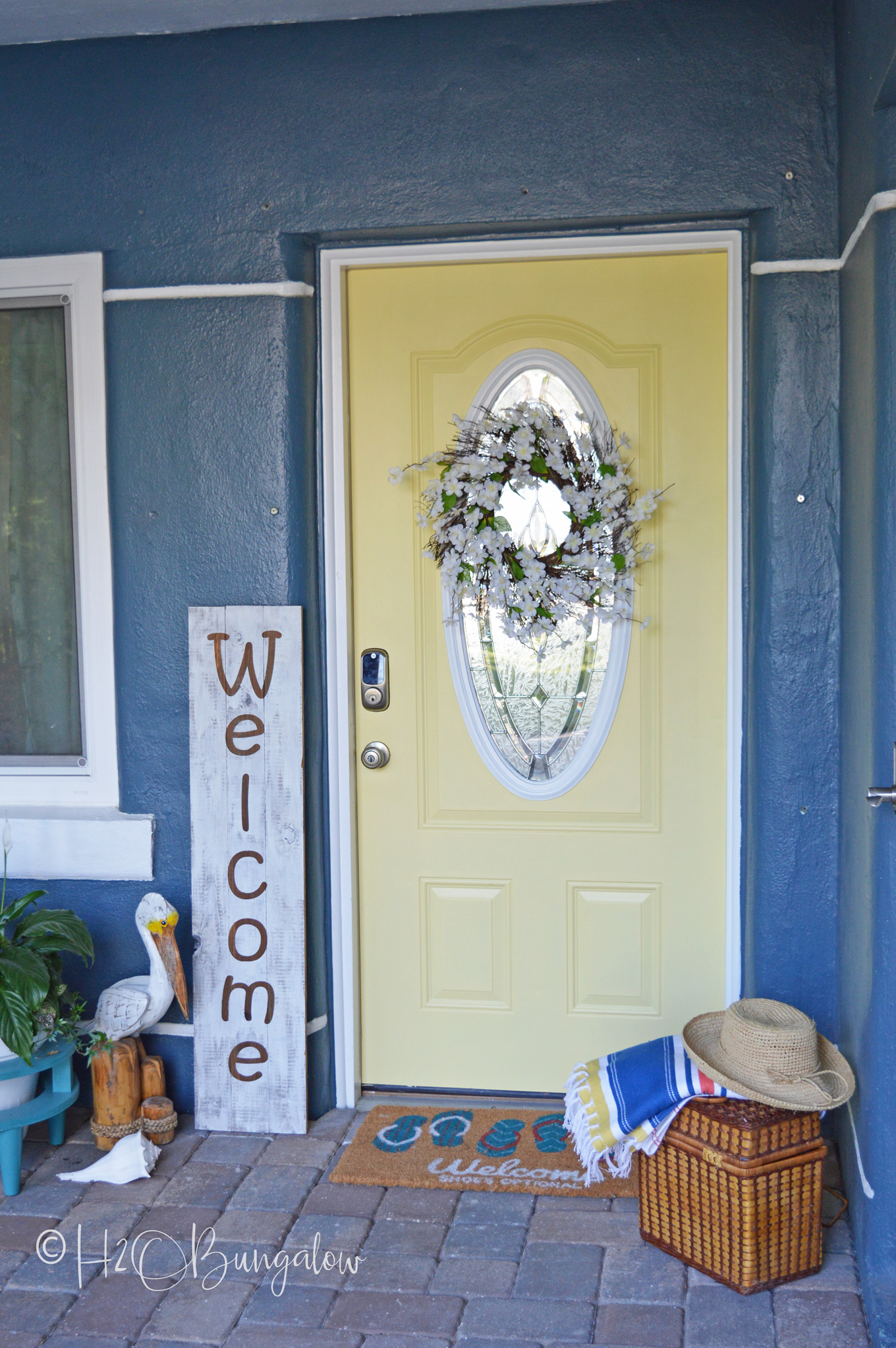 I use affiliate links to help you find the supplies I used. You can read my full disclosure policy here.
Repainting a front door any color is easy and a simple afternoon project and is one of the easiest ways to dramatically change how your home looks from the street. Seriously, what other DIY project can you spend about $20 and a couple of hours and completely change how the front of your home looks? Follow my post on How to Paint a Front Door: A Beginners Guide steps for a fool-proof and easy way to paint a door. If you're looking to jazz up your plain garage door, this is the way to do it…add Faux Garage Door Windows.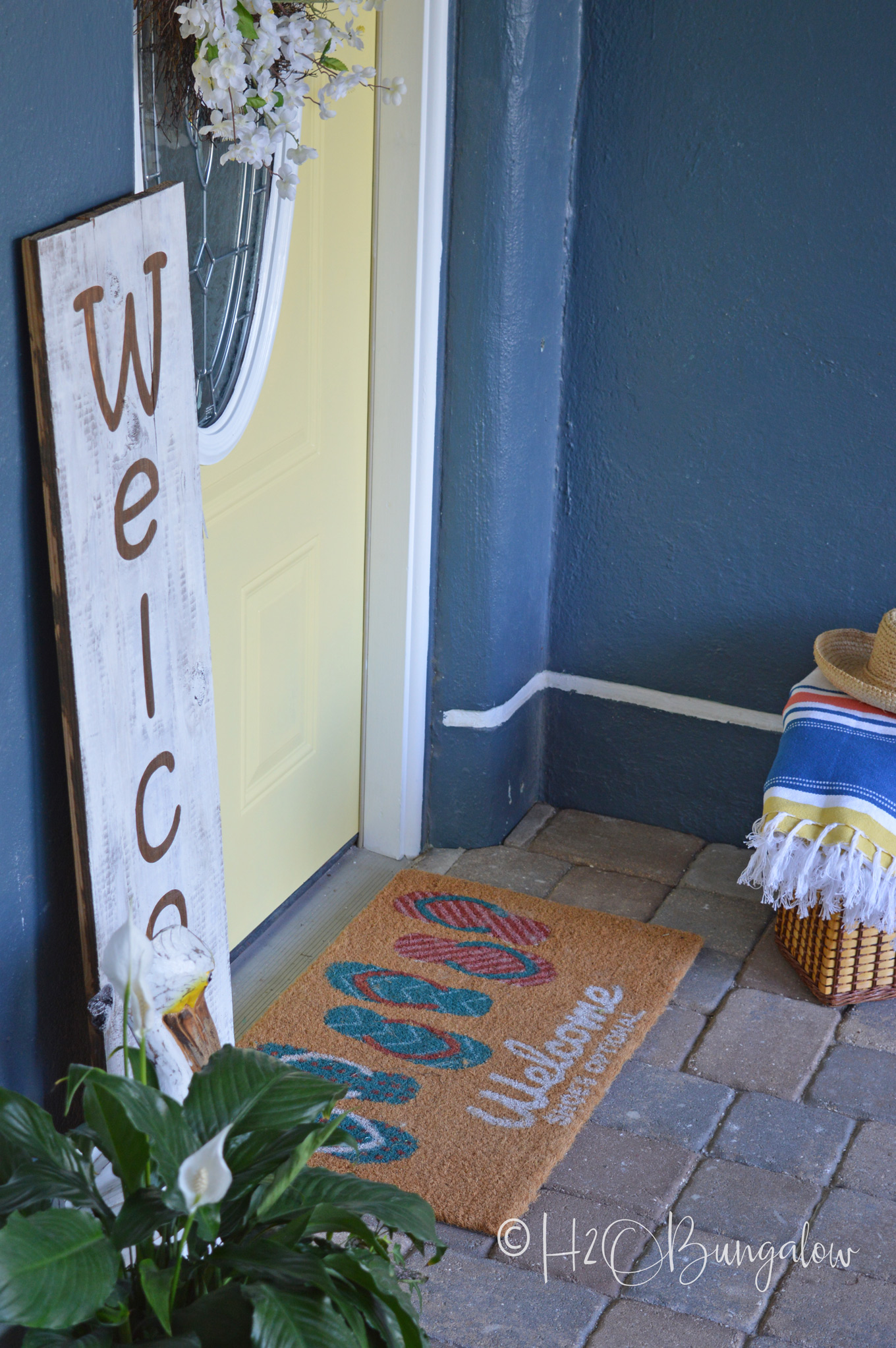 Now that I look at the new yellow front door, I know it was the right choice. Don't get me wrong, I absolutely loved my faux painted copper door for the artistic value. It was cool and unique and I was proud of how I just painted it on a whim and created an amazing copper effect by looking at pictures.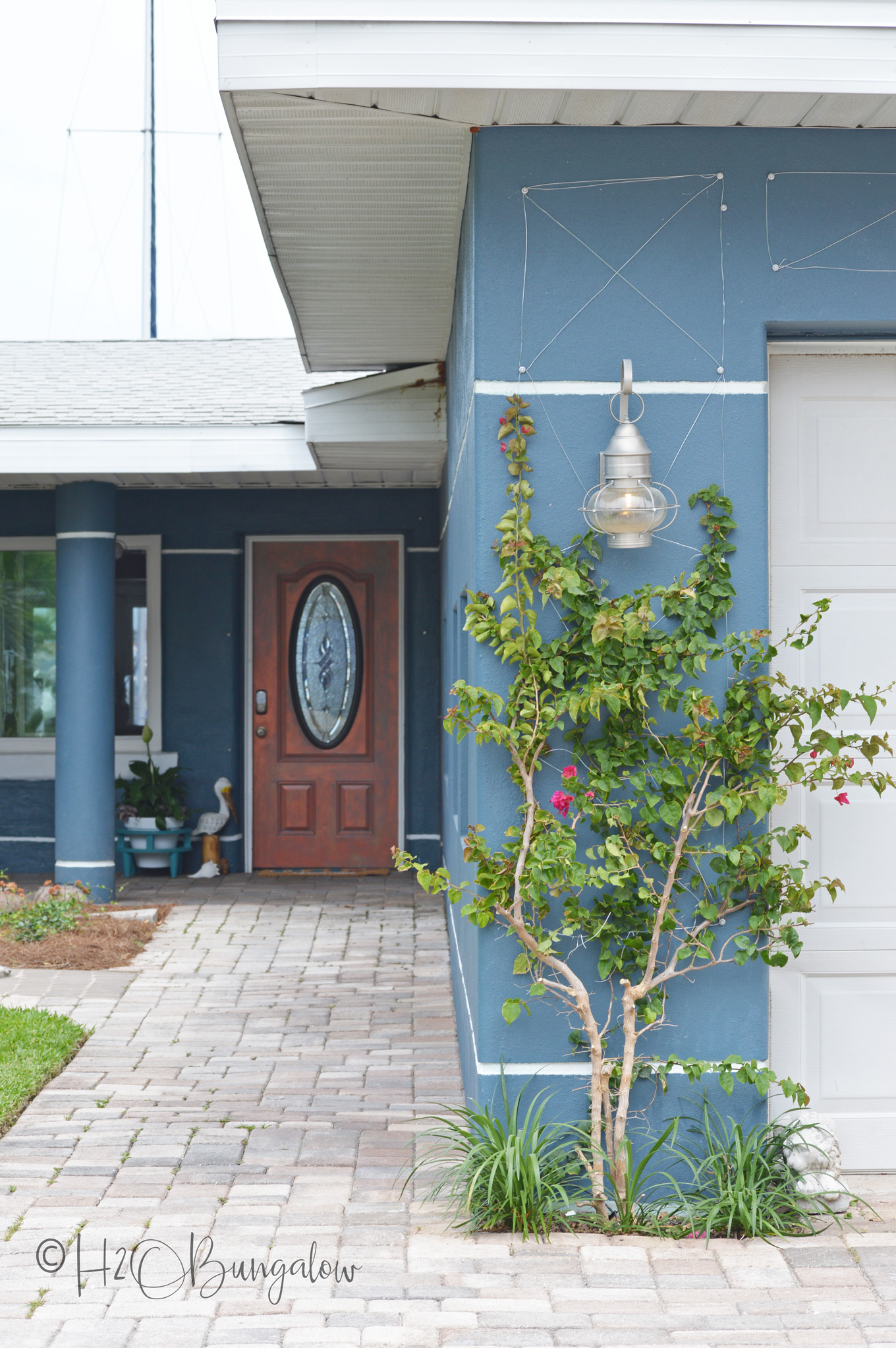 But, as you guys know, I've been on curb appeal mission this year. I knew our front entry needed some life.
Yellow has always been one of my favorite colors. This yellow is gorgeous and compliments the dusty blue of the house. The bright white trim gives everything a fresh and crisp contrast.
It's been rainy here all week and it was still dark and cloudy when I took these photos. The top of the door is shadowed by the porch ceiling which is why it looks like a darker yellow.
I used polka Dot Skirt by Behr in a satin finish for the door and our house is painted Bungle House Blue in Duration by Sherwin Williams. I have a two really good posts for painting the outside of your home, How to Paint You Home with a Paint Sprayer to see 10 Smart Exterior Painting Tips , They have lots of good information if you're thinking about painting your home yourself. Yes, I painted my own home and saved a bundle.
…but lets get back to my new yellow painted front door!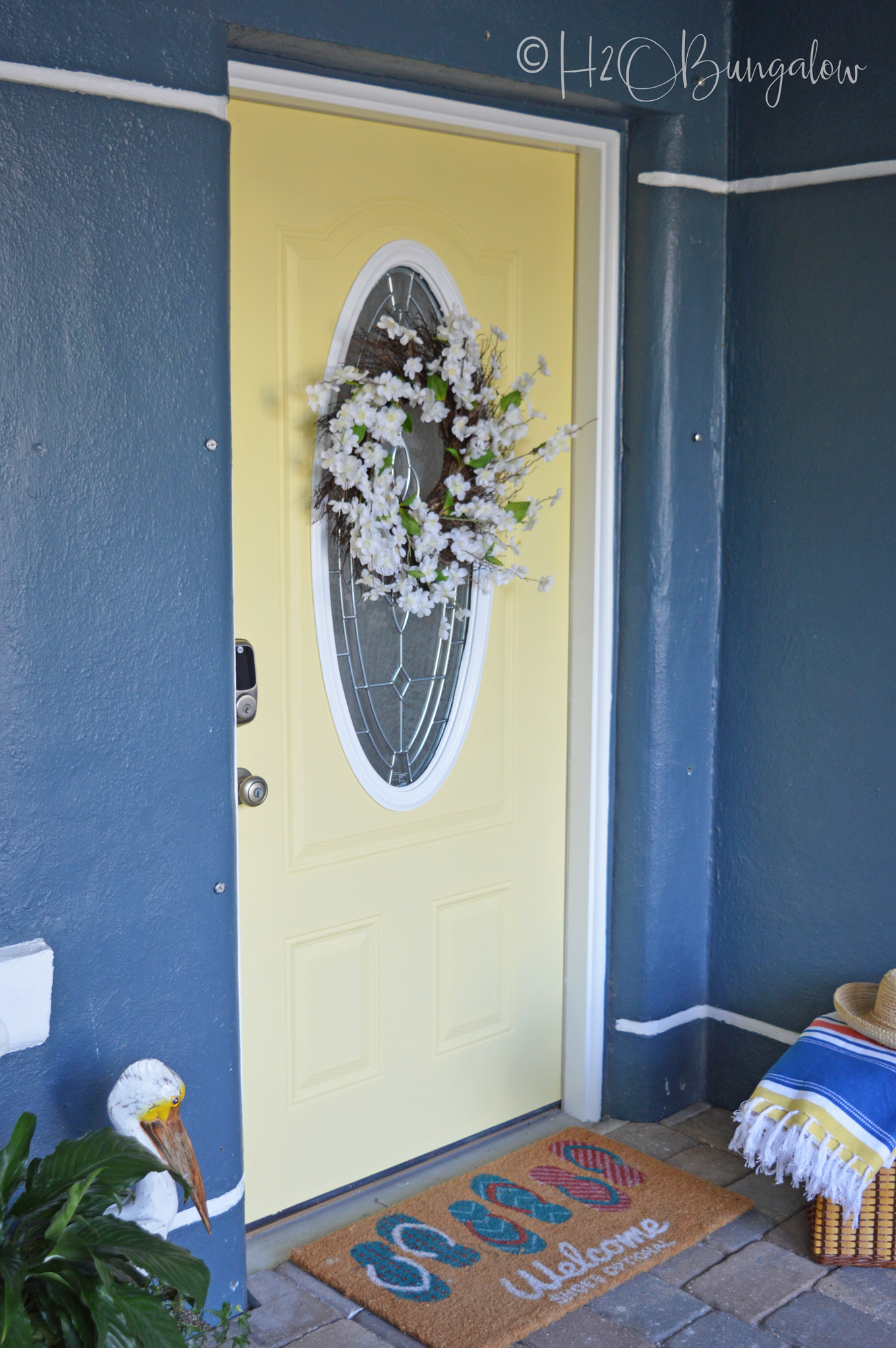 Changing an entry with a yellow painted front door or painting an entire room yellow room can be tricky. How do you choose the right yellow paint? It's a color that almost always looks way more saturated and intense after it's painted on than the little spot of yellow on the paint chip. My best advice for picking out the right shade is to pick a yellow about two shades lighter than your initial choice. Next, I'd suggest getting a paint sample and painting large area with it.
This yellow looks bright on the door, but in the can it was really light. So much so that Mr. Bungalow thought it wouldn't show much color. He thought I made a bad color choice… can you believe he doubted me? … Ha! Insert a big laugh here!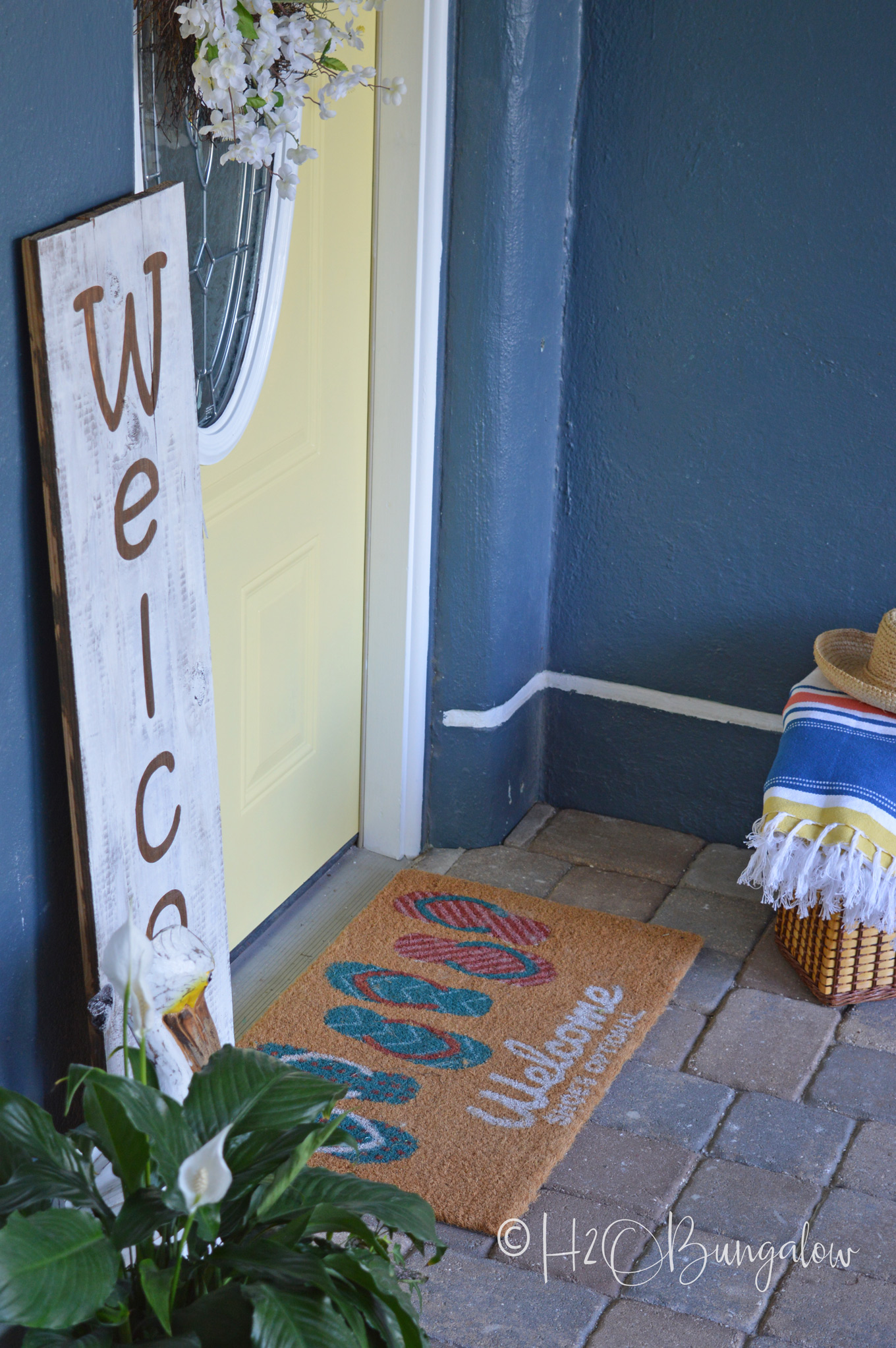 Did you notice my pretty wreath does not have a clunky metal over-the-door wreath holder? I didn't wan't to scratch up my new paint job or mar the door jamb since they were both freshly painted. I found this giant wreath holder suction cup and after reading the reviews I decided to try it and LOVE it!
Don't forget to pin your favorite photo in this resource post for later!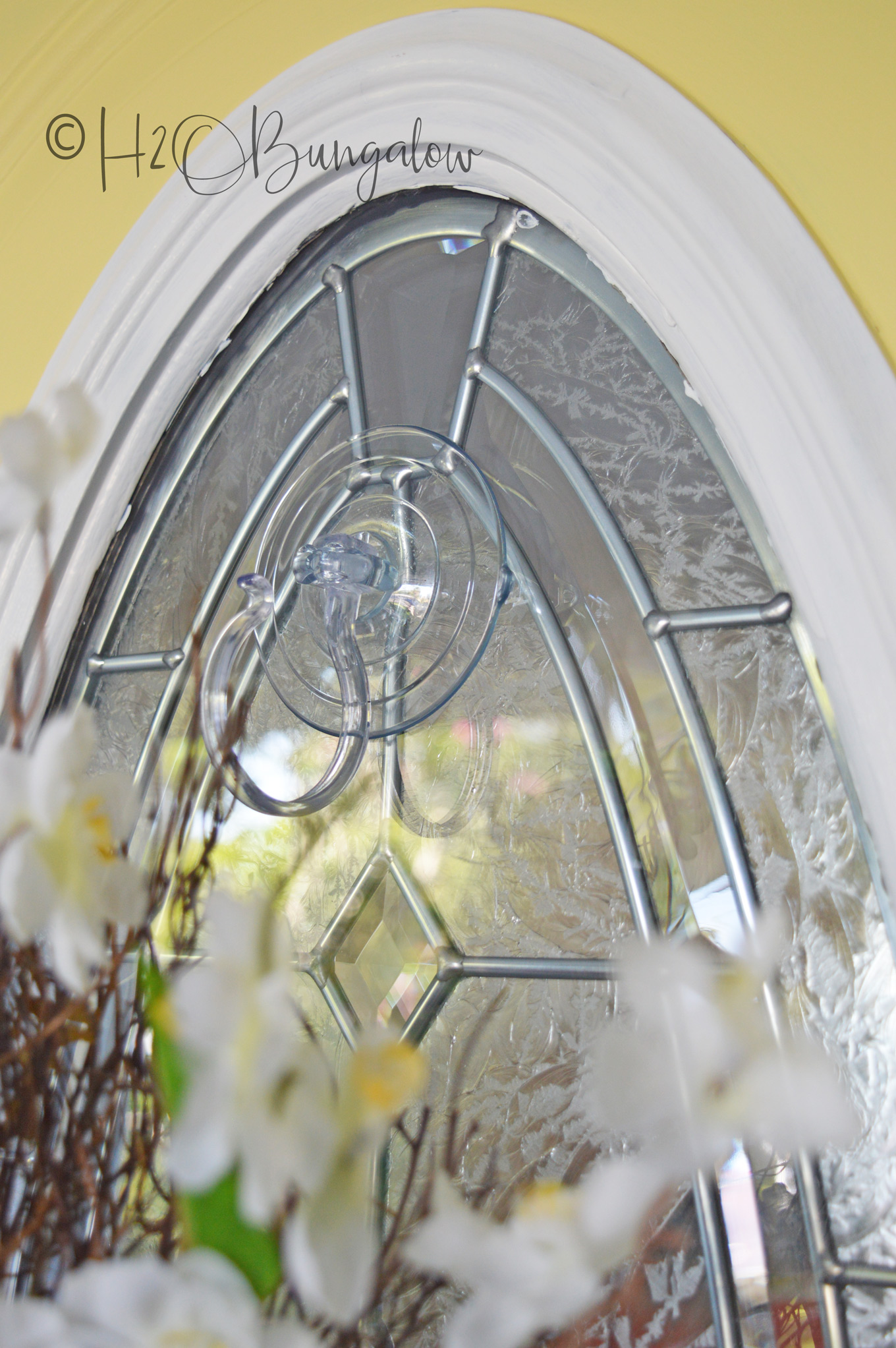 I'm loving the new look of my yellow painted front door and how it brightened up our entry. I'm not done yet. This year, I'm squeezing out a few more projects that will take my front yard and curb appeal to the next level. I'm SO excited!
What color is your front door painted?