I've had a love hate relationship with my outdoor teak furniture for the last 3 years. I'm loving it now of course, since all the work is done. To me, all outdoor wood furniture is gorgeous when it's new or is fresh from an outdoor makeover. My goal is to keep my furniture good looking as long as possible, years even. Today I'm sharing my tips and tricks to restore outdoor teak furniture to save time and make the finish last longer for those of you who live with the same love/hate dilemma of outdoor wood furniture.
I also share 3 more Steps to Refinishing Teak Furniture and don't miss the 4 easy steps for painting metal furniture or how to paint wicker furniture.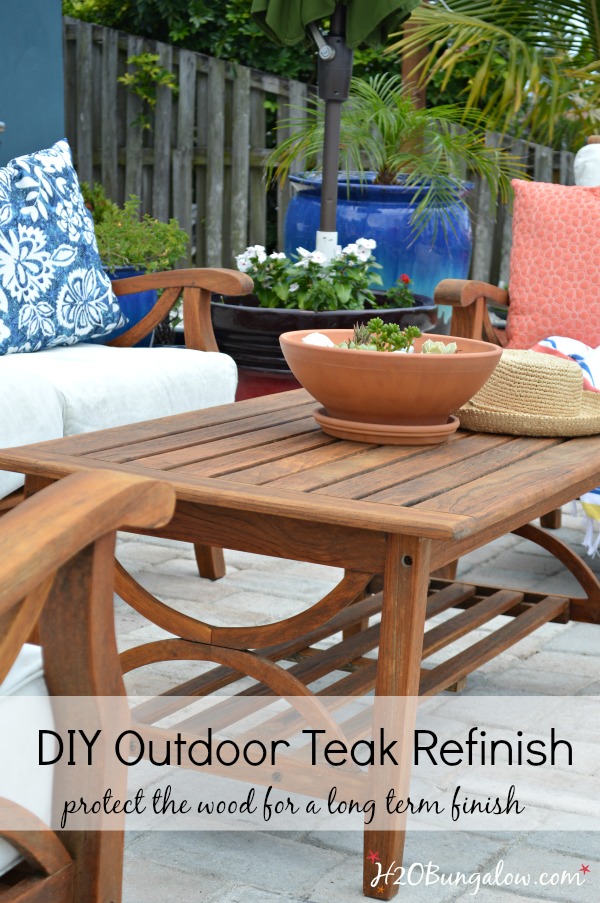 You guys may remember I shared this picture a few weeks back. It's my backyard and teak furniture before I started my 30 Days To Fabulous Backyard Makeover in the beginning of June.
It was so sad.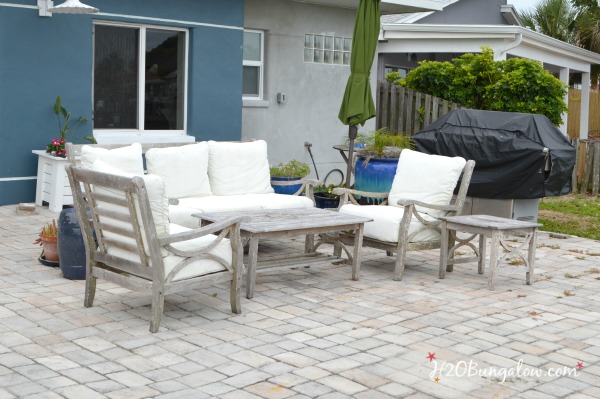 Fast forward a few weeks and several DIY projects later.
Even with the outdoor DIY projects transforming my backyard, my teak furniture didn't look good. In fact, I think it was bringing down the rest of the patio 🙁
I had to buck up and just do it. It was time to restore my outdoor teak furniture.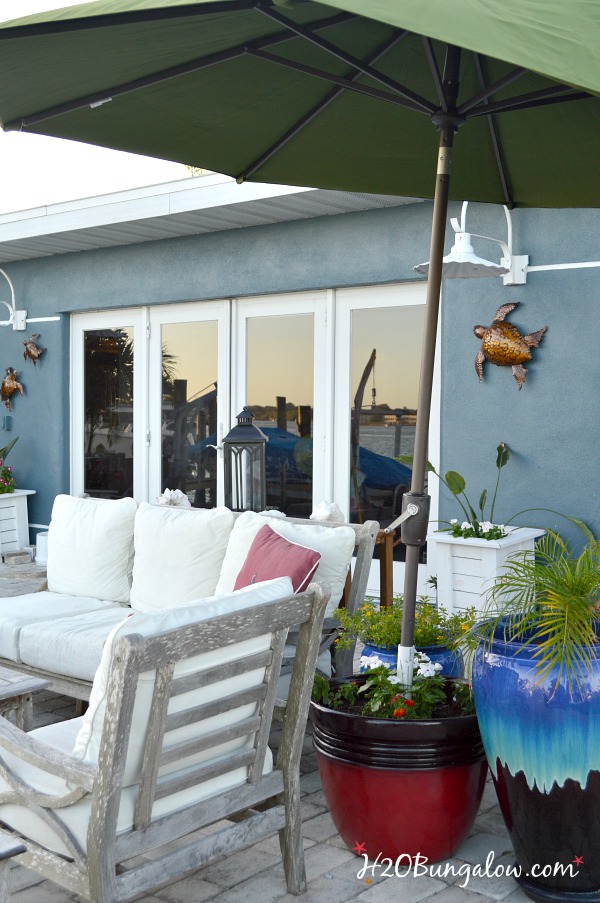 But I wasn't going to do what I did last time.
I used plain teak oil on our teak furniture twice the first summer we had it. Each time it looked good for a few weeks and then faded again. What the heck? All that work for a few measly weeks of looking good? Then I kind of gave up and decided I'd go for the weathered look.
I never really liked it.
That spot below is where the cushion protected the wood and what it looked like 3 years ago.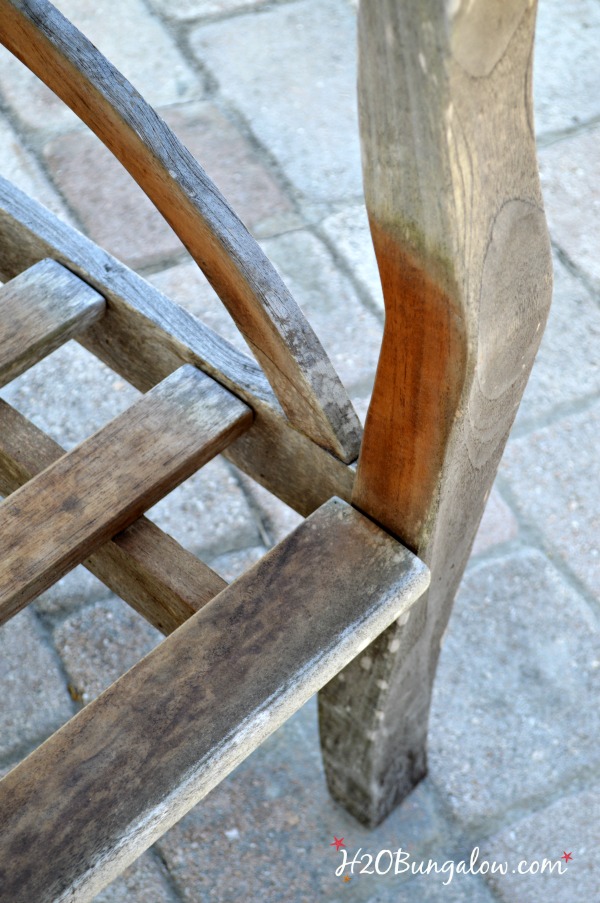 Since I had to tackle this project once again, I figured this time around I'd find a better way to go about it and one that lasted longer:)
How to restore outdoor teak furniture
Supplies needed to restore outdoor teak furniture or outdoor wood furniture.
5″ orbital sander
handheld corner sander
60 and 120 grit sandpaper
large heavy duty plastic dropcloth
lint free painters rags
Thompson's Timber Oil in Teak
Tip #1. Use the right sanders when refinishing outdoor furniture
Start by sanding down the weathered areas of the wood to expose a fresh surface. My 5′ orbital sander was the perfect size and power to remove the top layer of damaged wood quickly. It worked best on horizontal surfaces. The hand sander was perfect on horizontal surfaces and corners. A piece of sandpaper wrapped round a sanding block is a good way to get hard to reach places like in between slats and decorative areas.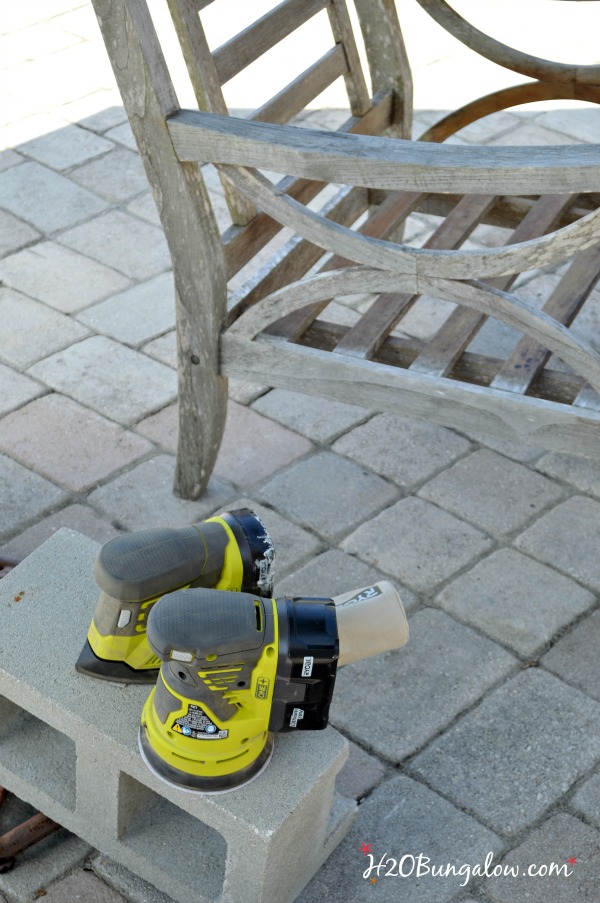 Look at the grain in that wood! I'd love a piece of teak indoor furniture like this. I'd keep the wood bare just like it is now. But I can't do that outside , so onward with restoring outdoor teak furniture I went.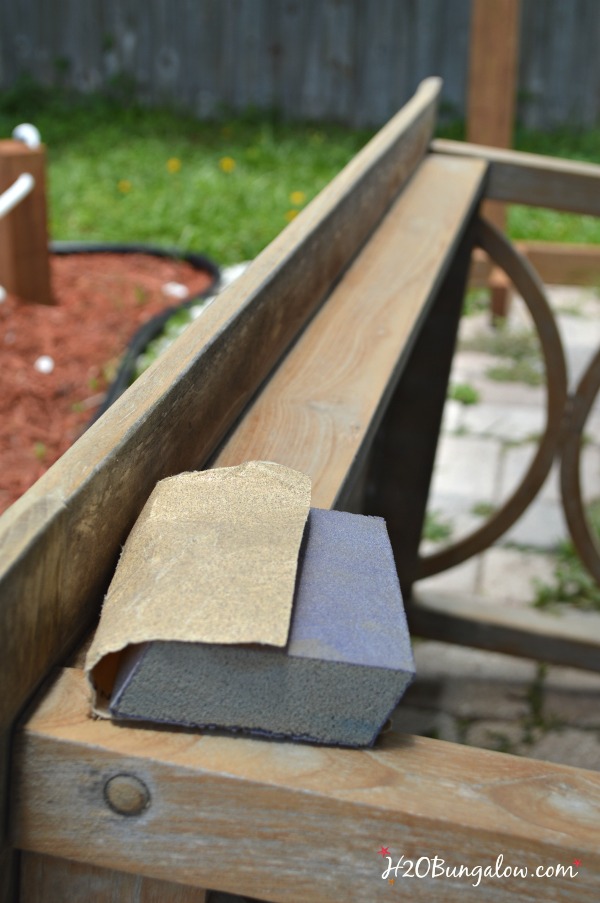 Tip #2 Clean the wood surface thoroughly before refinishing
It's important to have a clean and dust free surface before refinishing teak wood or any outdoor wood.
Sawdust was everywhere after sanding down the teak wood. On me, the furniture, in cracks and crevices. The easiest way to clean it all off was to use the air hose and attachment on my Finish Max Pro Paint Sprayer. It has a powerful blast of air that took care of most of the dust. I gave each piece a once over with a clean painters rag to remove any last bit of dust left.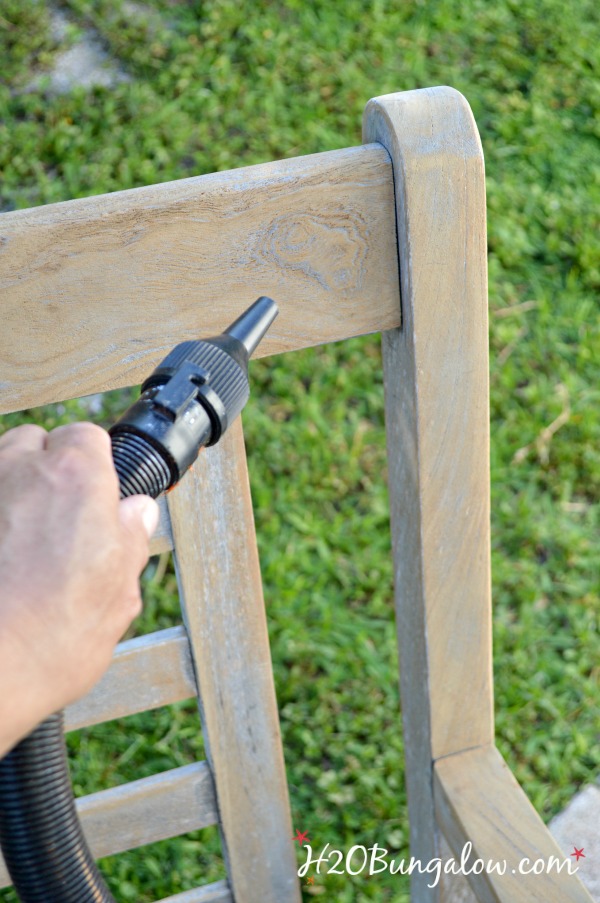 Tip #3 Use a paint sprayer and paint shelter to apply teak oil
If I didn't own a Finish Max Pro Paint Sprayer and Paint Shelter already, I'd buy them for this project. When refinishing outdoor teak or any wood furniture for that matter, you can't get around prepping the wood properly. Using the right tools simply makes that step easier and less painful.
But…
The step that can really save time and a huge amount of effort is how the teak oil or refinishing product is applied. It took hours to apply teak oil by hand. Using my Finish Max Pro Paint Sprayer I applied an even coat all over in minutes, wiped off the excess, and moved on to the next piece. A chair took less than 10 minutes start to finish. Less than 10 minutes guys!
I love my Paint Shelter for lots of projects. It protects the surrounding area from overspray and the painted surface from dust and wind while I'm painting. It's also a good shelter from the sun if I'm working outside. The Paint Shelter assembles like a camping tent and can be put up in a few minutes. Want a closer look? Here's a post with a video I shared a while back showing how to assemble a Paint Shelter.
To apply the Timber Oil I started on the underside of my furniture. I like to elevate my furniture on wood blocks , or whatever is handy.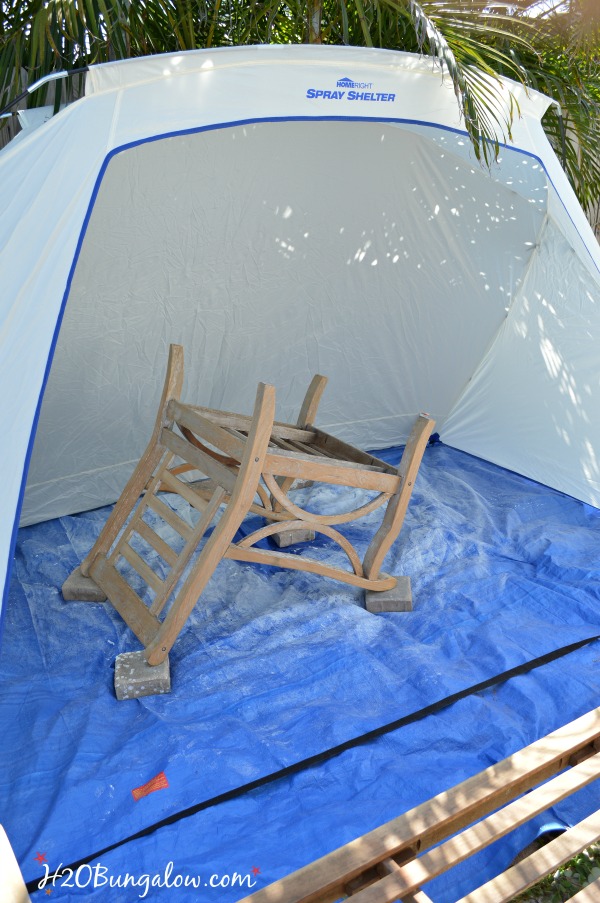 I share a good video and tutorial on using the Finish Max Pro Paint Sprayer here. You'll also see the difference having a Paint Shelter can make, I didn't have one when I was working on that project.
You'll see in the picture below I fit the sofa which is huge, in the Paint Shelter too:)
I used Thompson's Waterseal Timber Oil for this project simply because their finishes last and protect wood so well. Teak oil alone, which I use on the boat and should know better, doesn't last long at all. Especially when the wood is exposed to sun and weather 🙁
To get the proper amount of Timber Oil to Flow from the Finish Max Pro, dial the amount of spray way back and increase it until just enough spray flows to cover an area in one pass.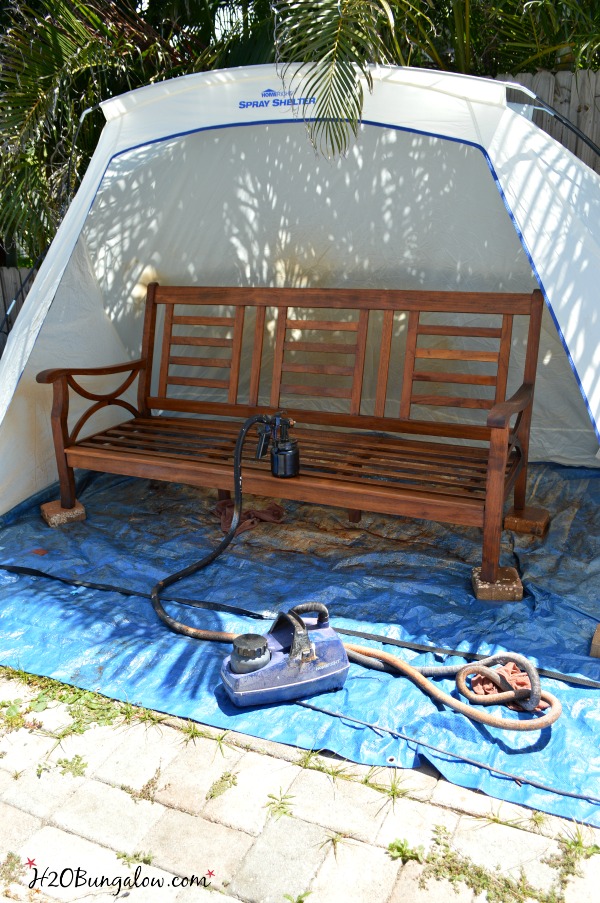 I sprayed my entire set in less than 45 minutes, by myself:) As each piece was done, I set it in the shade and kept it out of the sun for the rest of the day.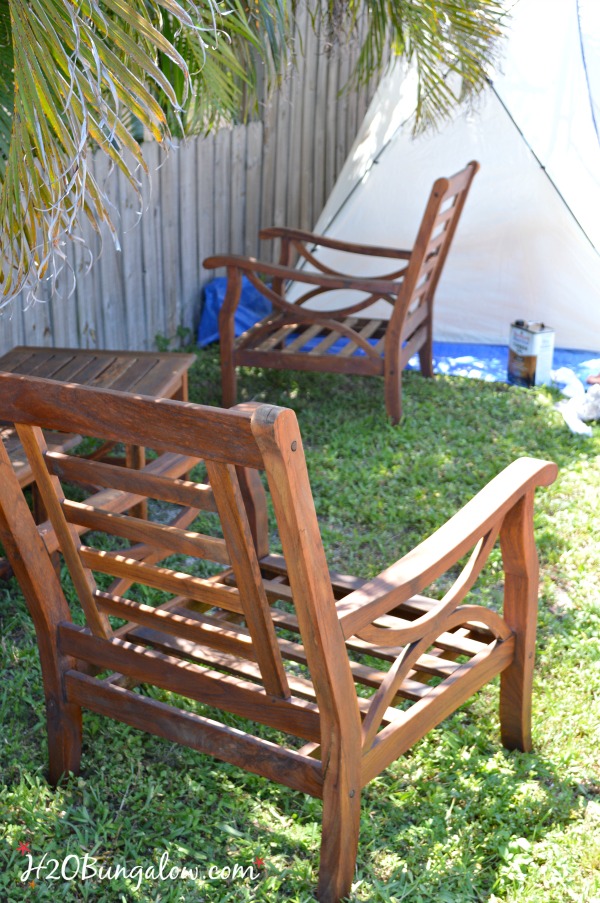 So much better!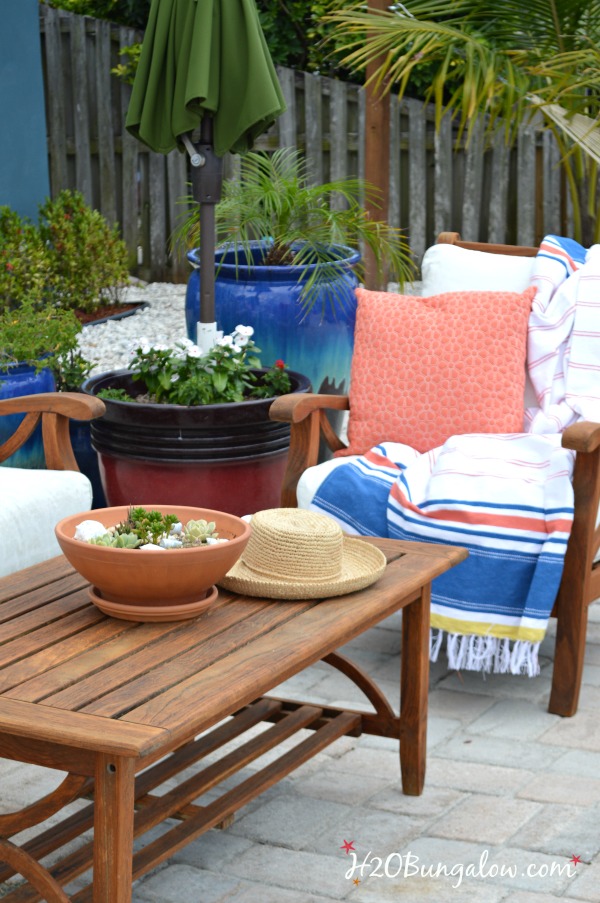 Now I can say my backyard makeover is really starting to look good!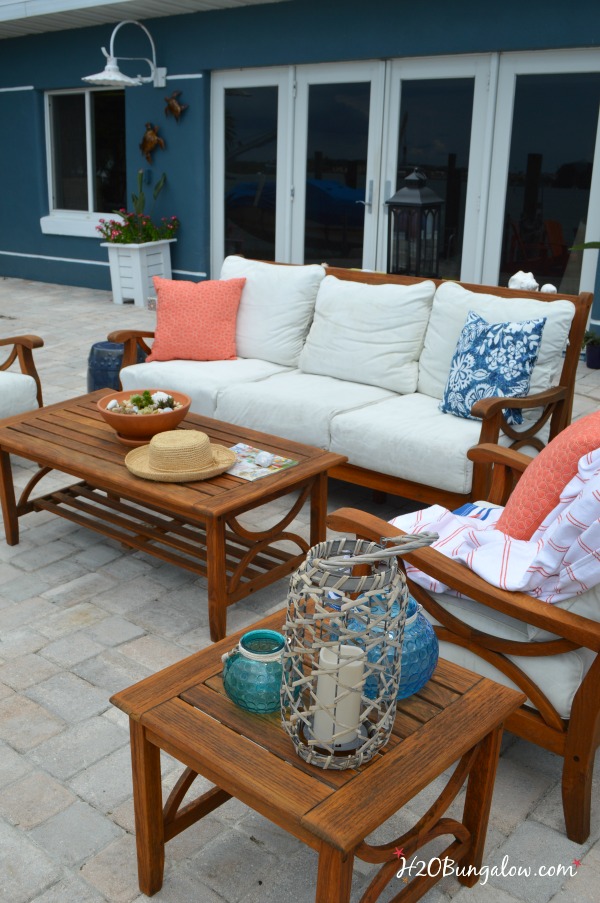 I like looking out my windows now. It's exciting to see everything come together, and a much better feeling then having nagging thoughts about how much work I have to do!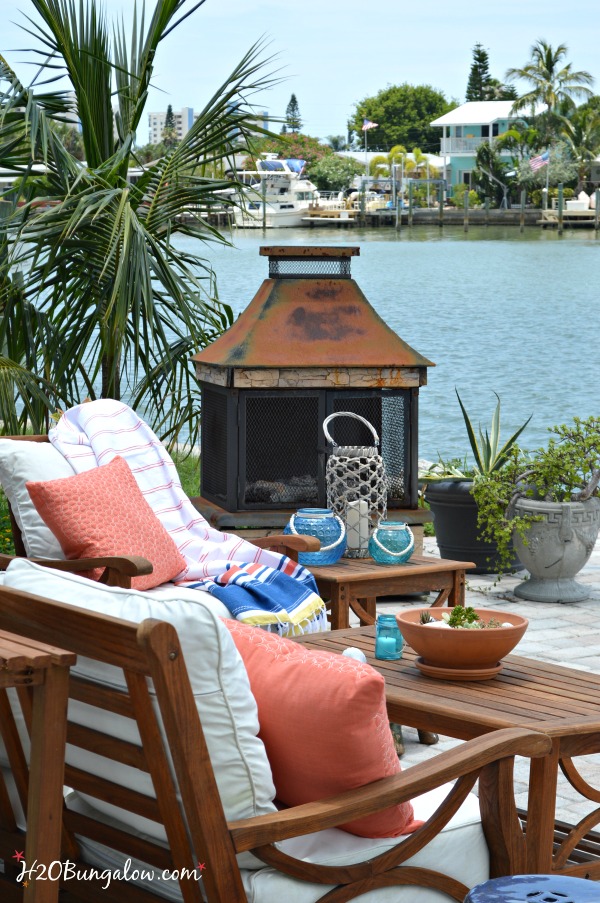 Oh, I still have plenty of work to do, it's just that with this restore outdoor teak furniture post and project behind me, the entire backyard has turned a corner and is now starting to really look like a place to enjoy and relax in!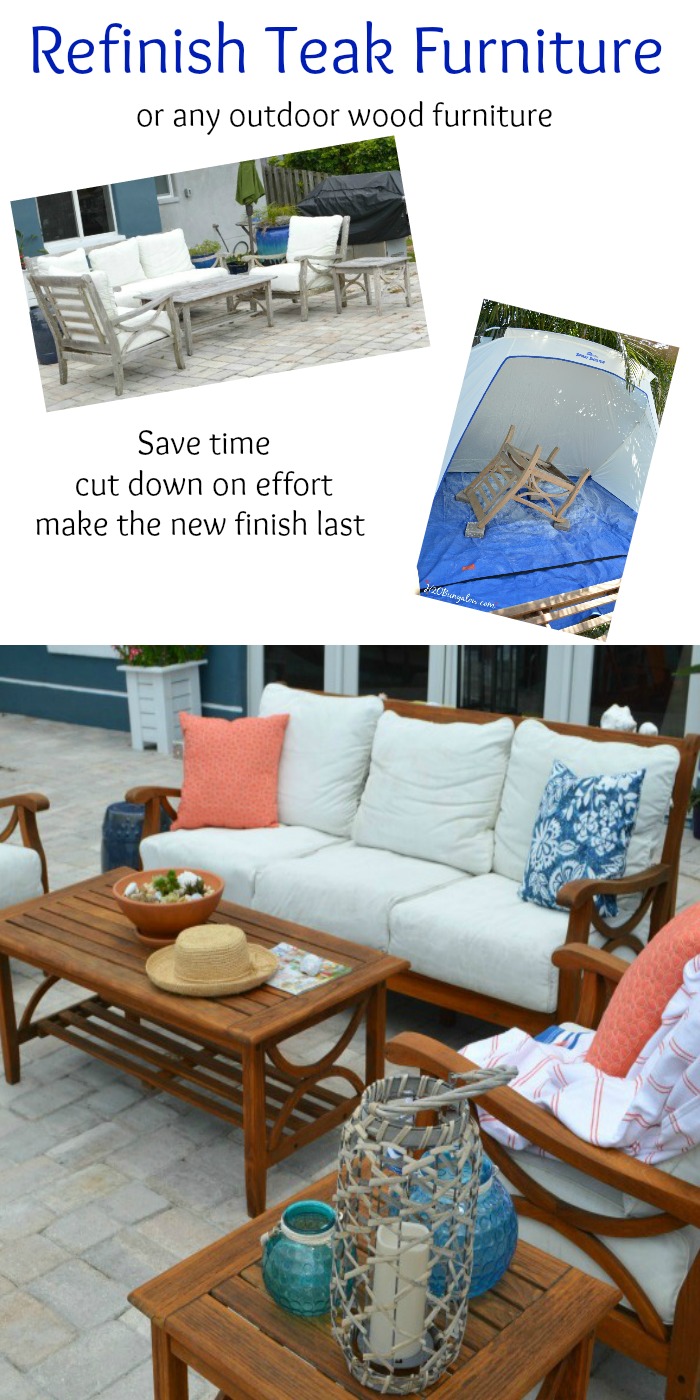 Do you have teak or outdoor wood furniture that needs a refresh or makeover? Do you have any outdoor furniture makeover tips to share? Let's chat in the comment section below!
I'm getting close to the end of my 30 Day Makeover guys! I do have a few more projects to fit into this week and I know you're going to love them!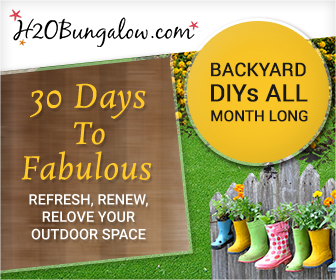 Project #8 of my 30 Days To Fabulous Backyard Makeover
See my other 30 Days To Fabulous Backyard Makeover Projects below!
This project was sponsored by
HomeRight
. You guys know I use several of
their products
and love the quality and how they make my DIY jobs much easier.
Did you guys know I'm also a
DIY Expert
on their website?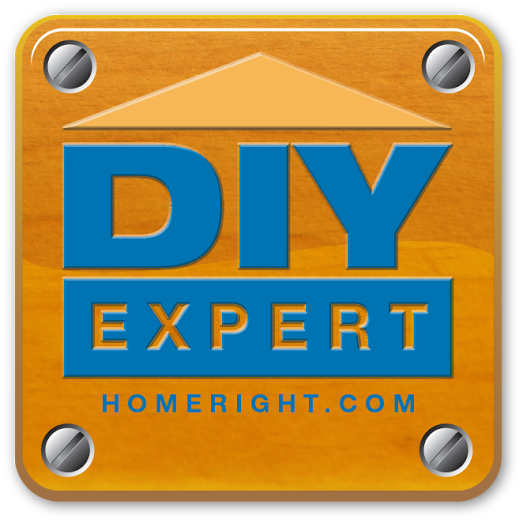 You'll find my project linked up to these fabulous parties!
Love a good dose of DIY home decor, home improvement, the challenge of woodworking and creative ways to make your home look fabulous?
Me too!
I'd love to share mine with you. Click here to sign up for my post emails and I'll send a quick note when I have a new project to share.
Disclosure: I may have been compensated, given product or tools that I used in this DIY post. All opinions that I share are always 100% my own. I use affiliate links in my posts. If you should make a purchase I will receive an itty bitty commission at no cost to you. Thank you in advance for supporting my blog and two fur-ball cats who believe they are privileged.