Today, I want to share my spring master bath tour with you guys. I'm not sure if it was the official arrival of spring, the new skylights we just put in or it was simply time. I've been itching to do a spring refresh on my master bath and couldn't wait to share it with you. My master bath was feeling tired. Sometimes, a few simple changes, moving a piece of furniture or adding new curtains is enough to make a room feel fresh and welcoming again. I love that feeling when I walk into a room. Don't you? You can check out more rooms in my Coastal Home Tour.
The good news was that I saved some budget money by painting my own ceilings after we put in the new skylights. You can see what this room looked like a few weeks ago in my How To Paint Ceilings Beginners Guide Video and Tutorial. So, cash in hand I did just enough shopping to put a smile on my face and make the room feel good again.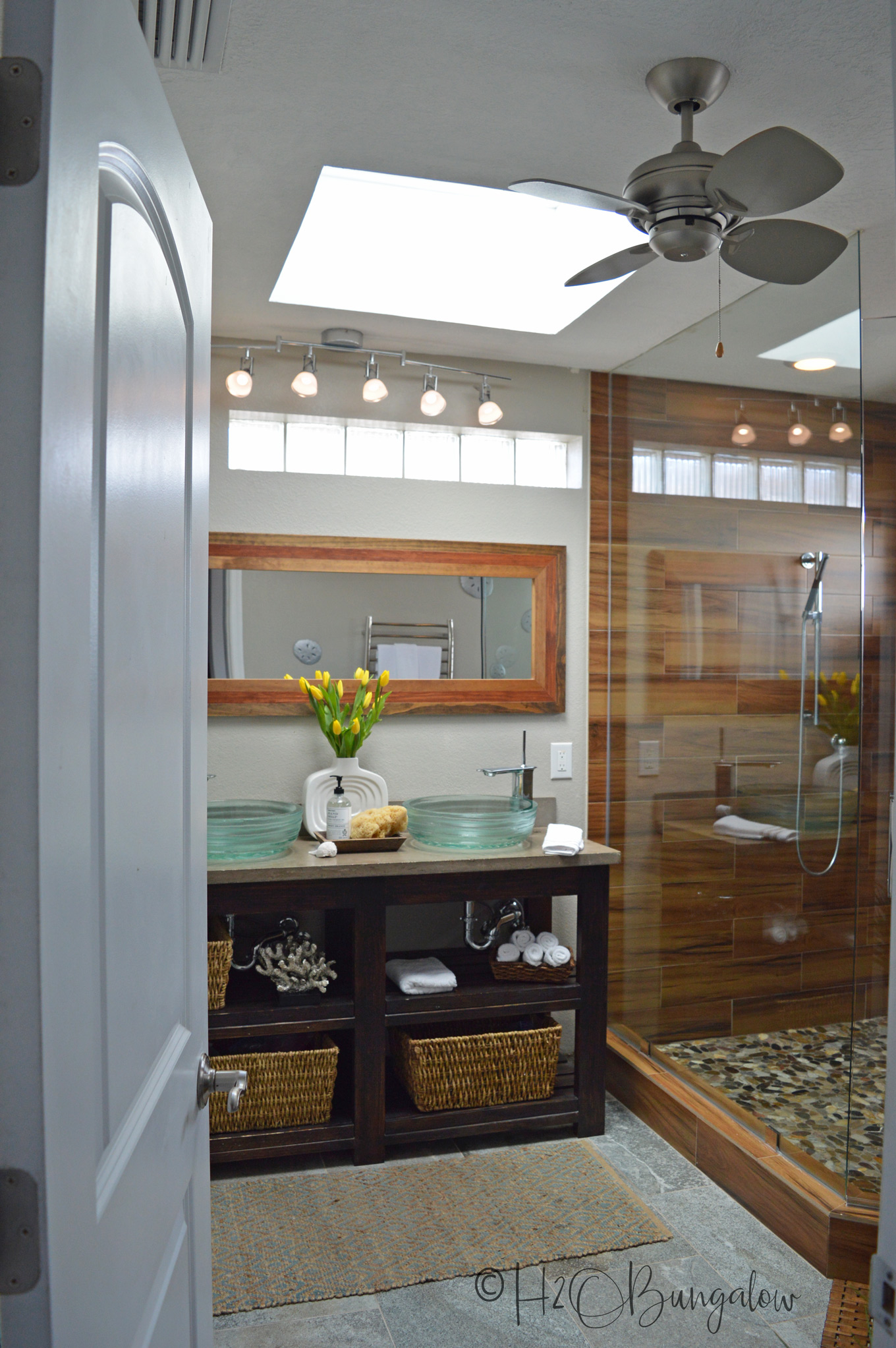 This room was not here when we moved in. Originally, our home only had one bath. I designed and planned this Contemporary Master Bath Addition a few years ago. Like the rest of the house, this room has it's fair share of DIY home decor projects. I love being inspire by others and I was definitely inspired by these fresh and trendy beach house decor ideas. I'll point them out as while I share my spring master bath tour.
Spring Master Bath Tour
I use affiliate links to help you find the products I used. If you make a purchase I get a small commission at no cost to you. The affiliate money I earn helps cover the overhead costs of H2OBungalow. Thank you for your support!
I move accessories around my house a lot and have been loving white accessories lately, especially white ceramic. They work anywhere. I fell in love with this large white ceramic vase to sit on my DIY concrete counter top. I love the shape and detail next to the frosted glass sinks on the counter. It's a nice contrast from the modern industrial Open Shelf Vanity I made a few years ago. I was sure to Wax the Concrete Counters so they would look fresh too.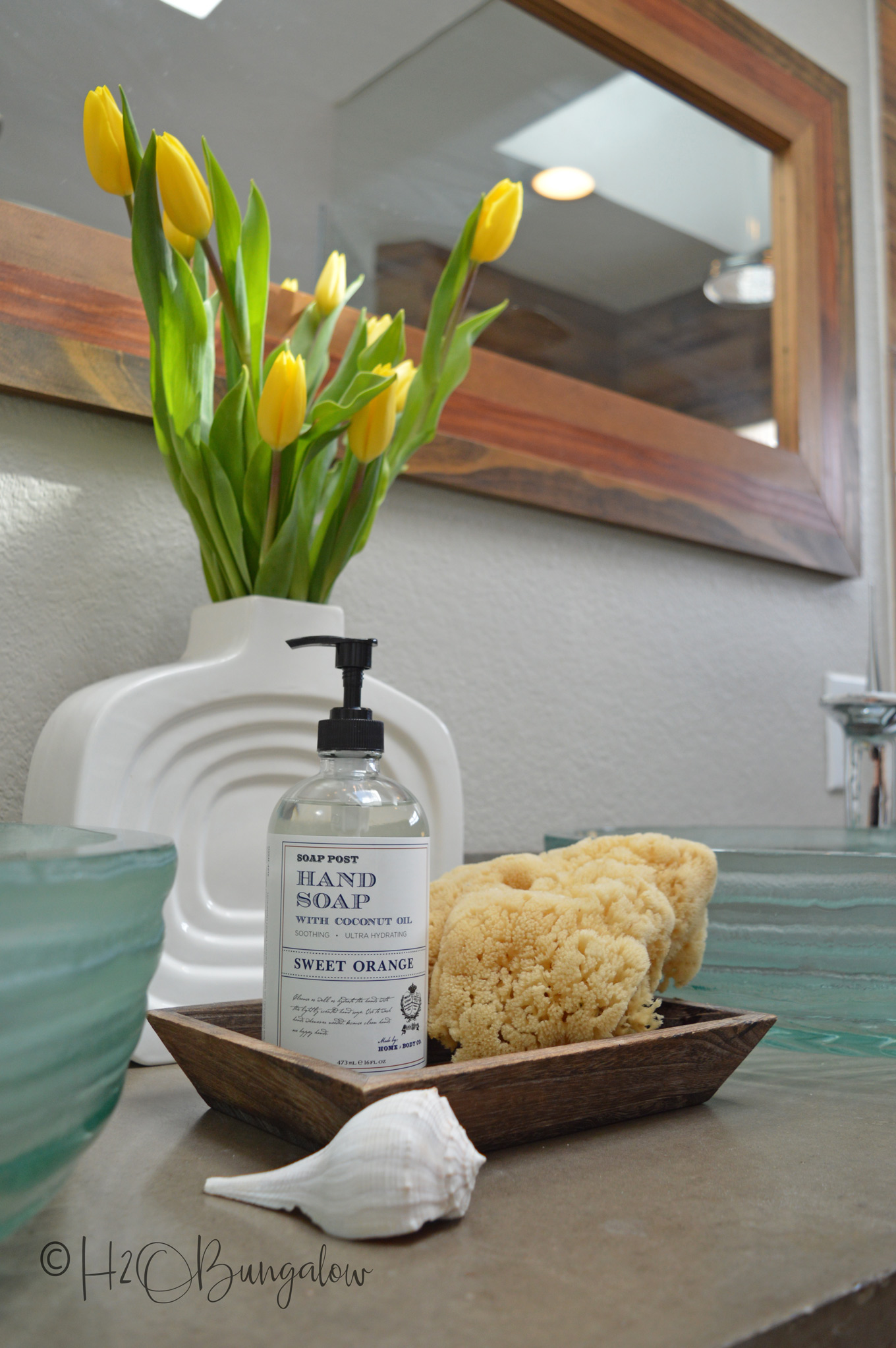 I'm a sucker for fresh scented hand soaps. You'll always find a bottle of something special near my sinks. Speaking of sinks, I do love the glass vessel sinks . They aren't always practical, especially when they are the main sink in a bathroom, but they do look pretty!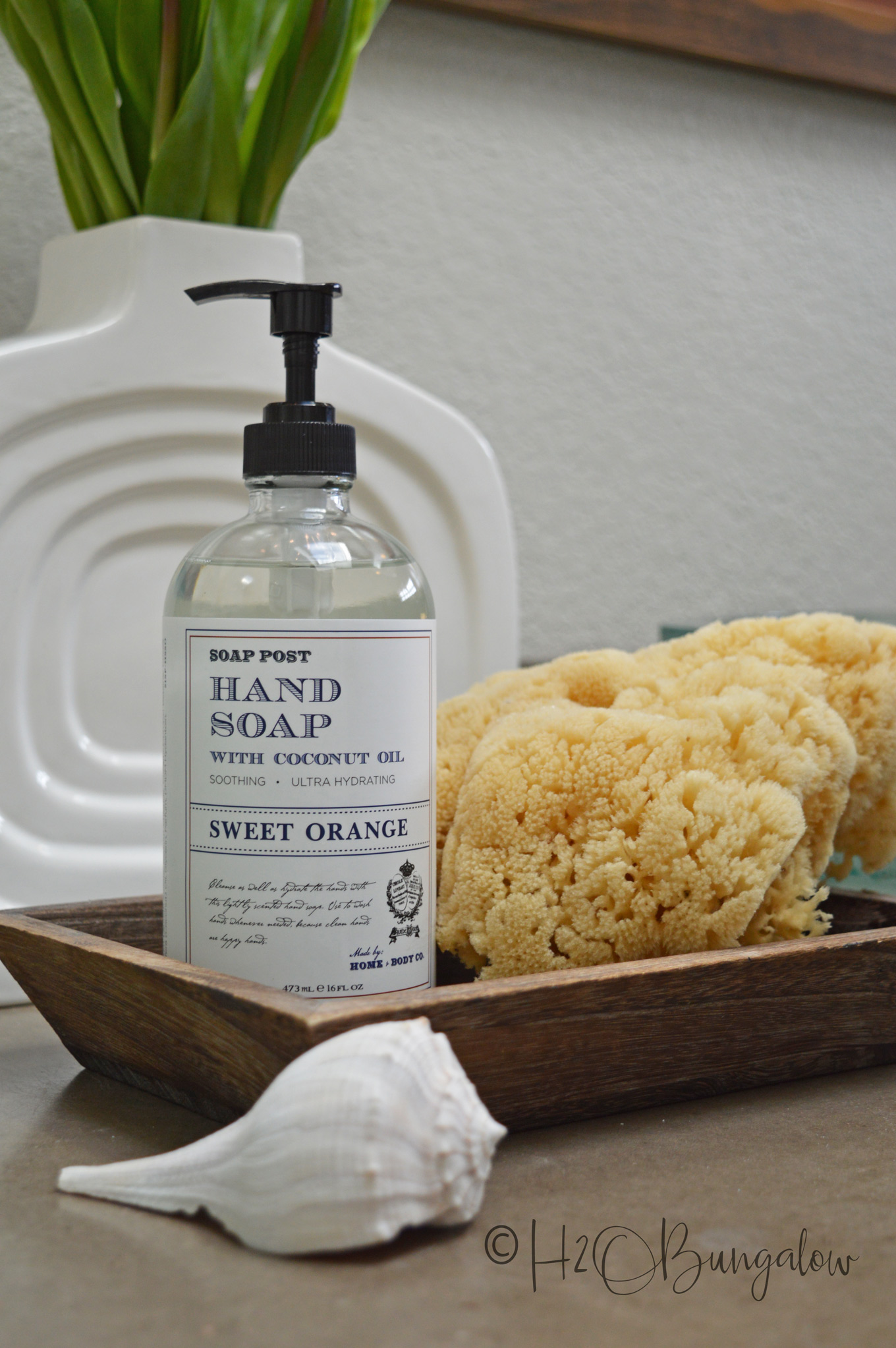 I wanted a long mirror to fit over the vanity. I built this Modern DIY Rustic Mirror Frame out of an old over the door mirror that came with the house. Speaking of mirrors, one mirror I wouldn't do without is my lighted make-up mirror. It's a crazy strong magnifying mirror, which is a lifesaver 😉 Oh, and they are so easy to install near an outlet or light switch!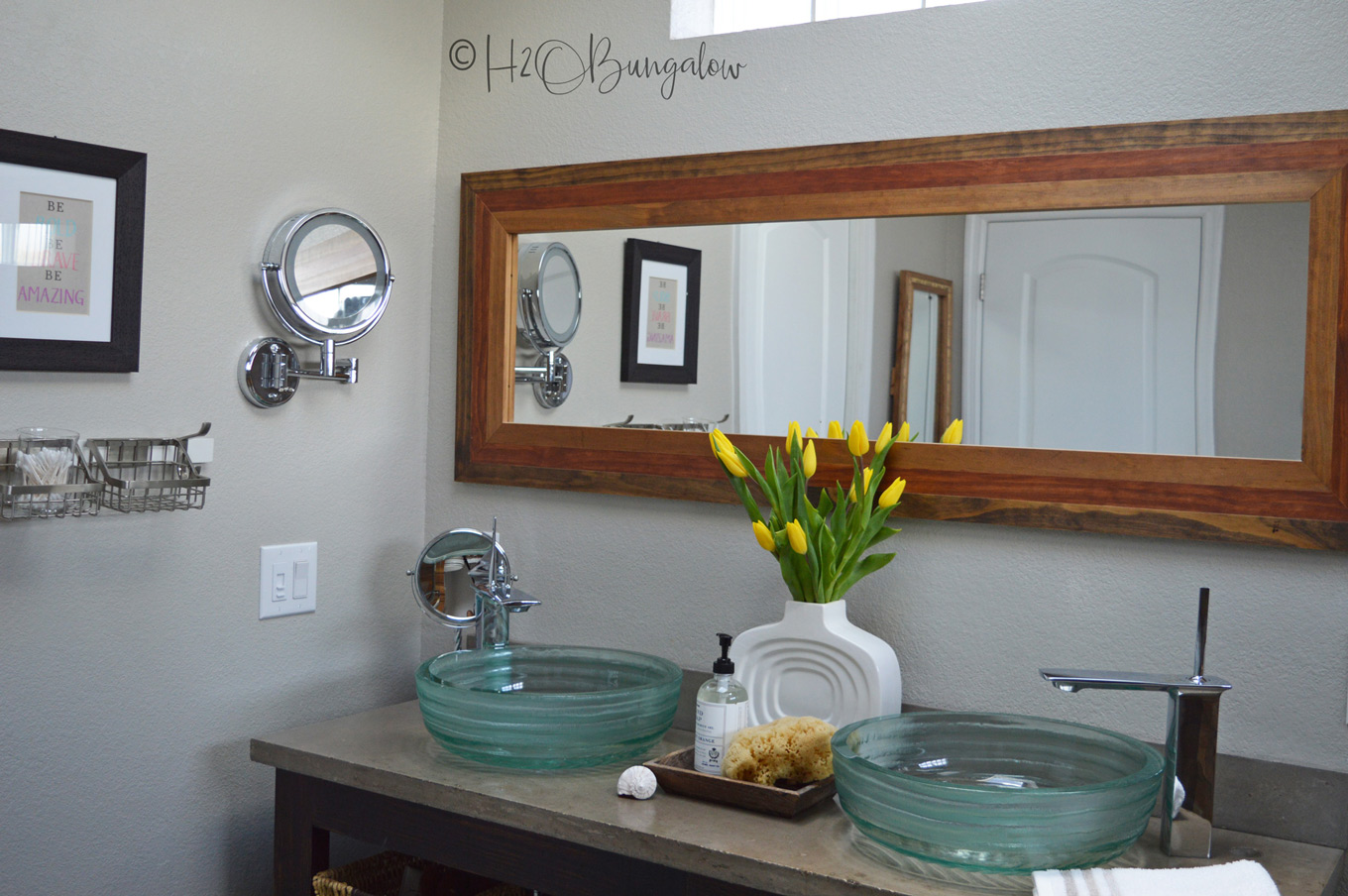 My faucets are by Kohler, an investment for sure but I'm sold on the quality.
I like the way this wall came together in a little vignette. The colors, textures and items all work well. I repurposed an old picture holder in my Bath Storage Cabinet Makeover. It's perfect for storing necessities. There was a bucket of extra concrete when we made the concrete counter and I made a set of Concrete Silver Sand Dollars. I wish I'd made more and a few really large ones too. Oh well, hind sight….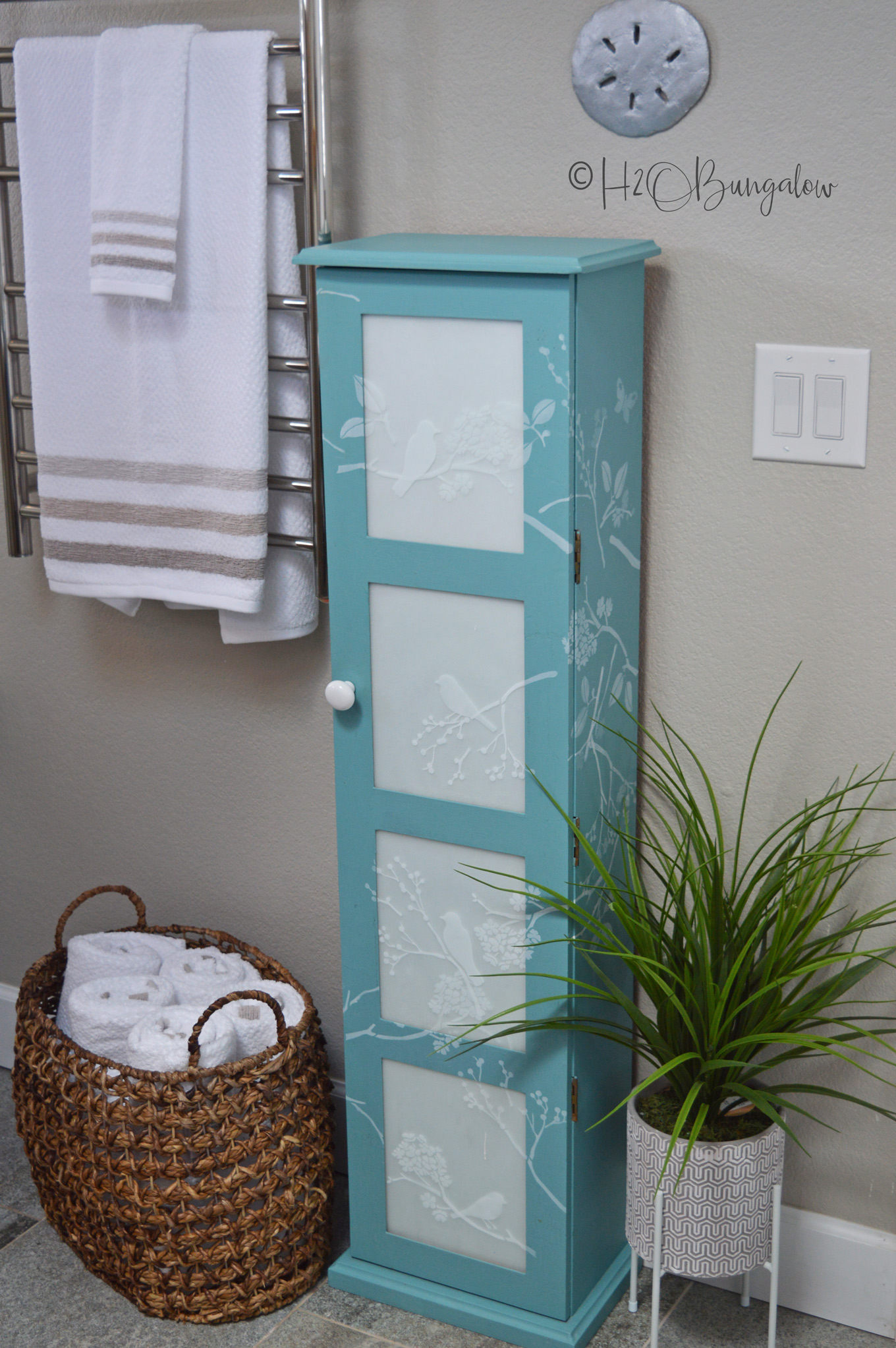 I found this white planter stand at HomeGoods, but considered this one for a while. Ultimately, my space wasn't big enough.
One feature I wouldn't do without is a heated towel rack in my bathroom, this is the one I have. They keep the mustiness out of towels in the summer and reaching for a cozy warm towel in the winter is such a treat! Yes, even in sunny FL. To me, fresh new towels are the easiest way to refresh a bathroom. I love white towels and just picked up a new batch. I roll my bath towels and keep them in a basket, they look nice and a clean towel is always within reach.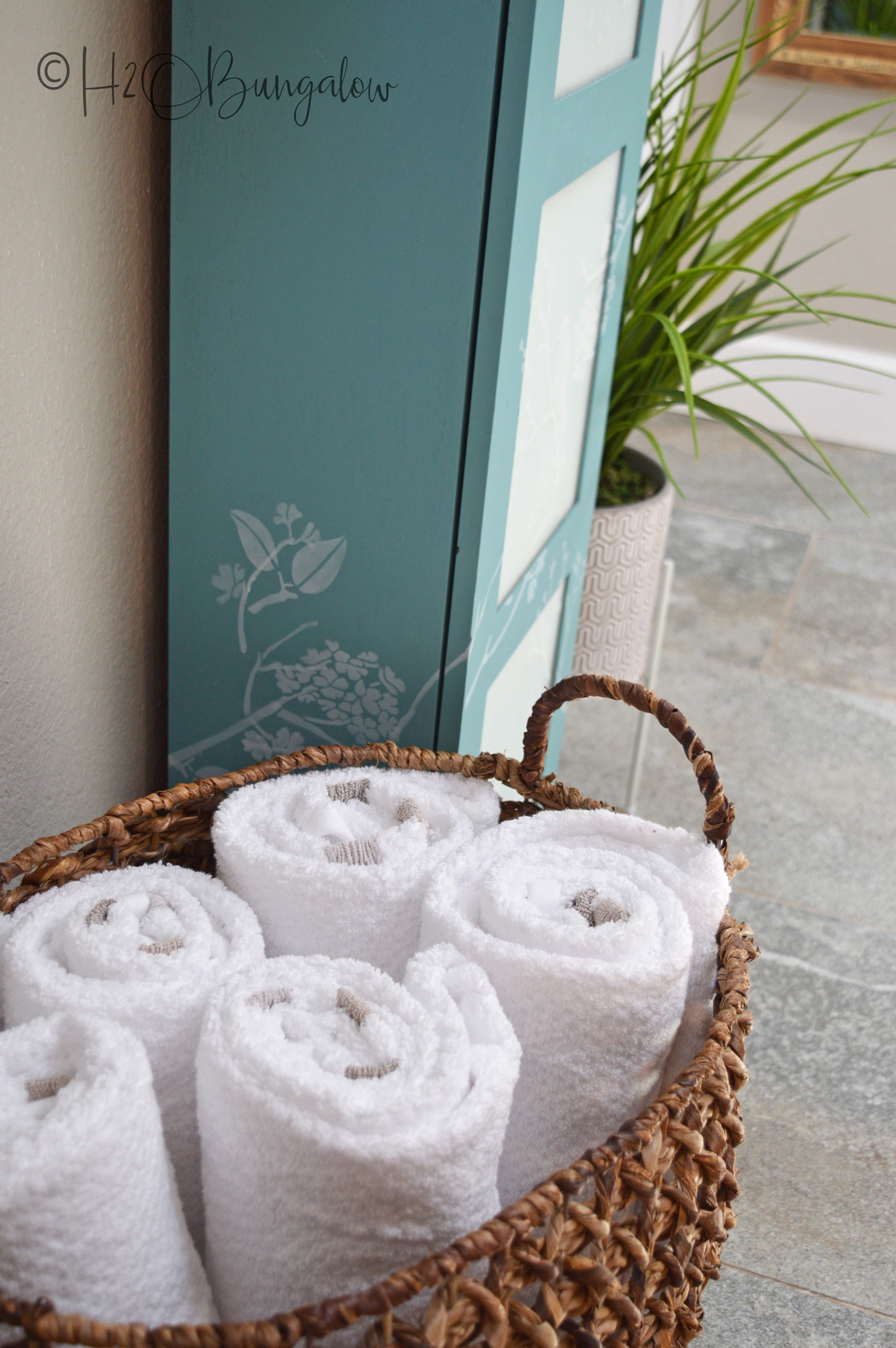 With an open vanity, even storage needs to be pretty. I also roll the wash cloths and keep them in a small basket on a shelf.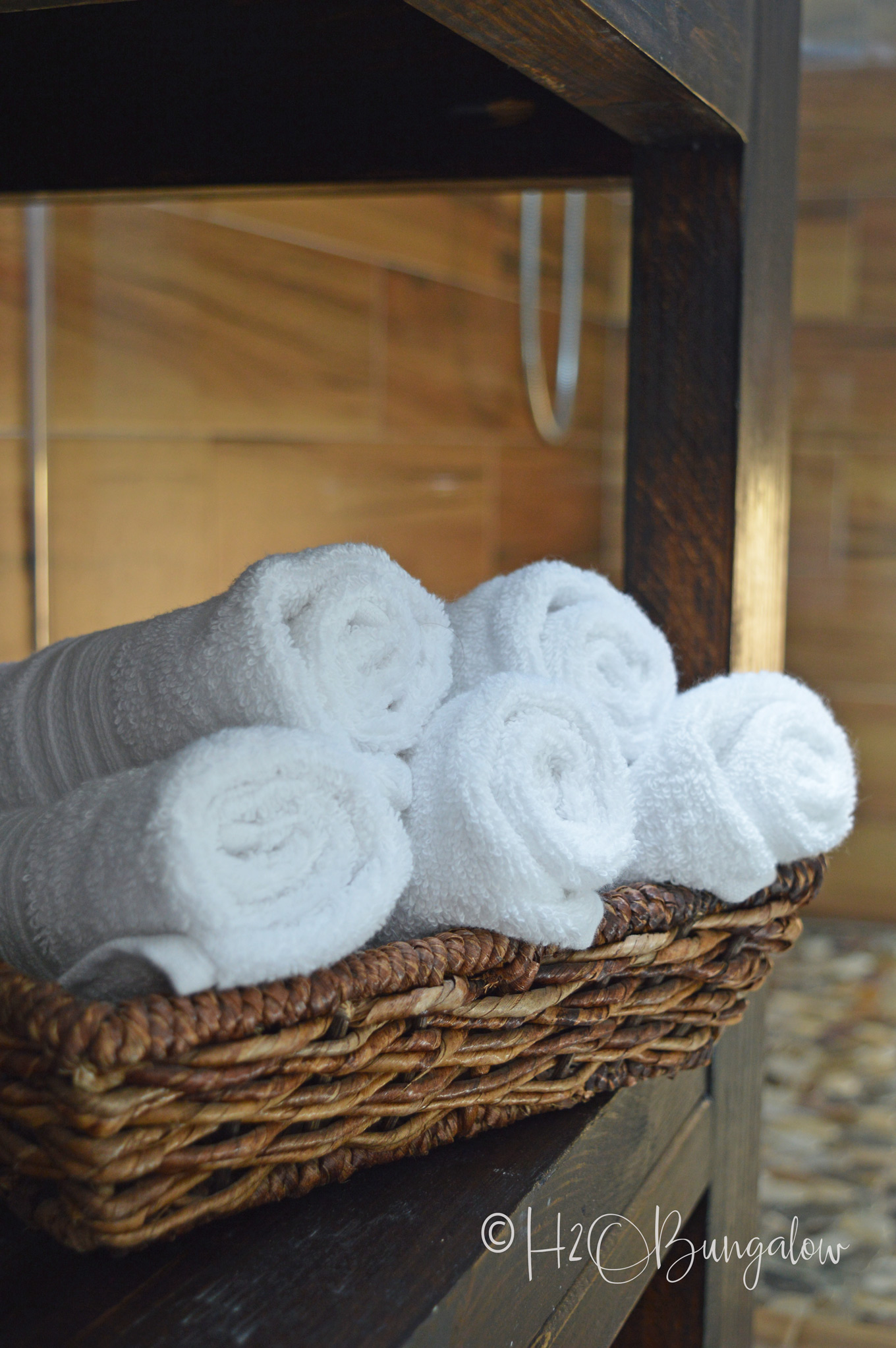 Our oversized shower is another favorite feature of my master bath. I wanted this shower to be unique, indulgent and spa like. It features Kohler fixtures, a rainfall shower head as well as a wall shower. I found this fabulous wood bath mat that works beautifully with the wood ceramic tile and stone shower floor.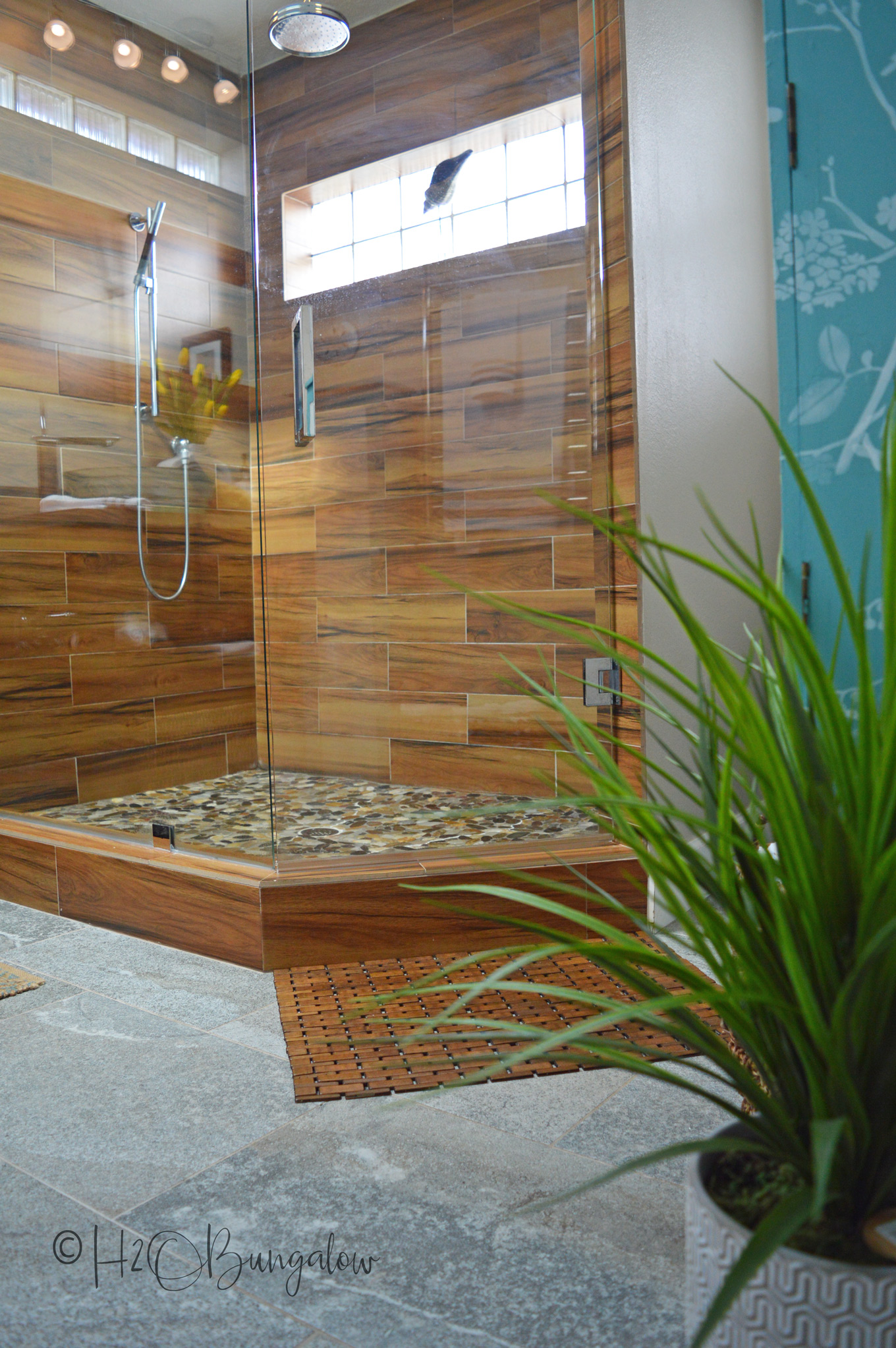 Another favorite feature of my shower is the no frame glass walls. See how the sheet of glass starts at the shower edge on the floor and goes all of the way into the ceiling? You wouldn't think it was sturdy but it is.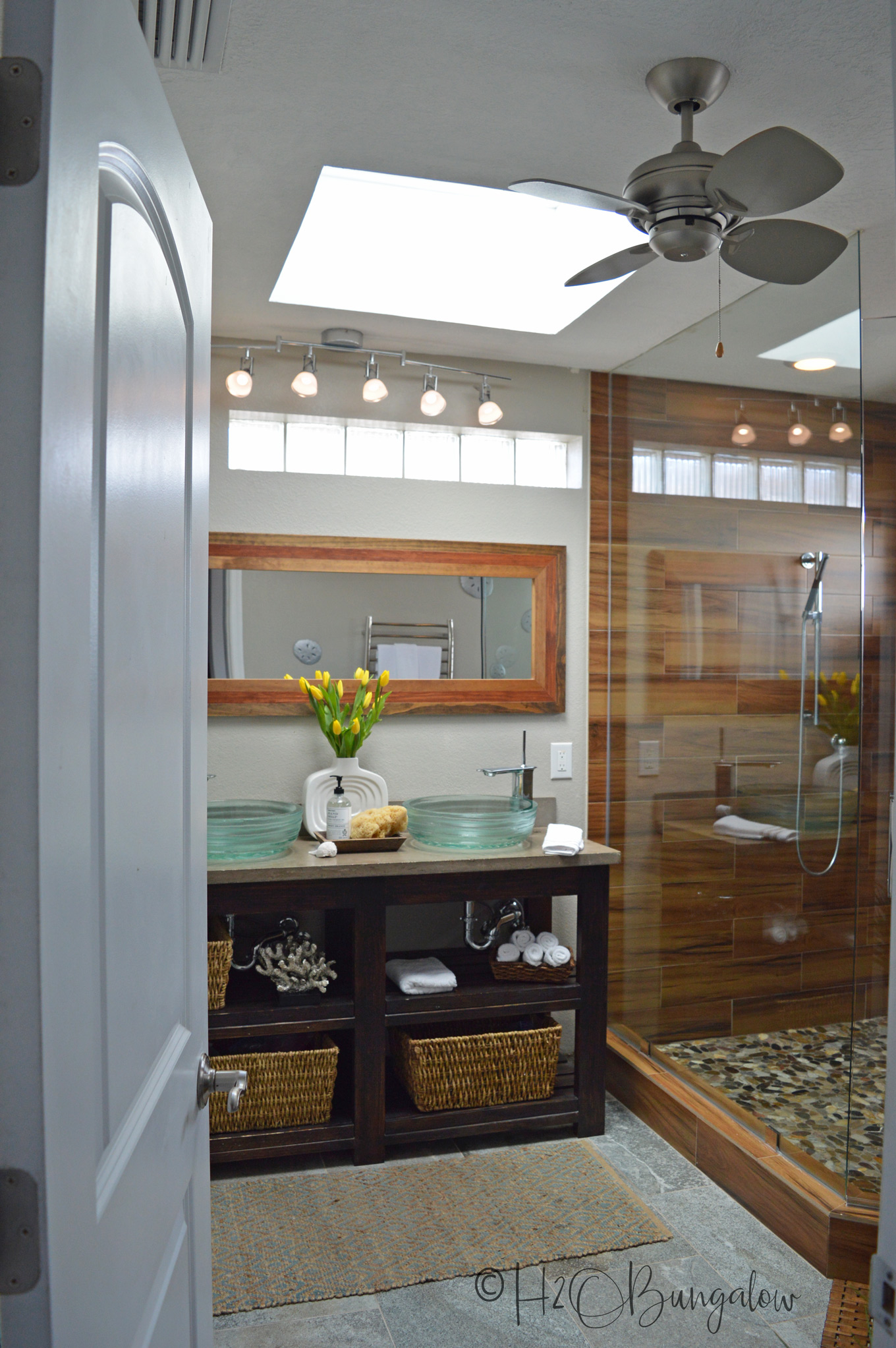 Finding a 60″ rug for the vanity that fit my modern coastal style was a challenge. I love the blue cotton weave into this blue and natural jute rug. Here's a jute runner that is almost the same. Using a textured rug like this for the bath is great, they last forever and look fabulous, especially in a modern rustic bath.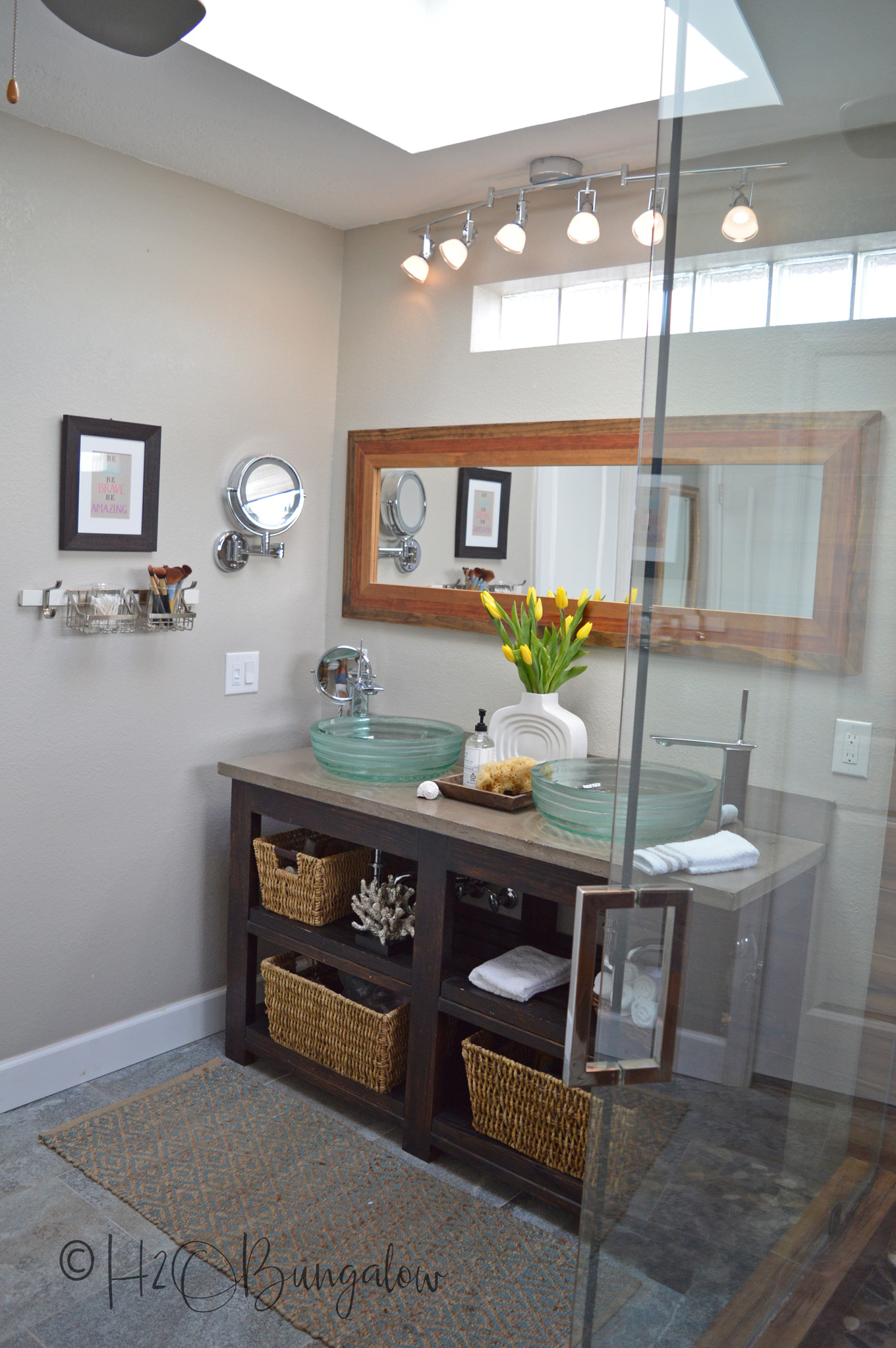 I realize I've focused so heavily on renovating the North House for the past year and a half that I haven't done much at home or shared much with you guys. So that's my spring master bath tour and refresh. Outside of a good spring cleaning after all of the construction, I only had to add a few accessories to make the room feel new and fresh again.
While I called this post my coastal spring master bath refresh, I always struggle with what term to use to describe the room. Is it coastal, industrial modern, rustic modern? So I thought I'd ask you guys. Leave me a note in the comment section below and share what style you think my bath is!