Today's project is a DIY German smear/schmear tutorial and video. It was one of my top posts of 2018.   I did this technique on a faux brick wall, but you can easily do German smear on a real brick wall as well.  I've seen this technique called German Schmear as well as a white washed brick wall.  I'm not sure which is correct.  What I am sure about is how awesome a room becomes when you add this plaster over brick technique as a feature wall.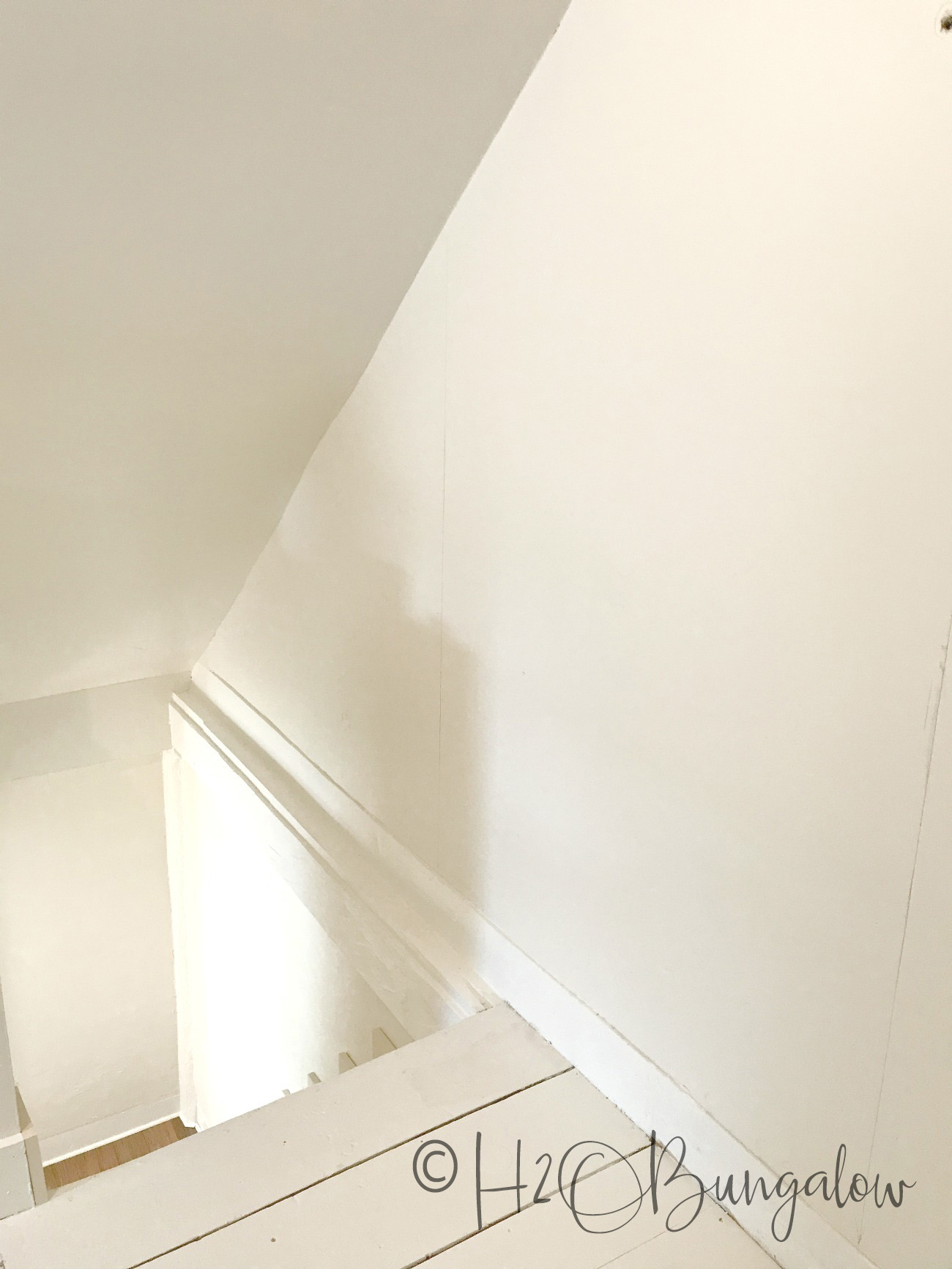 Take a peek at how it improved the stairway of the third floor loft in the North House Lodge.  Keep in mind this part of our house was built in 1835.  You're looking at the original attic and floors.  This space had far too much potential not to do something totally awesome and unique.  Wait till you see the rest of the room!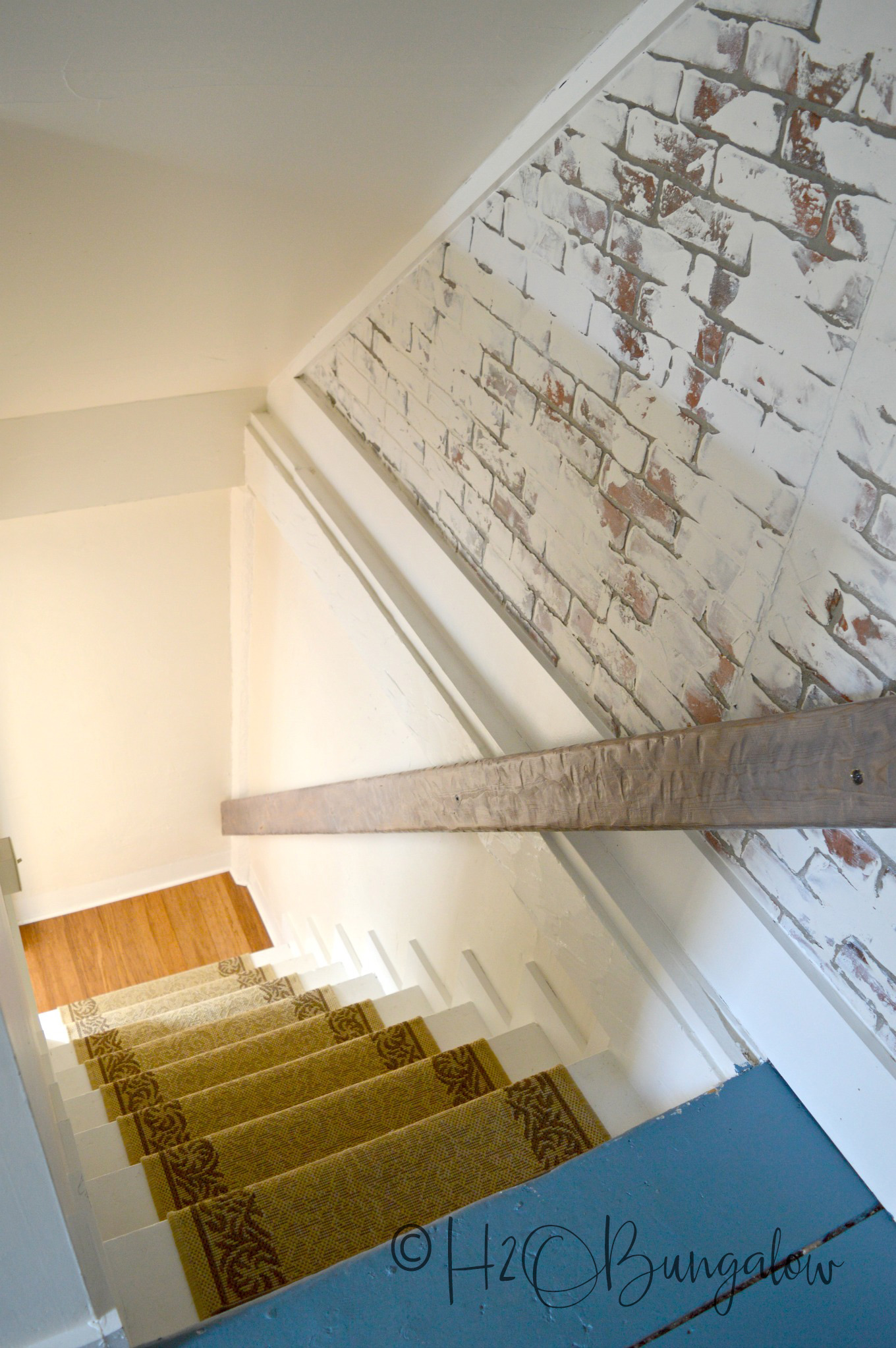 This post is sponsored by Beyond Paint.  This post also contains affiliate links and I will be compensated if you make a purchase after clicking on my links.  Thank you for supporting the brands that keep H2OBungalow going.
What is a German Smear/Schmear wall?
Some people might just refer to it as a white plastered brick wall which is what it looks like.  You've probably seen it on the exteriors of brick homes or on a brick fireplace.  In our case, adding plaster over a brick wall recreated a dimensional time-worn look on the brick.  Aged bricks are never perfect in size or color.  My tutorial adds a lot of dimension and mimics old brick by layering on Beyond Paint before adding a plaster and sealer.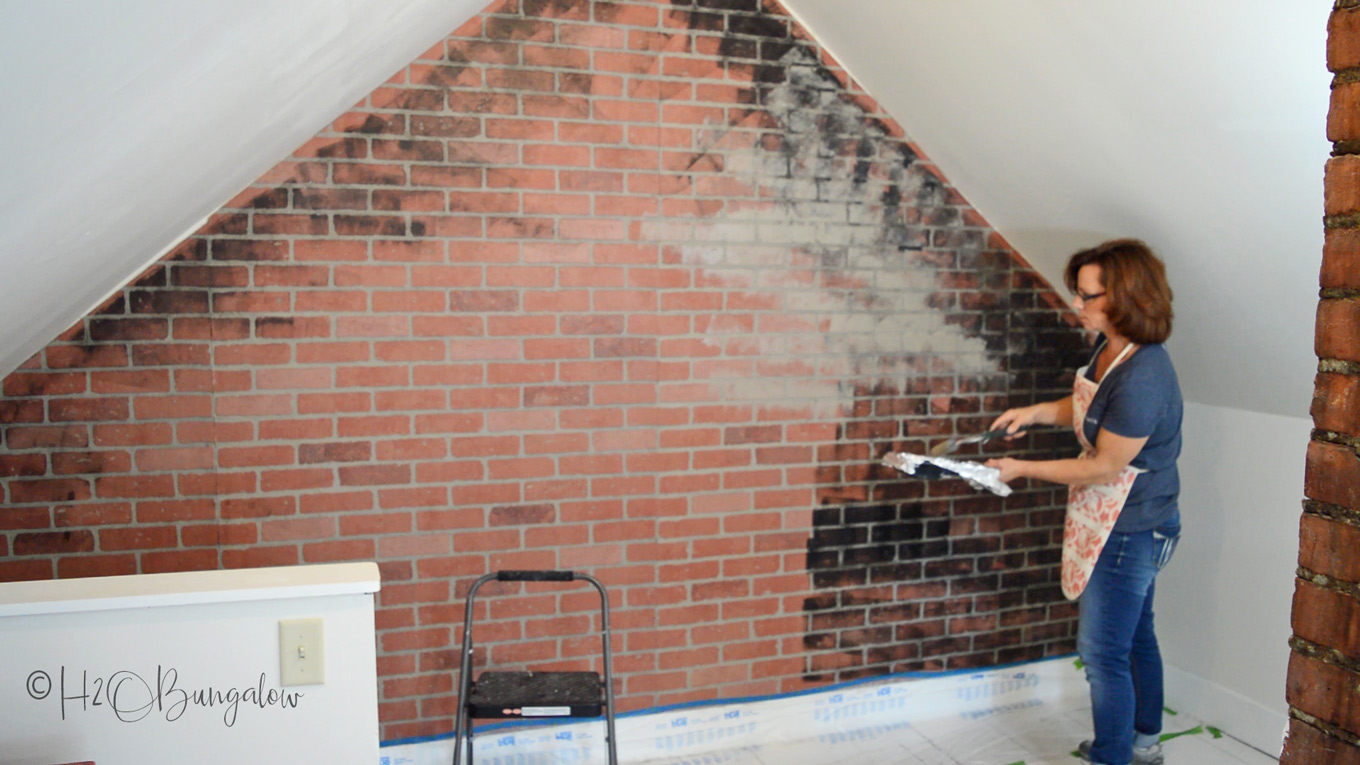 Adding plaster over brick in the German smear style completely changes a room and adds a ton of personality.  The best part is how versatile it is.  A German Smear wall looks great in a modern industrial setting, a vintage or traditional setting, add some mid-century furniture and it looks like an urban warehouse.  It's pretty in a living room, kitchen or even a bedroom.
DIY German Smear/Schmear Tutorial and Video
Supplies needed to make a DIY German Smear/Schmear wall
Tools needed for this project
large bucket
small container to hold plaster when applying to wall
water
painters tape
drop cloths
Adding a feature wall can seem like an overwhelming task.  In reality, it really wasn't.  We started with about 4 sheets of faux brick panel from Home Depot.  Installing them was pretty simple, cut and nail to the studs in the wall.  Once the panels were up, the rest was pretty straight forward.  Take a look at my DIY German smear/schmear tutorial video to see how to create a vintage brick wall.   I share tips and techniques throughout the entire video.
More DIY plastered wall questions and answers you may have before tacking your own wall.
Is the German Smear technique the same for real and faux brick?
Yes it is.  If you are using real brick, you need to seal it first!  Especially if it's old brick that was part of a fireplace or chimney.  Old bricks get reused, so your real brick may have been part of chimney at one time.  Residual oils in the brick can bleed through and discolor your white plaster.  Use a good shellac based product like Bin Sealer.  What could happen if you don't seal the brick first?  Let me show you…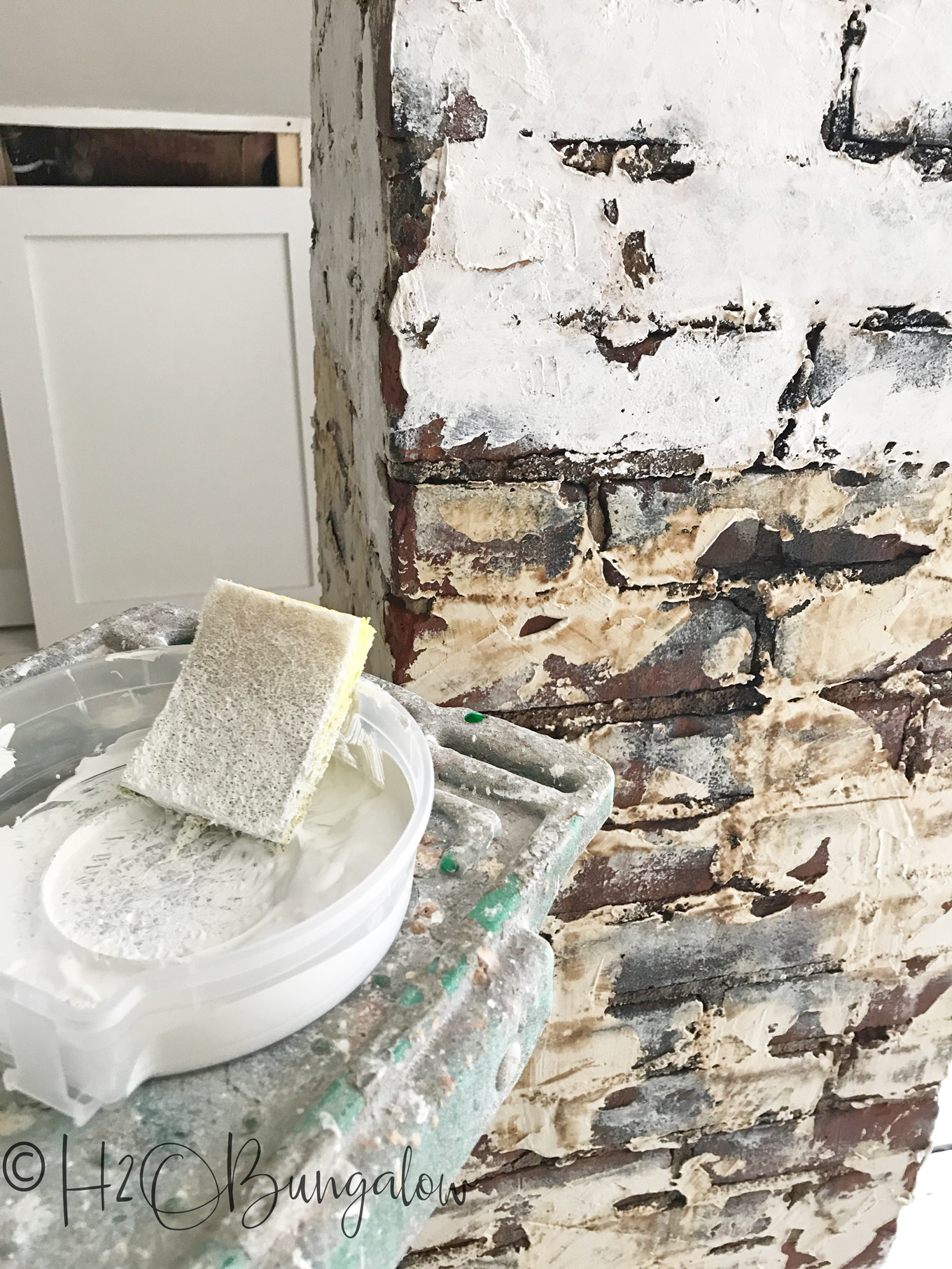 Not pretty 🙁  If this happens to you too go back and seal your brick.  Use a sponge to apply the Beyond Paint, Bright White over the plastered areas. It's a pain but turns out fine.
Can I use any type of plaster or drywall mix?
Nope.  I used Durabond 90 Joint Compound which is a drywall mud for taping and bedding sheetrock.  I picked it specifically because it's made to dry very hard and is whiter than other joint compounds.  Some drywall mud brands will dry a bit chalky and soft, and the plaster can easily be scratched off.  I wanted my German smear wall to be durable and last a long time. I didn't choose morter because it is too sandy and rough when dry.   The best part is a big bag of this stuff is pretty inexpensive, probably under $15.
I'd recommend using a paint stirrer to mix your German smear/schmear plaster if you are doing a whole wall.  Only mix what you will use within an hour, it has a one hour wet time.  Watch my video tutorial to see what it should look like when mixed and ready.  Don't forget the squirt of soap!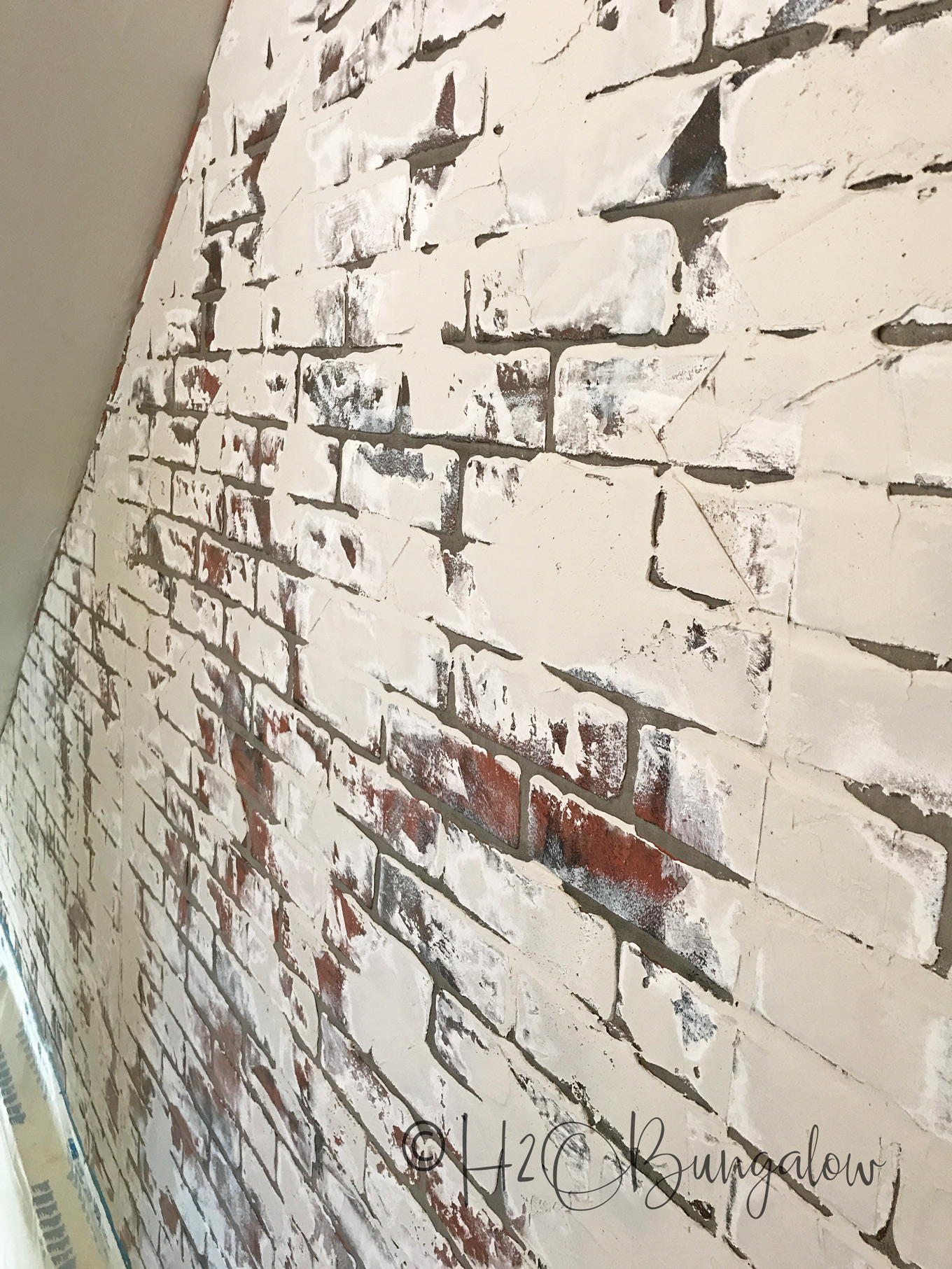 Why did you choose Beyond Paint for this project? 
I choose to use Beyond Paints because They are extremely durable, easy to use and self sealing.  The North House Lodge has lots of guests and traffic.  I want my finish to last.   I wouldn't have needed to seal the Germa smear wall if it weren't for the joint compound I used.  Last fall I spilled an entire glass of red wine on the unsealed bathroom cabinets I painted to match the kitchen in the unit next door.  I though for sure they'd be ruined and I'd need to repaint them.  Nope.  All I had to do was wipe the wine off.  No stains were left behind.  Once cured, Beyond Paint is a great option for long lasting finishes.
Variations on the German smear/schmear technique
When working with a plastered wall over brick there are lots of choices in how it looks.  Here are a few popular German smear/schmear variations.
heavy plaster build-up over the entire wall, only the shape of the bricks will show through
heavy and thin in random areas
Thin application all over except the grout lines which are all white.  Use your finger to apply the joint compound in all of the mortar spaces.
Very thin application for a mortar wash or whitewashed brick effect
To appreciate what a difference this project made I think you need to see what I started with.  This is what the room looked like when I bought the house.  Yes, like most vacation rental homes, it came furnished.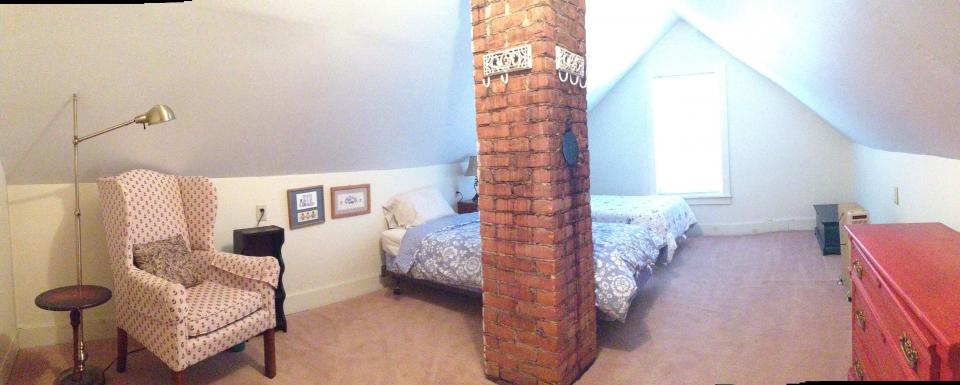 In process…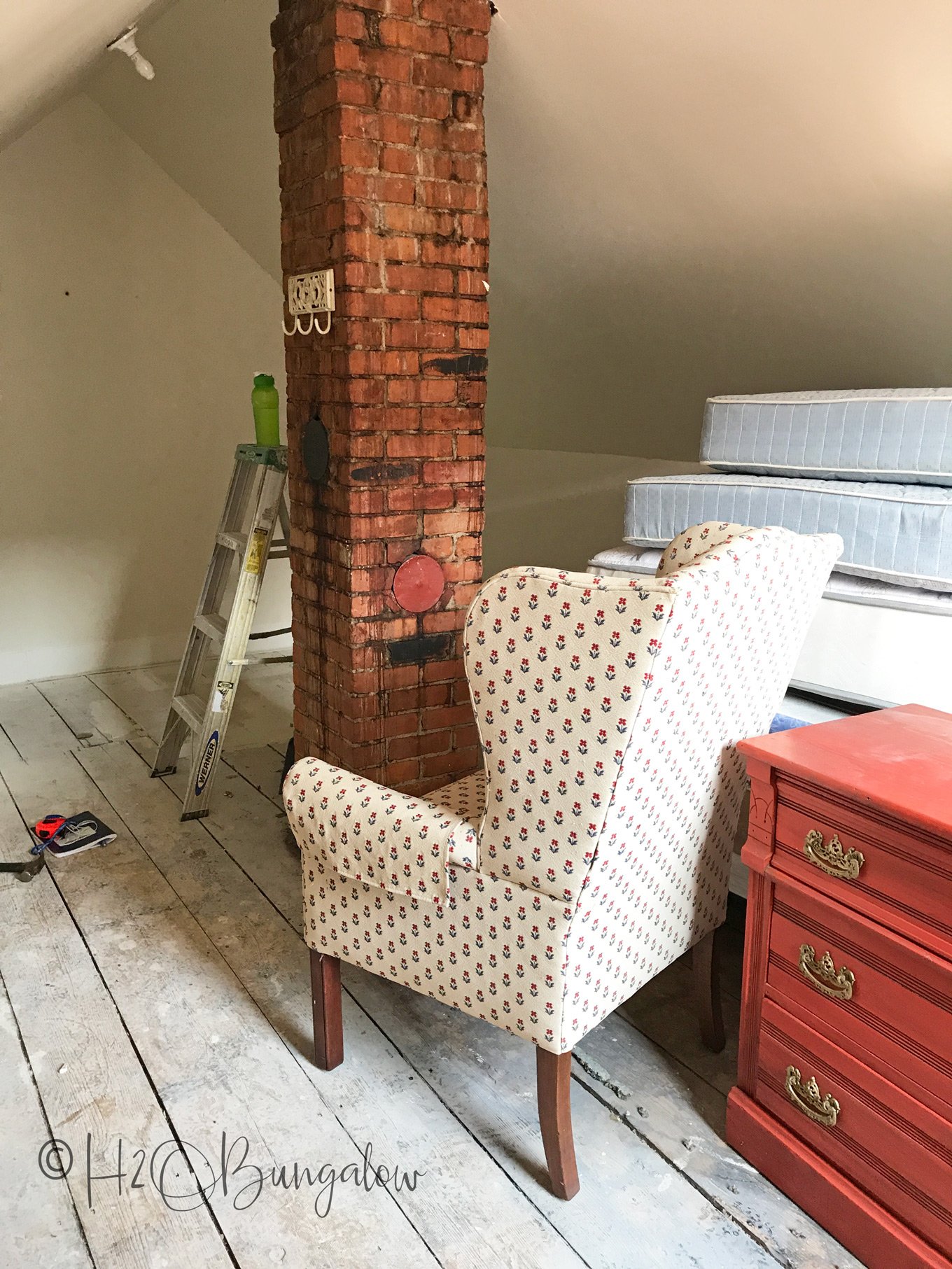 Today.  You may recognize a few of my DIY projects in this room.  The $10 Blanket Ladder I made hanging on the chimney.   The vintage bench turned bedside table project in the back of the room was also done with Beyond Paint.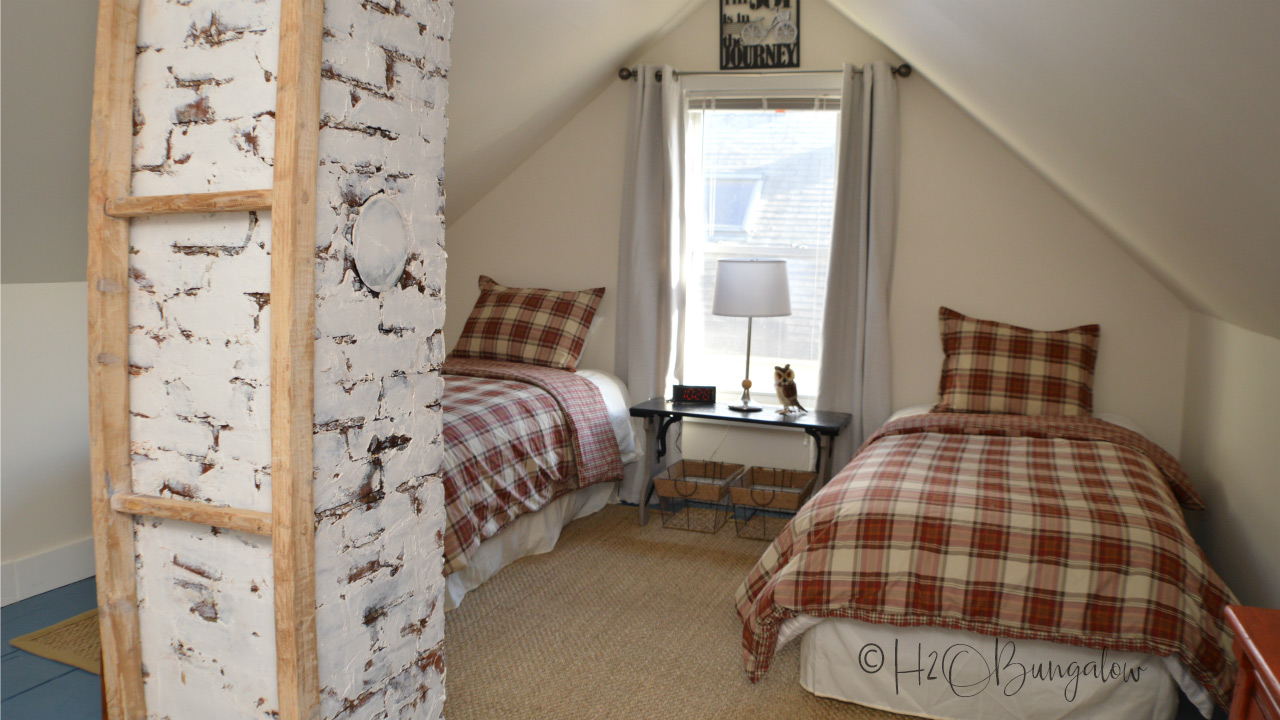 The original floors were too damaged to refinish.  See my tutorial on how to paint wood floors.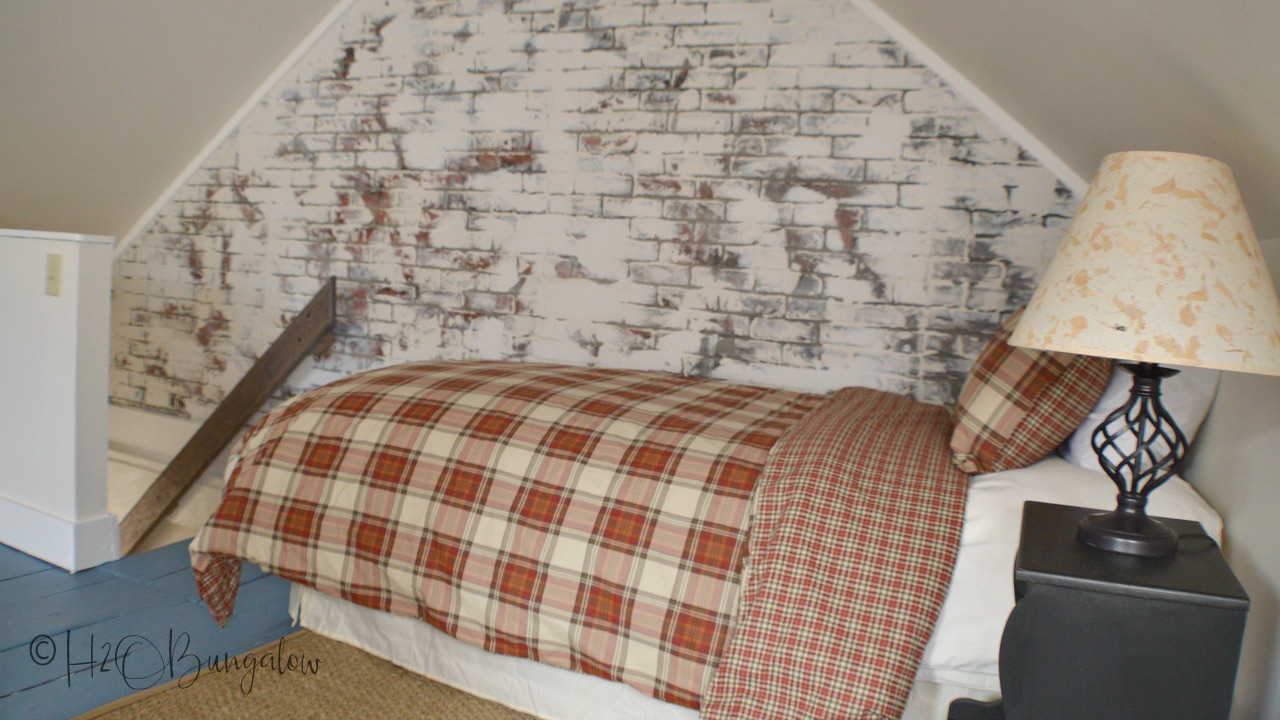 What a difference it made!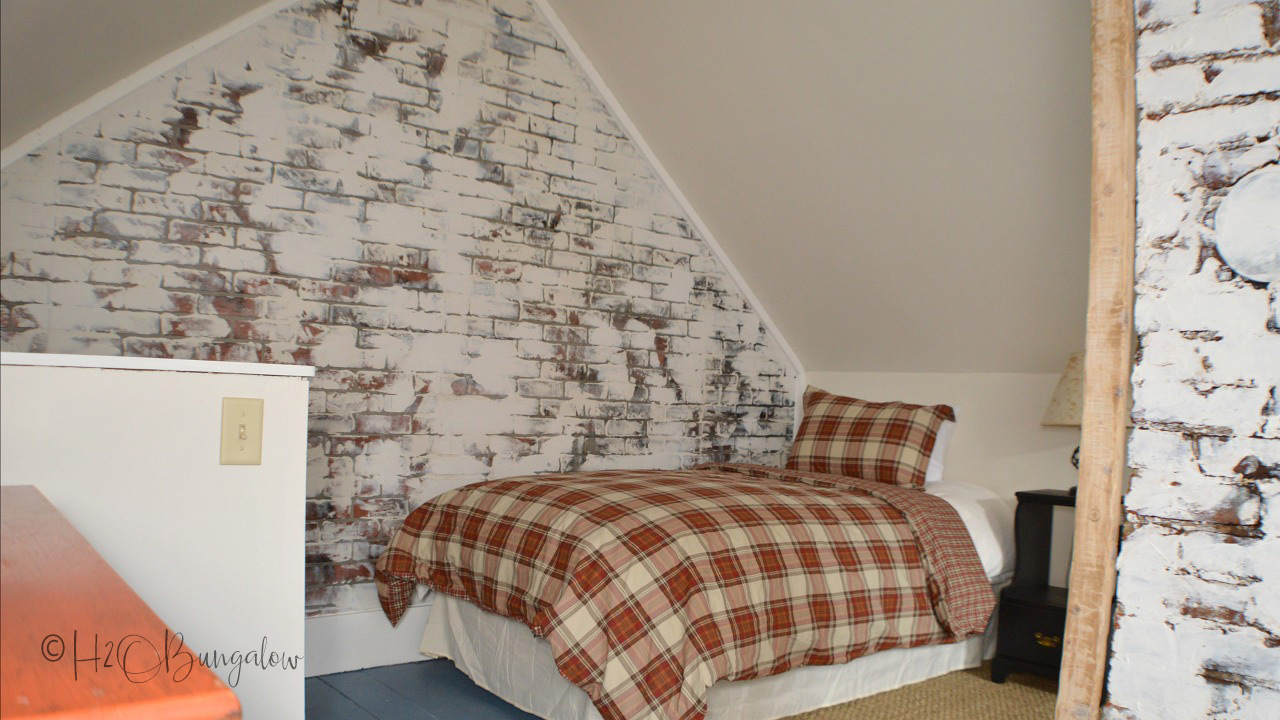 I especially like the steps leading up to this loft bedroom.  Adding a German smear feature wall was the perfect touch in this room.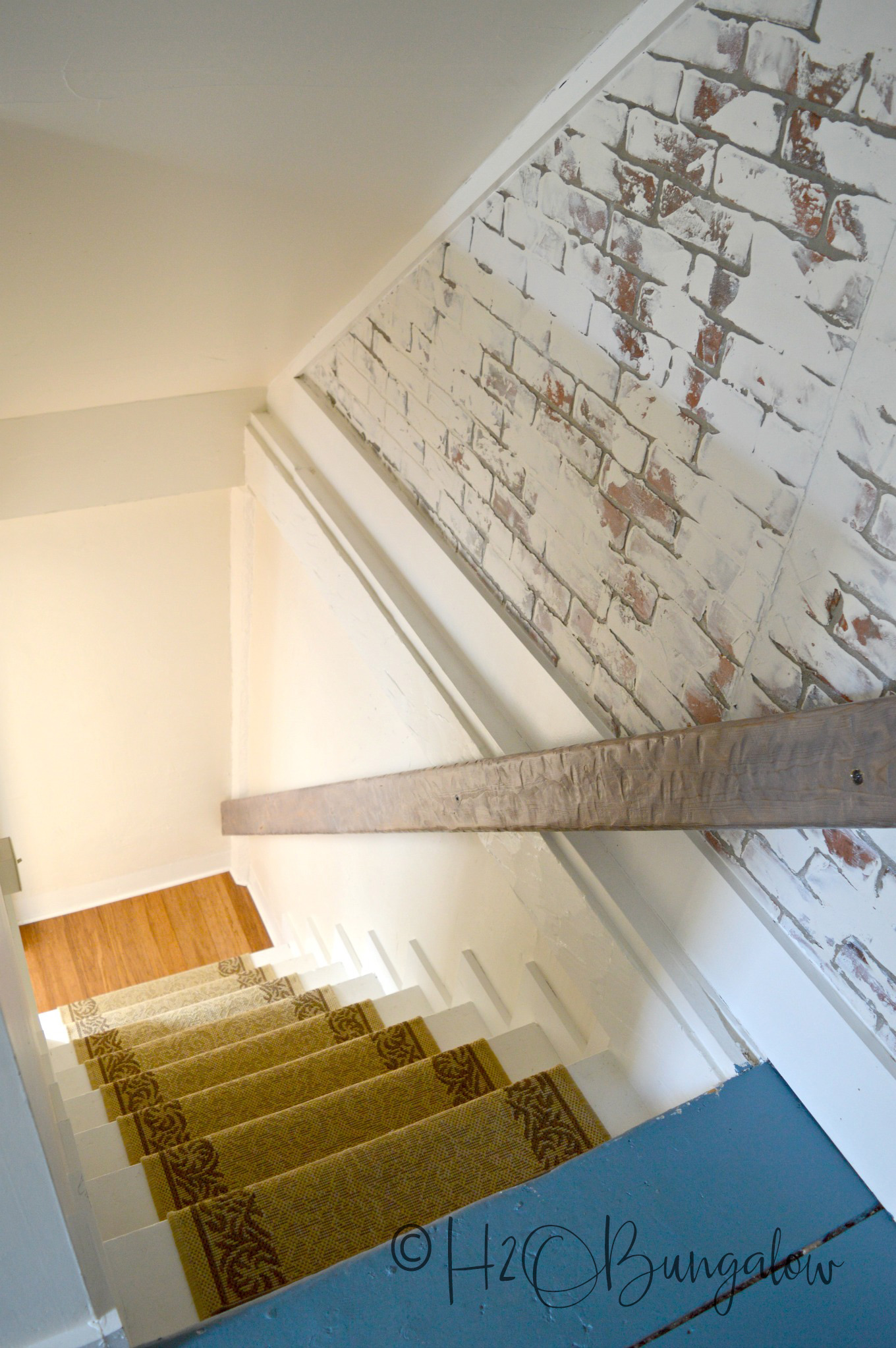 Pin this for later and share on facebook!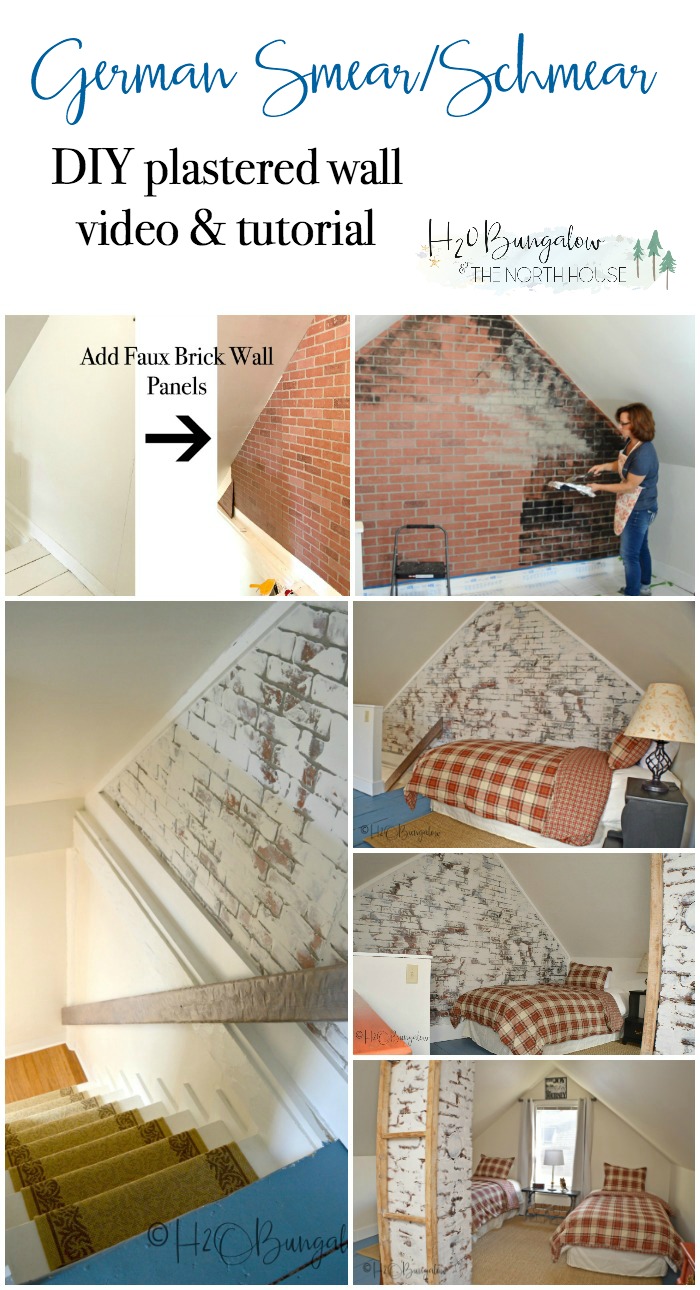 I love working with Beyond Paint on projects.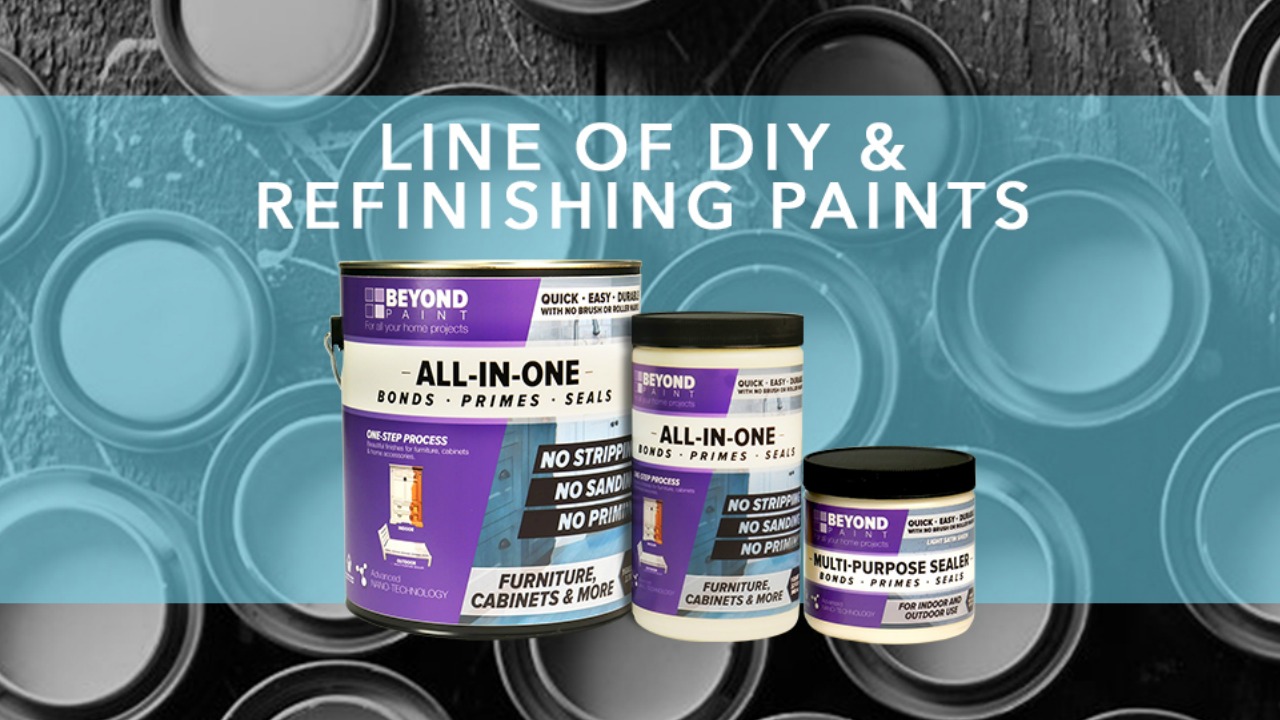 Over the past year you've seen several different painting DIY projects I choose to use it on.  It's easy to work with and very durable once cured.  Here are just a few of my favorite ones 🙂
Step by Step Guide to Paint Kitchen Cabinets
Easy Blue Painted Dresser Makeover
Vintage Folding Bench Turned Side Table
You can learn more and find other project tutorials on the Beyond Paint website.
One of my biggest challenges in the North House Lodge is creating fun rooms with plenty of personality to welcome our guests.  On the other side, I try to share DIY projects that you guys might want to try in your own spaces.  I think my DIY German smear/schmear tutorial hit the mark in both categories.  Do you agree? Come and check out the North House #54 Home Tour for more inspiration.
Is there a space in your home that would look fabulous with a German smear style plastered wall?