Today's post is a practical one. How to easily fix a slow drain without harsh chemicals.
It never fails, I'm in a hurry with a full day ahead and something breaks or screams for attention. Yesterday it was the shower. The shower drain wasn't draining so well and the water was rising in our shower instead of draining out. Have you ever had this happen? Yuck.
I know, long hair and showers are not compatible.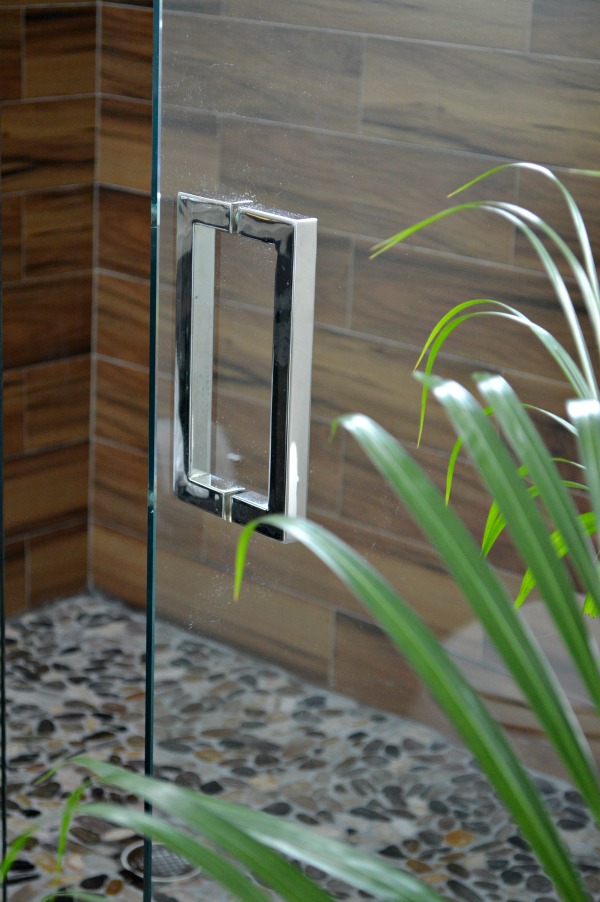 I knew the longer I ignored it the worse it would become. Even more motivating was the idea that the drain water wasn't going in the right direction; down the drain 🙁 If the other drains in your house are working fine this usually signals a growing build up of soap and hair in one drain pipe.
The good news is that I'm sharing a fast 5 minute fix for slow or clogged drains you can easily do. A simple DIY maintenance item that requires no harsh chemicals and a plastic tool I found for a few dollars. Think about the savings over hiring someone to fix a slow or clogged drain, the cost of chemical drain cleaners that aren't good for you and don't work so well anyway plus your valuable time wasted dealing with the aggravation of a slow or clogged drain. No fun, huh?
Supplies needed to easily fix a slow drain
Zip It or other plastic drain opener tool – (affiliate link) I linked to the full search page so you can find the best price 🙂
boiling water
baking soda
vinegar
drill if needed to take off drain cover
trash bag
rags
Step One: Remove the drain cover or position the drain open
Either remove the drain cover if your shower is like ours or position your tub pop up into the open position.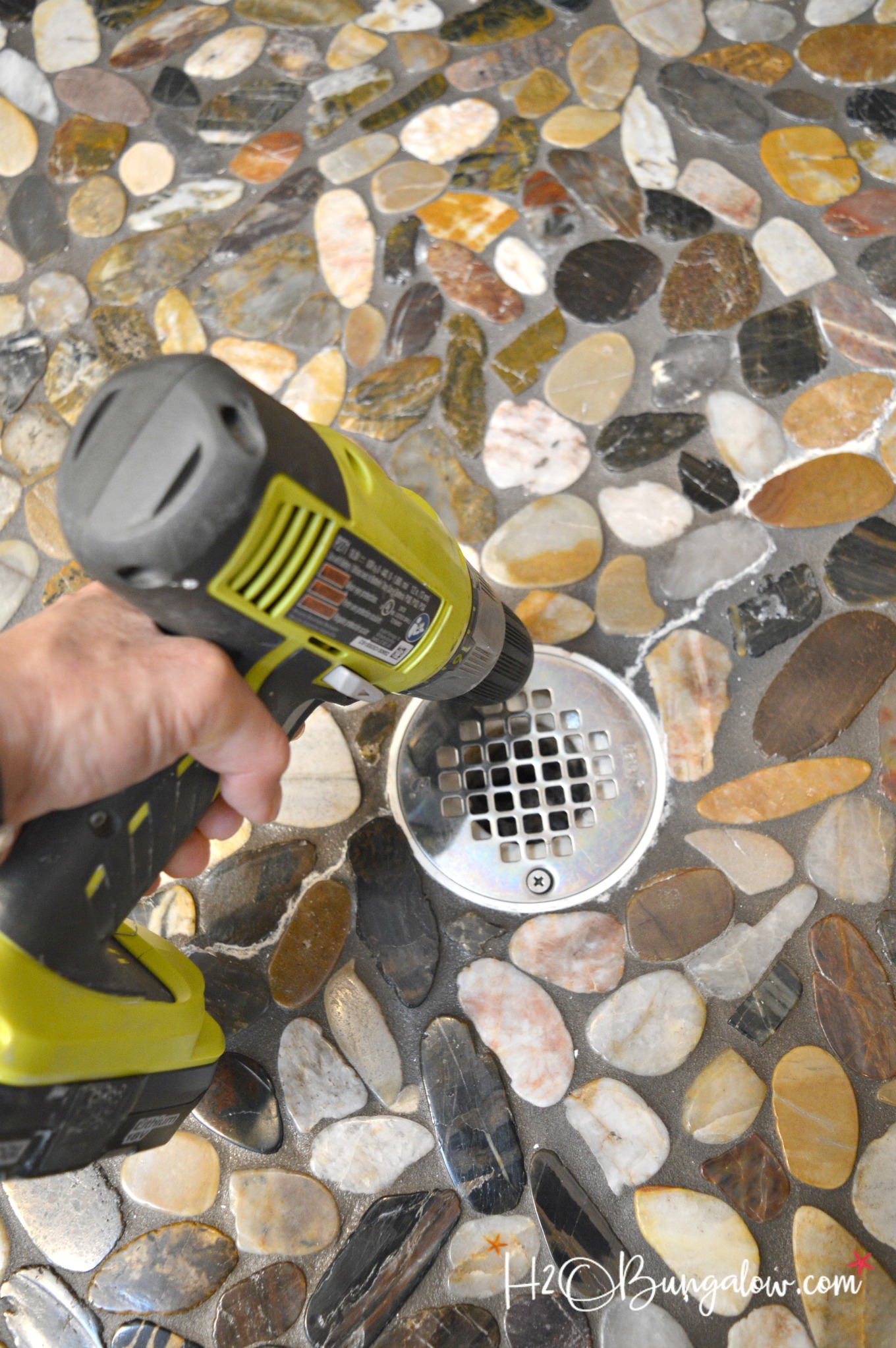 Step Two: Insert The drain tool and remove the gunk
Use needle nose pliers or something similar to remove any hair and gunk from the top. Insert the drain tool and twist it. It will catch the hair and make it easy to pull out. I'll spare you the gory details of our drain so let's just say you'll see what I mean when you clean out your own drain. Clear out as much as you can by inserting the drain tool as far down the shower or tub drain pipe as you can reach. Continue to clean out your drain and unclogging the pipes until you don't pull any more stuff out.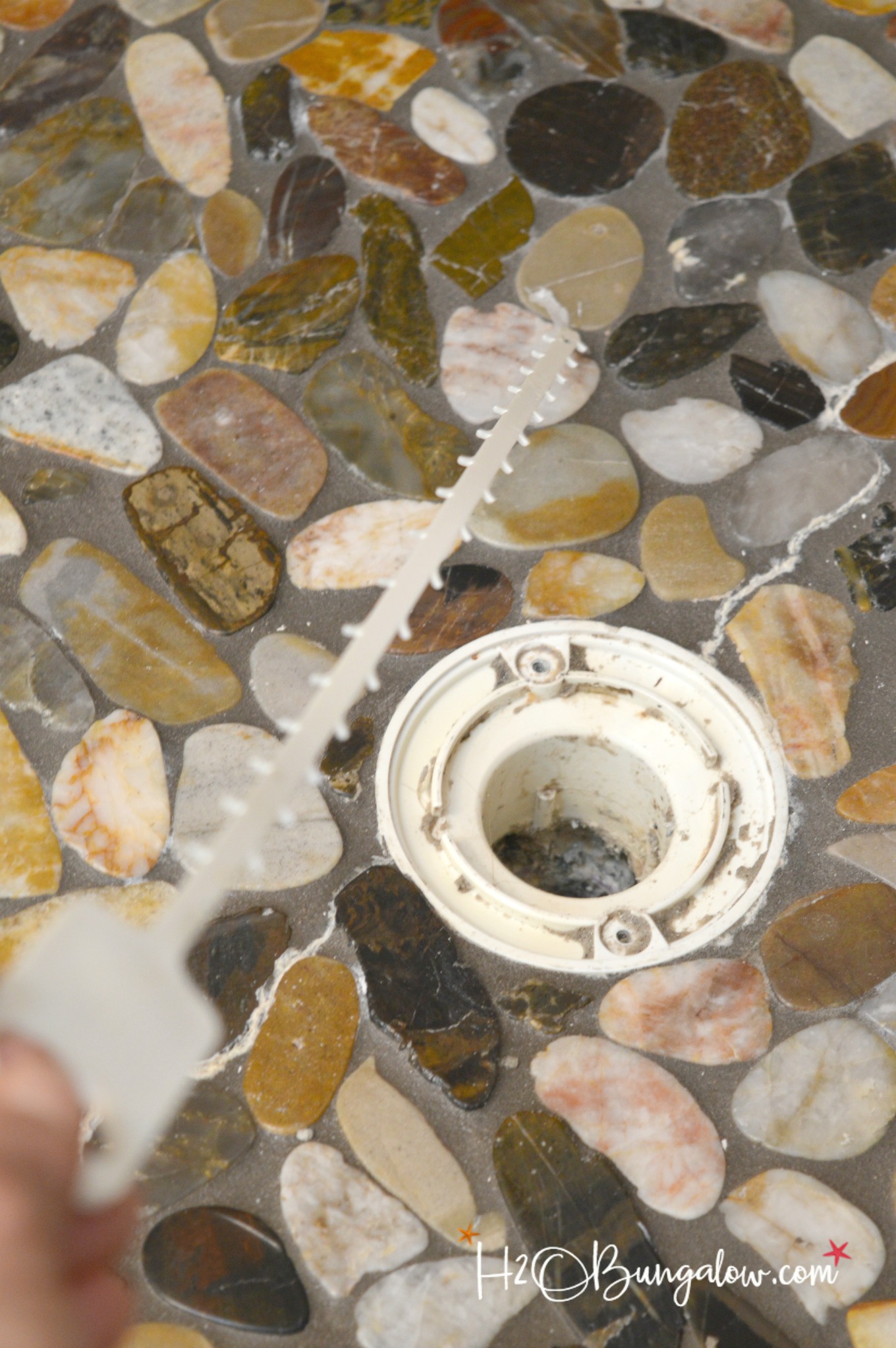 Step Three: Flush with Baking soda and white vinegar.
To help loosen deposits left over from soaps and conditioners pour some baking soda down the drain and follow with white vinegar. I use about a 1/2 cup of baking soda and generously pour vinegar until the drain fizzes up. It's OK to do this a few times to help loosen caked on deposits you can't see or get to with your slow drain clean out tool. Use the drain cleaning tool again if you need to.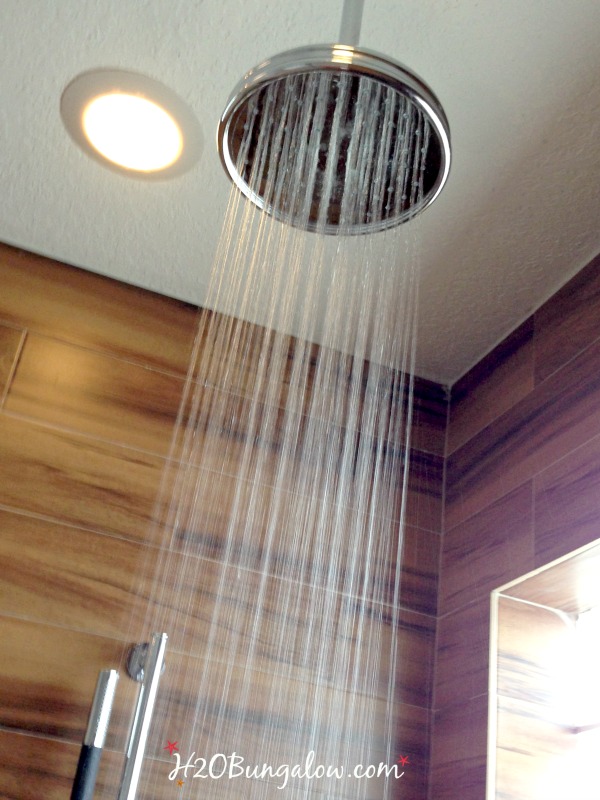 Step Four: Rinse with boiling water
Flush the shower or sink drain with boing water until it drains as expected. I heat up two large 4 qt pots until they are boiling and use them both to flush the tub or shower drain until it drains freely. You can't rinse too much and the hot water helps flush out particles into the main drain line of your home.
Step Five: Replace the drain cover
Replace the drain cover on your shower.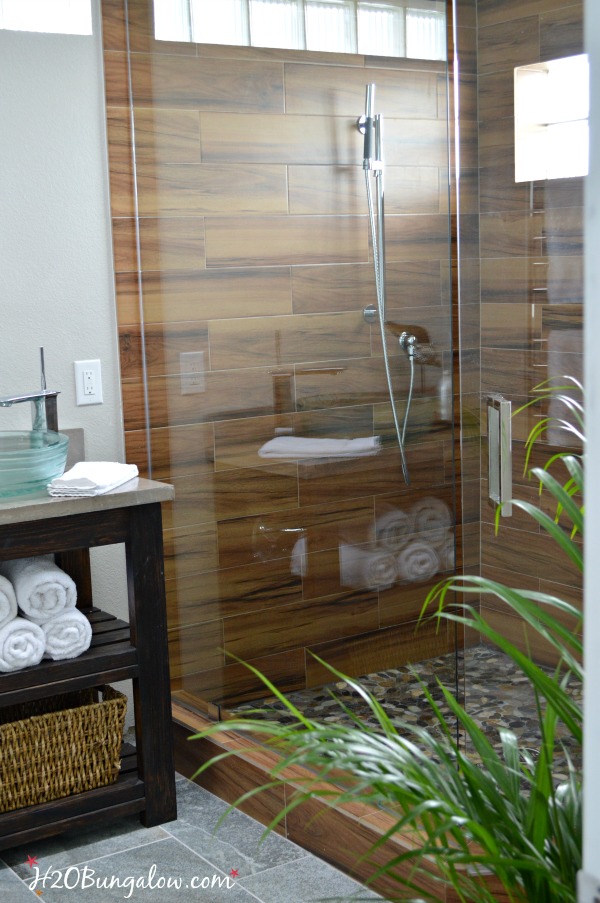 That's it, that's all there is to easily fix a slow drain or even a stopped up drain without harsh chemicals 🙂
Pin this for later!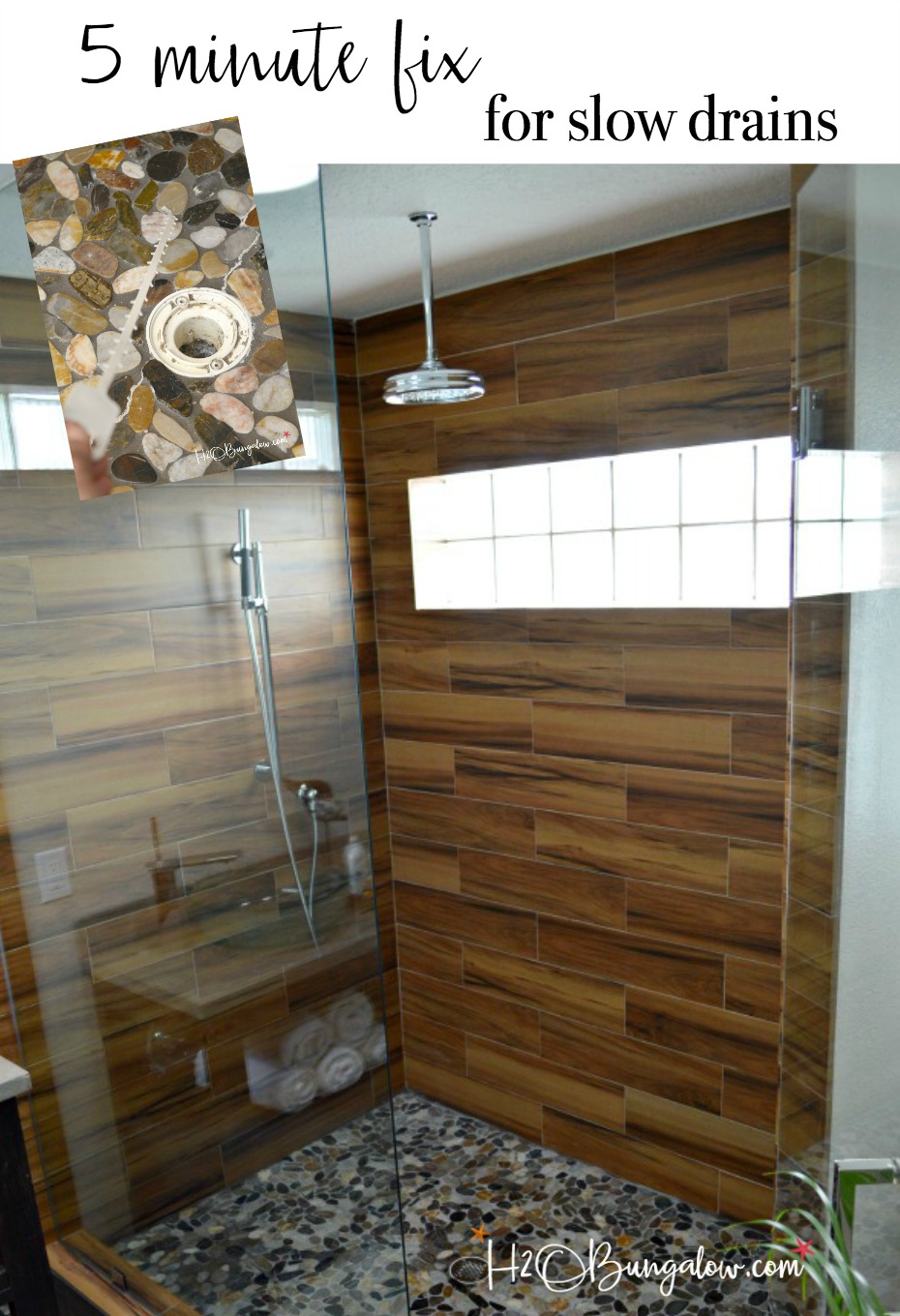 Again, I know practical isn't nearly as much fun as the pretty DIY Bumble Bee Apron and graphic I shared earlier this week. But it sure does make you feel good when you can save time and money on a home maintenance item that's as easy as fixing a slow shower or tub drain ! Than you can use the savings and your extra time to go buy more DIY home decorating supplies!
That's a win-win in my book!
Do you love my shower? I designed it. You can see the full Contemporary Master Bath Revel here!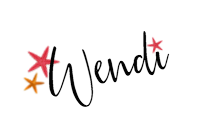 If you're loving this practical DIY trick, you'll probably enjoy these other projects I've shared too!
3 Ways To Prevent Door Knob Holes In Walls
or
Clean Window and Door Tracks in 6 Easy Steps
Disclosure: I use affiliate links in my posts. If you should make a purchase I will receive an itty bitty commission at no cost to you. Thank you in advance for supporting my blog and two fur-ball cats who believe they are privileged.