It doesn't take much to make a small home feel cluttered. I'm ready to clean up and clear out some holiday decorations which will go a long way in helping me feel organized and ready for the new year ahead. I'm a big fan of keeping it simple and following a process. Here are my top tips to organize and store holiday decorations. Following an organized simple process will help me pack up quickly and next year re-decorating for the holidays will be a breeze.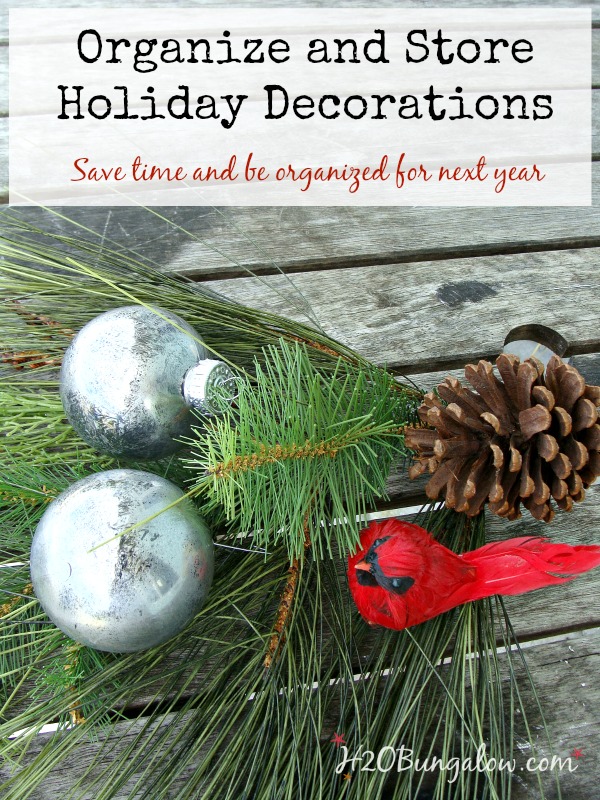 Here are my easy tips to organize and store holiday decorations that help save time and make redecorating simple.
1. Break packing and storing holiday decorations into small sessions. Today I will concentrate on the inside of our house and pack up the everything but the Christmas tree and the front door garland. My next un-decorating task will be taking down the outdoor Christmas decorations and lights.
2. Pack each "session" of un-decorating together in the same container when possible.
3. De-clutter and weed out broken items or what you won't use again.
4. Layers using newspaper in between each one to protect and prevent damage or items from getting tangled.
5. String garland through large plastic garbage bags (like a sausage) gently fold it into a storage box.
6. Protect large wreaths with a heavy-duty plastic bag and hang in an out of the way place like a garage or attic wall. Contractor bags work great and last for years.
7. Prevent tangles in lights by putting each strand in a separate bag. Plastic bags from the grocery work well.
8. Use the same size storage container so several will stack and nestle well together. Label every box.
Organizing and packing away our holiday decorations becomes much easier when I break it down into smaller tasks. Next year when I am ready to redecorate for Christmas, I will follow the same process and tackle decorating in small steps. It's quick, takes a lot less time, and best of all, my decorations are organized and easy to find.
Update: It's been a year, we unpacked and decorated our tree and home in record time! What a time saver these tips to organize and store holiday decorations were!
Need more organization help? These are my top organization posts…
5 Creative Ways To Deal With Sentimental Clutter
How To Organize A Small Kitchen And Get More Space
Organizing Strategies For A Small Home
Do you have a favorite tip to share for Christmas decoration packing?