Hot. That's what my backyard felt like before this patio makeover. Open, a sea of pavers in a giant bare patio and baking hot. No restful green for the eyes anywhere. But thats all changed! I'm finally ready to share my coastal backyard makeover reveal today! It's been four long weeks of work transforming my backyard into a beautiful place I'm proud to have friends and family enjoy with us. When you're done checking out the backyard, head indoor for an Updated Coastal Home Tour (the inside).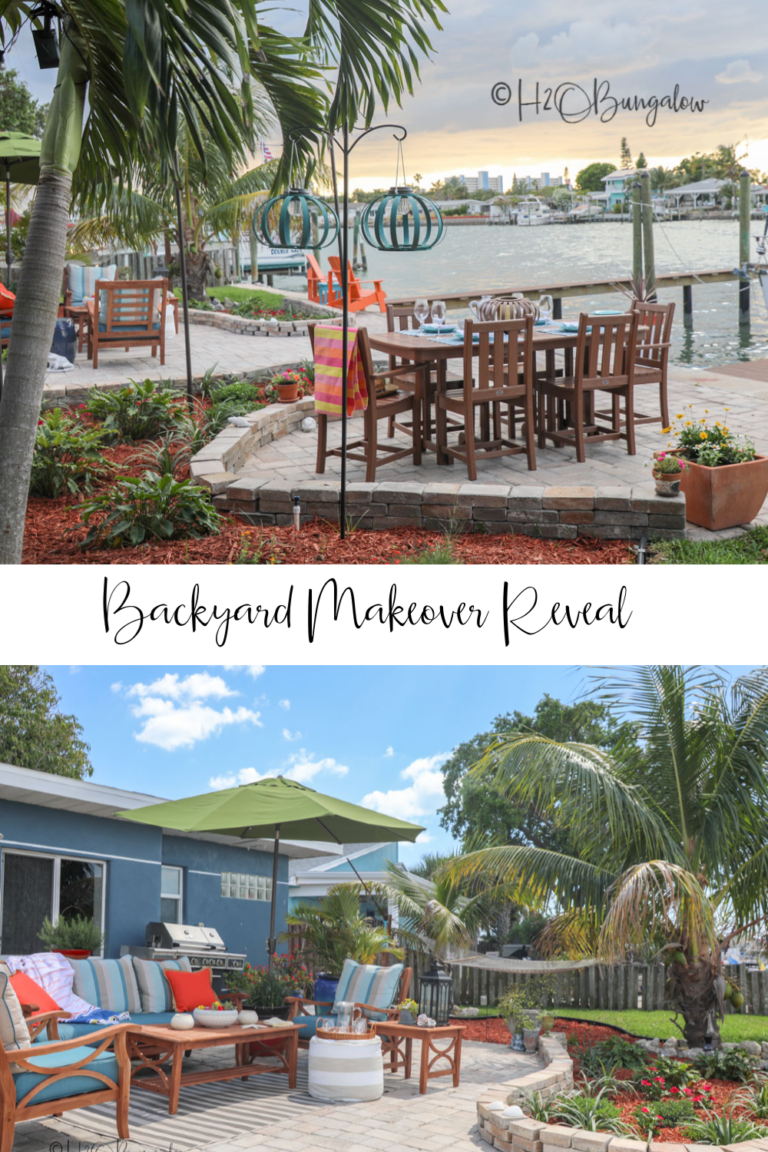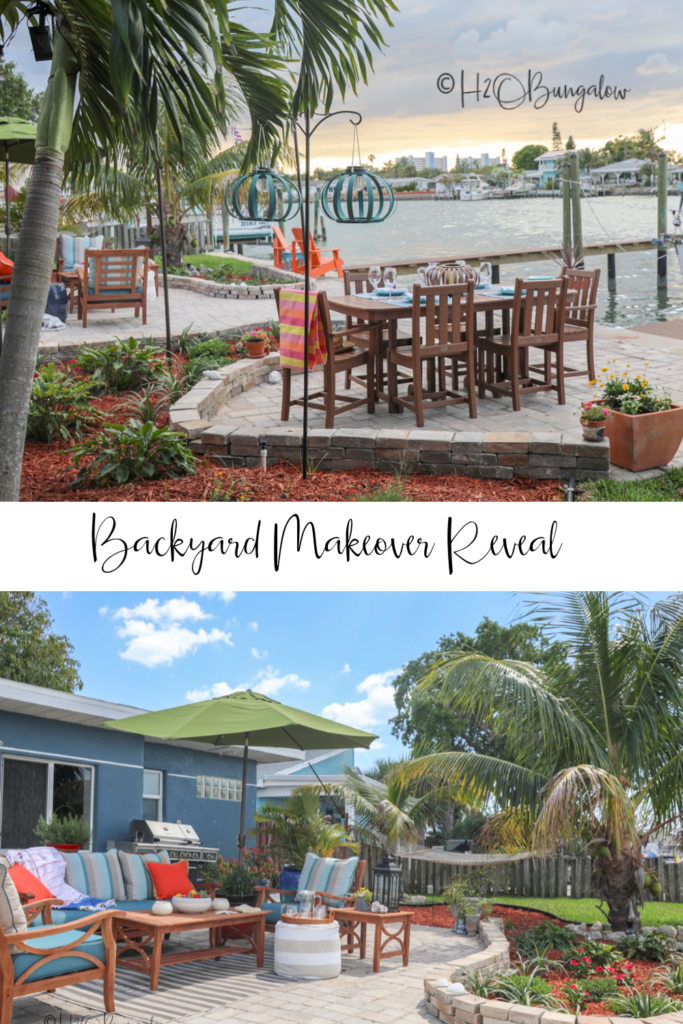 Sending out a big thank you to Ryobi for sponsoring this post and month long competition. I use affiliate links in my articles to shop. We receive (at no cost to you) a small commission if you make a purchase. Thank you!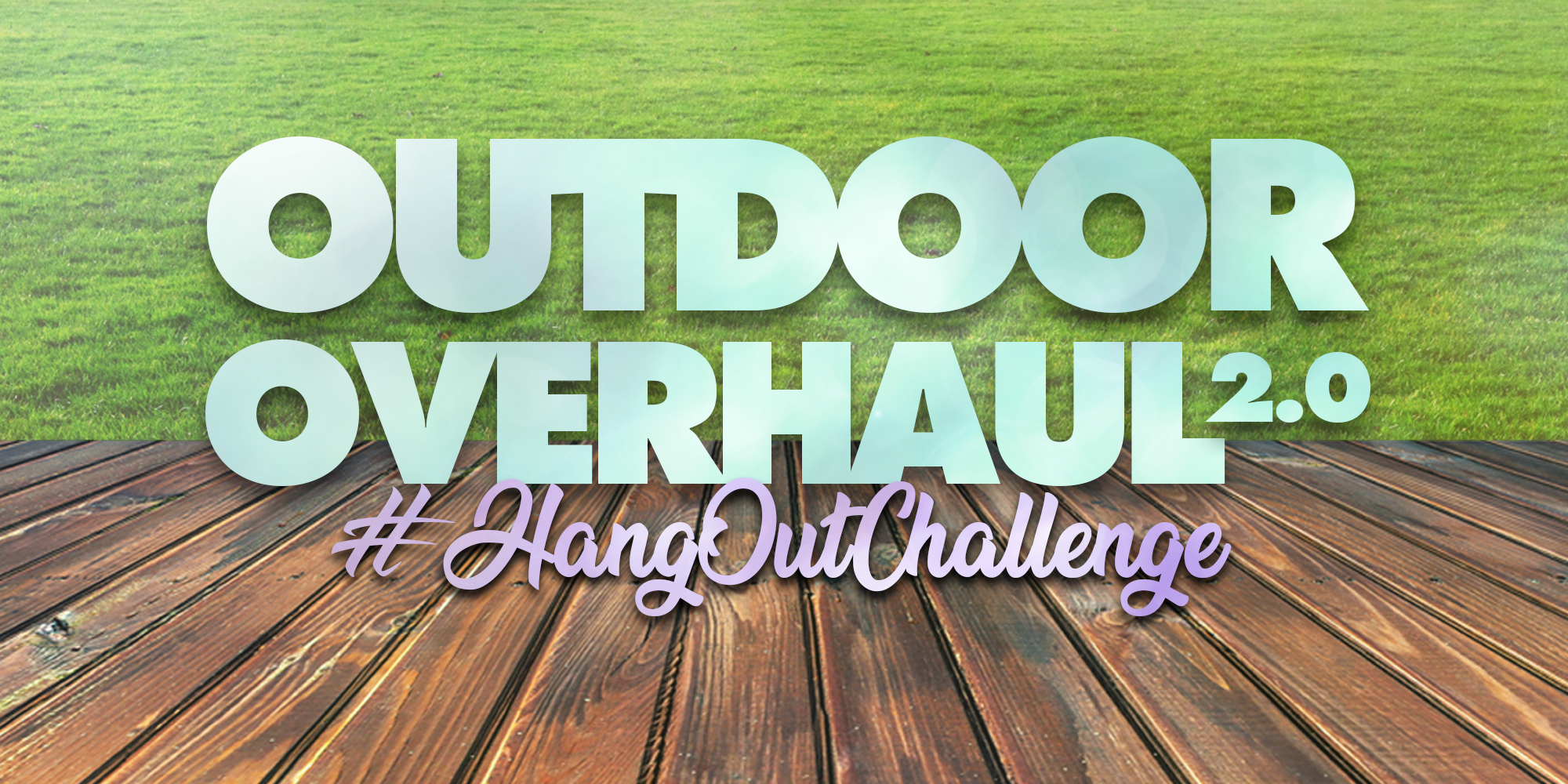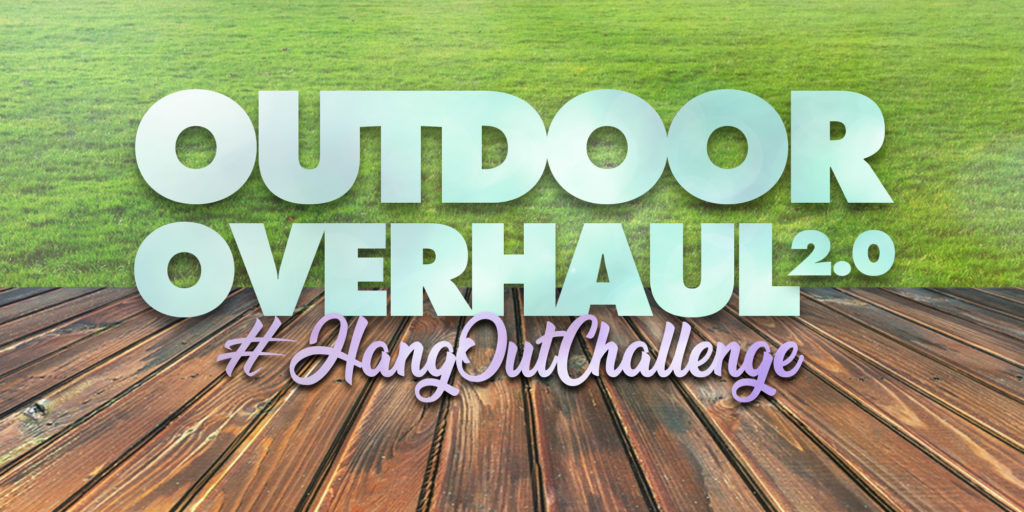 Stay tuned for more information on when the voting starts for your favorite blogger Outdoor Overhaul!
Backyard Makeover Part 1
Before I share my big reveal I want to share the real before-before photo of my backyard! I want to guys to see what it looked like about four years ago and I want to remind everyone (and sometimes myself), that making a home beautiful is a journey. It takes time and patience and for most of us, a lot of sweat equity along the way.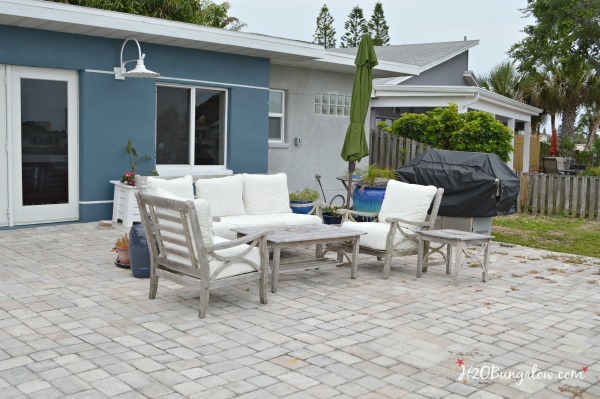 Four years ago, I entered my backyard makeover in a contest Ryobi sponsored with Thrift Diving. I placed 3rd and was proud of it too! Take a peek at what my first DIY Makeover Projects Reveal turned out like. I think it's pretty cool that I get to be one of the hosts for this years Outdoor Overhaul 2.0, don't you?
This Year's Backyard Makeover Plans
I shared my big plans last month for my backyard redesign when I announced the Outdoor Makeover Challenge and shared that I was a co-host for this year's Ryobi Outdoor Overhaul 2.0 The Hangout Challenge.
It's been a while since I've given this yard any attention or energy. It was time for a refresh! This is what my backyard looked like four weeks ago. It was sun worn with weeds everywhere and lacked the cozy feeling I wanted in a backyard retreat.
It just didn't feel inviting and relaxing to me.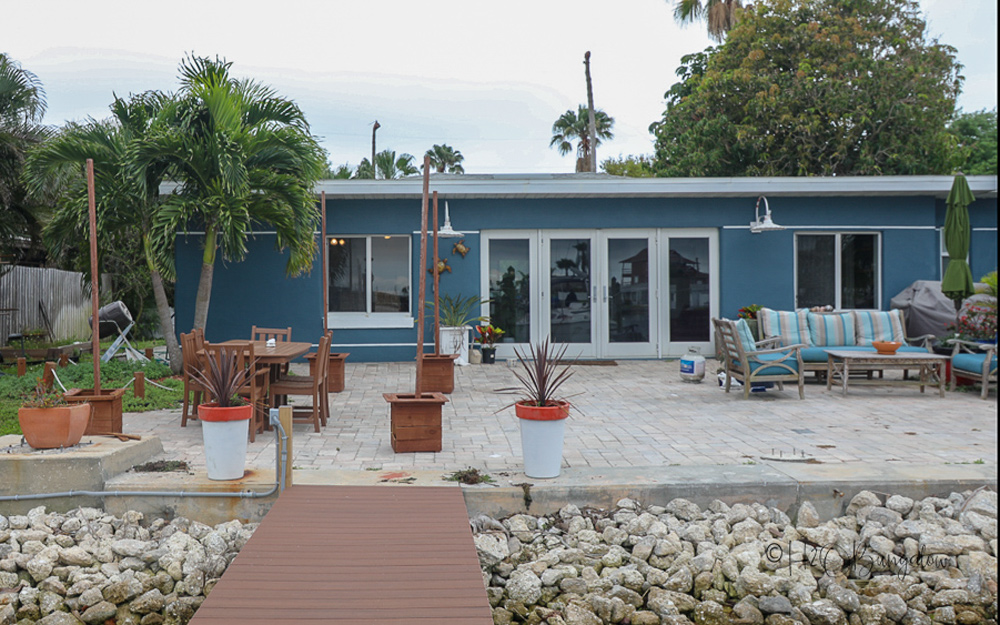 This area has always been a challenge for me. It's too wide open and there's a sea of pavers (pun intended) with nothing to break up the areas or even define them. We had no grass, just weeds on the edges, no irrigation in the back and my garden beds were grown over.
The wood boxes with poles are my DIY Outdoor String Lights I made a few years ago. I loved them, but when our big gusty winds come, they'd knock over breaking the glass bulbs.
Oh, did I mention we're hosting a party this summer with a large group of our sailing and racing friends? Oh, heck no, not looking like this!
This space needed an overhaul and the Ryobi Hangout Challenge was just the thing to get me motivated!
Patio Landscaping
In week two of the challenge, I shared my Patio Landscaping Ideas and lots of landscaping tips to help plan a landscape layout.
Planting Landscape Beds
Last week was planting time, I covered lots of information in my Planting Landscaping Beds post.
Our new irrigation and sod for both sides of the yard was installed too. Unfortunately, the guys worked fast so I didn't get any pictures of that part of the process. Nope, thankfully it wasn't DIY. I treated myself and hired that part out!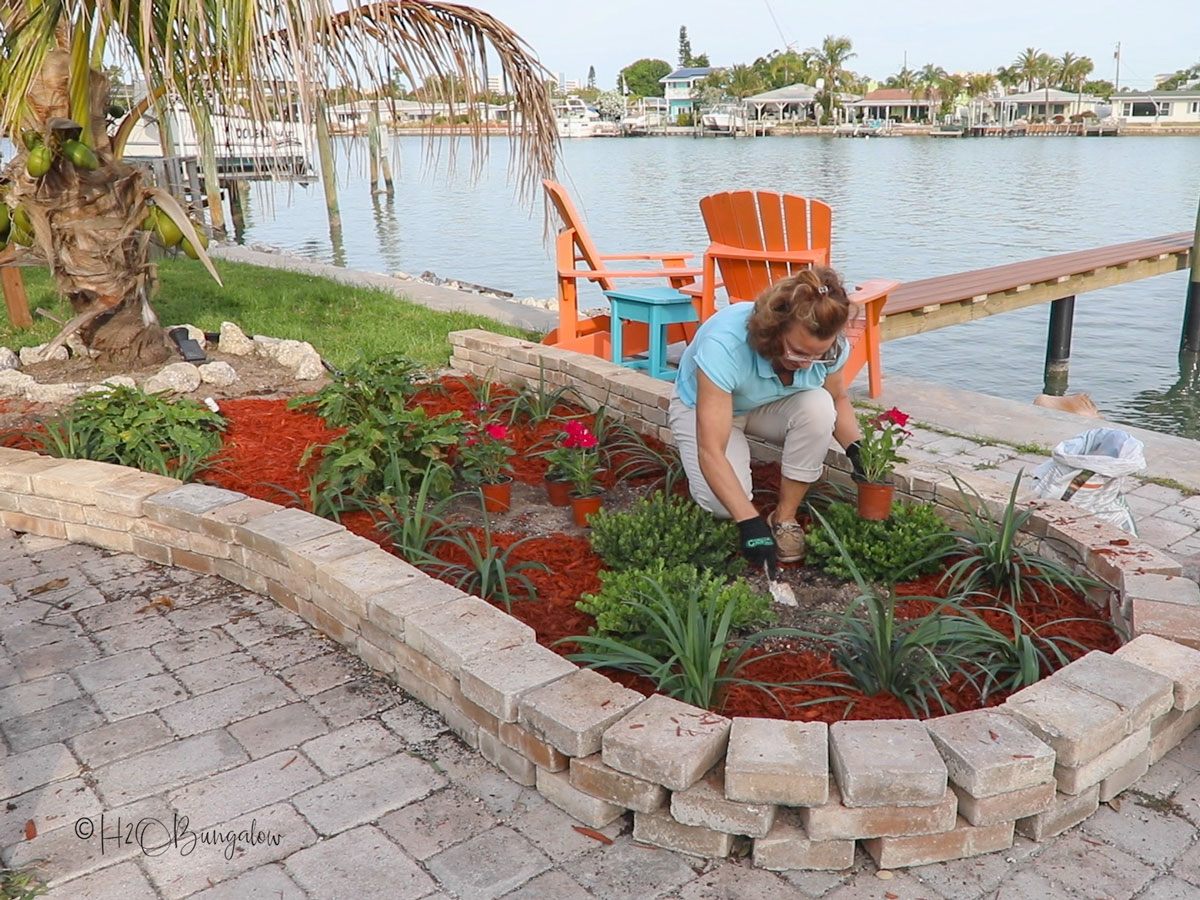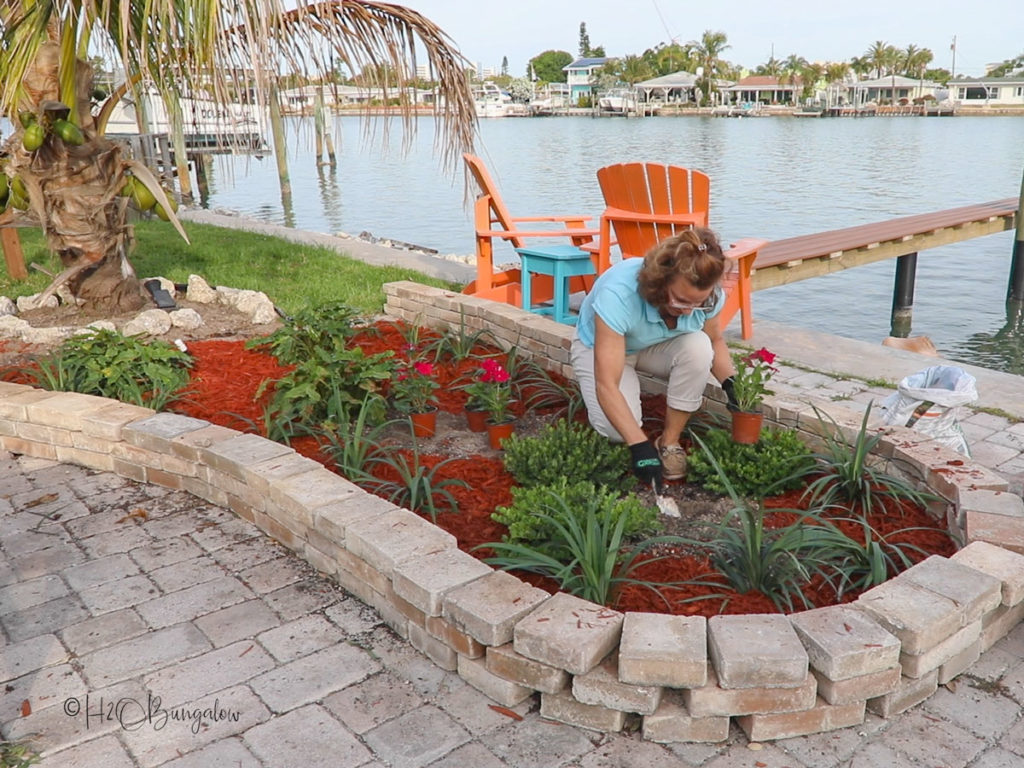 Are you ready to see it all together?
Let me take you on a walking tour…
A lot of friends enter from the side of the house, which is why I wanted to clean it up. This is the first view as someone turns the corner.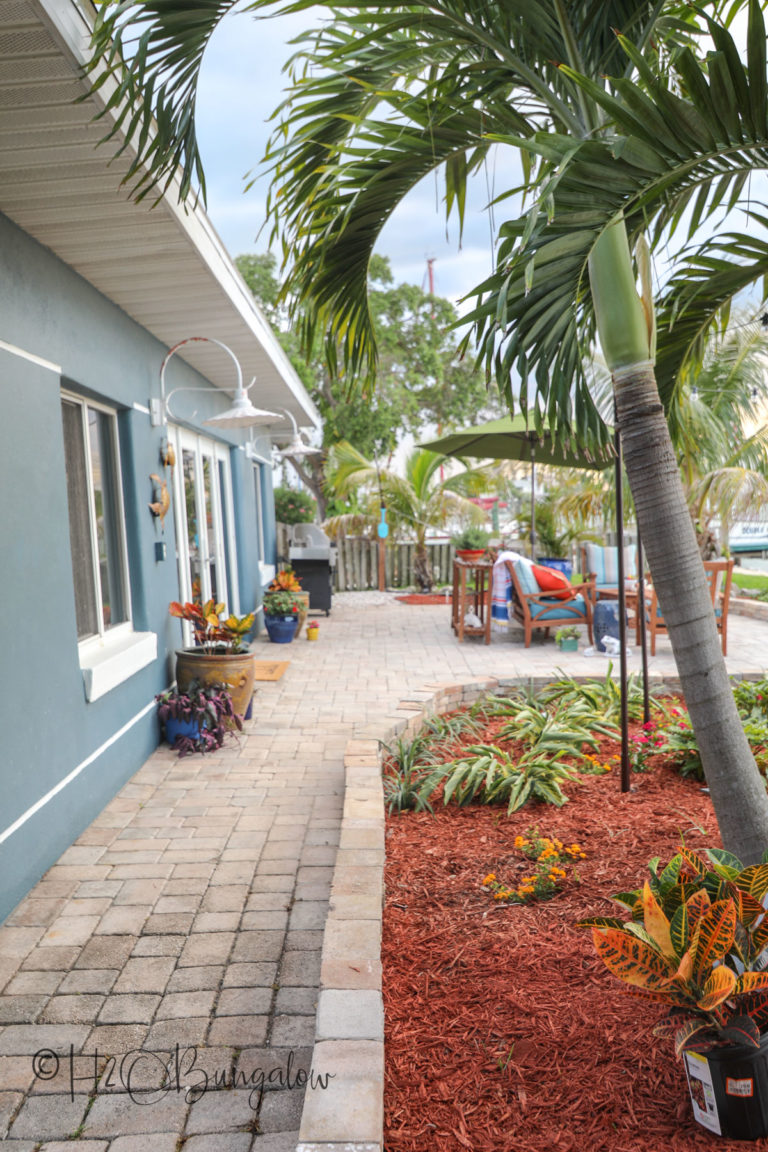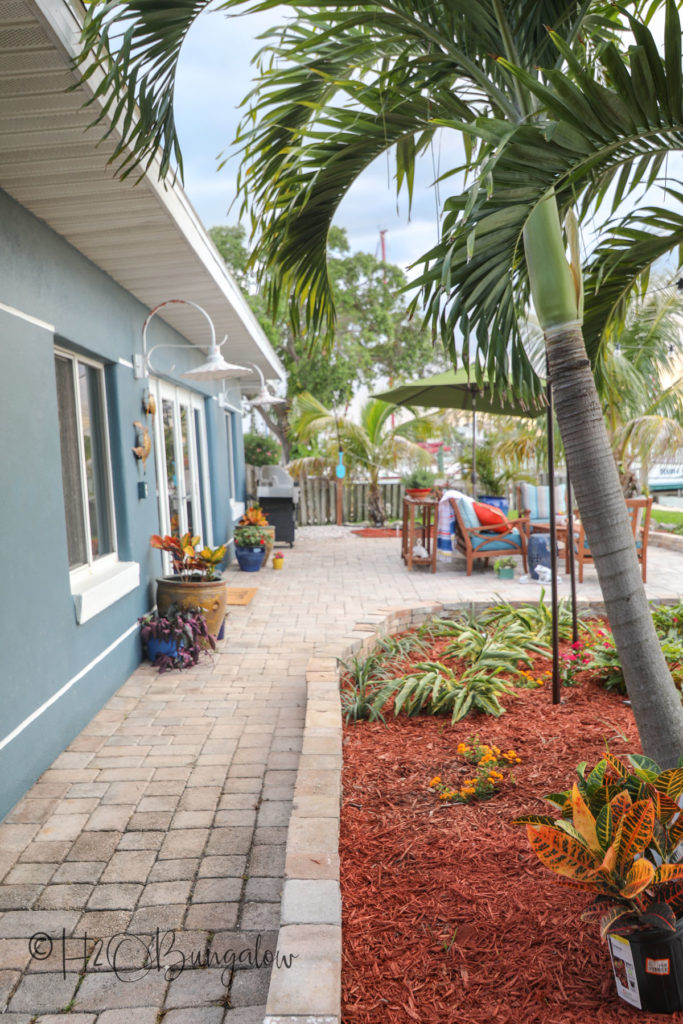 I used my landscape beds to break the wide open backyard into two distinctive useful places we could enjoy. I think repurposing the pavers into stacked paver landscape edging was a good idea. I like the way they look, a lot!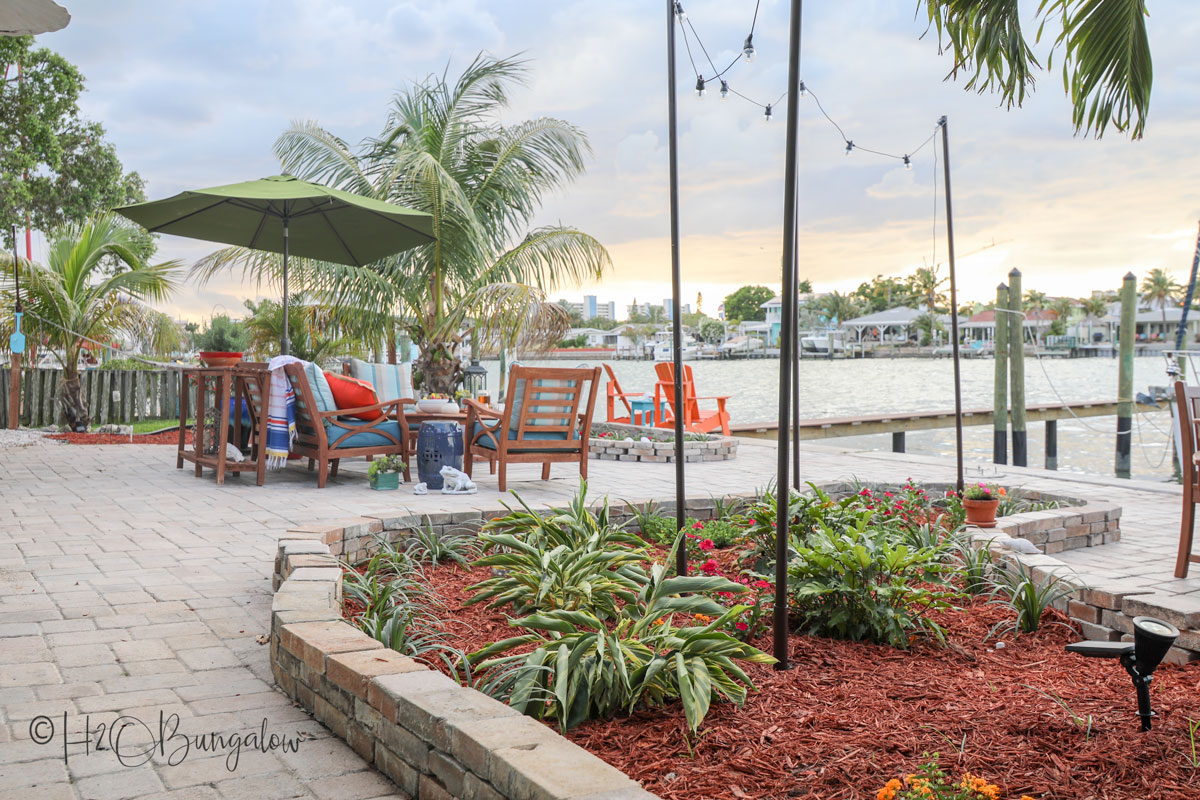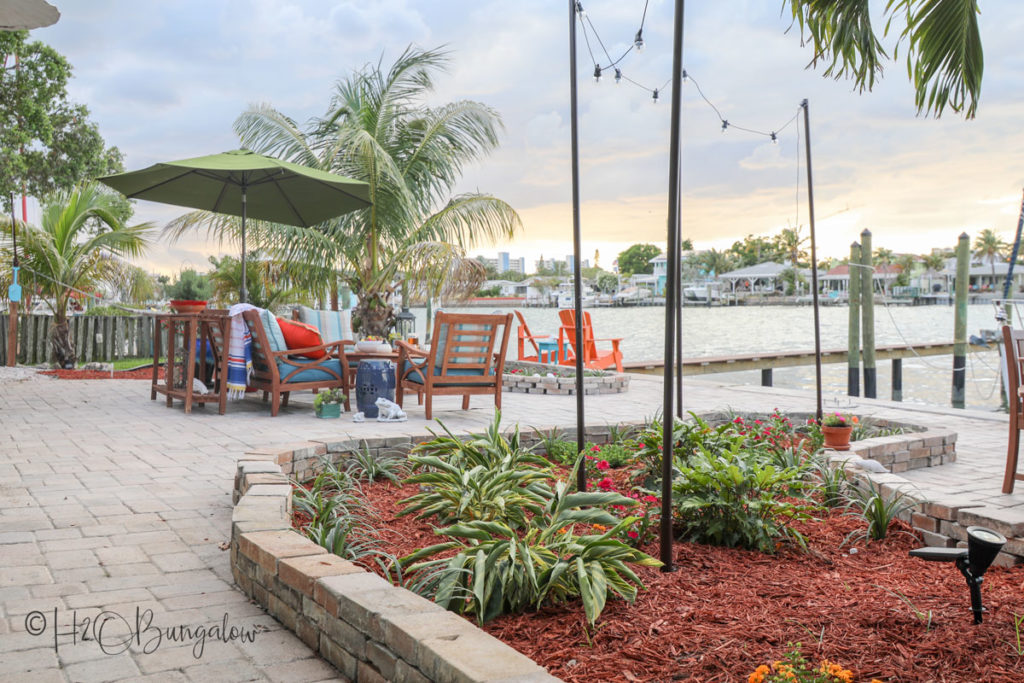 My husband and I grew up in New Orleans and I've always loved the feeling of courtyards. When the landscape plants grow larger they will be just under waist high. My vision is that they will surround the dining area and make it feel cozy with lush greenery.
I built a set of these Key West DIY Wood Planter Boxes a while ago. I moved one from the back door to the end of the walkway. The other one unfortunately started rotting so I had to toss it.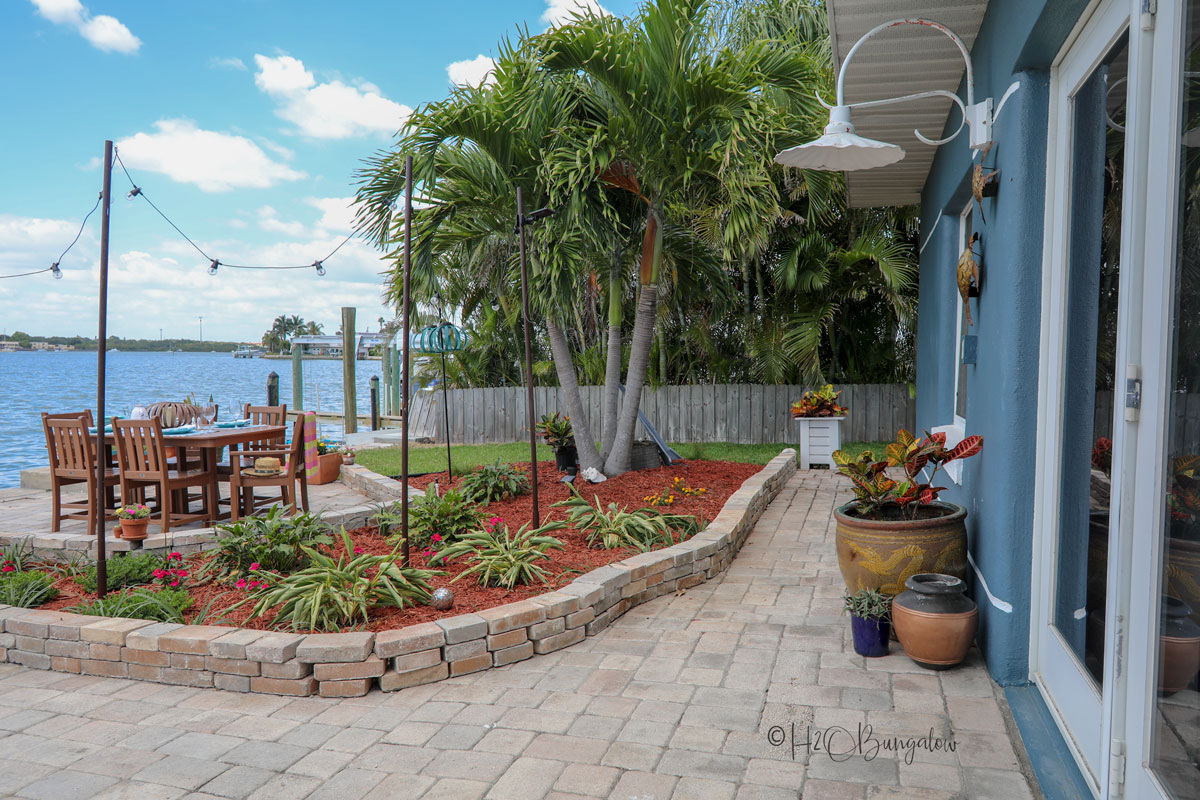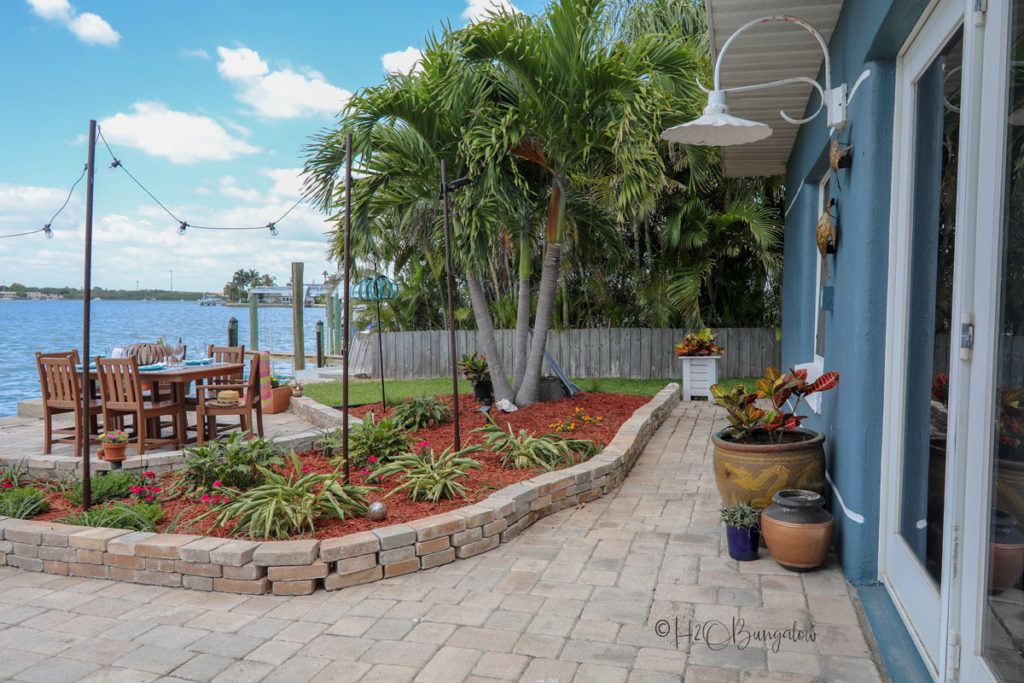 The other side of my outdoor dining area is open on the water.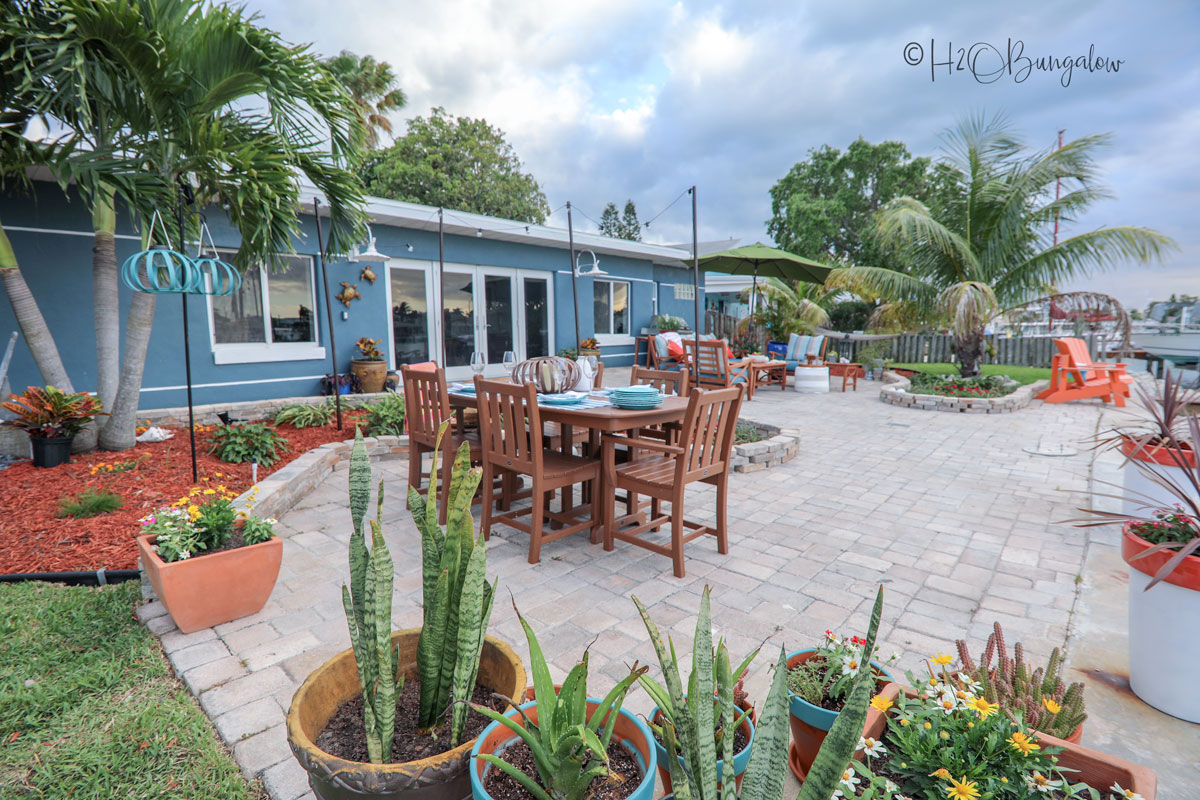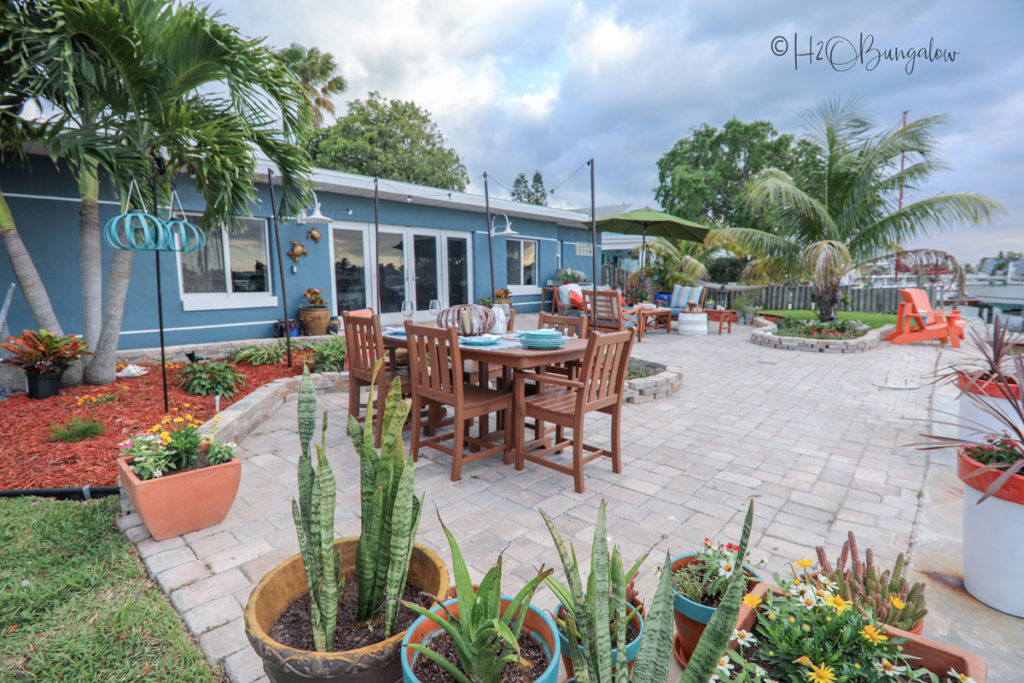 To make it feel more cozy and define the space I used lots of different size potted plants in a mass grouping. It also helps to hide the big old concrete platform our boat davit sat on before we moved it to a lift.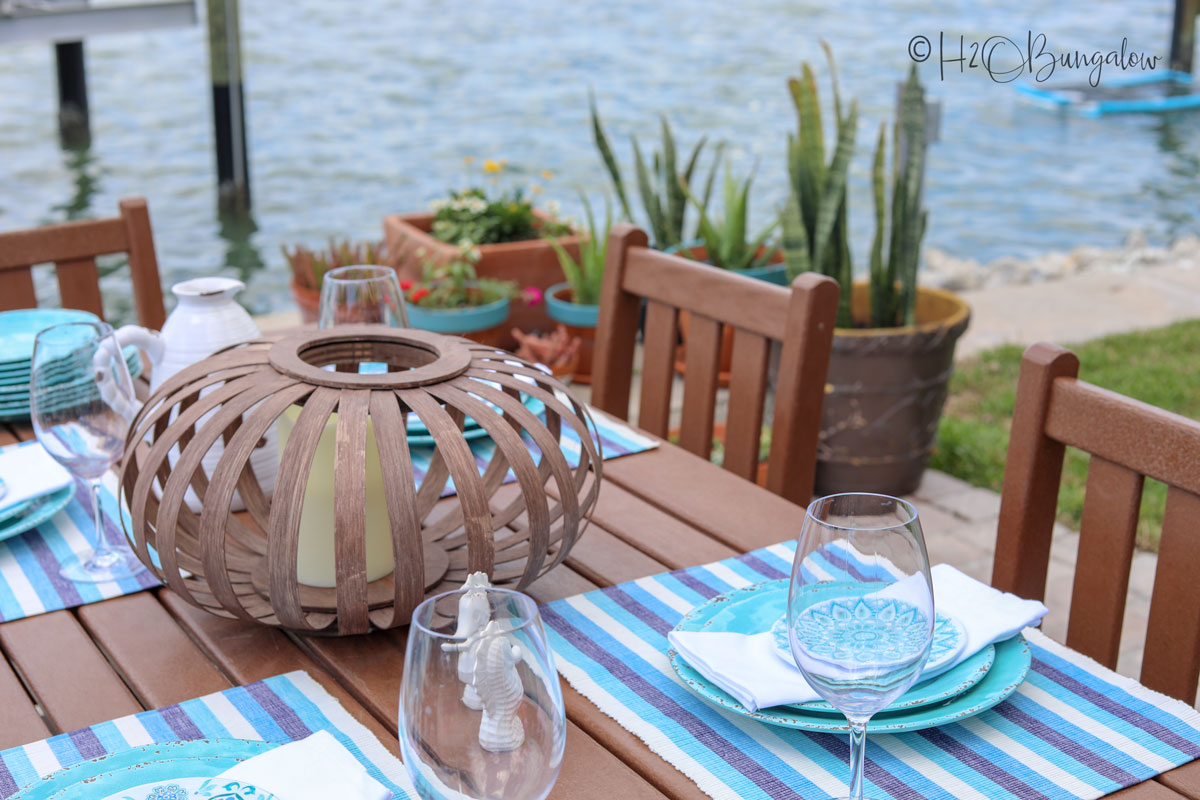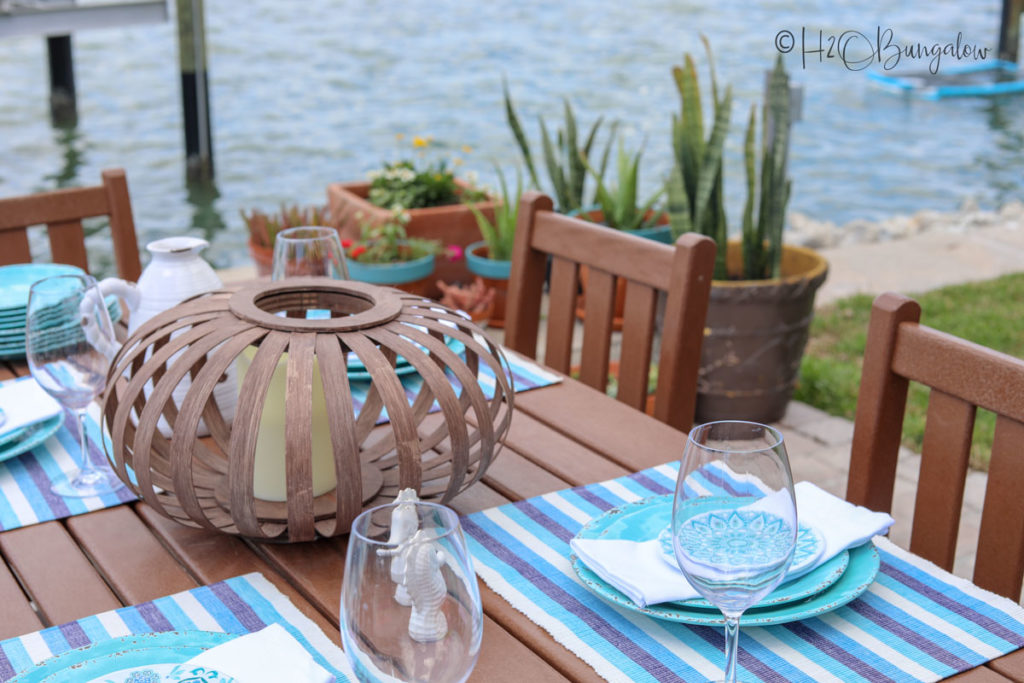 I used lots of heat tolerant plants since this area is a scorcher in the summer. I still have to connect the drip irrigation for the landscape beds and the planters.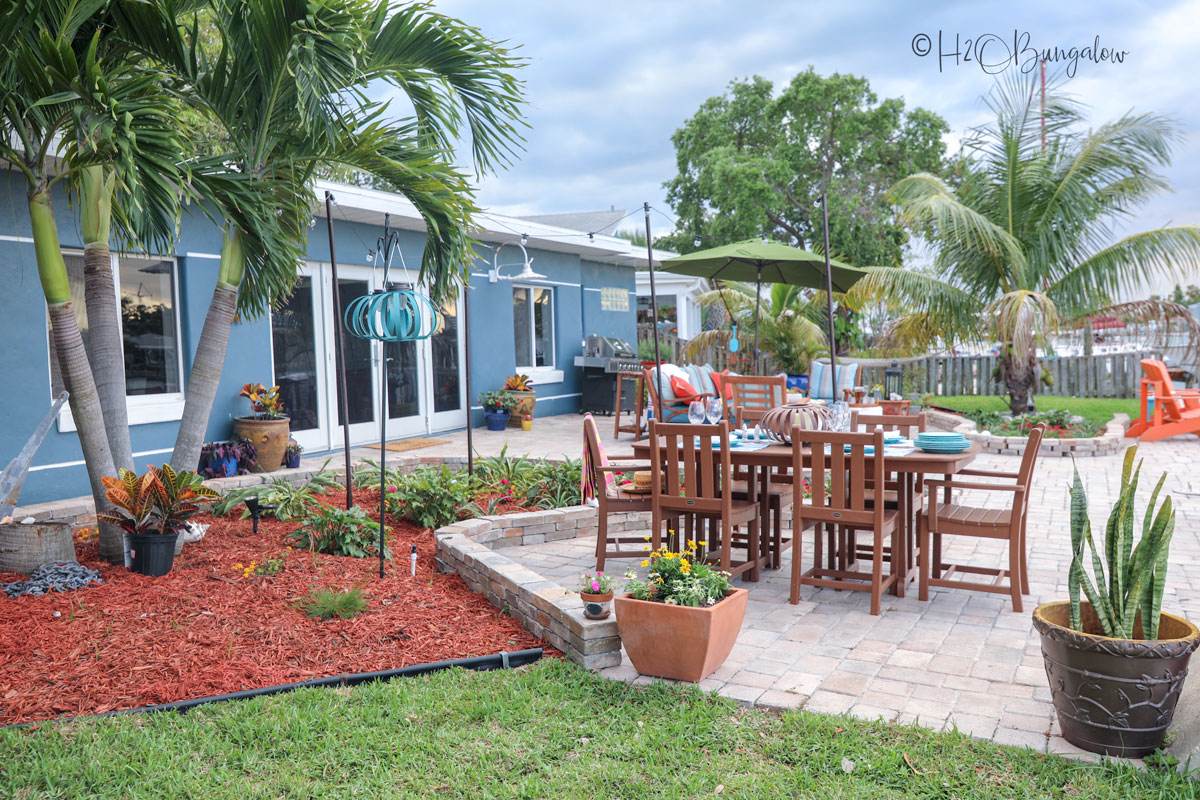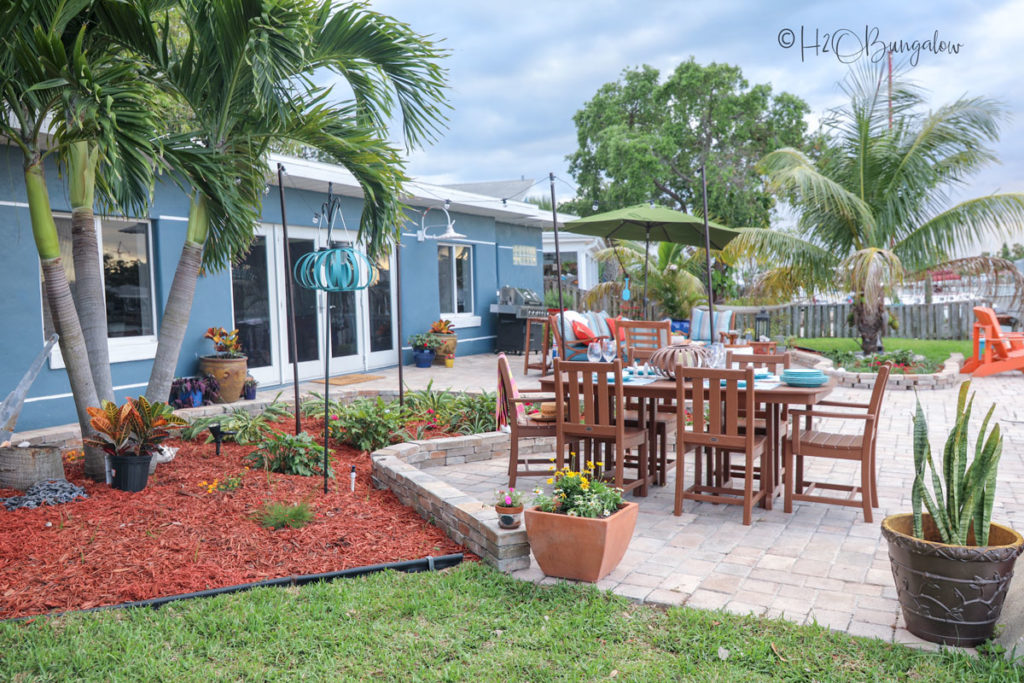 Our other hangout space I'd like us to use more is the seating area on the other side of the patio.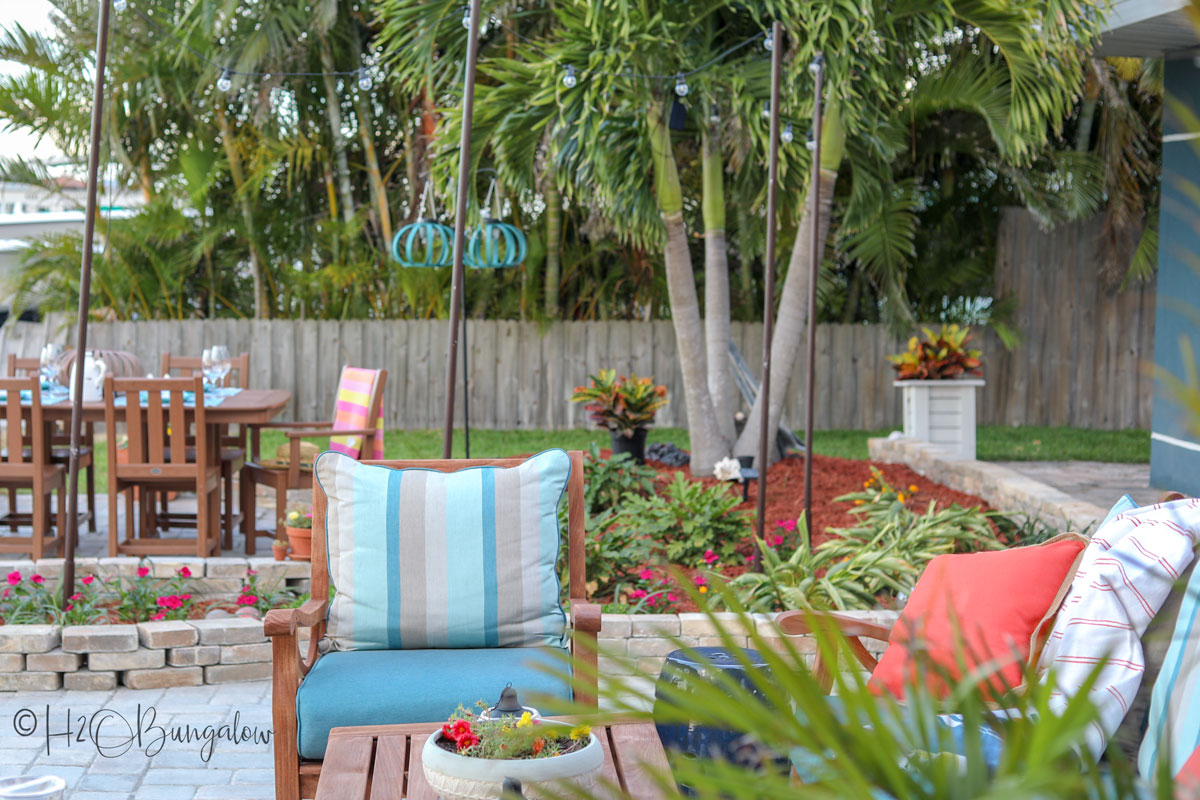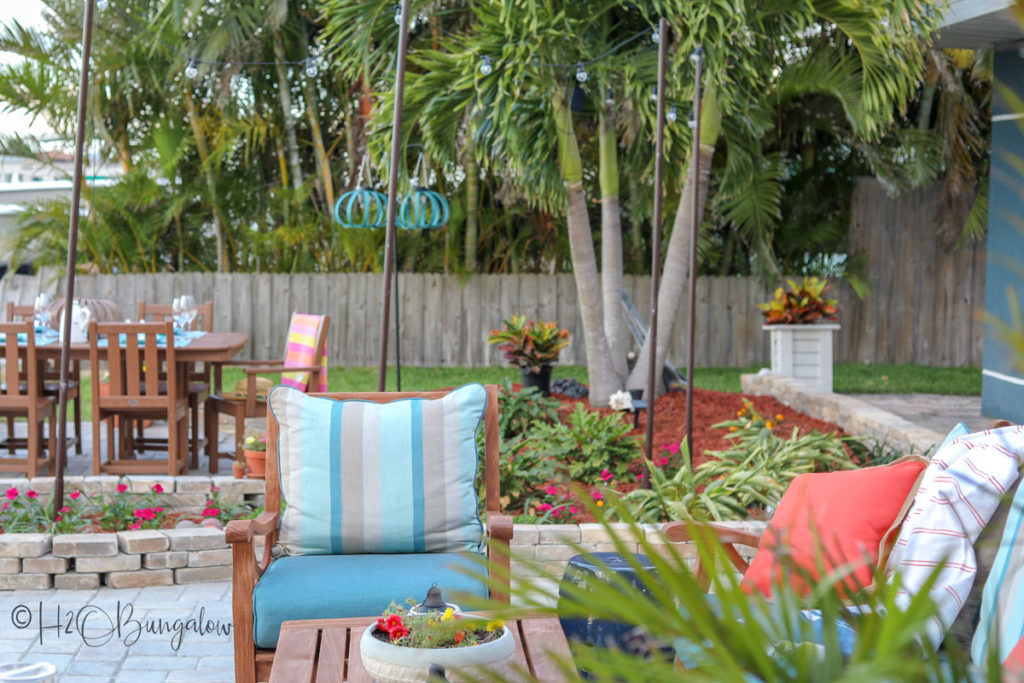 I built a complimentary landscape bed on this side of the yard to break up the big open patio space. Since these planting beds are huge, I used the same type of plants in each one but changed the layout so they wouldn't look matchy-matchy. My goal was to make the big space look cohesive and well thought out.
The teak furniture got a much needed makeover also.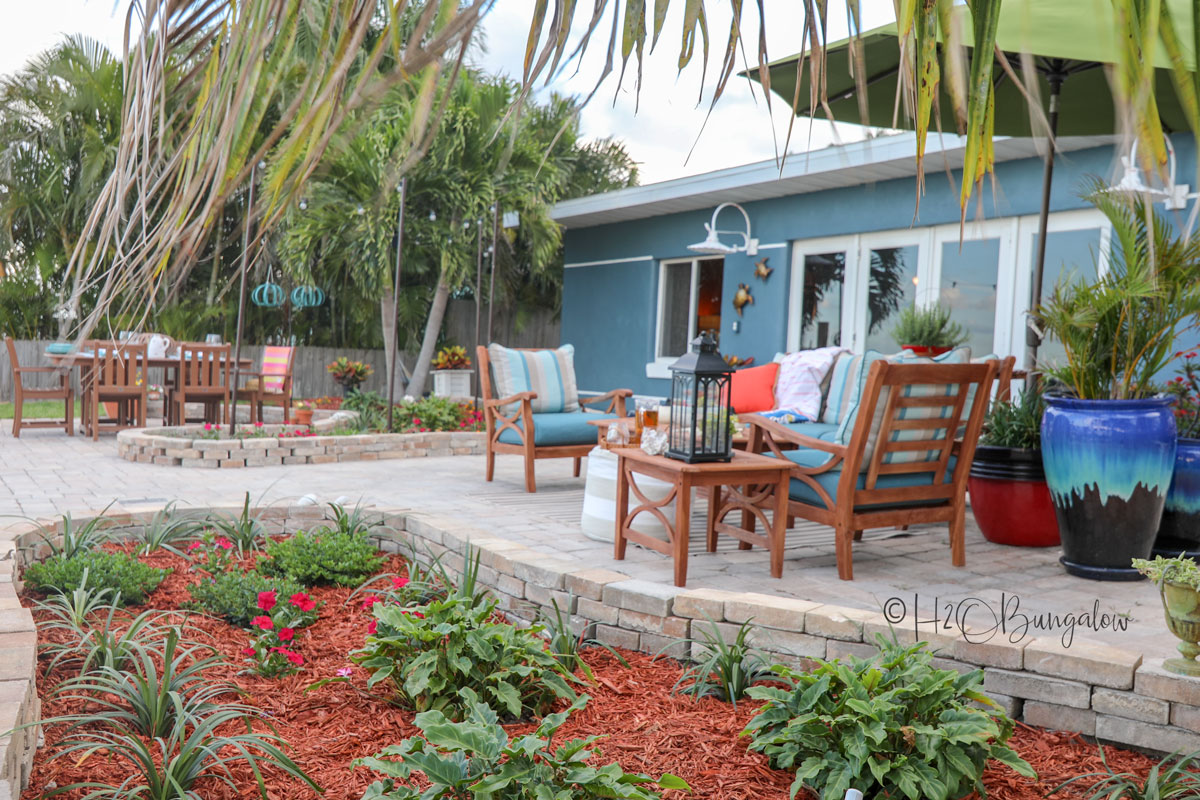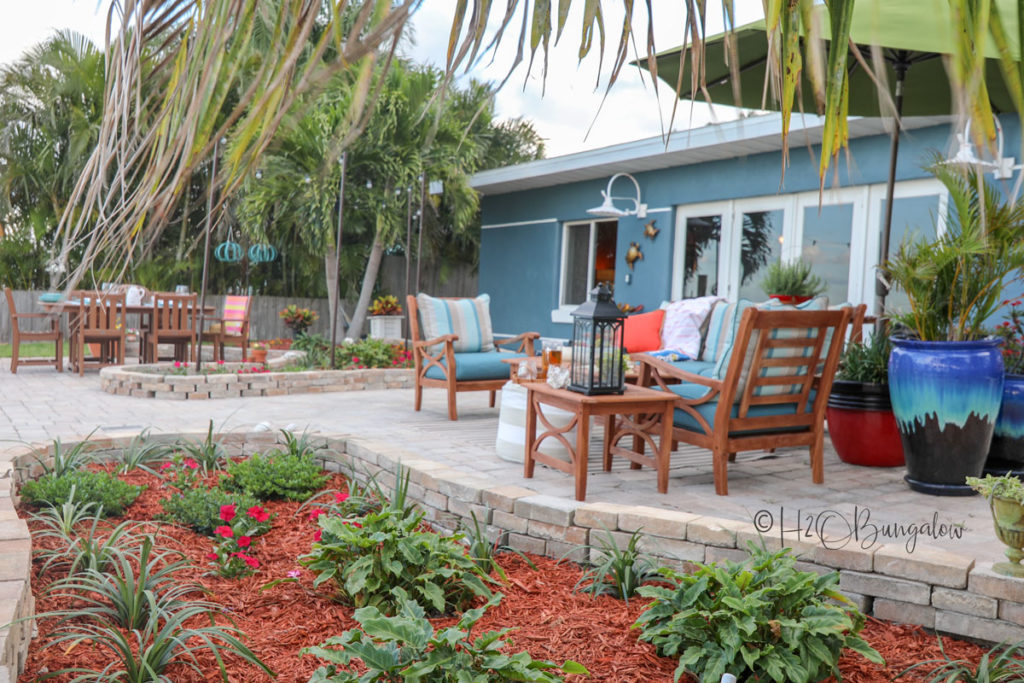 It was time for some new accessories for the sofa area. I added new outdoor rug, a few throw pillows and a big pouf which will double as extra seating.
Like my favorite courtyards in New Orleans, I use lots of planters in groupings to fill corners and open spaces. Some were here most are new. What will be new to me this year is adding drip irrigation to them all so they'll survive the summer and be watered on a regular basis!
That DIY Umbrella Planter Stand still works great from my last makeover! It holds up well to our crazy wind too.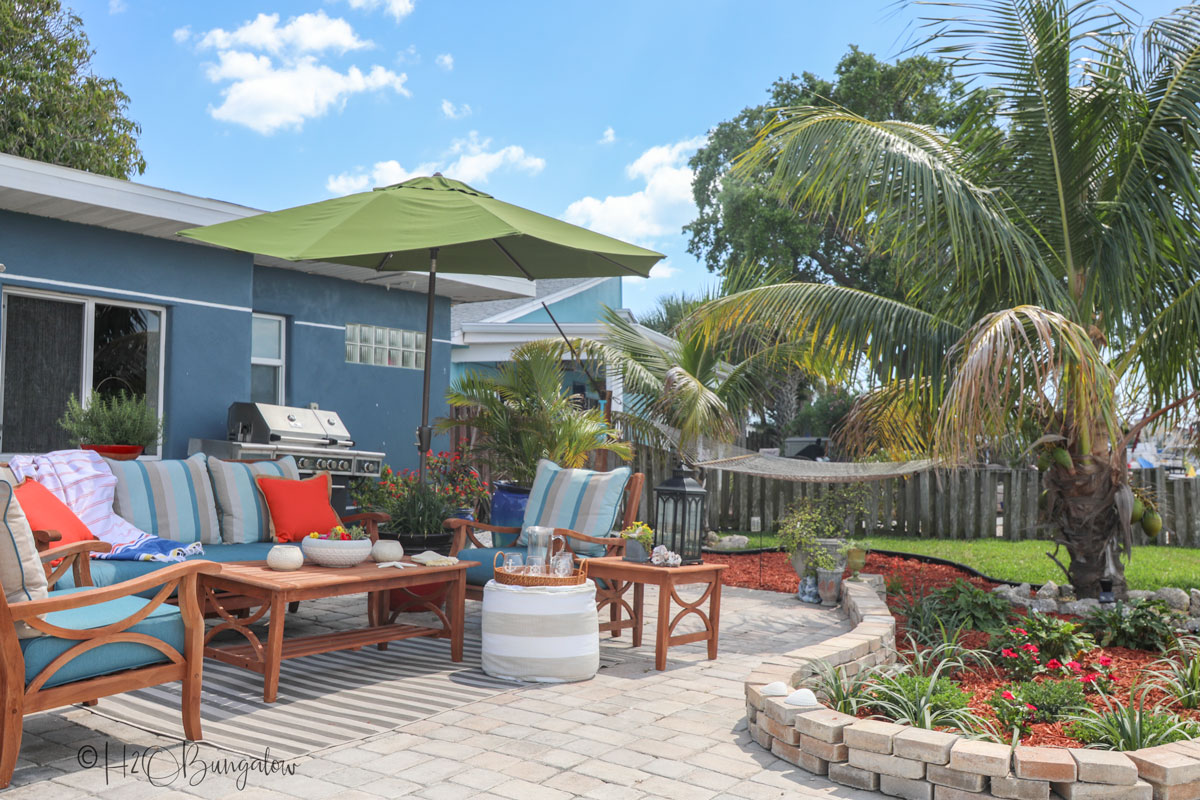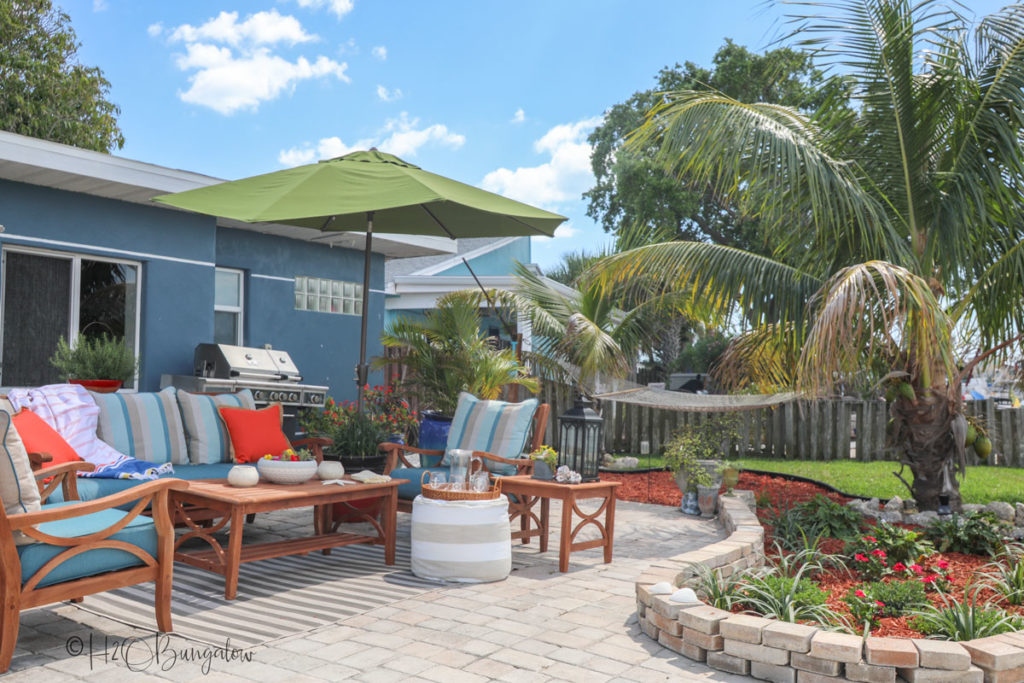 Sunsets are beautiful here when the evenings cool down. Now that the backyard is done, I plan on enjoying more of them!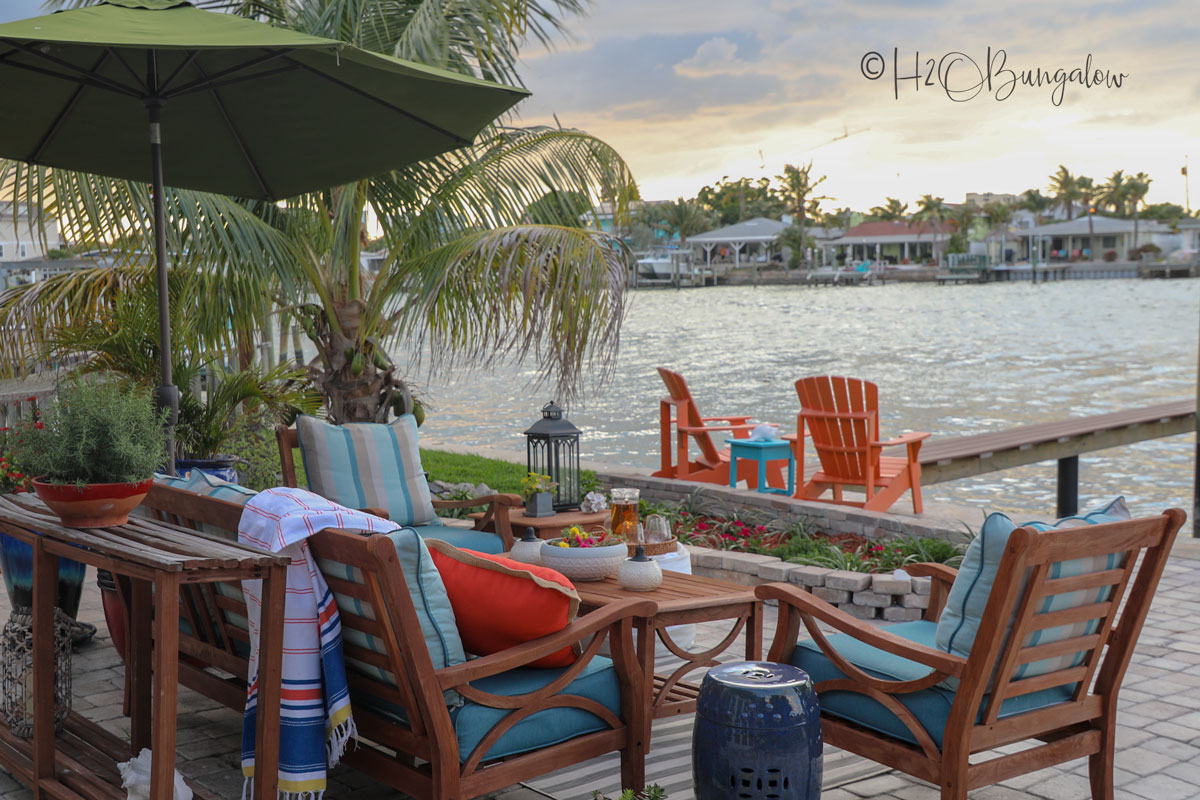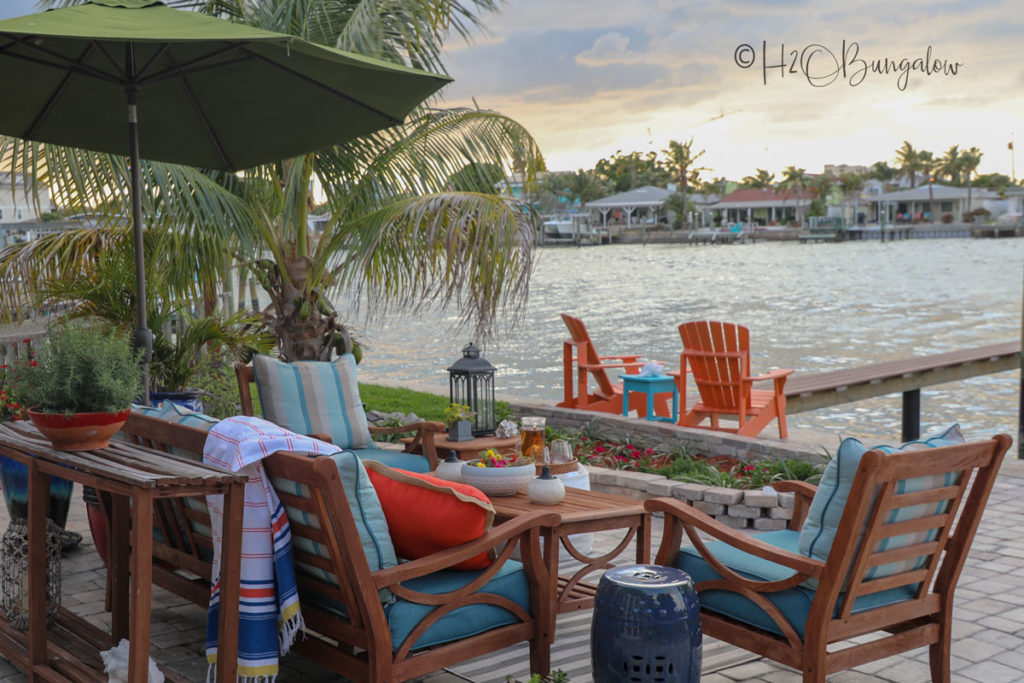 Our dining area is perfect for a sunset dinner on the water. I made this set of DIY Solar hanging Lanterns from inexpensive solar path lights. They're so pretty at night! I also Refinished my Teak Furniture and it looks like new.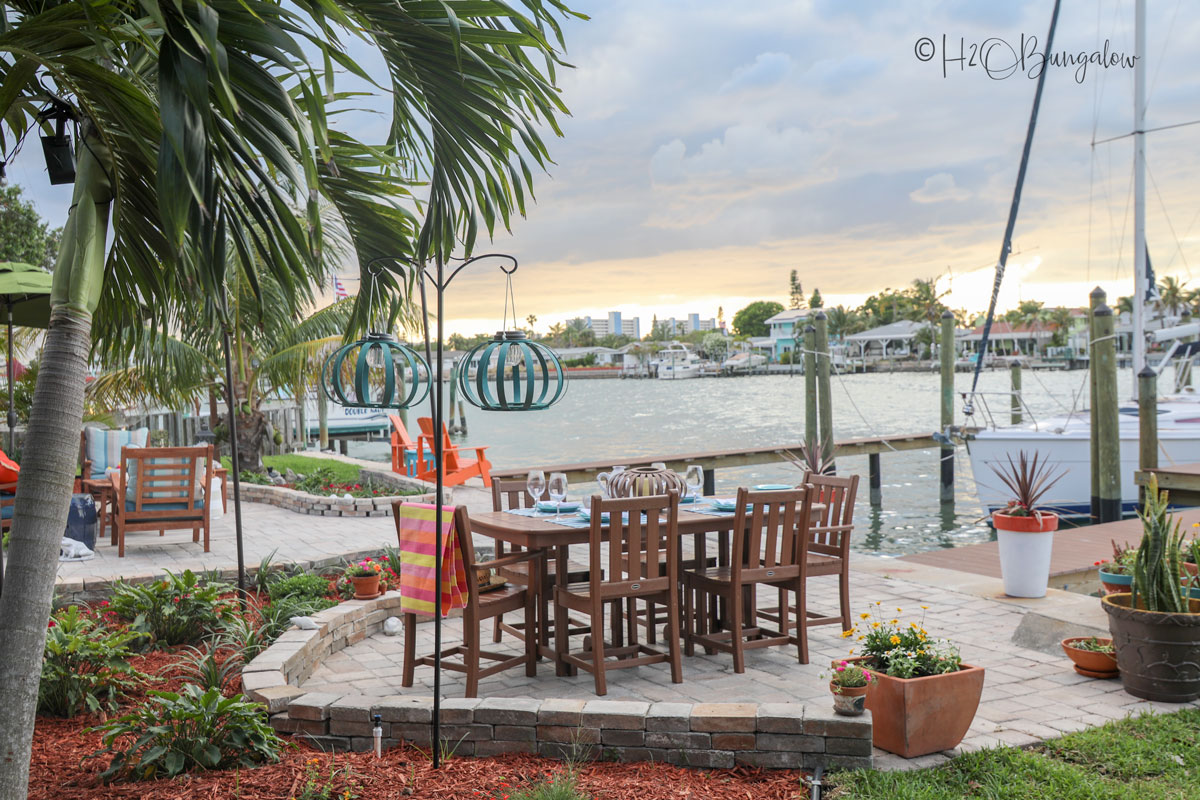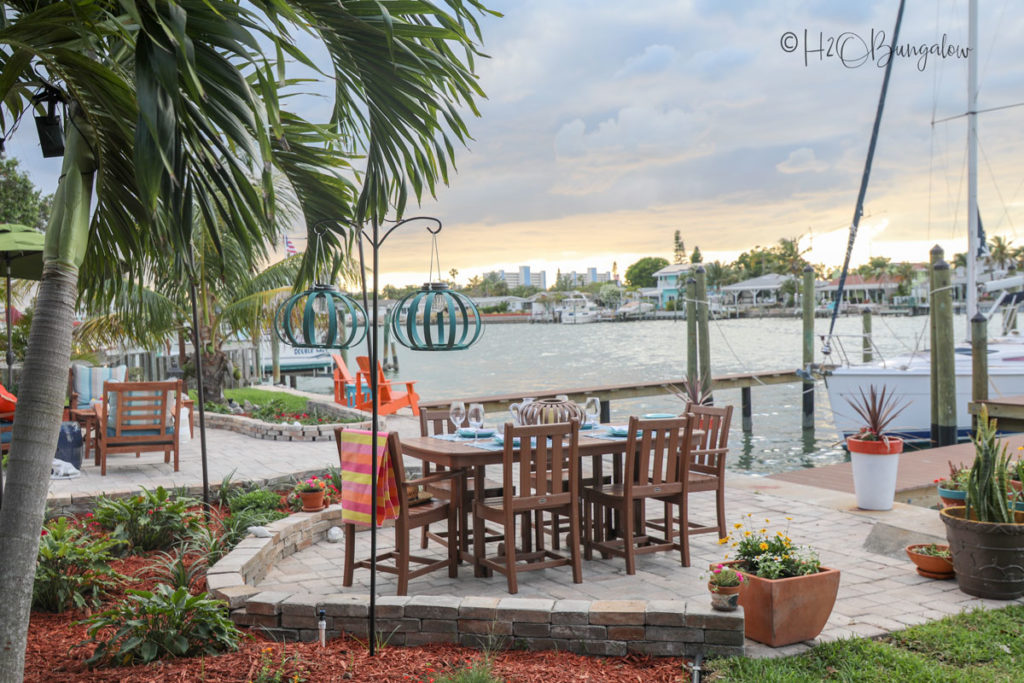 One of the things I love about my new backyard makeover is that when the sun goes down, we'll still be able to enjoy my new space!
I added a new version of string lights to my garden beds. I'll share the tutorial soon!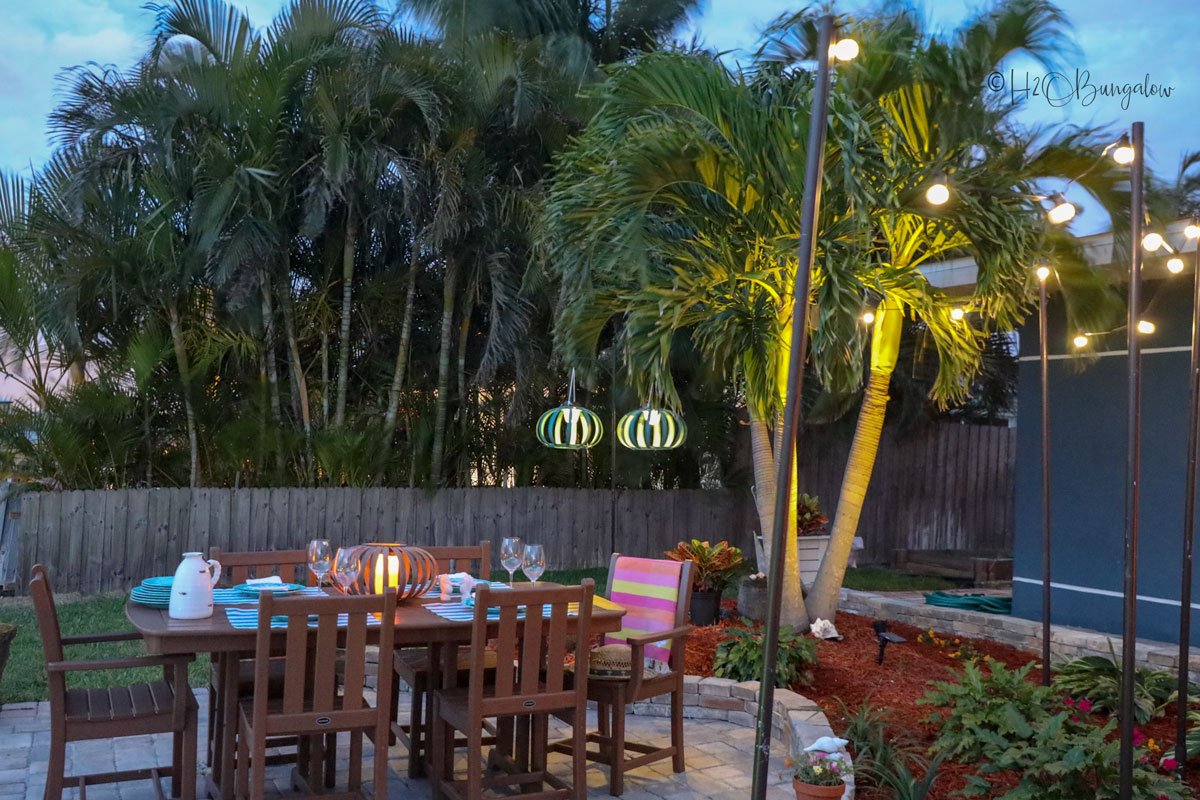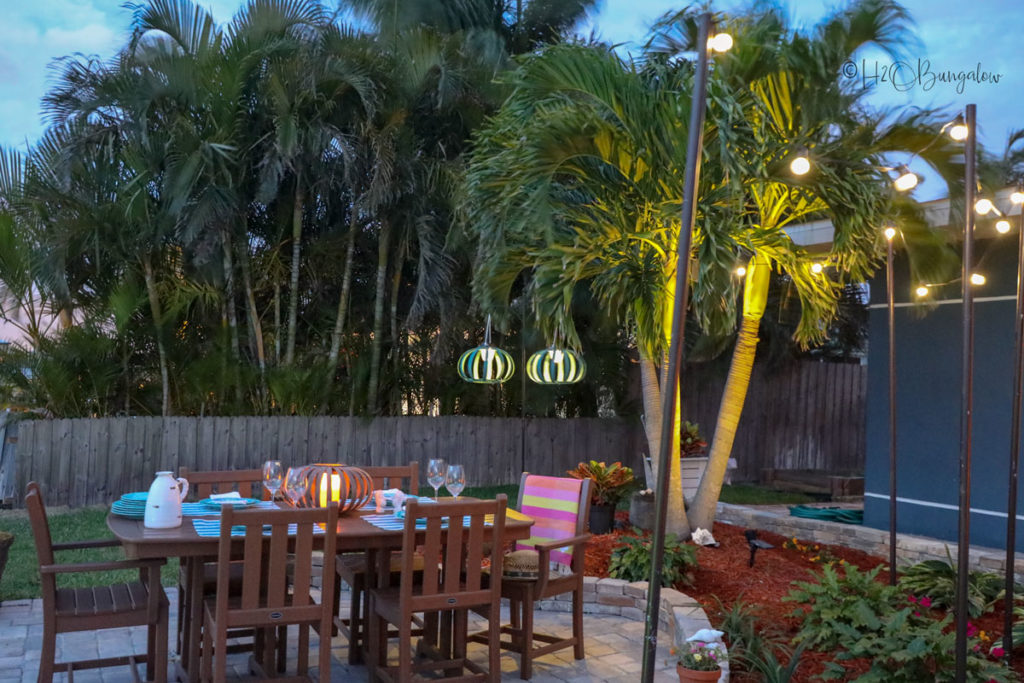 I'm really proud of my backyard makeover! Please pin and share it with your friends on facebook!
Favorite tools for this backyard makeover
All month long I've shared my favorite new 40 Volt Ryobi tools that I loved using for this project. Yes, Ryobi has an 18 Volt line too, which is what powers most of my woodworking tools. What's the difference? This is new 40 volt line is powerful!
Here are my favorites from this week's work.
40 Volt Smart Trek Mower
Mowing the lawn is not one of my regular chores here (usually the hubby), but I was so impressed with how easy it was to start and use this Ryobi 40V mower! You'll see me start this in my video. Plus, it's self propelled and walks as fast or slow as you do. Last, it fold for easy storage which I love.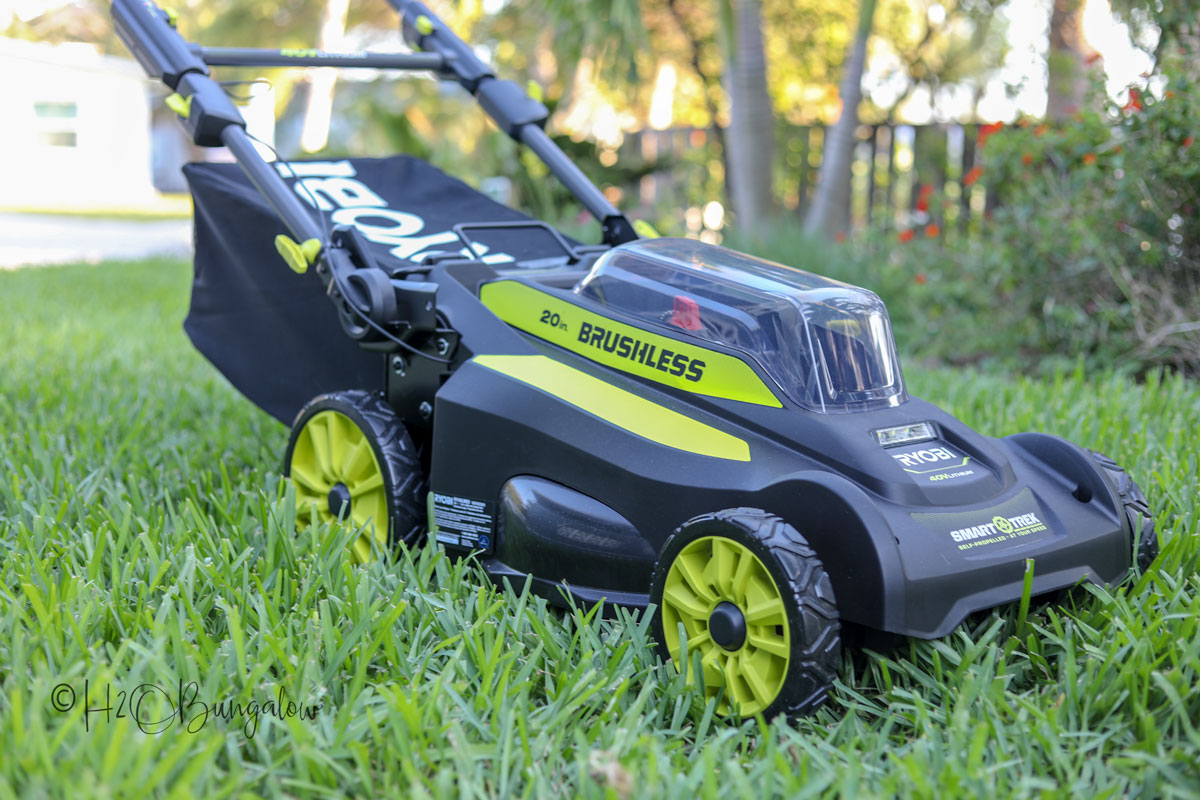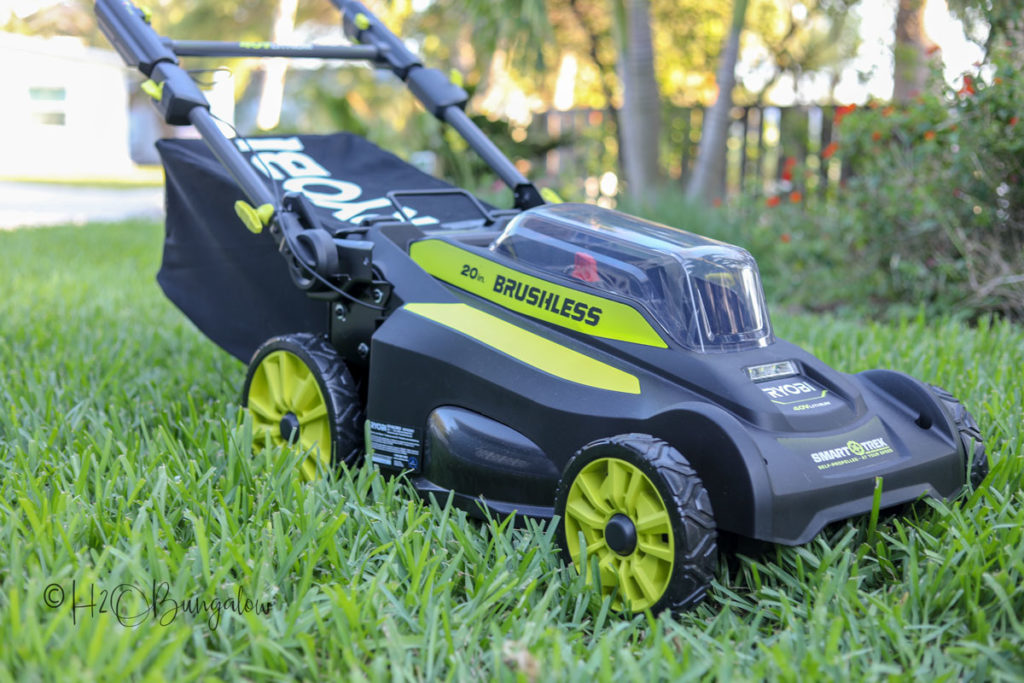 40 Volt String Trimmer Multi-Tool Attachment
I used my 40 volt Multi-Tool so many ways for this backyard makeover! It came with the String Trimmer Attachment and an Edger Attachment. You also saw me use the Cultivator Attachment when I broke up the soil and worked in new organic material in my planter beds.
There's a whole line of attachments that can be used .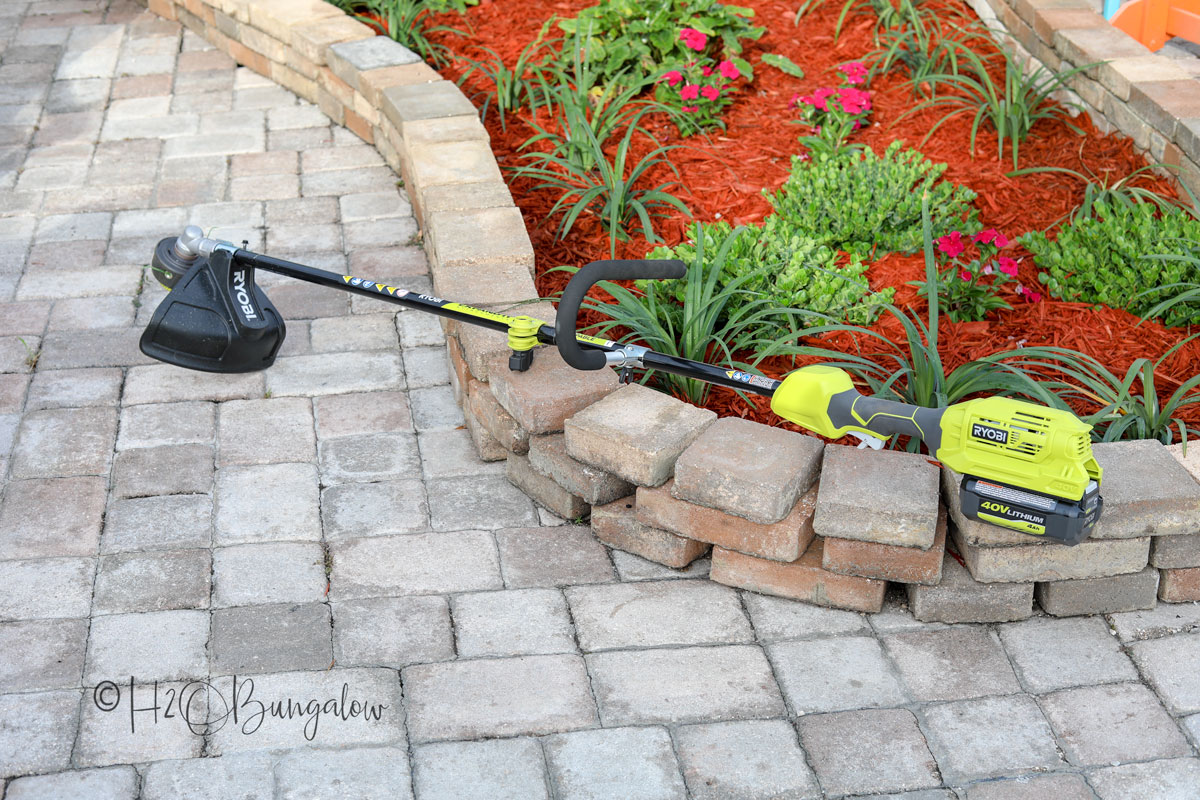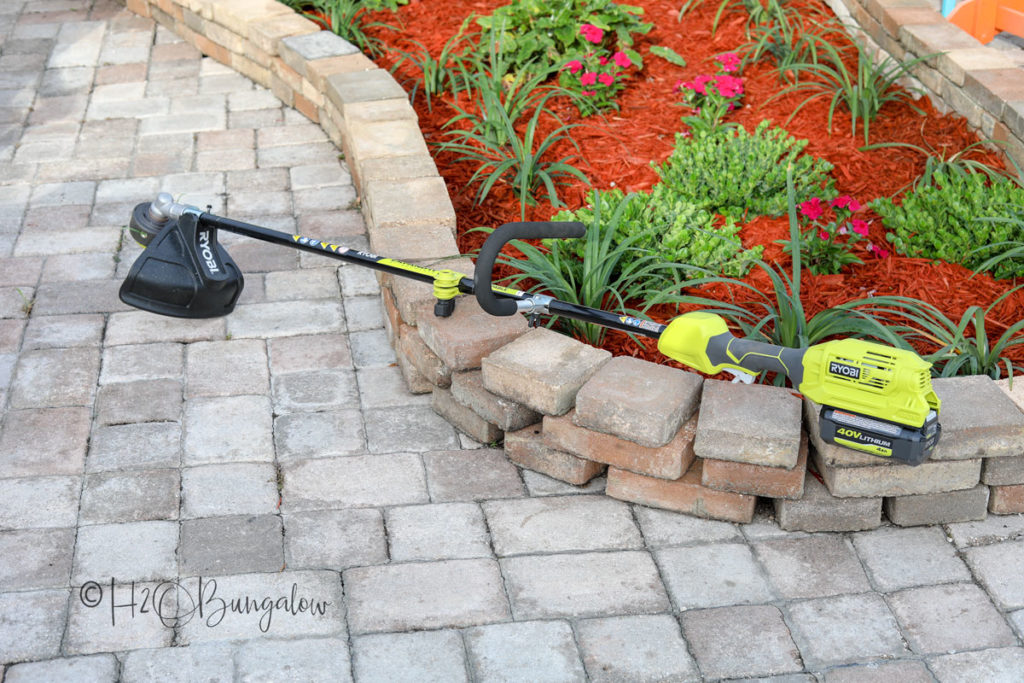 40 Volt Jet Fan Leaf Blower
Just about every day I'd use my 40V Jet Fan Leaf Blower to clean up after a day of working in the yard. It blows a whopping 125mph and move 500 CFM! Even heavy stuff moves. After a month of using it on my project, I still have 50% of my battery charge!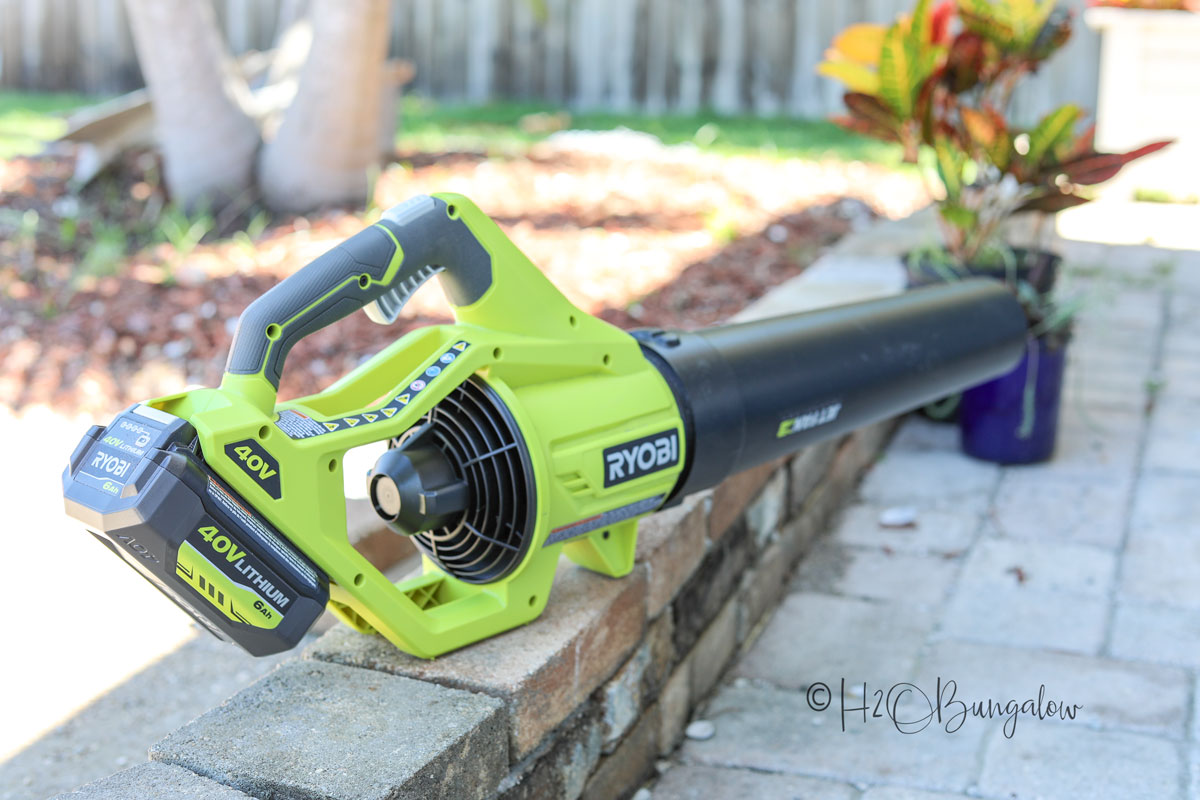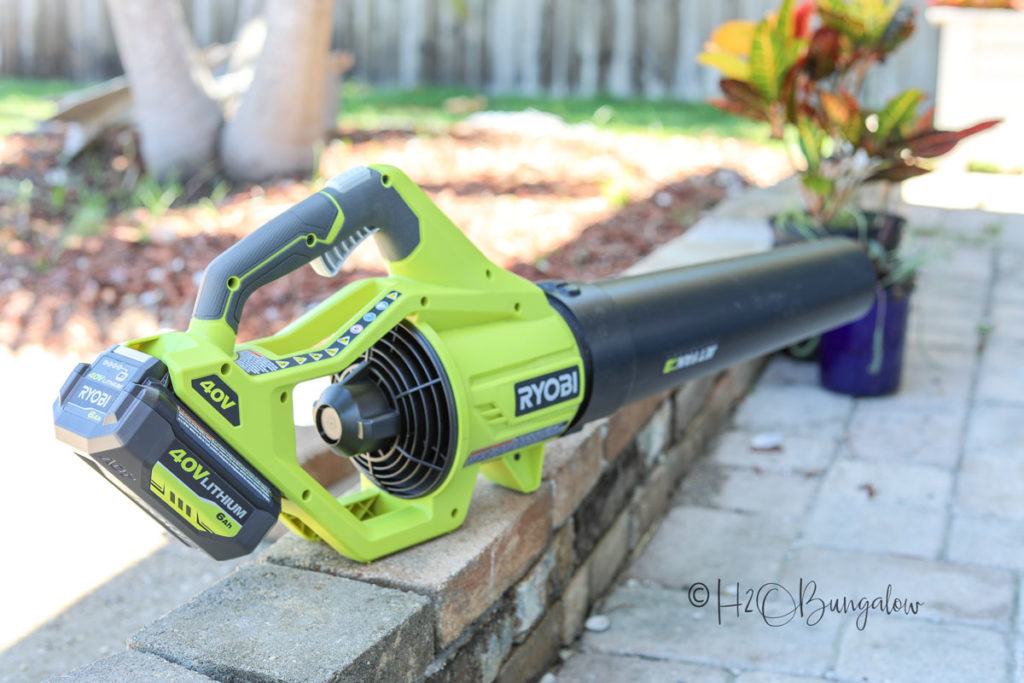 18 Volt Sprayer
Ever tried to use a hand pump sprayer to apply three or four gallons onto bushes or trees? Yeah, no, not doing it. I just had four gallons of fungicide to apply in the front yard on my bushes. I can't tell you how thankful I was to have this 18V sprayer! Push the on button and it works. That's it, easy peasy.
Just as an FYI, I use environmentally friendly weed killer made from essential oils to kill weeds in my pavers after I've tackled them with the string trimmer. – You'll see this in the video too!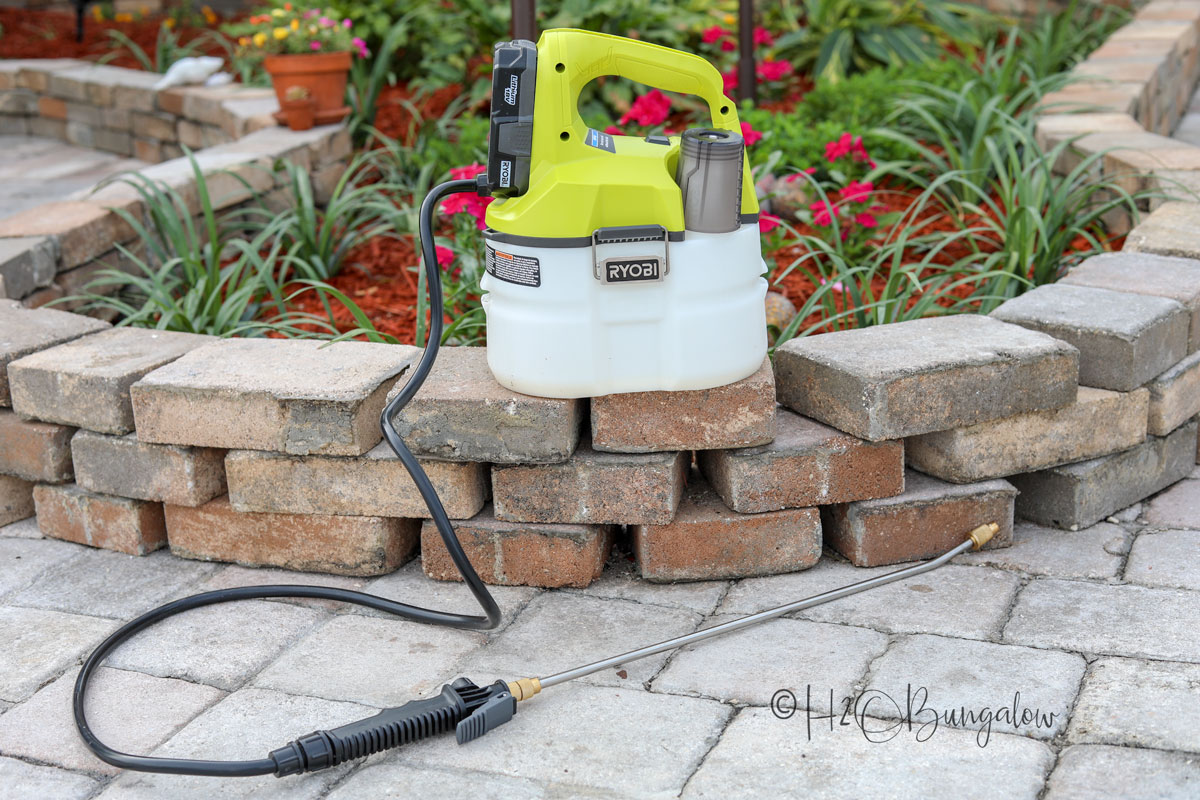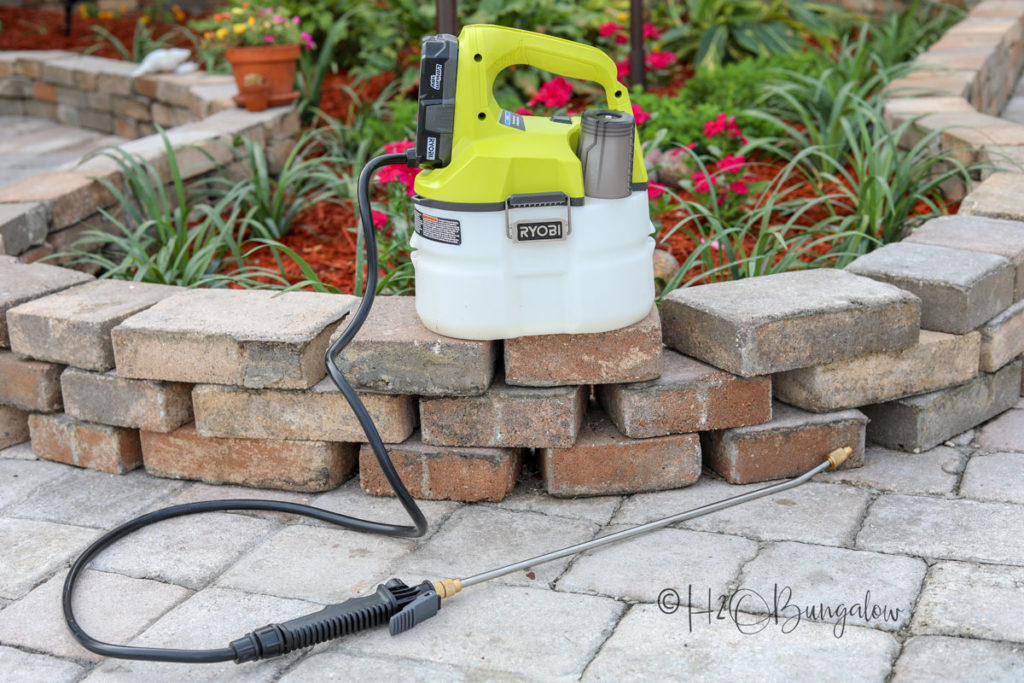 Outdoor Overhaul 2.0 The Hangout Challenge Team
So, are you ready to see what my friends did to their own backyard makeovers for the Ryobi Hangout Challenge?
My Repurposed Life – Backyard Camper Retreat
The Handymans Daughter – Backyard Makeover with beautiful garden areas
Thrift Diving- Backyard Fire Pit Makeover
Whew! This post was long but so were the past four weeks, Friends! I'm tired and achy. It may take several days to get the dirt out from under my fingernails but I'm so happy I took on this patio makeover!
I hope you've had a good time following along on all of our progress as we've updated our neglected outdoor spaces. If you joined in on the fun, I thank you for participating!
I'm so happy I tackled my backyard makeover early, before it gets too hot here in FL. I'm not sure I could pick a favorite spot. Which part of my makeover did you like the best? Share in the comments below!