It's finally time for my contemporary small master bath renovation reveal – Whew! Can you say that 3 times fast? I've said "I'm sharing it soon" more times than I can count over the past few weeks. I'll bet that some of you thought I'd imagined the entire project in my head. Well friends, soon is now today!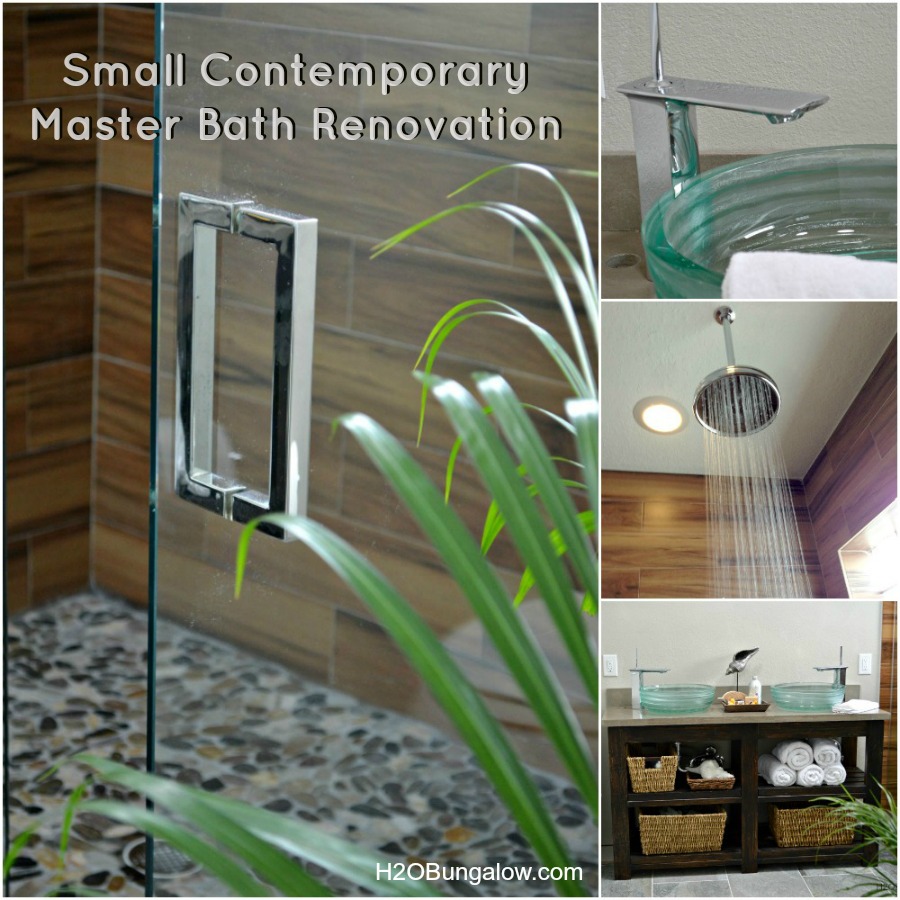 Let me start by saying this was no small project. My small bathroom & closet renovation, took over 2 years of planning, a 9 square foot variance from the city (silly, huh?), 6 months of construction, 5 months of sleeping on our boat and almost 3 years of living partially out of a box.
After all that…
It's done!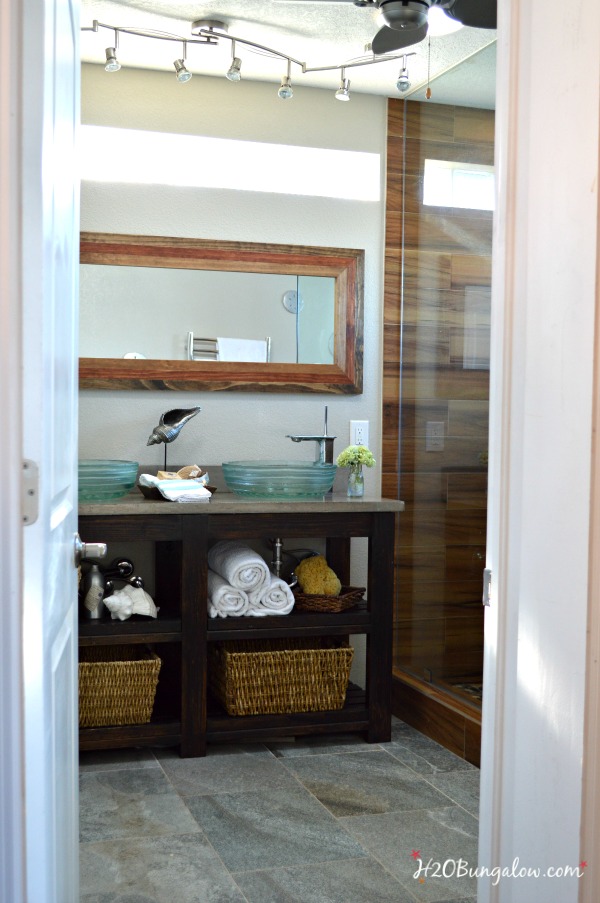 Yes, we went through all that to add about 130 sq feet onto our small 1950's home.
Remodeling and building onto a waterside 70-year-old house on a small lot where there are lots of government restrictions was a challenge. We're happy with the 130 sq ft of new space, we only had 1 full bath before. Just one, for the entire house and that wasn't working out so well!
We've come a long way. This photo was taken last April.

I knew from the start what I wanted my new master bath to look like. I wanted it to feel open, with natural elements like wood, stone, glass, have lots of texture and not be fussy. The area is about 30% smaller than we originally planned due to local restrictions. I couldn't fit everything I wanted in such a small footprint. I really tried, and probably made our architect crazy.
So I had to make some tough choices.
Ultimately, I gave up the tub and separate area with a door for the toilet for space so the rest of the room could be awesome. It was the right choice 🙂
We still made the most of our limited space. We used a pocket door for our walk in closet which made a big difference in the bath and closet area. Sliding it into the wall reminds me of the old houses we lived in up north when I was young.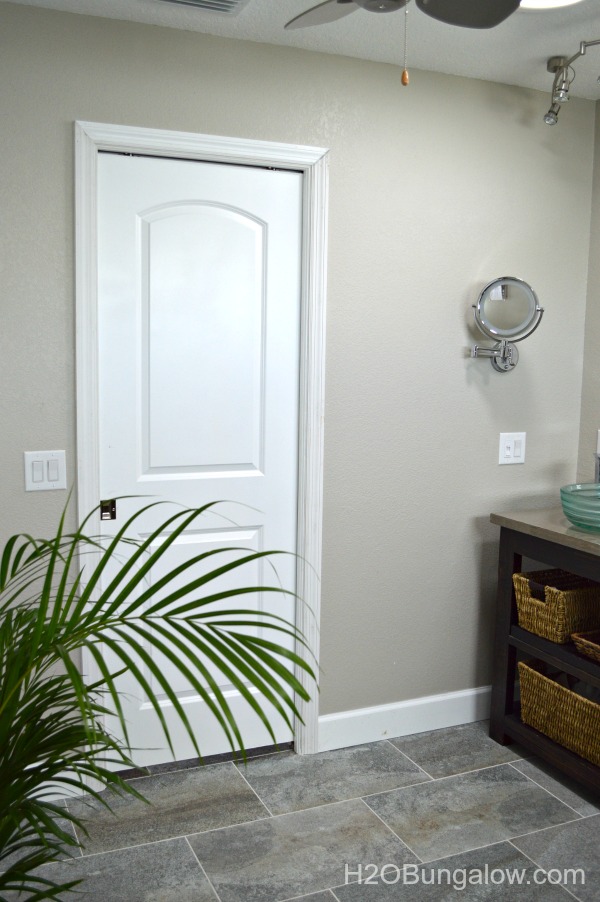 Many of my readers already know I built my open shelf vanity and poured the concrete counter top myself. The post is for the concrete counter is coming soon 🙂 We were the first ones to use the new product and it hasn't been released by the manufacturer to the public yet which is why I haven't shared the tutorial.
Have I mentioned I love my vanity!
Open shelves with baskets contribute to the open feel in my bathroom. Nope, I don't have a mirror yet. I'll probably build one later. Until I do we'll be mirror-less 🙂 I do have a hardwired lighted makeup mirror mounted on the wall. I love it! This was not an "optional" item for me. I've used these for years and wouldn't go without one! I shopped like crazy and found this one one for less than $100 it's a steal. They are so easy to install if you have a light switch or an outlet near by!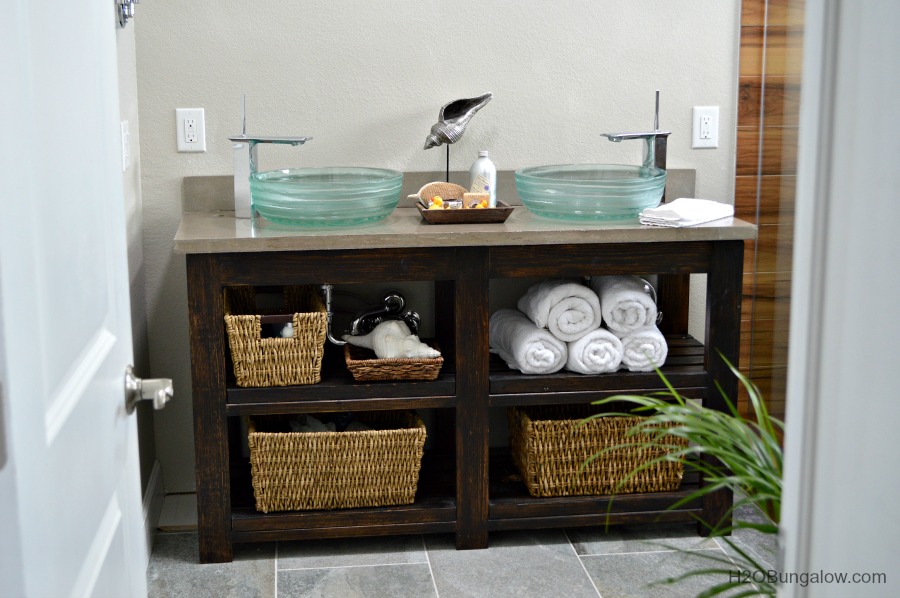 Another favorite feature is my heated towel rack . It's so nice to step out of the shower and grab a warm towel! A heated towel rack is wonderful year round, yes, we have warm towels in cool weather but it also keeps mustiness out of summer towels too.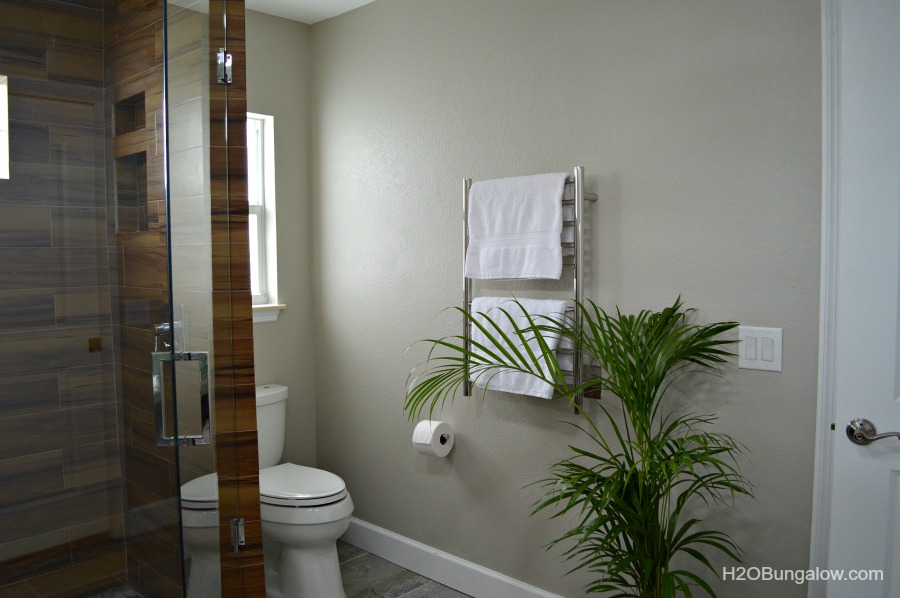 The shower was planed to be an over-sized shower. The builder made it even bigger and now it's huge 🙁 It seems our project manager wasn't good at reading the plans or doing simple math either. By the time we caught the mistake, it would have been a big fix.
We left it the way it was.
I had a lot of fun designing the shower and knew it would be a focal point in the room. I wanted a really big WOW factor. We used wood look floor tiles on the walls and cut stone on the floor. It's a stunning combination! The frame-less glass wall for the shower goes all the way to the ceiling.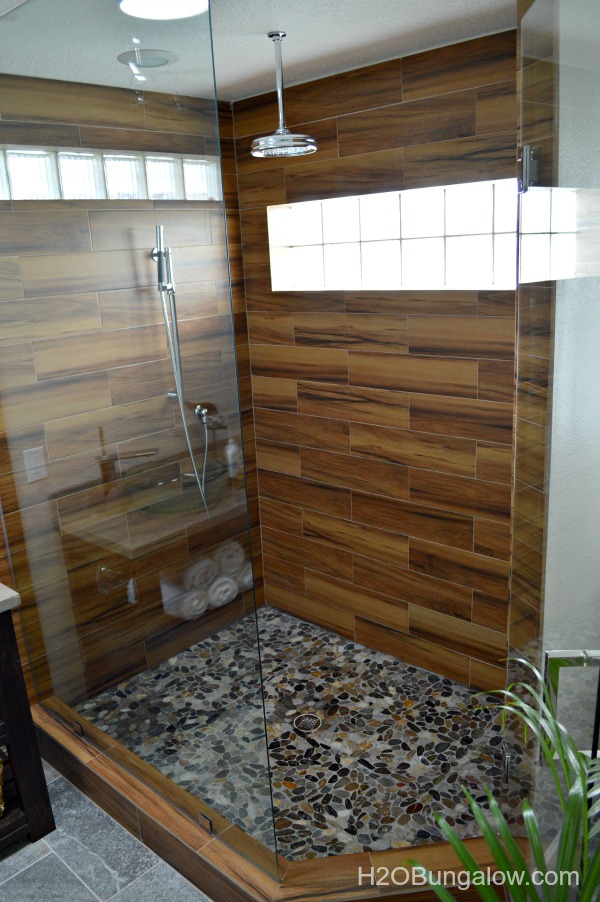 I choose Kohler for all the plumbing and fixtures. The quality and style couldn't be matched. My next post will cover all the fantastic features
..like a touchless nightlight toilet!
But I won't spill any more beans, you'll simply have to wait for the next post:)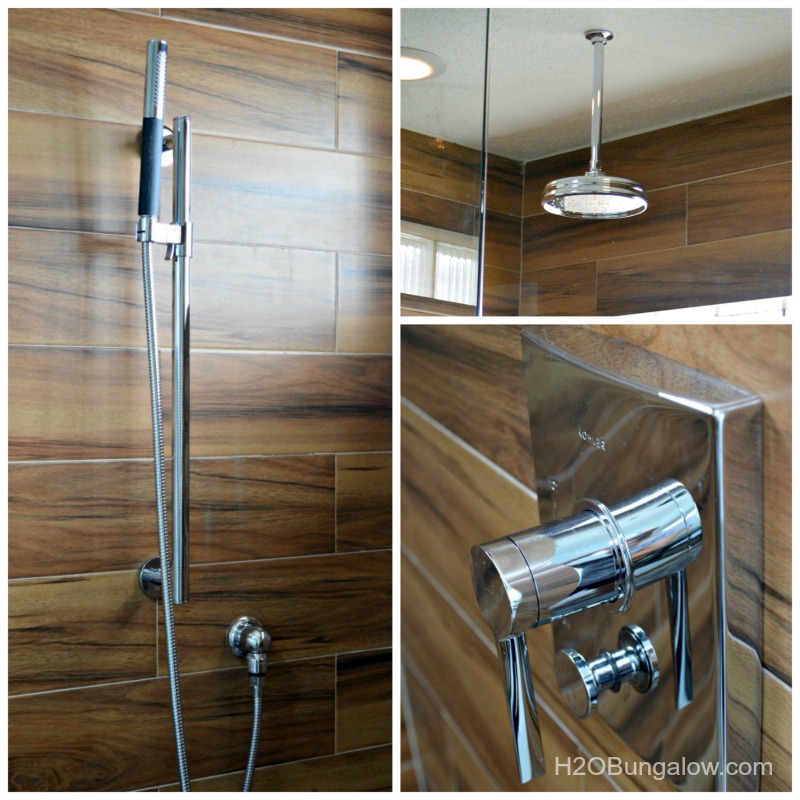 I made good use of the natural light we have. Daylight pours into this small bathroom from extra glass block windows and Solar tubes mounted in the ceiling. The solar tubes reflect the sunlight and magnify it…a lot. They took a little getting used to. The room was so bright in the day that every time I left the room, I was reaching for the light switch to turn off the lights! Night time is the only time we turn the track lights or shower light on.
Yes, a ceiling fan is needed in humid and hot Florida. A little mini 26″ does a great job. Especially since I'm usually the only one who feels hot;)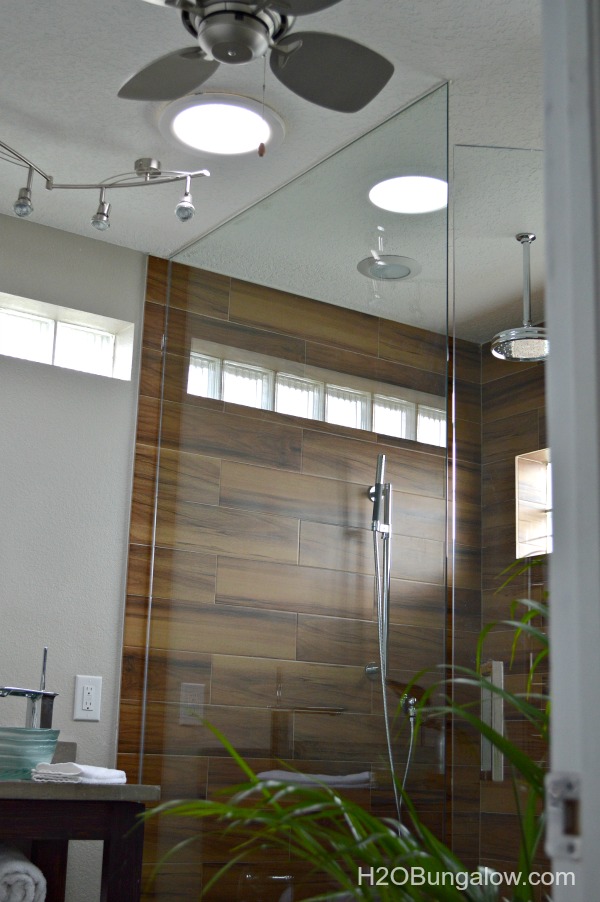 I love my new contemporary small master bath. It was absolutely worth the wait and all the work we put into it. We finished the mirror a little while ago and I share a great tutorial on how I built it with a $5 over the door mirror.
If I had to share one last word of wisdom to someone taking on the challenge of renovating, it would be to think outside the box. Look at lots of pictures and take note of what really moves you. Often it can be done or you can get "the look" with something similar if the pictures have "out of this world" pricing!
Because..
Pretty doesn't mean unaffordable.
What's your favorite feature in my contemporary small master bath renovation?
If you've enjoyed this post you'll like my series on renovating your home. It's packed with practical advice on everything from planning to budgeting and living through the chaos of a major project. You'll find more small bathroom renovating ideas with my other bathroom projects we've tackled here and here!
Portions of this project were sponsored, I was compensated or given product to complete it. I only share what I feel is useful to my readers and 100% of the commentary and opinions shared are mine

My post also contains affiliate links, if you make a purchase I will get a small commission at no additional cost to you and will be greatly appreciated. Funds received help support the overhead of running this blog and keeping my son in college 🙂