Today's project for the 30 Days To Fabulous Backyard Makeover is a simple one that makes a big impact. Spray painted planters are an easy way to color coordinate an outdoor space. I'm sharing my top 3 tips for spray painting outdoor planters to get a perfect finish every time that looks great and lasts a long time.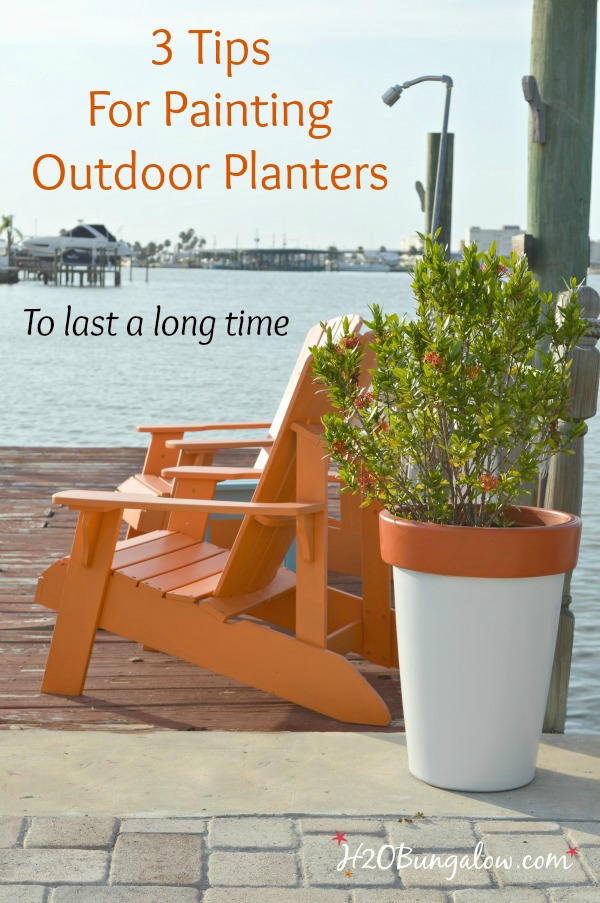 You guys have seen a lot of my backyard in the last few weeks. There's lots of open space.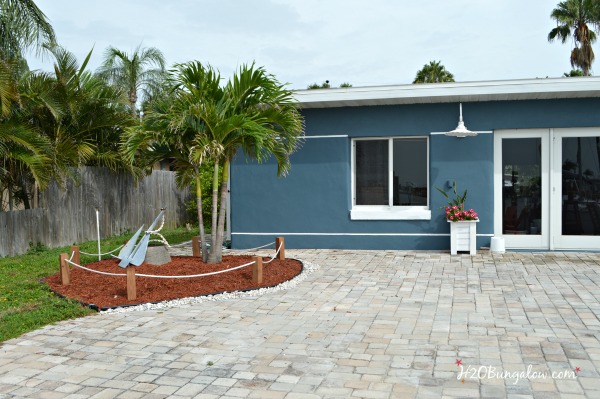 While I'm still working on a few big projects in the background, I'm starting to add a few things here and there that will make this space the perfect outdoor area to relax and enjoy with friends.
I added interest at eye level when I hung my outdoor art without nails. I still need a lot more items that have height to fill in spaces and help define the area. This strategy will help me create an intimate space that looks and feels fabulous when I'm finished with my backyard overhaul 🙂
When I saw these tall planters at Walmart for $20, I knew they were perfect. Except for the brown color.
Since I paint just about everything, this was a simple fix. Outdoor paint can last and look good for a long time as long as you follow a few simple rules for outdoor painting.
Looking for more paint tips and ideas? Check out this list of 22 Fabulous Spray Paint Project Ideas, How to Paint a Front Door With No Brush Marks and 35 Painting Tips and Tricks That Save Time
3 Tips For Spray Painting Outdoor Planters
#1 Prep your planter surface before painting it.
Gently rub a little sandpaper over a shiny surface to give the spray paint something to adhere to. Next, wipe the outside of your planter down with TSP (tri-sodium phosphate) and a lint free cloth or rag to de-gloss and de-glaze your surface before painting it. See more painting prep tips here. Make sure your surface is dry before painting it. It's been incredibly humid here lately so I brought my planters indoor to sit for an hour or so to be sure they were dry.
#2. Use the right paint for your outdoor project.
Choose an outdoor spray paint and one that is made for your surface. My outdoor planters are plastic, and I used Rustoleum's 2X spray paint for plastic. Orange looks especially good against the blue of our house and I'm loving the pop of color. I used Rustoleum's 2X in Gloss White and Satin Fire Orange on my patio planters.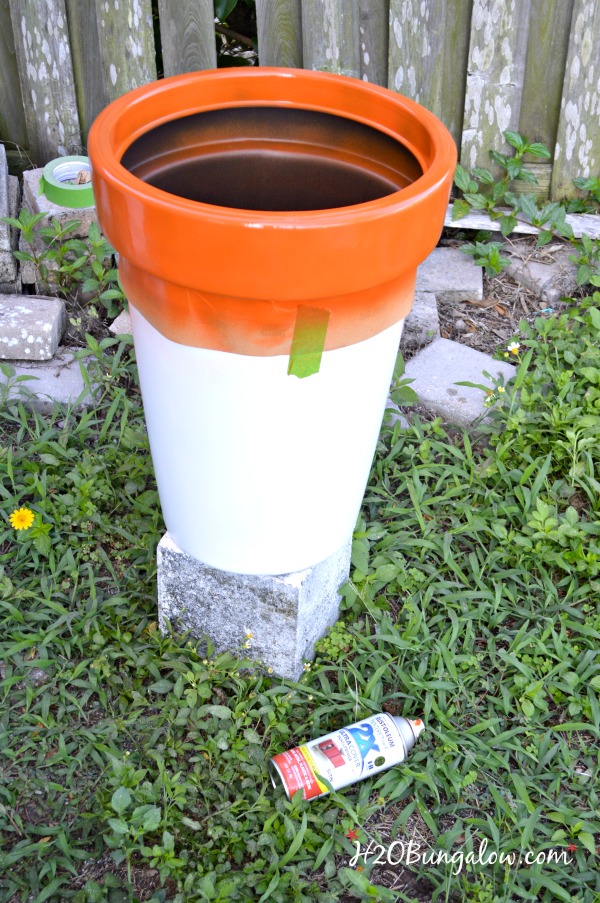 #3. Paint your outdoor planters in the right conditions
This sounds elementary but it's especially important. Read the label on your spray paint and you'll see that it mentions not to paint when temperatures are too high or too low. To low is never an issue here in FL, but too high is.
The same goes for humidity.
I spray painted my outdoor planers early in the morning before the day heated up. Because our humidity was so high, when they were just dry to the touch I brought them indoor and let them sit overnight.
I shopped my yard and re-homed a few xantha bushes from the front yard for my tall planters. They are a dwarf variety so won't get much bigger and produce beautiful orange pom-poms of flowers year round. Yes, I used my plant dollie to move them, these babies were heavy after I planted them!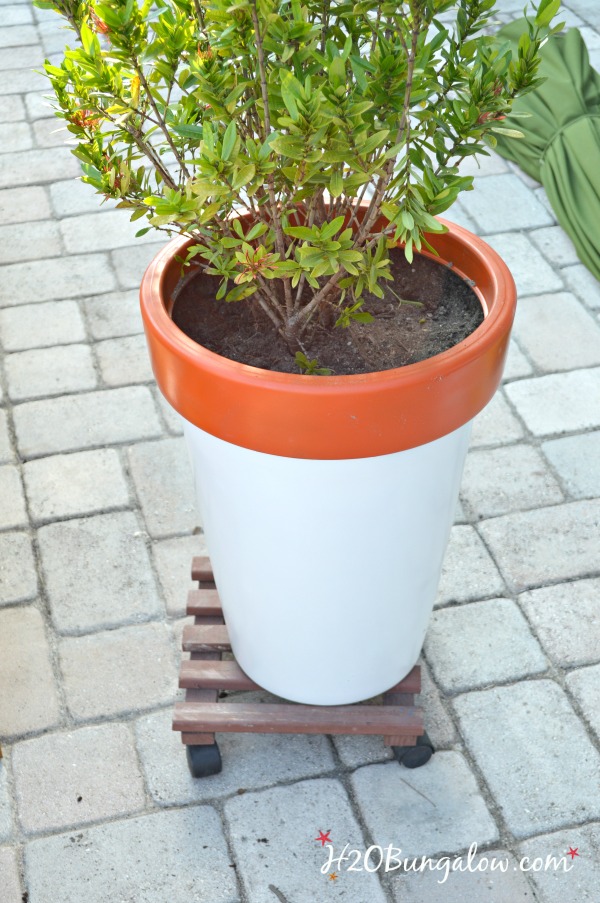 They look great next to the dock and my painted Adirondack chairs. Since they are tall, they give a big impression.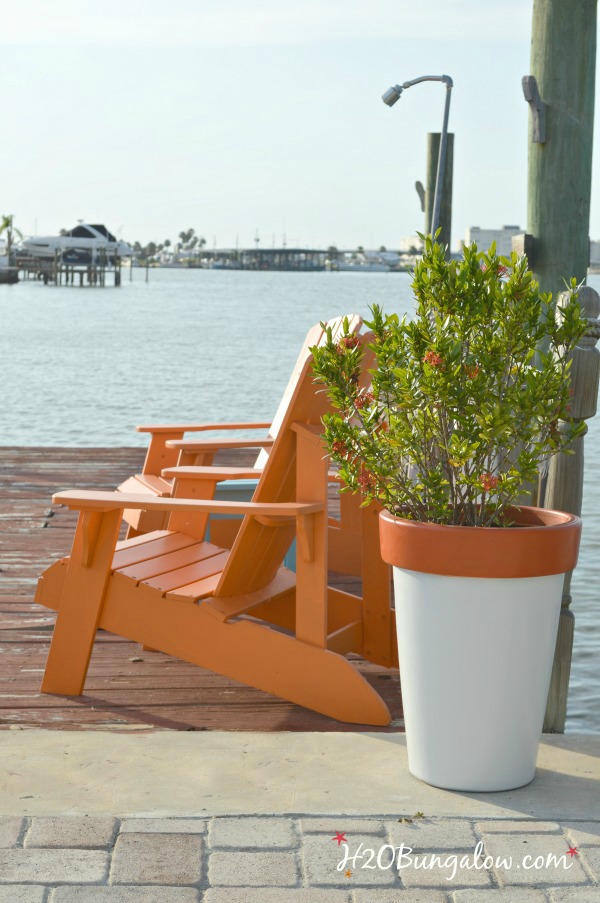 I placed one at each side of our dock, they fit nicely in a simple vignette.
This is the other hurricane anchor we have. I re-purposed the piling pieces and some dock line to create this simple visual.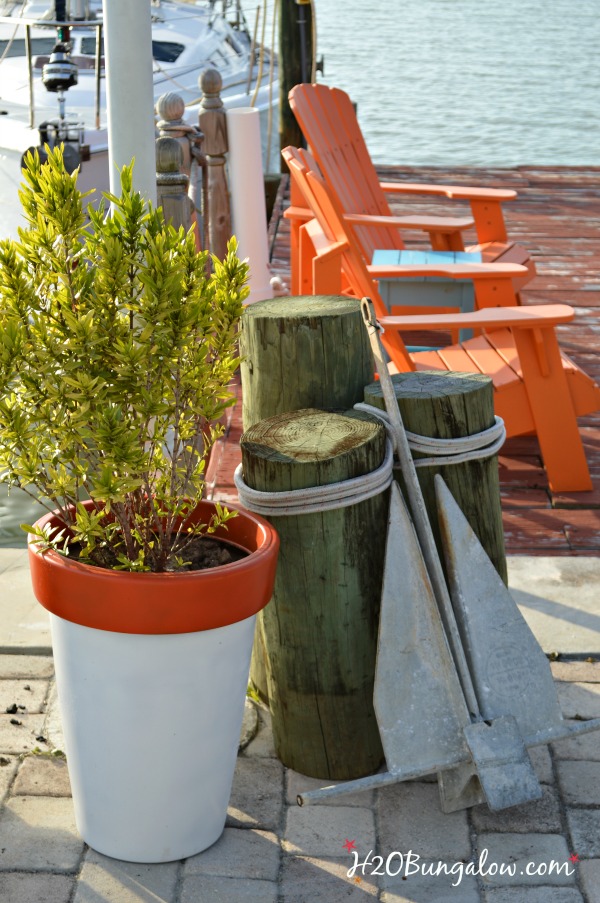 Spray painting your outdoor planters and decor is an easy and inexpensive way to color coordinate a yard or patio. Adding a pop of color or even changing your outdoor colors takes minutes. Follow my 3 tips for spray painting outdoor planters and you're project will turn out as good as you envision it will and last a long time.
What color would you paint your outdoor planters?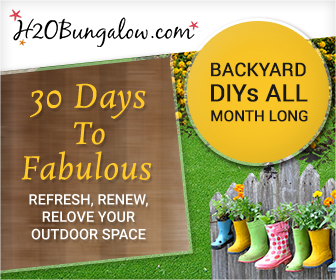 This is project #7 of my 30 Days To Fabulous Backyard Makeover
See my other 30 Days To Fabulous Backyard Makeover Projects below!