Today I'm sharing my organized office reveal. It's the final few days of the Creative Space 30 Day Organization Challenge. A group of DIY bloggers have decluttered, cleaned, put away, sifted through stuff and reworked the spaces we use the most, our work areas. Some of you joined in the fun and took the challenge with us, which is great because we have some pretty awesome prizes to give out and we can't wait to see what you've done!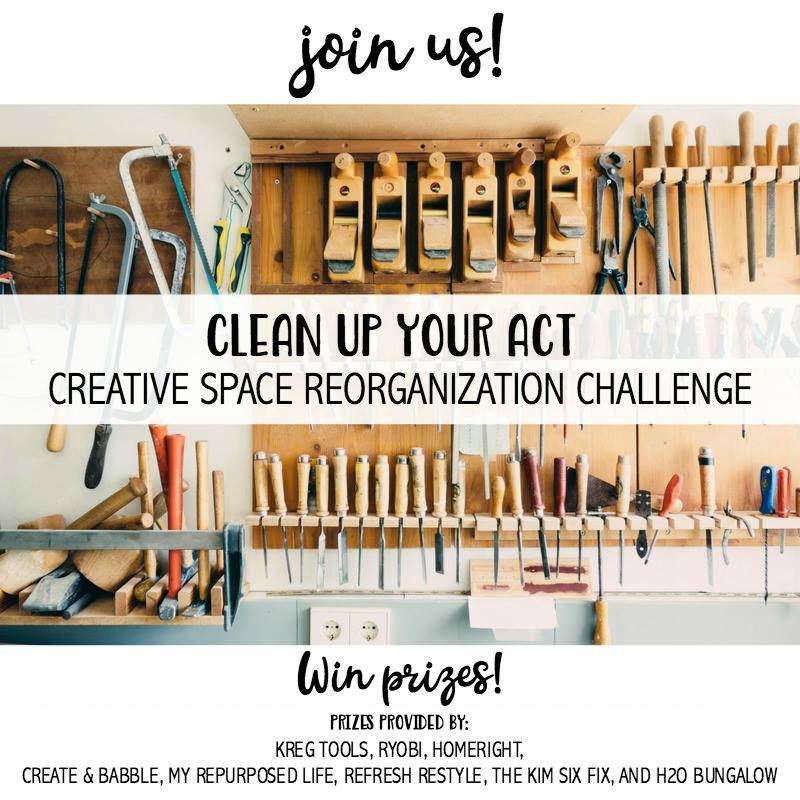 Some of you joined in the fun and took the challenge with us, which is great because we have some pretty awesome prizes to give out.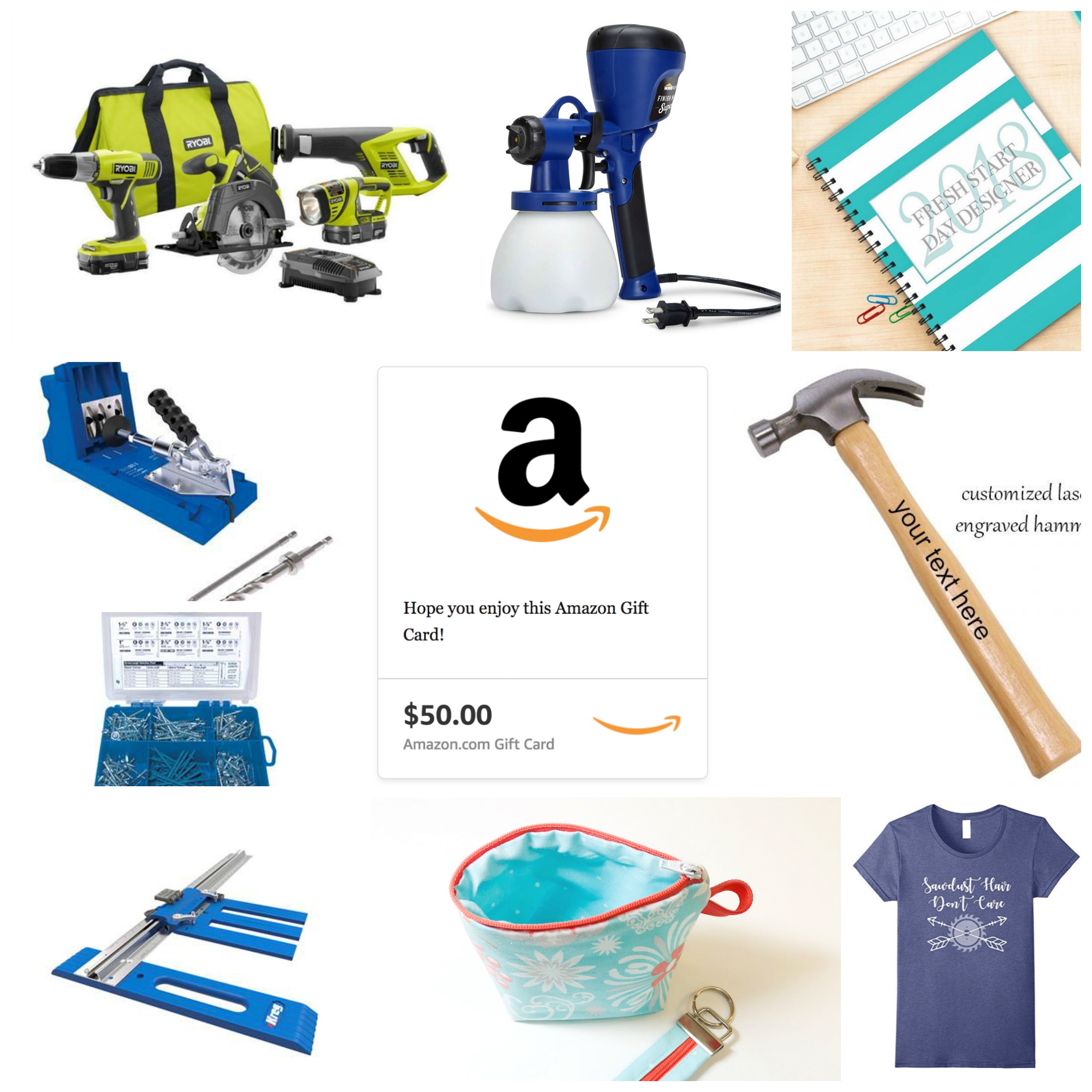 We will be choosing winners based on the Most Dramatic Change (2 winners) and the Most Creative Use of Space (2 winners) and they will win one of the following prizes:
Kreg K4 and a Starter Screw Set
Kreg Rip Cut
Homeright Finish Max Super
RYOBI Super Combo Kit
We will also have random drawing prizes that include two $50 Amazon Gift Cards, a customized hammer by My Repurposed Life, an original snarky design tee shirt by The Kim Six Fix, a handmade keyfob and cosmetic bag by Create & Babble, and a printed planner from Refresh Restyle.
*WINNERS MUST BE 18 YEARS OF AGE AND OLDER AND RESIDE IN THE CONTINENTAL U.S. Both a "before" and "after" photo must be submitted to be entered.
Today is the day us bloggers get to share our progress and what our creative spaces look like now. You may remember a few weeks ago I shared these photos of my work space with my big plans to clean up and organize all of it.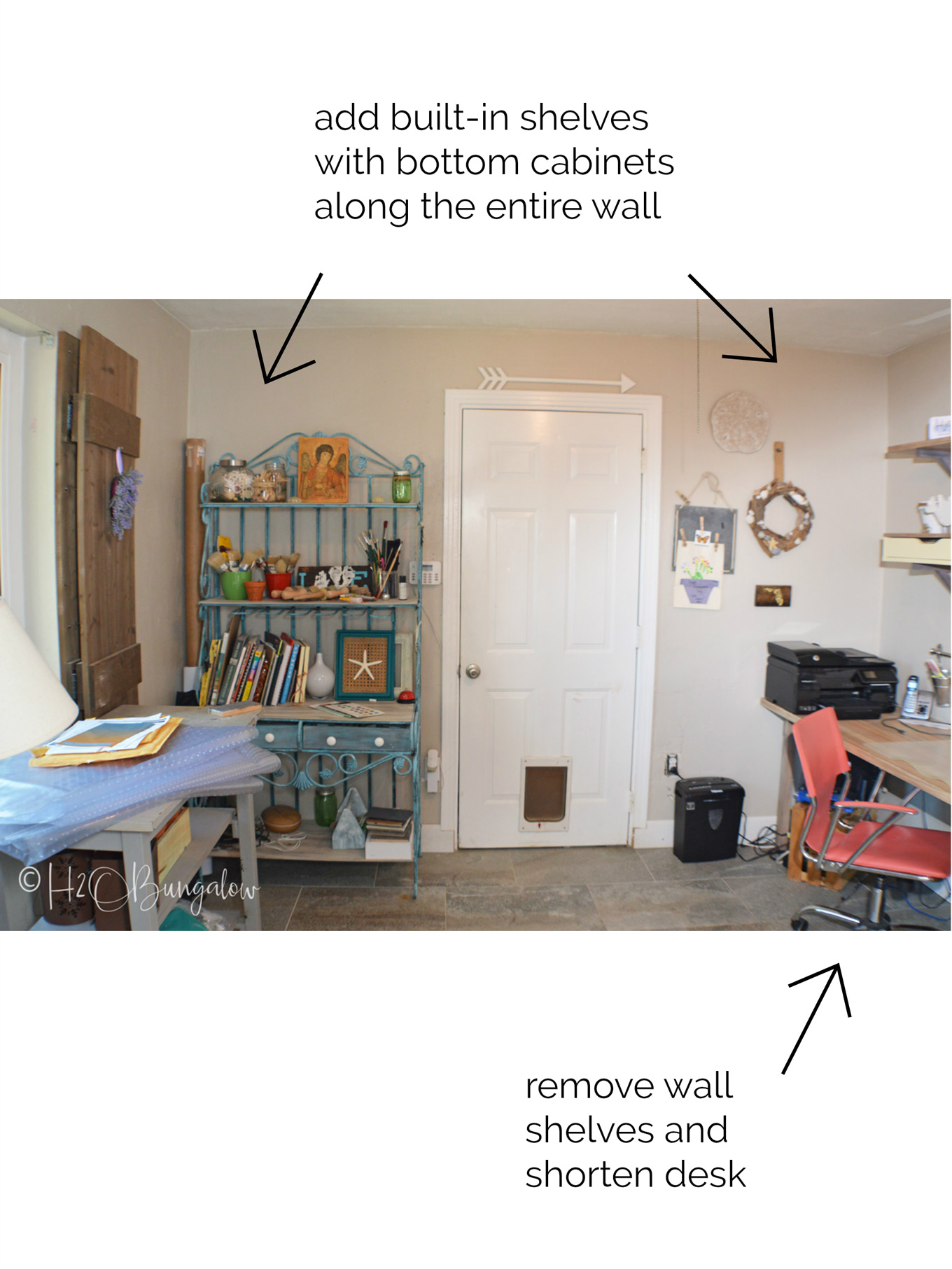 My office/workspace wasn't so bad. But, it had turned into a dump zone.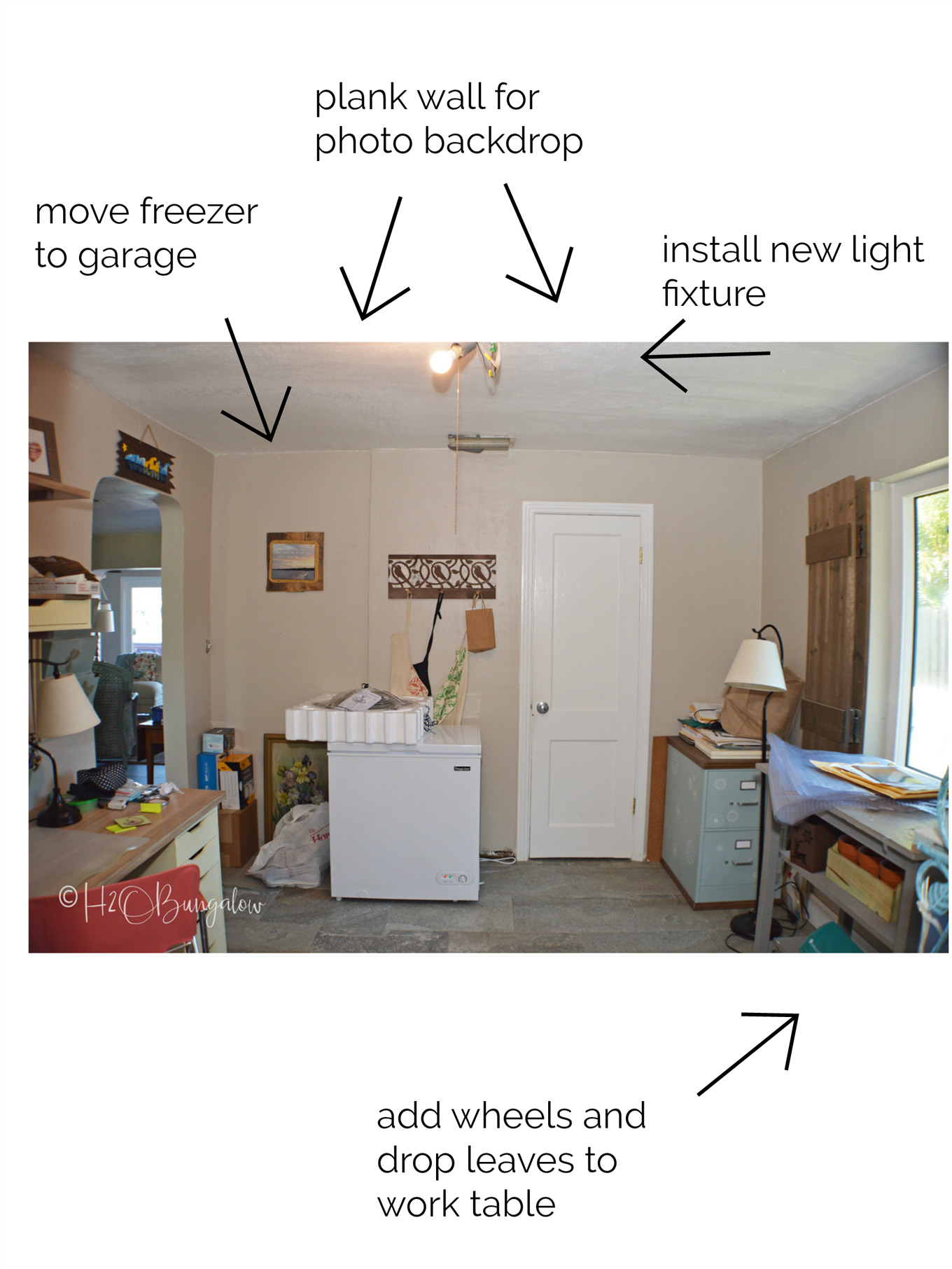 Between the hurricane evacuation last fall and being gone in VT last fall it became a cluttered mess. Completely uninspiring and uncomfortable to work in. That's not the kind of space a creative needs!
So, how'd I do?
Take a look at my organized office reveal and let me know what you think!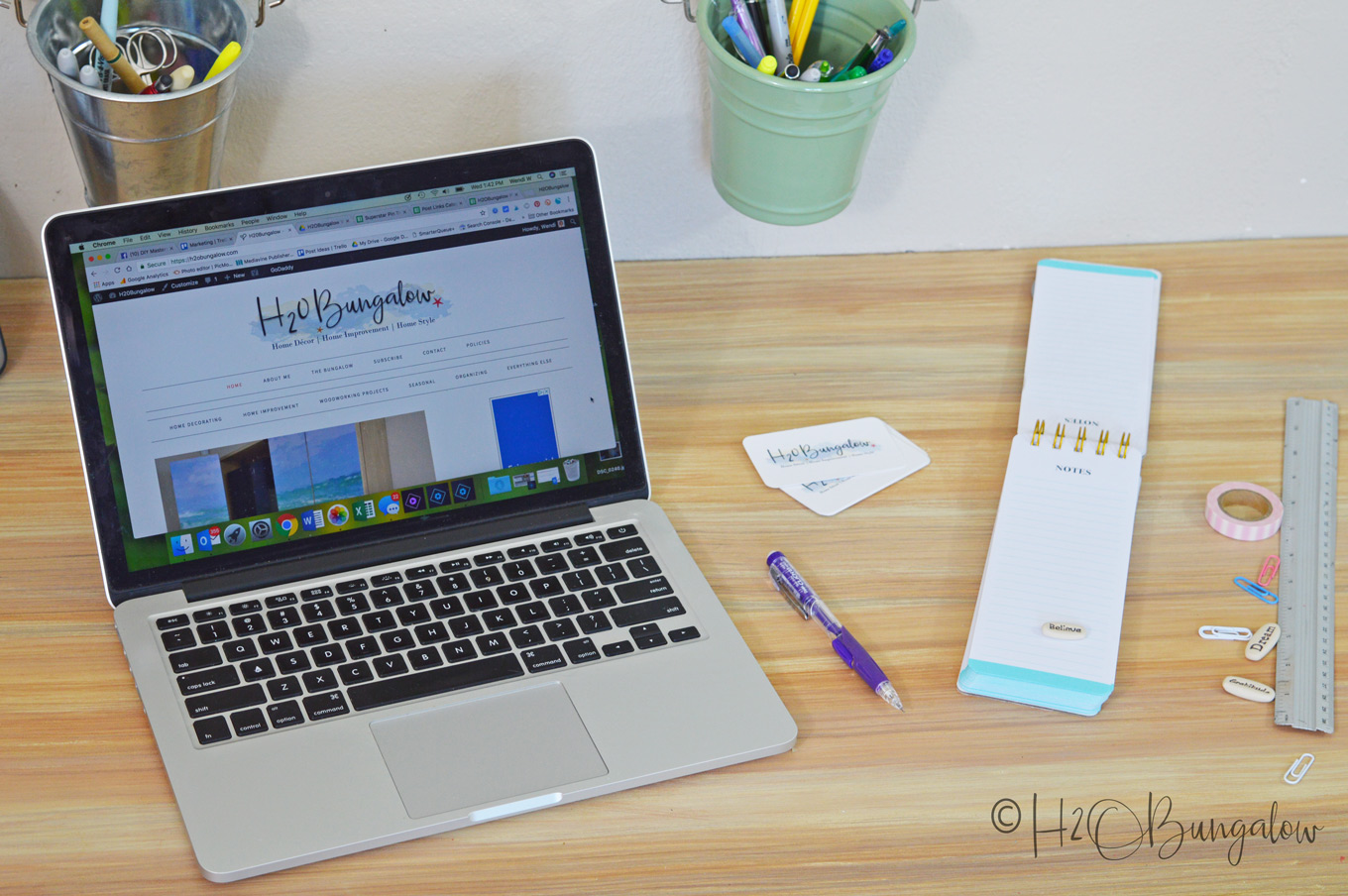 I did get the bookcases built and shared a tutorial on How to Build Bookcases with Cabinets. We said we were keeping it real, so you can see I still have to cut a hole in the main shelf to hold the wires and plugs on the bookshelf. Nope, I'm still not loving the finish on these and yes, you'll see that change in the future.
I swapped out the lightbulb on a string for this fabulous Stile Light which is also a ceiling fan. The desktop is just a hollow core door I faux painted a long time ago. It was a cool technique. I cut it down to make the desk much shorter. I like it much better this size. The coral painted modern leather chair stayed. You might also like my best organization tips for busy people.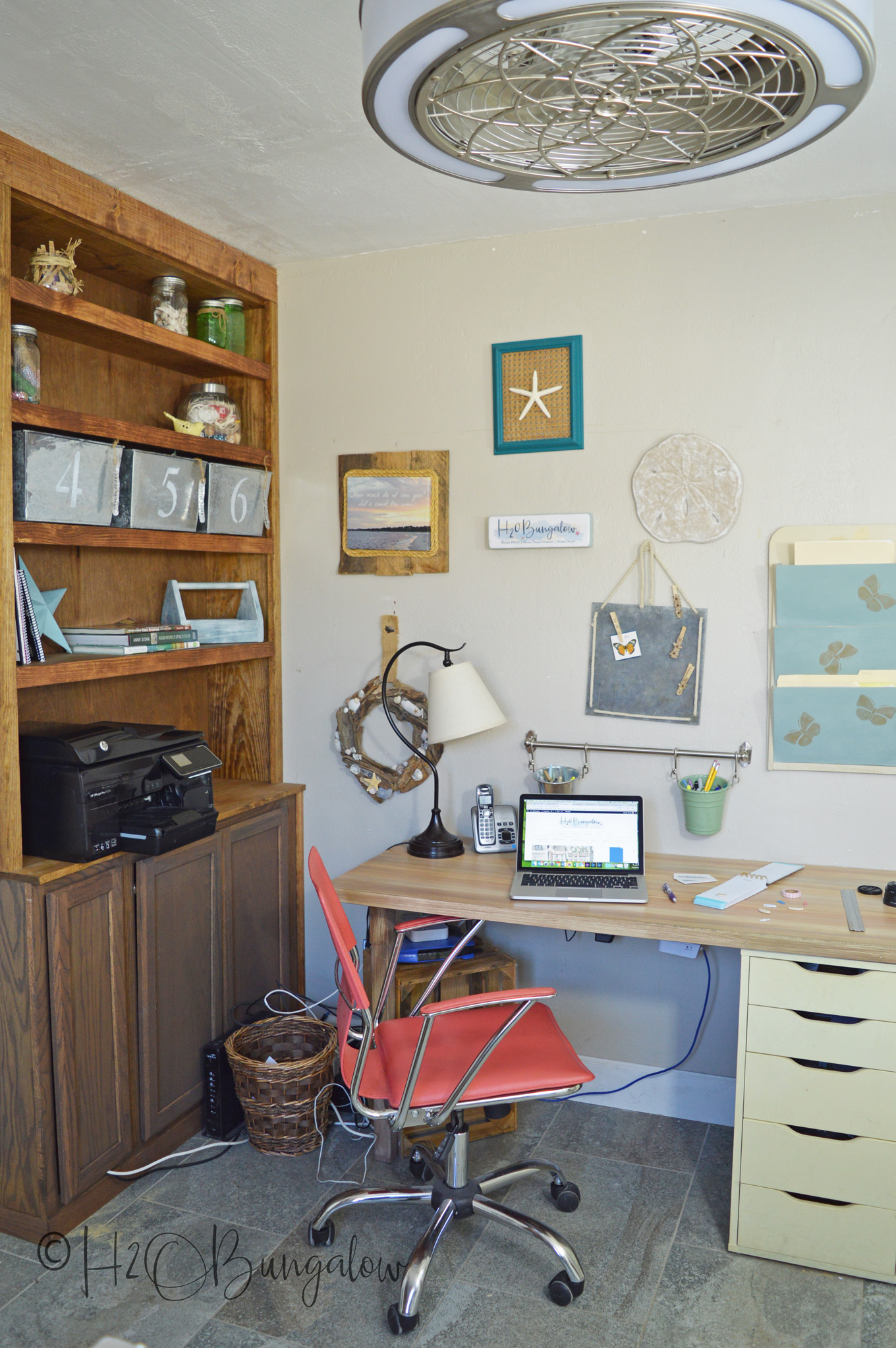 It's not so comfortable, but it compliments the coral accents I have in the living room. Sometimes a girl has to choose aesthetics over comfort!
I love my hidden ceiling fan light so much, I've put one up in my living area too.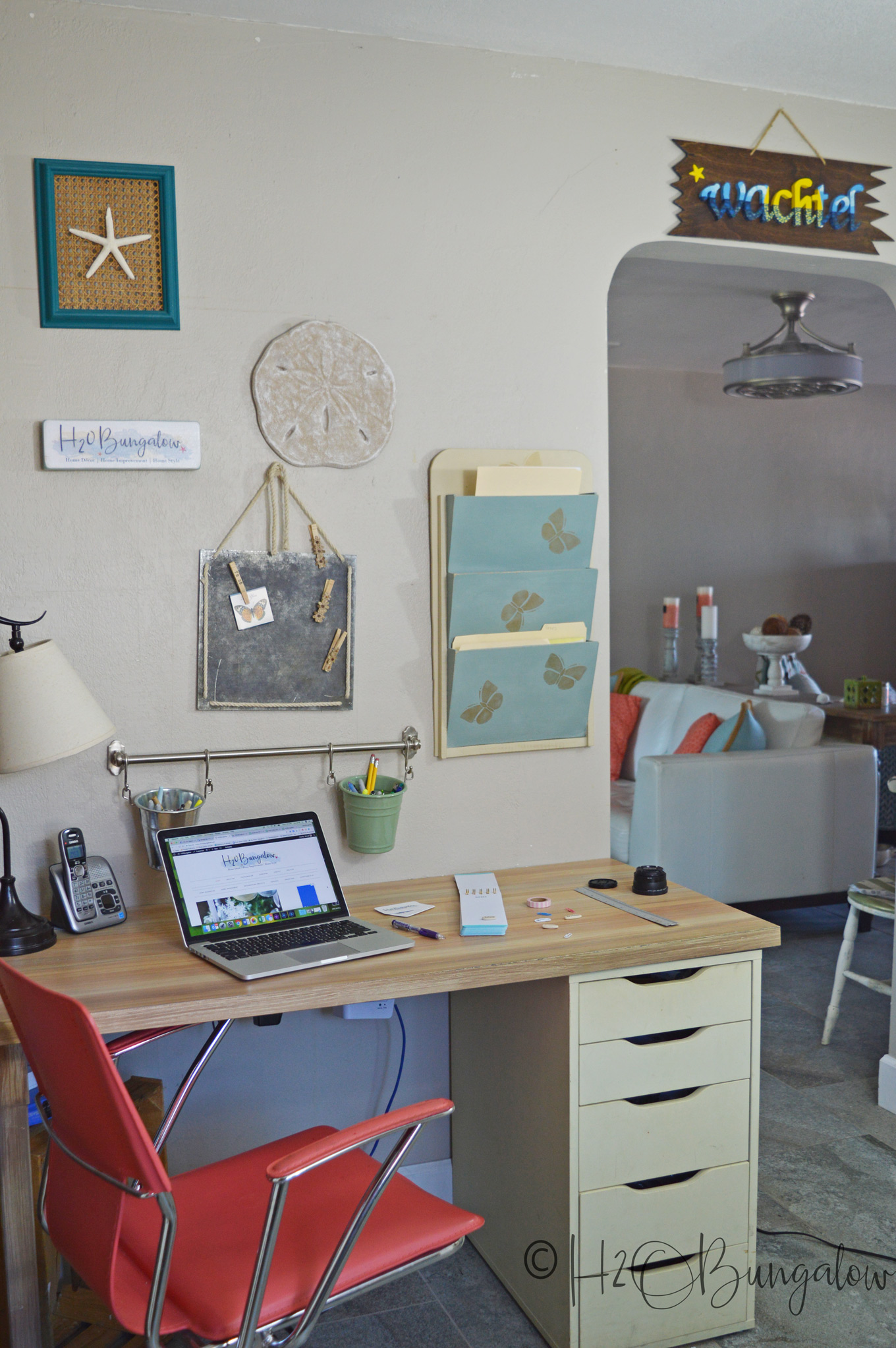 I made more storage by modifying some cute galvanized bins to hold and organize a lot of my supplies. I'll share that project later.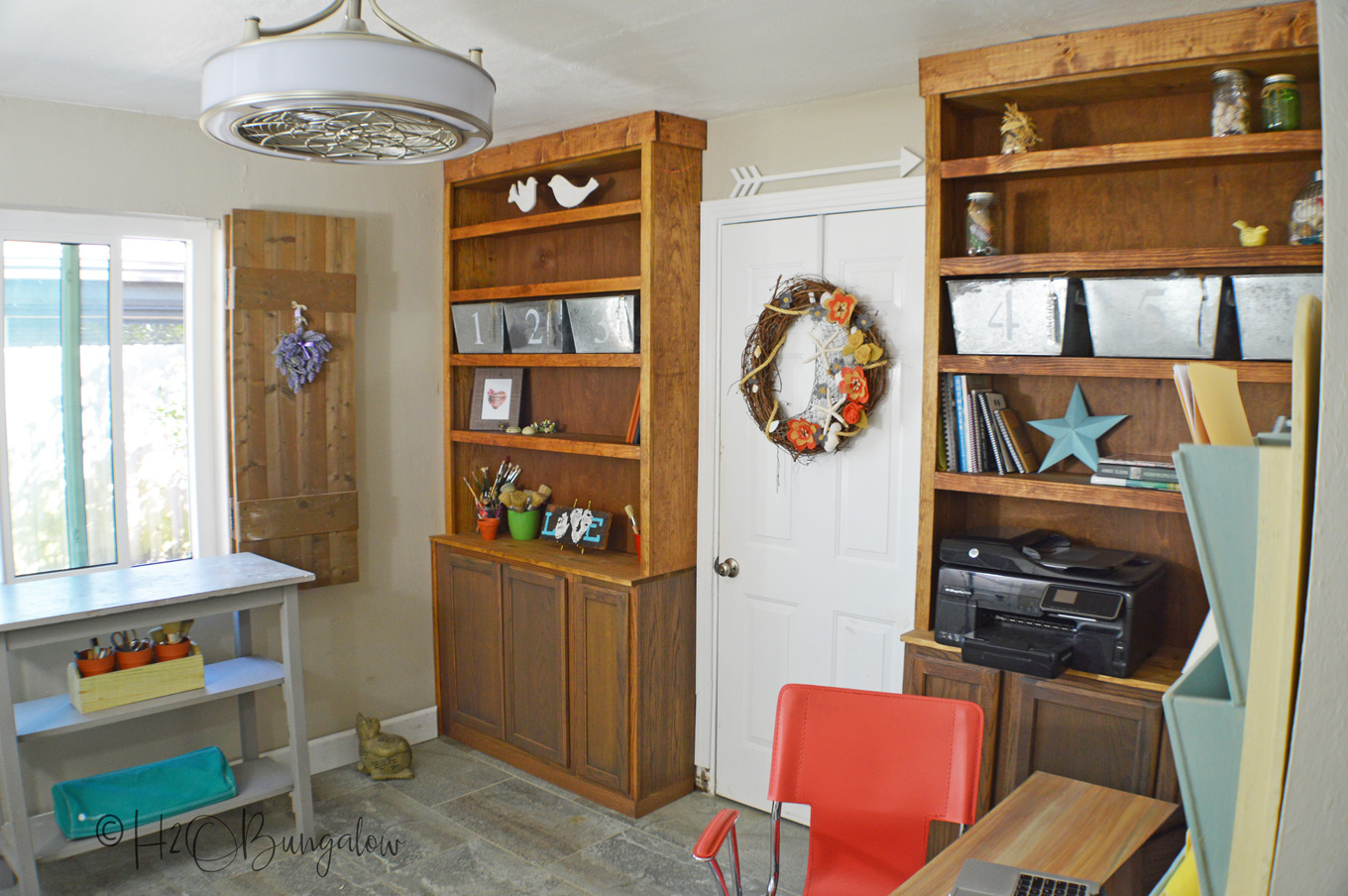 And stamped cute labels so I could find my stuff once it's tucked away and organized.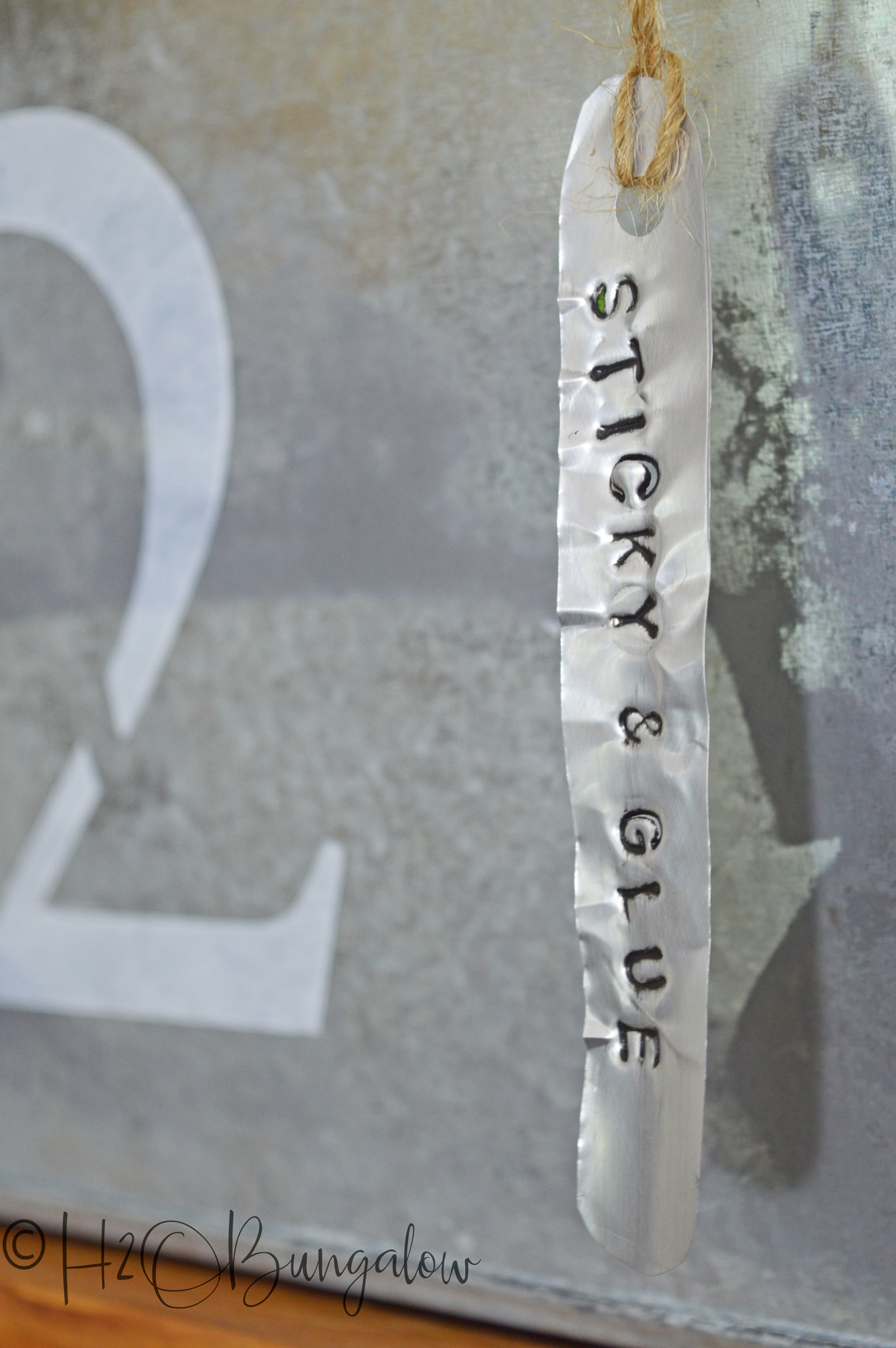 I decluttered the other side of the room.
To this day, I still love my Tree Branch Apron Rack I made and love that it holds my aprons which I use often. My wood trimmed file cabinet is still a keeper. I'm loving that my stencils are neatly tucked away in my new DIY stencil storage peeking out from behind my file cabinet.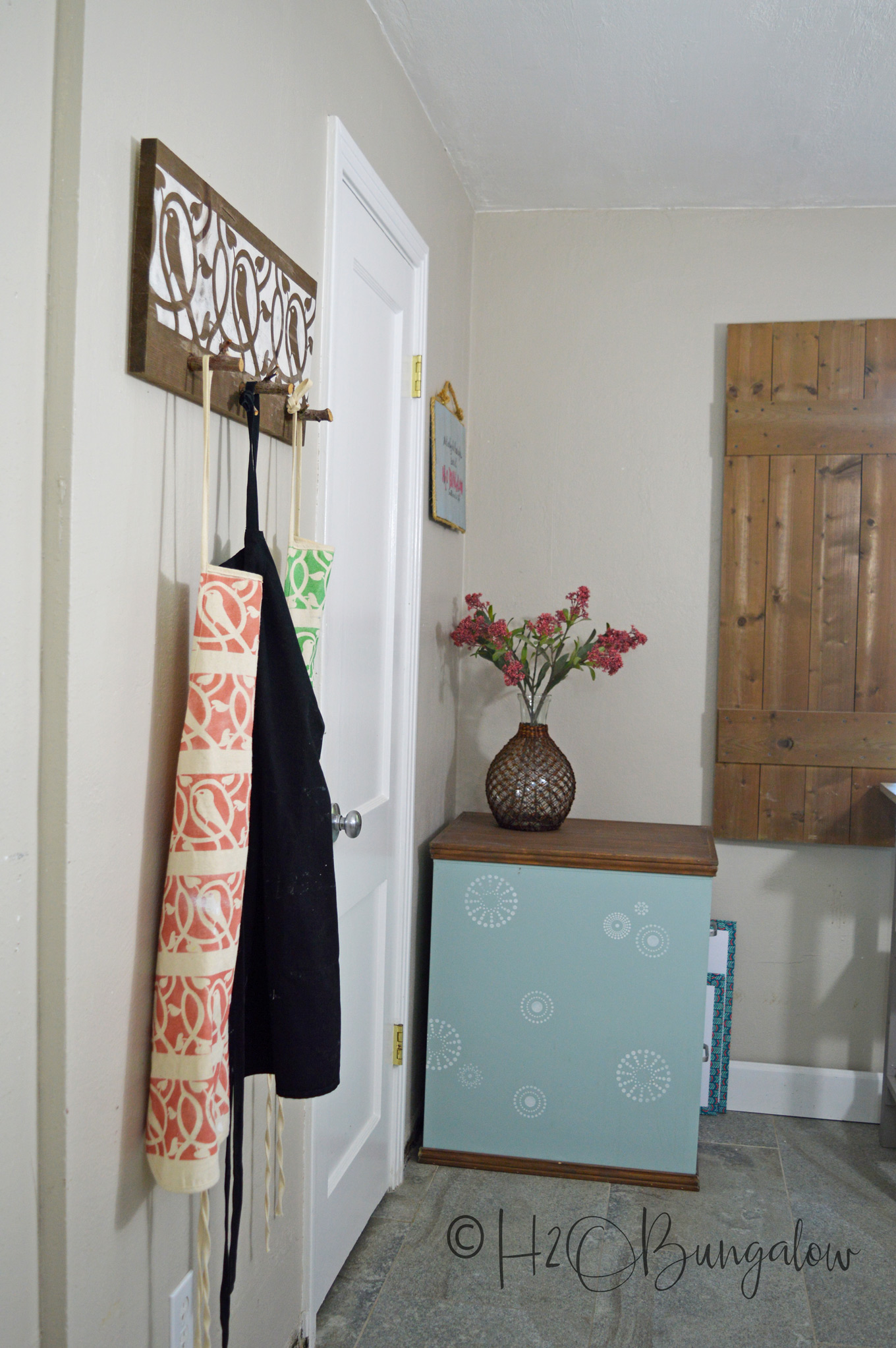 I'm trying out a variety of ways to keep my tools and craft supplies nearby. I didn't get to everything on my list like modifying my workbench but I will soon.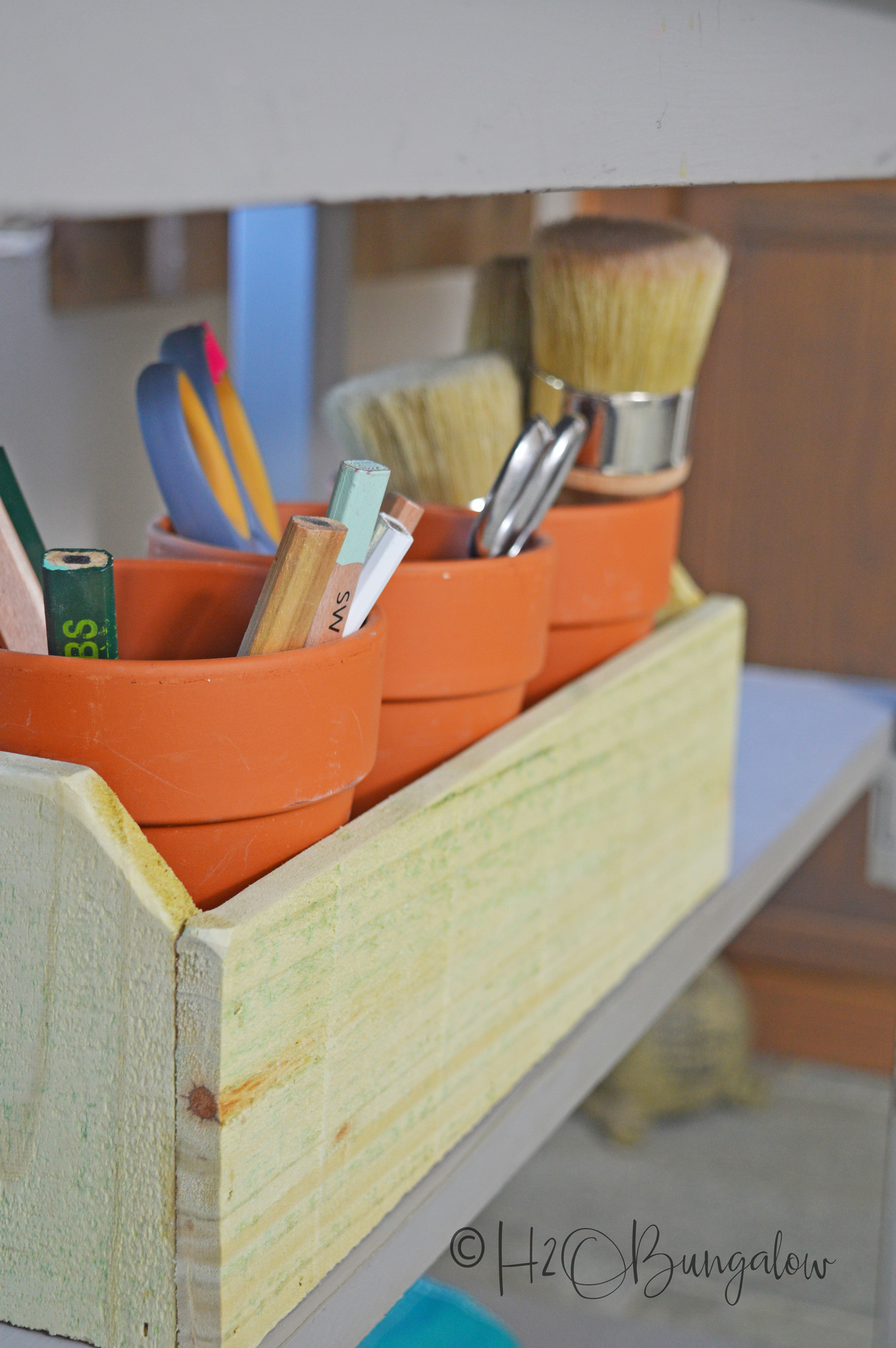 While I didn't get as much done as I'd hoped to during the 30 days, I did get a lot accomplished. It feels good to walk in here in the morning, flip on the lights ad start working. Exactly the motivation I need for the New Year.
Now that I've shared my own organized office reveal, I can't wait to see what my blogging friends did with their own creative spaces!
Jeanie from Create and Babble
Gail from My Repurposed Life
Debbie from Refresh Restyle
Kim from The Kim Six Fix
So, How are you guys coming along with your declutter projects? We're getting excited about seeing your big reveals. Remember to share your own after pictures by Feb 1st! You'll find a live link at the bottom of this post and on my facebook page. Let me know if you need help uploading your photo and I'll be happy to help!
Want to see the before photos of the creative spaces our readers entered? See our initial Clean Up Your Act post and scroll to the bottom to see the entries 🙂