I'm loving the simplicity of this DIY rustic coffee table. I used two wide planks for this table top, but you could easily make a coffee table top with several planks of wood in this style. Best of all, it's an easy build requiring few tools and not a lot of time to build. This farmhouse table was built for the other side of the North House Lodge and was another easy build.
I built this coffee table because we'd been using a log bench as a coffee table in the 52 side of the North House for months. It looked great, but was too narrow. I never intended it to be the permanent coffee table, I just had nothing else to use. Why? Well, because I may have cut the legs off the old coffee table so I could use them on a shelf I built for the upstairs bath to hold towels 😉
Yes, I really did. But, that's a story for another day.
You may also remember me posting this picture on my instagram feed last summer. I made a fabulous haul from Funktion House in St Pete, my all time favorite resource for wood in the St Pete Tampa area.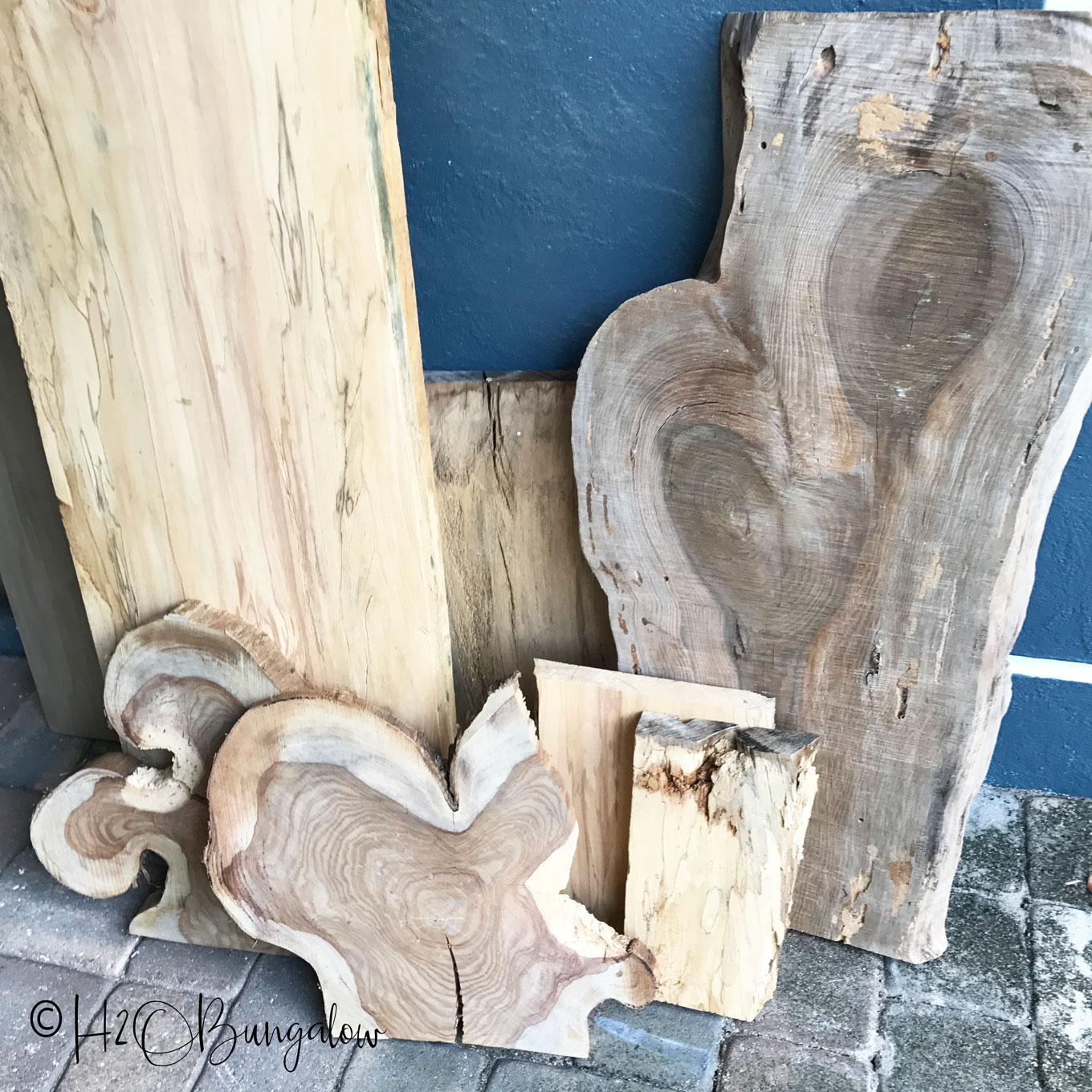 Looking for more DIY furniture projects? Check out my Folding Screen Room Divider, this DIY Mudroom Bench and How to Update Old Built-Ins with Sliding Barn Doors.
I packed it all up along with lots of tools and supplies and drove to Vermont last summer to finish renovating the the other side of the North House Lodge, aka my other project house.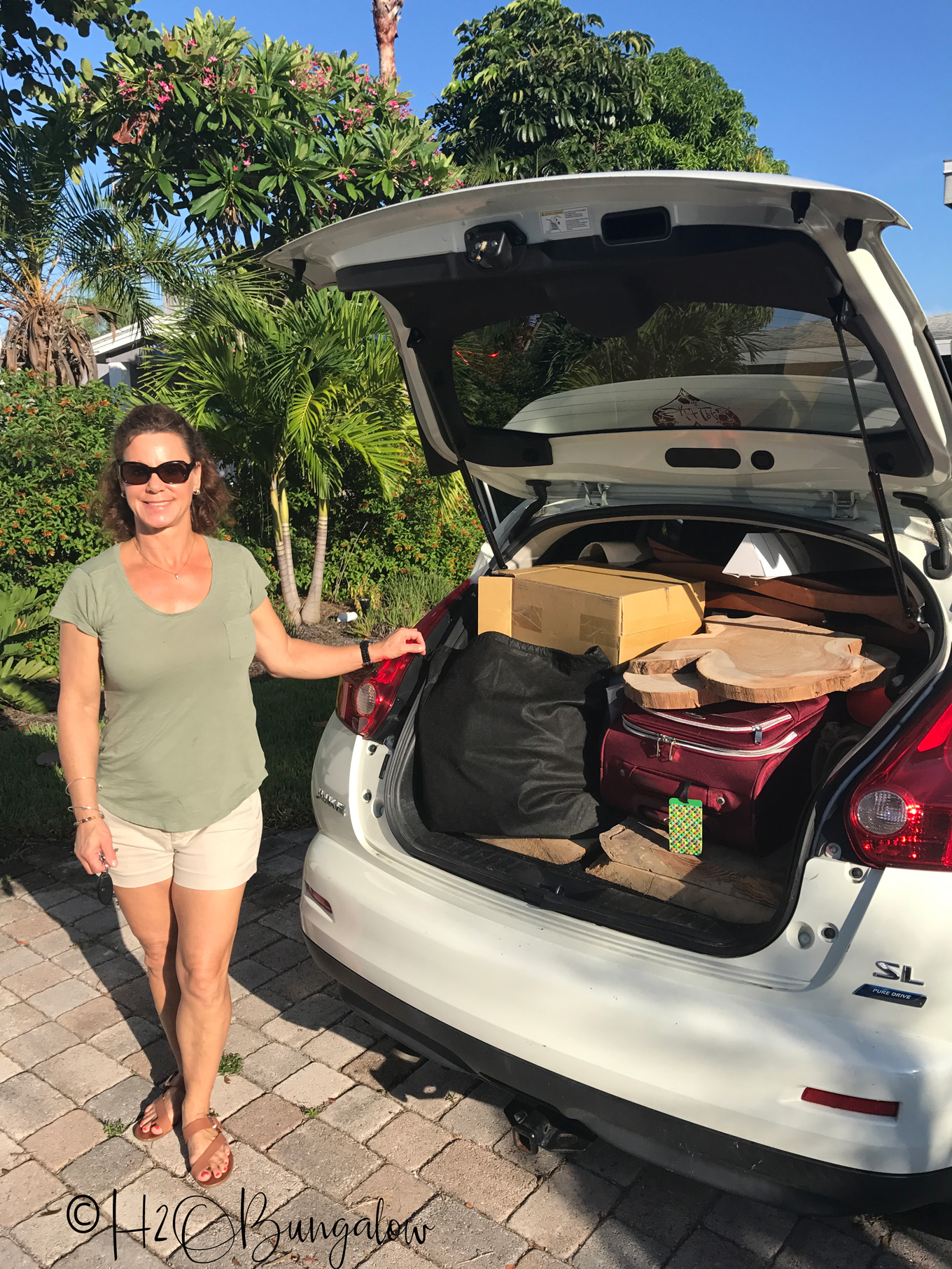 I knew the wide sycamore planks would be perfect for a wood slab coffee table top. Best of all, I knew I could make my vision of this DIY rustic coffee table in about a day.
How to Make a DIY Rustic Coffee Table with Hairpin Legs
I use affiliate links to help you find the supplies I used. You can read my full disclosure policy here.
Supplies needed to make a DIY rustic coffee table.
#1. Prepare the coffee table top. Trim your wood so both pieces are the same length and width. Since I started with rough cut wood, I ripped the sycamore planks on the table saw and then ran them through a planer. That left all sides smooth and even. This is a good time to pick the best sides of the wood for your table top and mark the underside so you know which side is which.
Tip~ You can make the coffee table top with several boards and have Home Depot precut your board lengths. Then all you'll need is a drill for this project. Because boards have slightly rounded edges, the individual planks will show but I think that could look great when you're building a rustic coffee table!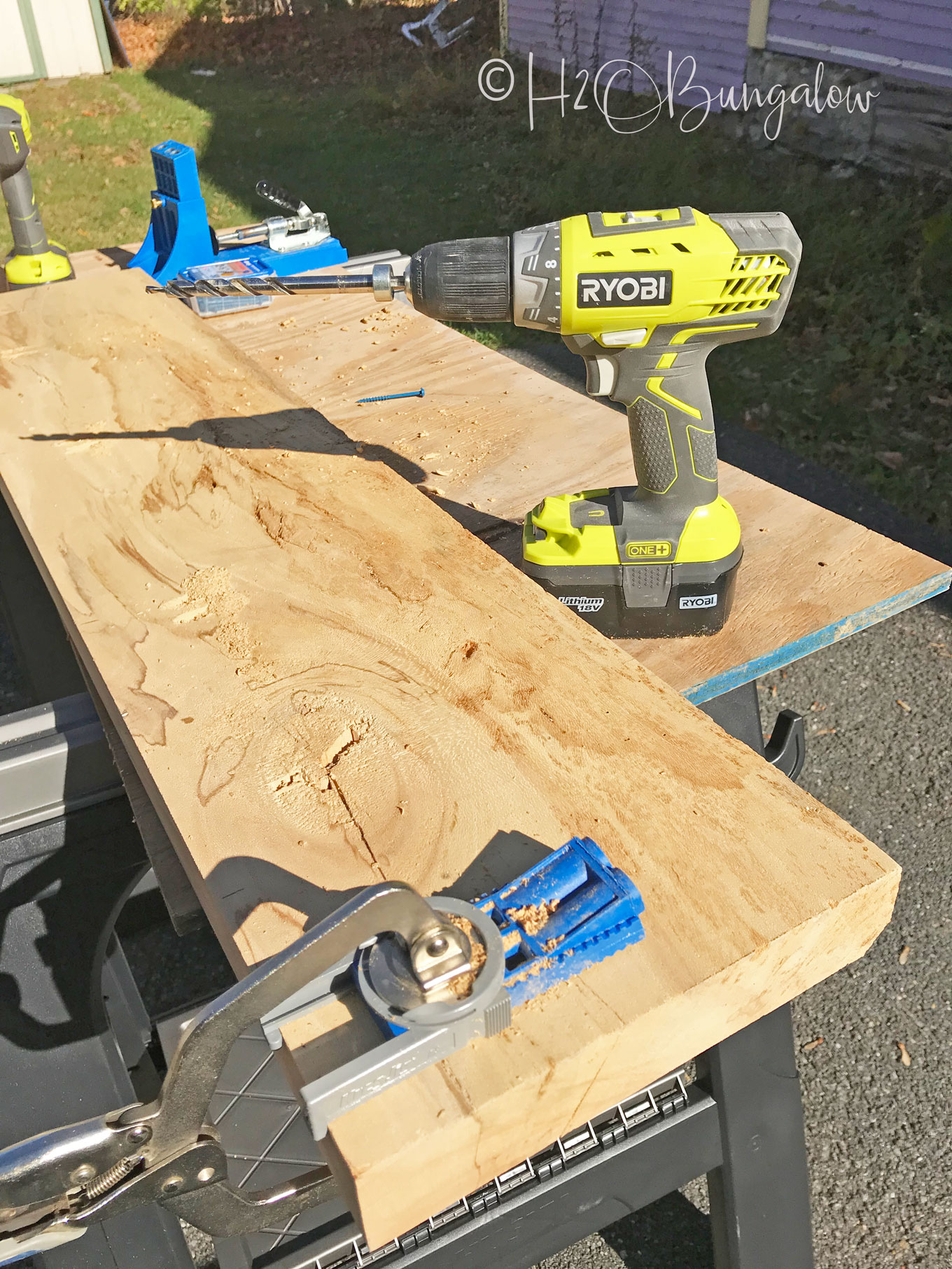 #2. Connect planks for the table top. These boards are 1 3/4″ thick and big, so I used the K3 Kreg JR to make the pocket holes along the underside on both sides of the coffee table top.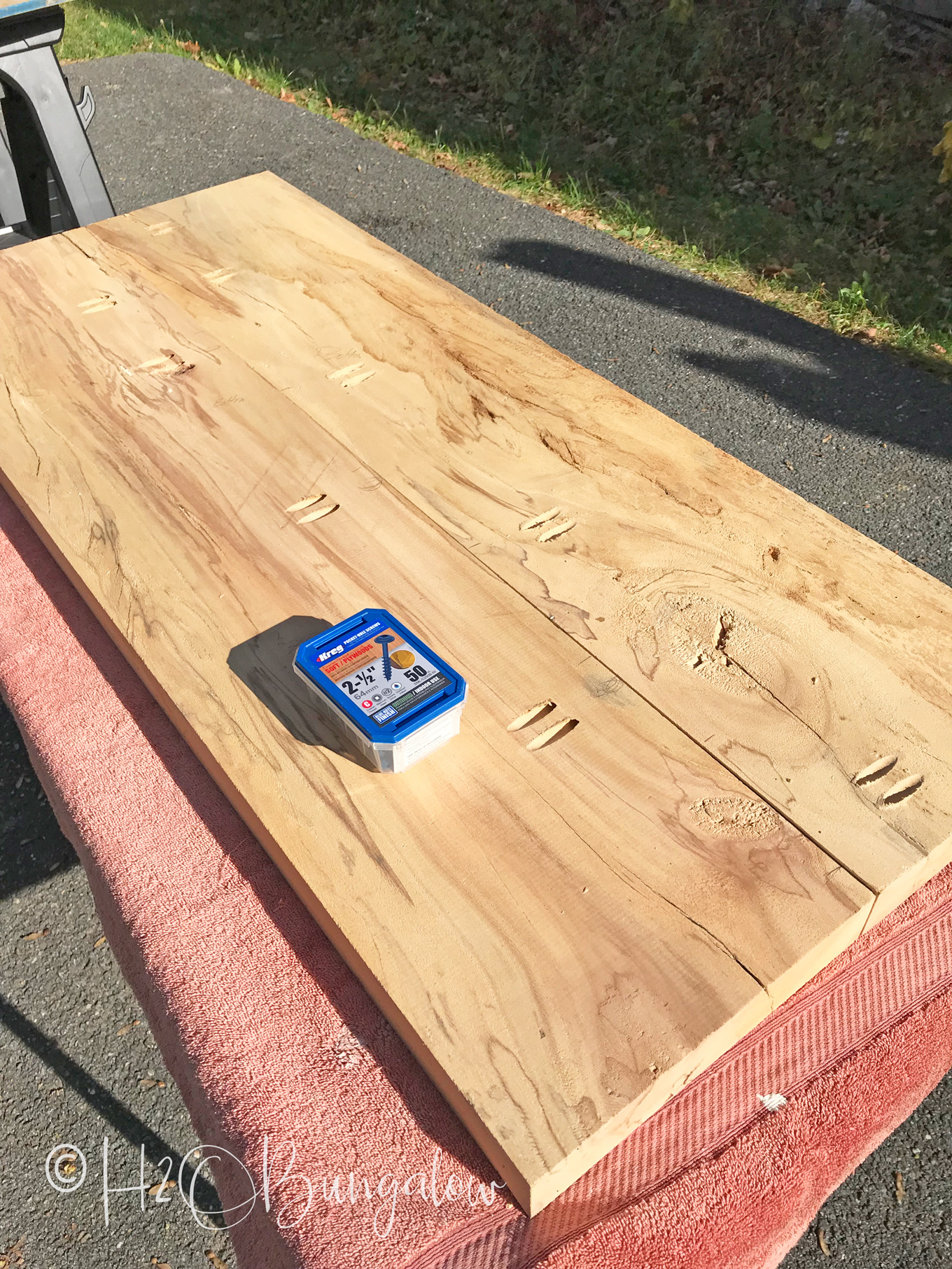 I eyeballed mine and spaced them out.
#3. Sand the coffee table top until smooth. Since you picked the best side of the wood early you've saved yourself some time. Sand, and then sand some more until you run your hands along the top and it feels smooth as silk. I started out with a course grit and worked my way up to 220.
Look at the grain in this wood! Love!!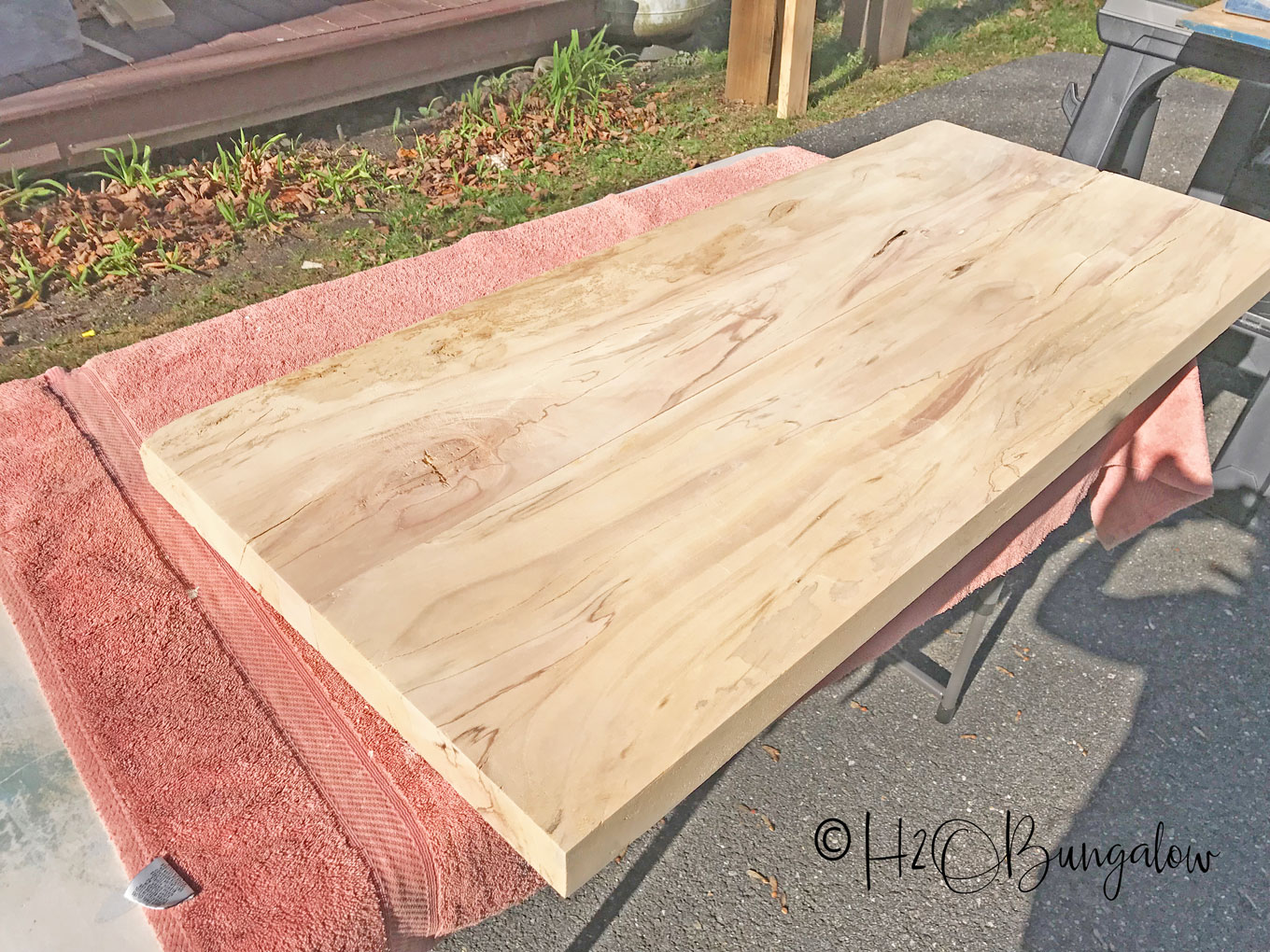 Step#4. Seal the wood coffee table top. I used a modified water based poly to seal and protect the wood. Follow the same steps as I used when I built my live edge wood coffee table tutorial for our home in FL.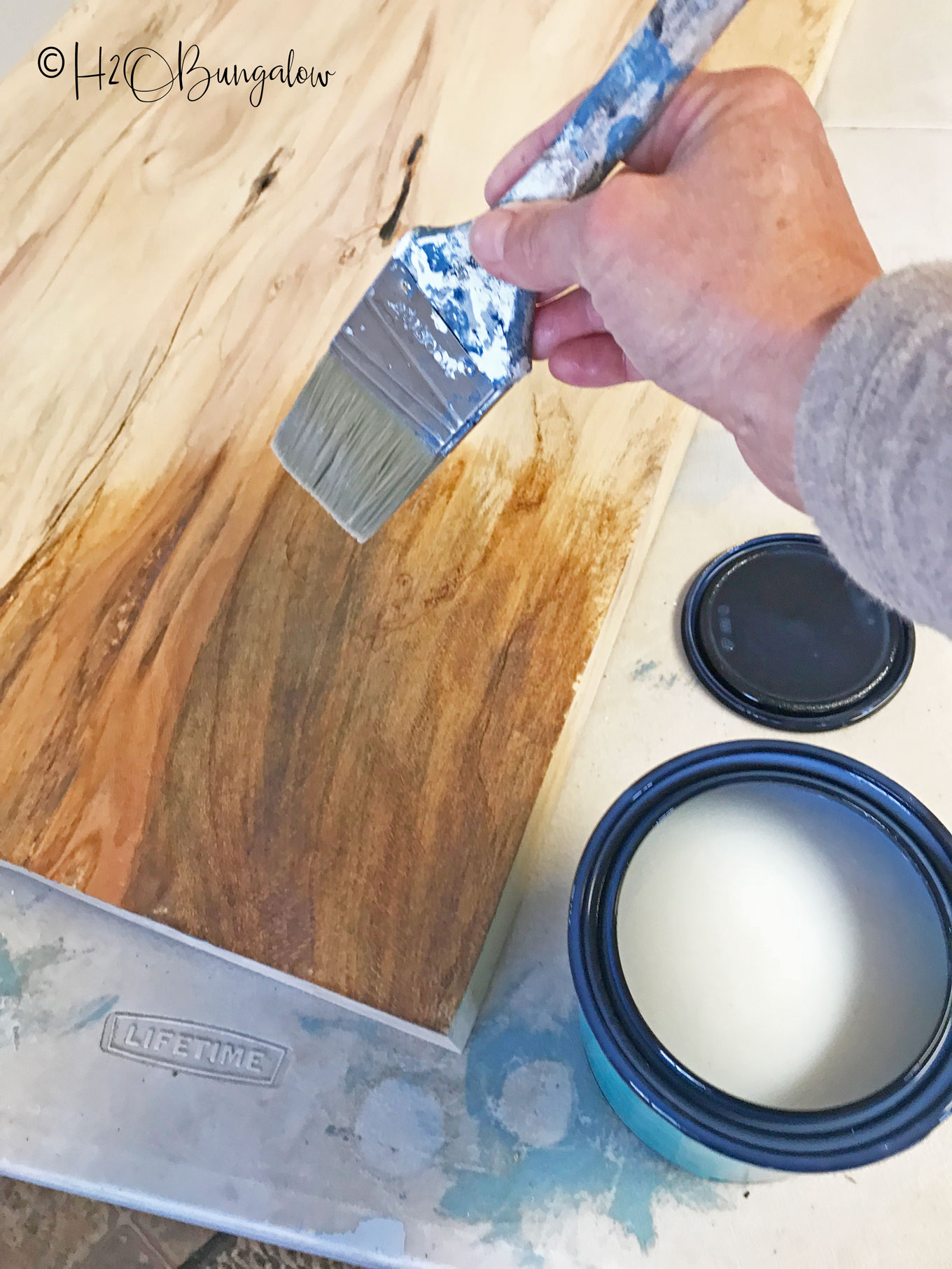 Step #5. Add the table legs and decorative hardware. Drill holes through the coffee table top for the large bolts. I spray painted all of the hardware black. Attach the Simpsons Strong Tie to the table top with the large bolts. The sycamore was soft in places on the underside so I used washers on the underside of the bolts. Next, attach the hairpin table legs.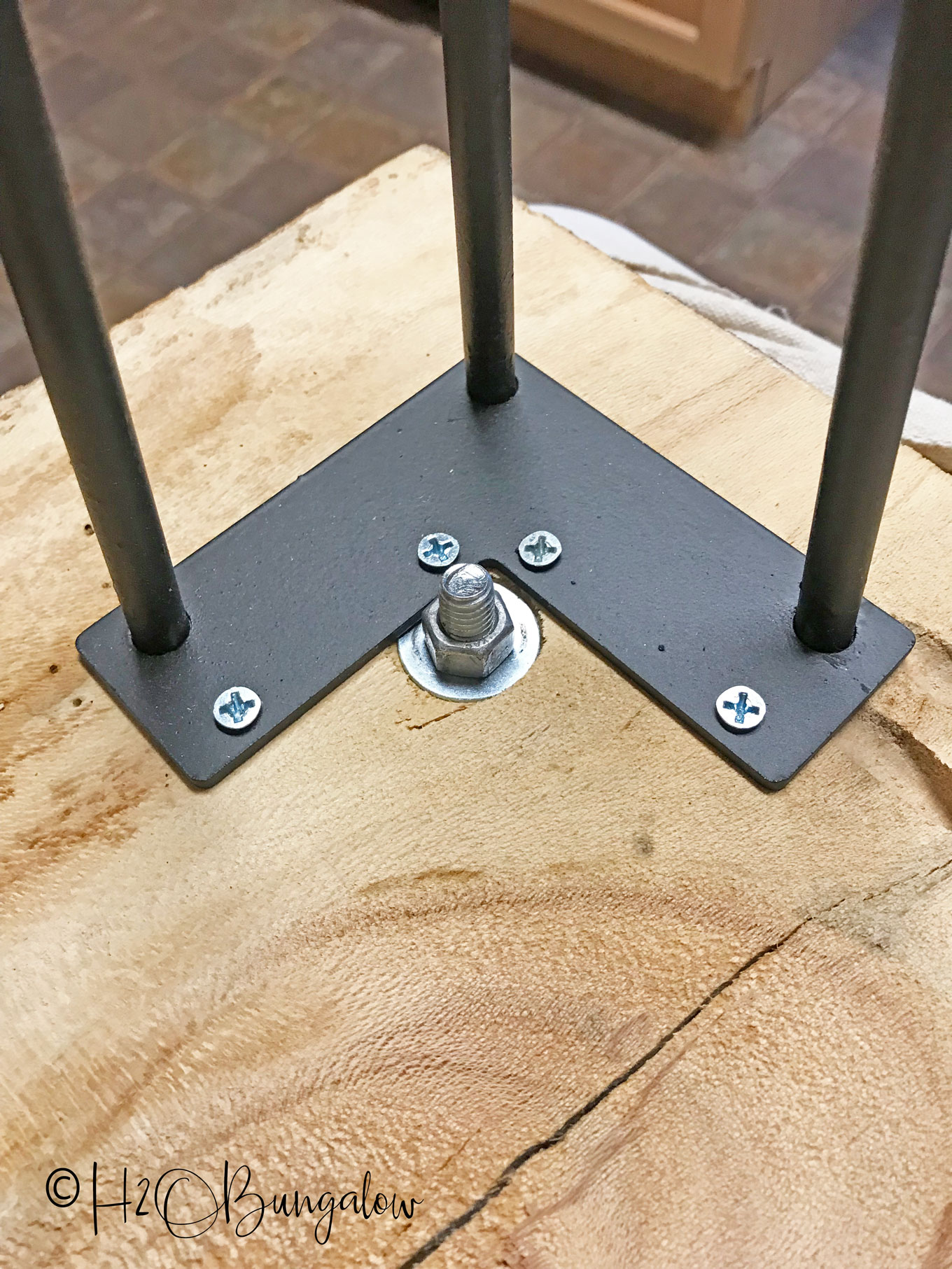 The decorative hardware adds to the rustic style of the coffee table.
I love the grey grain running through this wood! It looks very similar to mango wood which you'll see often in contemporary furniture in stores now.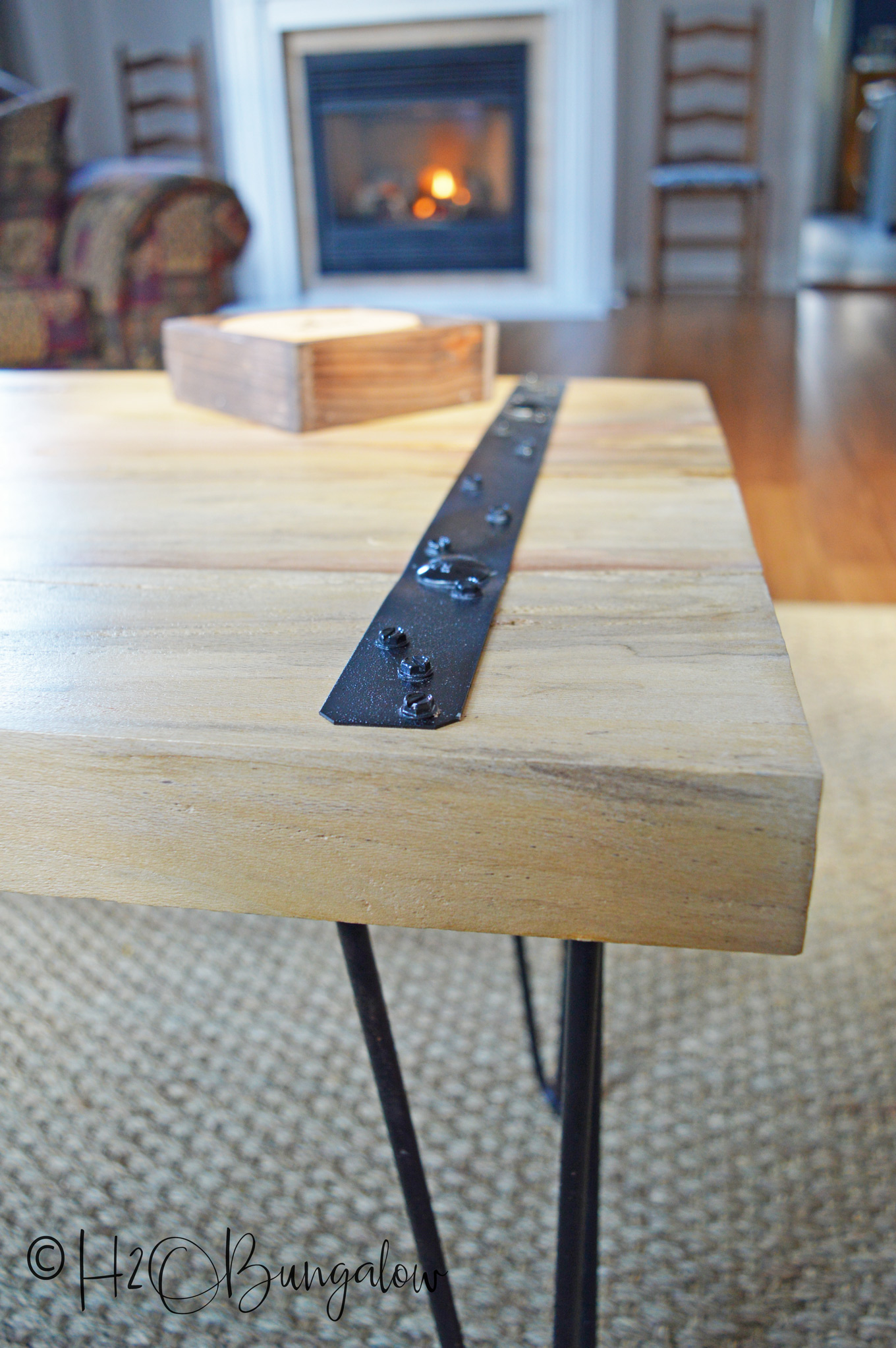 The wood isn't perfect and still has saw marks and character which is exactly what I wanted.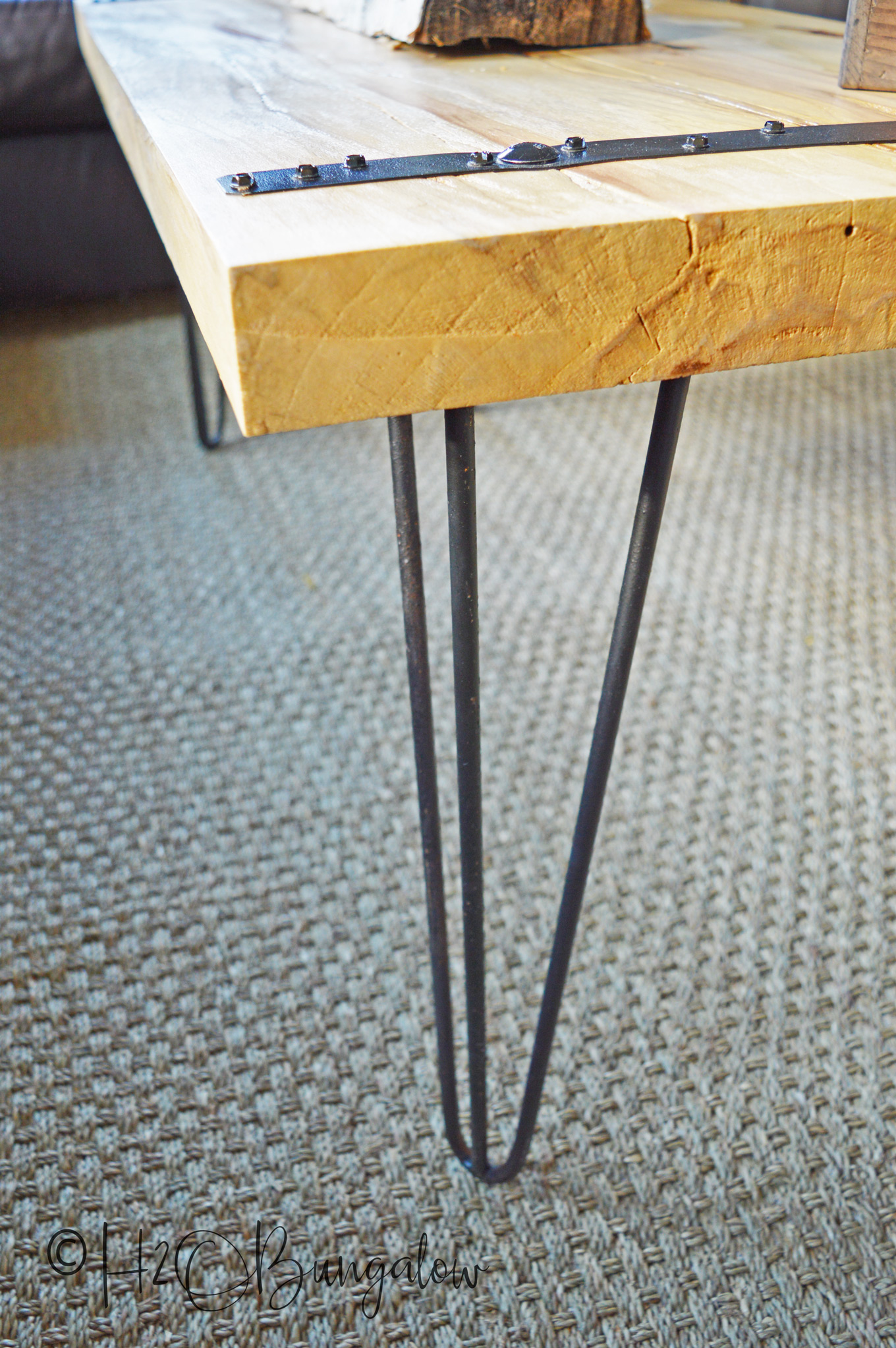 My DIY rustic coffee table fits perfectly in the living area. It has the right mix of rustic and contemporary I was looking for in a coffee table.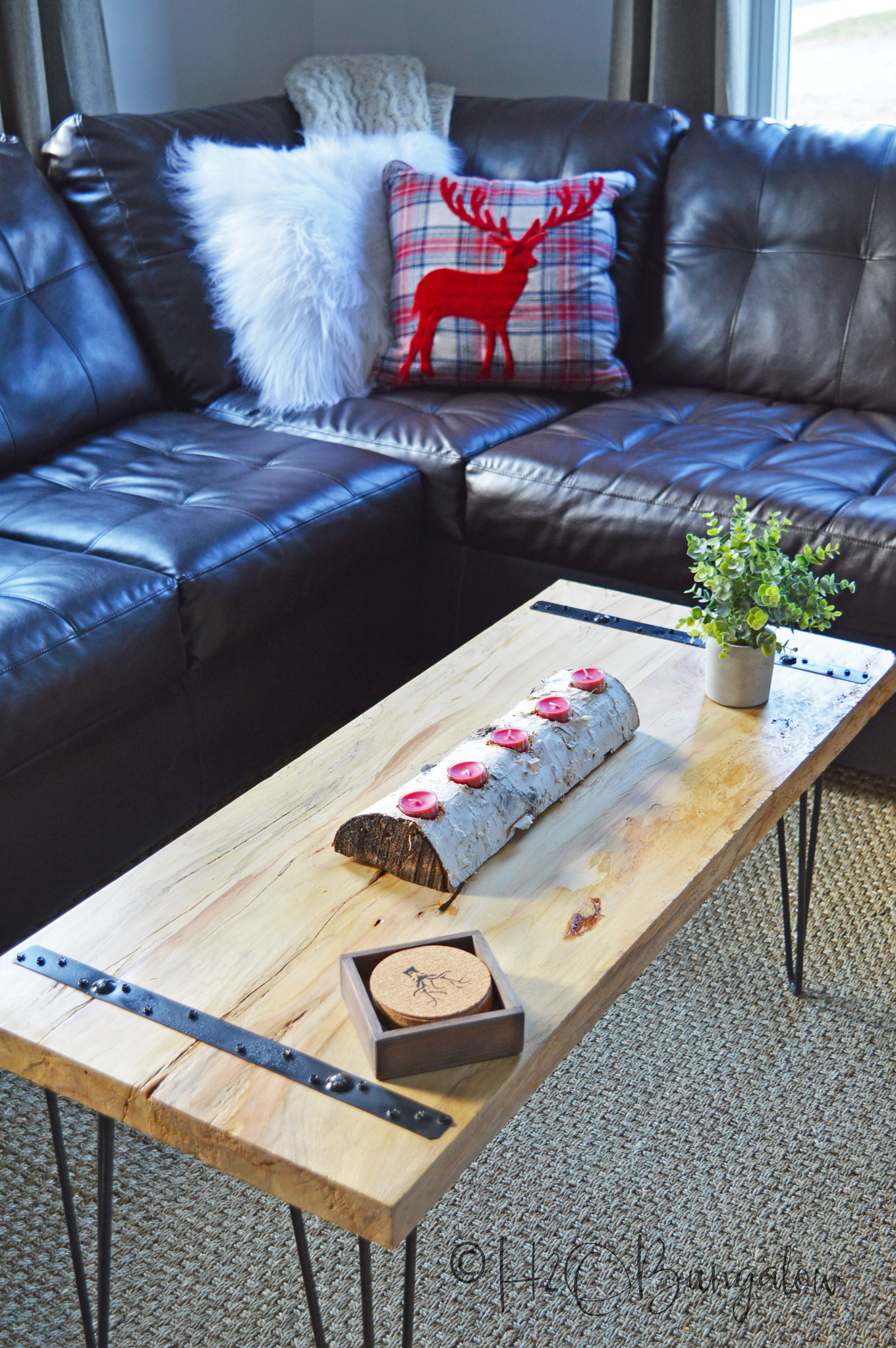 My deer antler coasters look fabulous on the table, so does my birch log candleholder.
You can easily make this contemporary and rustic coffee table in a day.
Pin this project for later and share it on Facebook!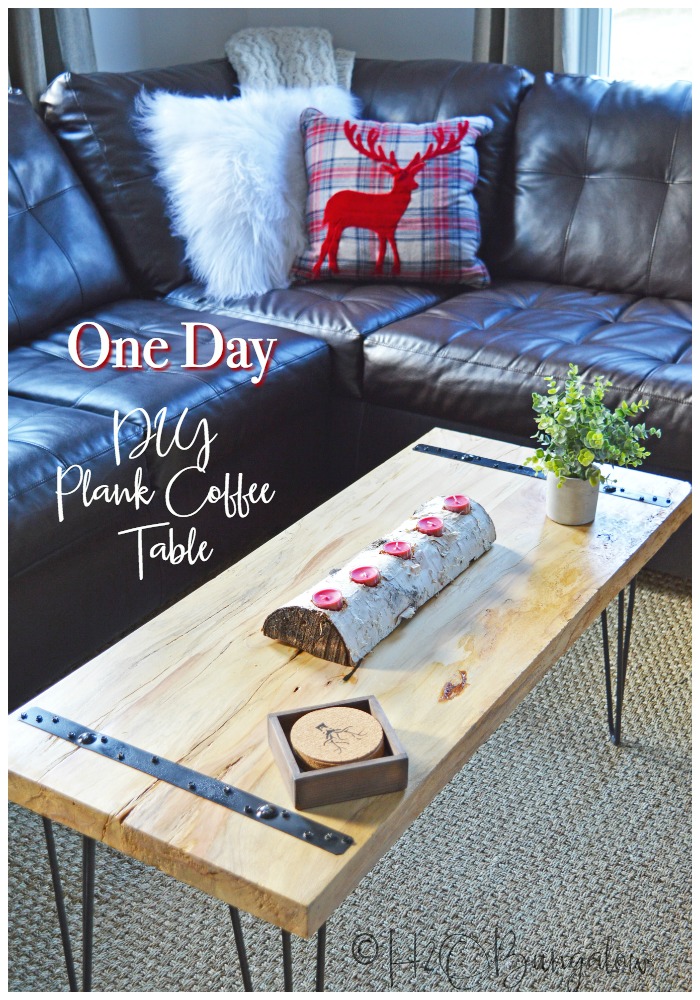 I love a good one day project. Even better more when I can create something for so much less than purchasing a wood slab coffee table with hairpin legs! Of course the DIY'er in me couldn't have done it any other way.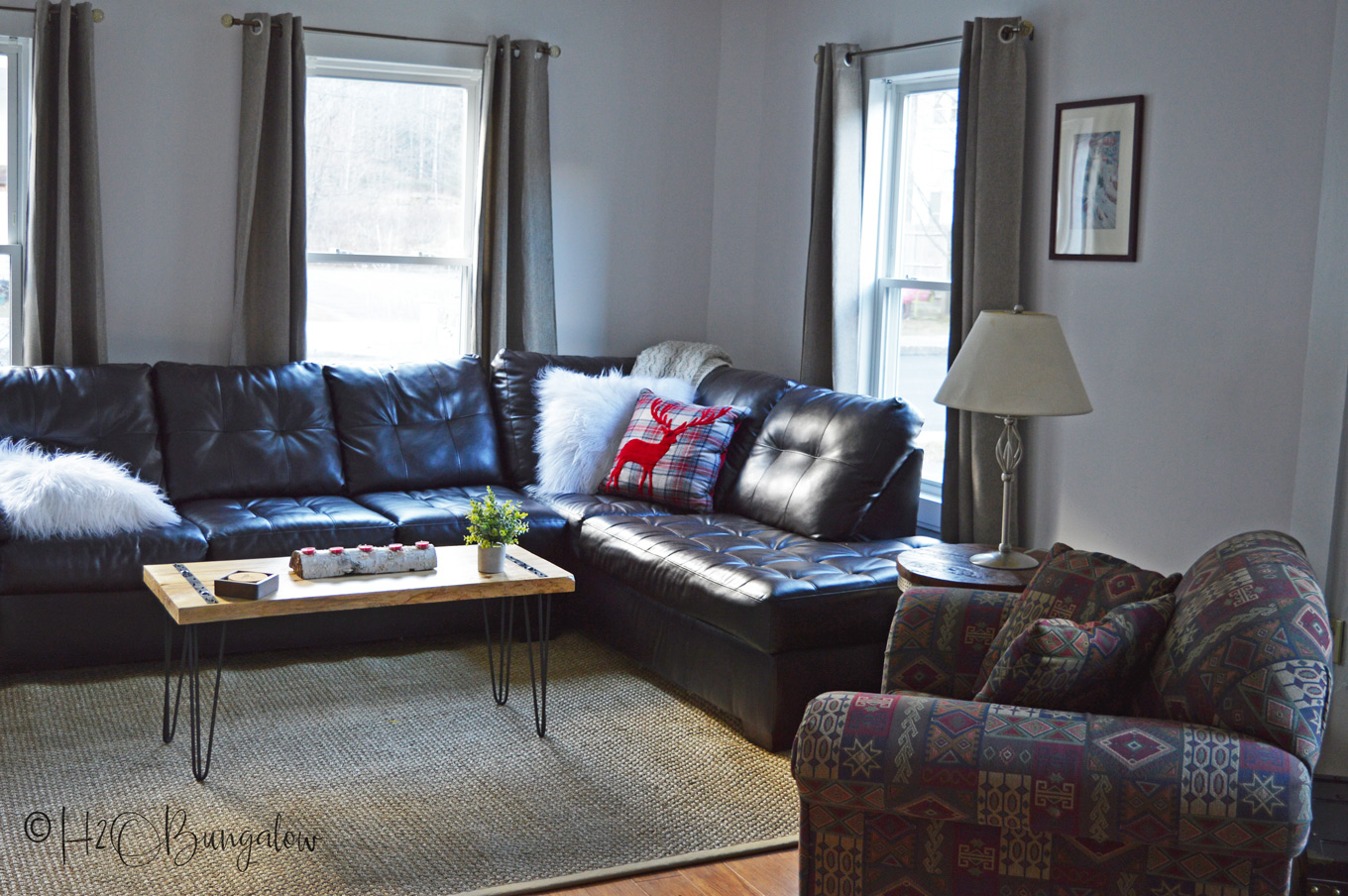 Don't you think it looks great in this room? Another thing I really like is that my DIY rustic coffee table tutorial is easy to modify into side or sofa end tables too.
Do you love it? I also realize that not everyone wants to build their own coffee tables. I found a few that are similar to mine for a really good price. I love the color of this coffee table top and this one is on sale for a crazy good price!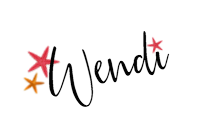 Do you love modern rustic furniture? So do I! Here are a few more of my favorite DIY furniture projects you may also enjoy!
Repurposed Metal and Wood Side Table