Are you ready for a 20 minute project? I am, especially after all the big jobs in the backyard. Today's project is quick and easy. This DIY painted doormat can be sitting by your door in about 20 minutes, including cleanup!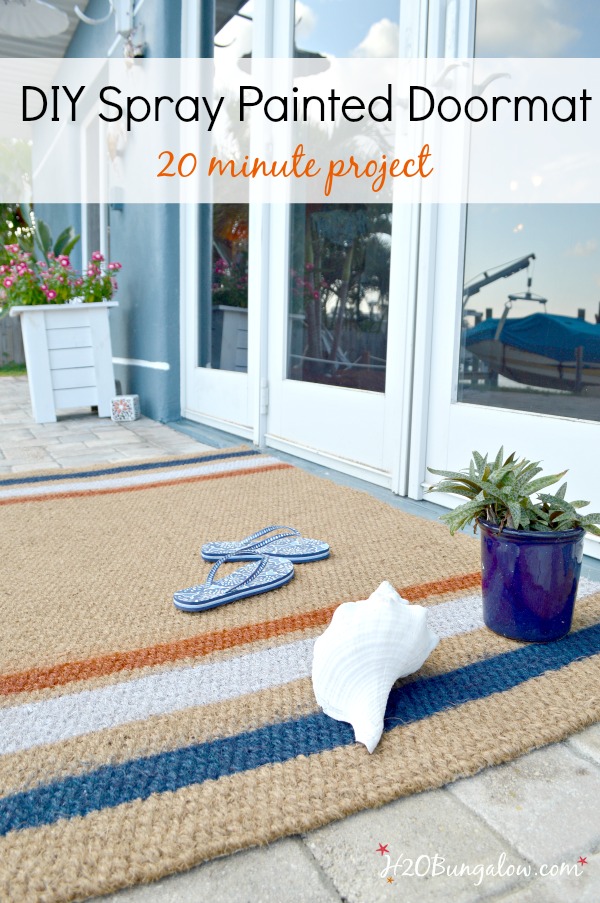 We needed a new doormat in the worst way for our big double doors to the backyard. The scale of this area is big, especially with the extra large windows next to the doors. When I shopped for a doormat for double doors, I about fell out of my chair on the cost. Plus, we had an extra challenge of needing a thin, low profile one.
My DIY painted doormat cost me $34 on Amazon and I used leftover spray paint and painters tape I had. Deal!
How to make a DIY painted doormat
Supplies to make your own DIY painted doormat
I used a low profile coir doormat. If you look closely, you can see it looks woven instead of having fibers that stick up. It also has a rubber backing. I'll let you know how it holds up, I think it will work well and not shed like other non-woven coir doormats.
Sometimes natural material doormats are uneven or not square. Start by measuring an equal amount from the outside edges and mark that spot from the top to the bottom of the doormat. This will make your stripes straight. If there is any unevenness, you can decide where to include it or cover it up in a stripe. Place a piece of tape along this line. Place rows of tape along side of the first one until all of the area is taped.
I only wanted stripes on the sides of my coir doormat so I covered the center with a plastic dropcloth to protect the area.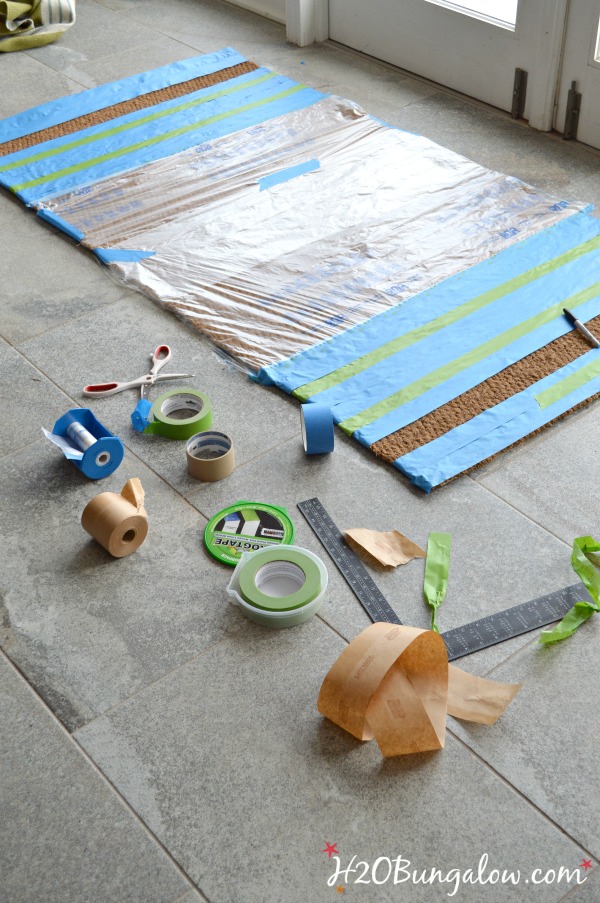 When you are ready to paint, gently pull the tape up to expose the areas you want to paint. Run your fingers over the edges of the remaining tape in the area to get a crisp and clean painted stripe edge.
Hold your spray paint about 3 inches from your surface. You'll want to get the paint into all of the doormat fibers. I painted each stripe from several angles to really get a good coverage. Wait until that area dries, put the tape back over the painted area and expose the next section.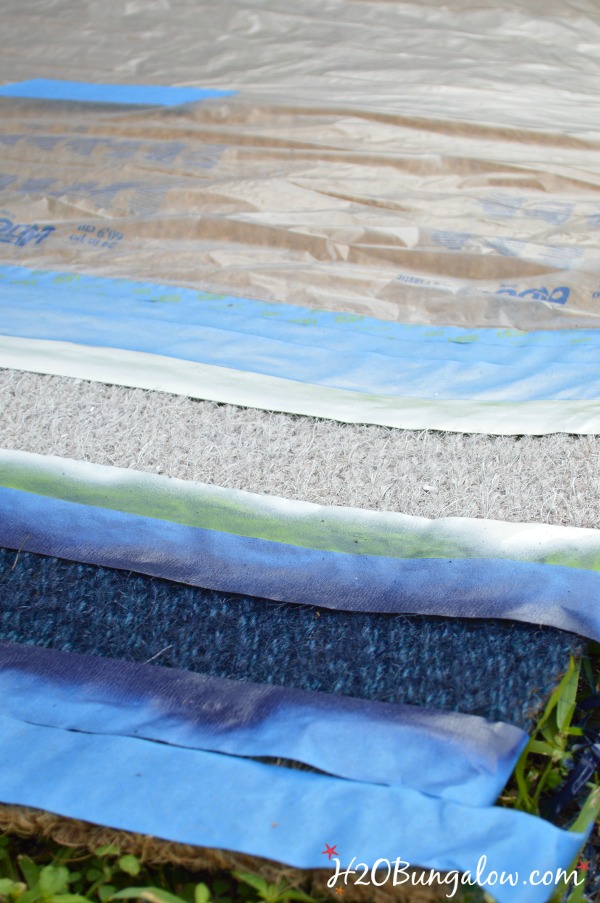 When you're done, pull all the tape off and let it dry.
I told you guys this was easy!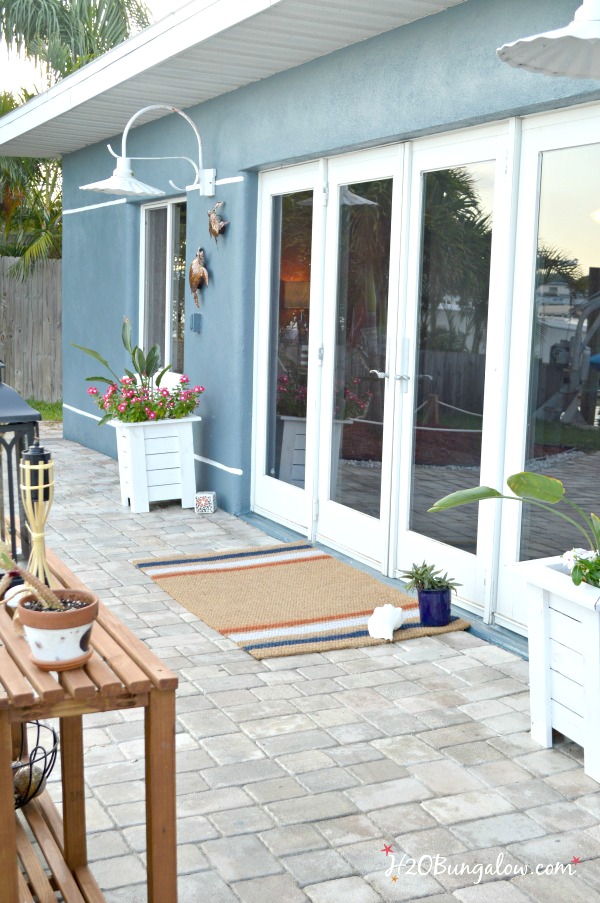 When I opened my coir doormat, I initially thought, whoa, this is huge! You can see we needed this size (3′ x 6′) for the back doors. The scale is perfect for the area. If you have a single single door with a smaller mat size (I added a link above) this project will be even faster to make.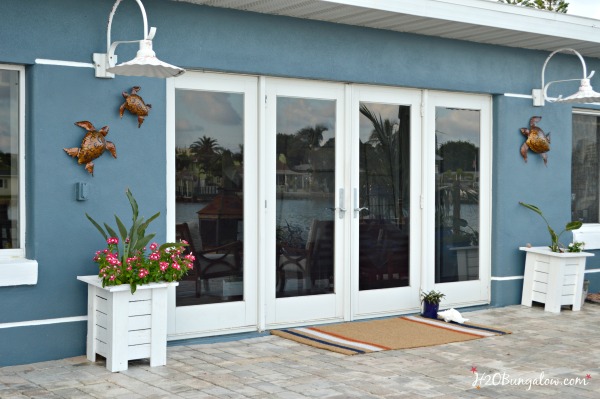 I used the spray paint I had left over from other projects in the back yard and added a navy blue stripe too. It's just enough color to give the area a little boost and compliments my pillows and other outside decor.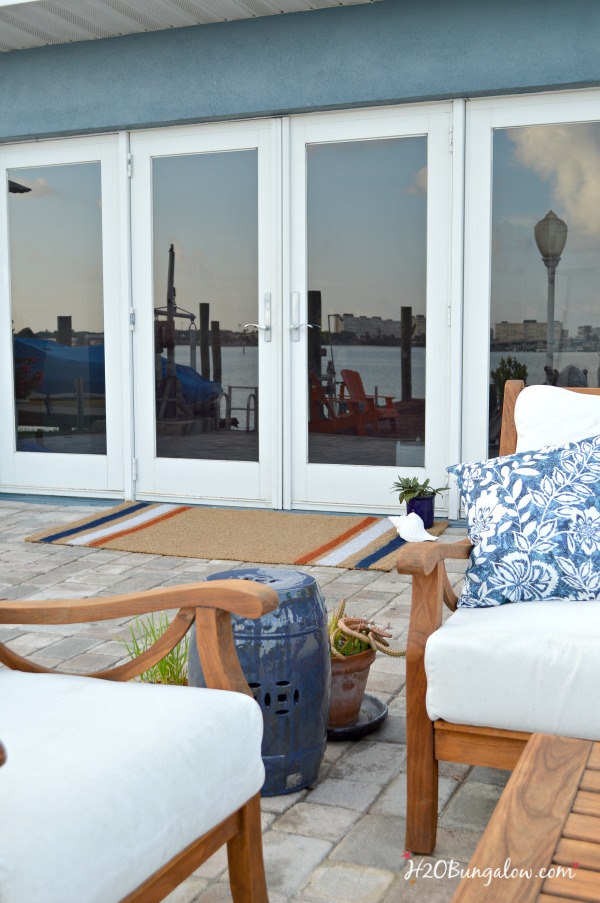 Like I said the other day, I think this area is starting to look like I want it to look!
If you love it, do me a favor and share it on Facebook or pin it!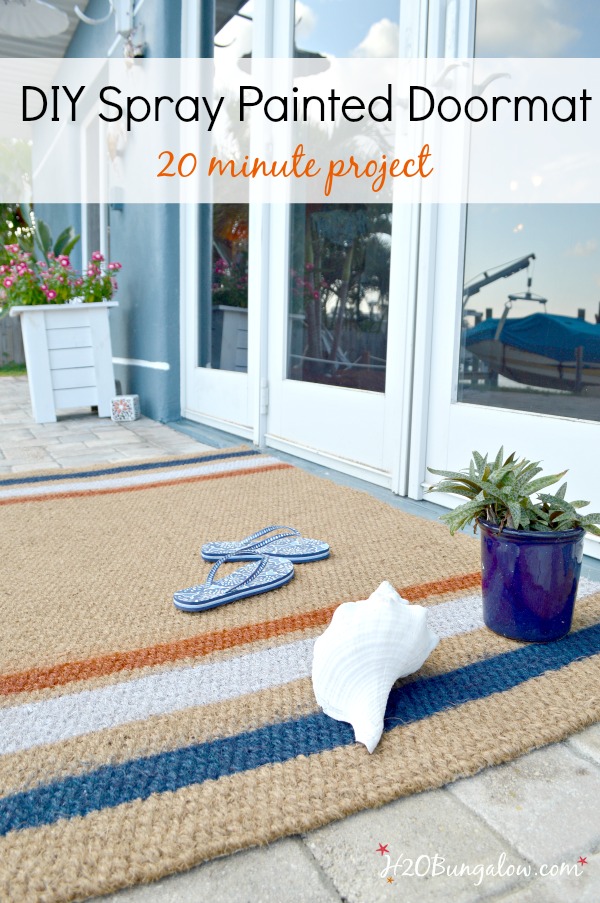 This easy DIY painted doormat is part of my 30 Days To Fabulous Backyard Makeover
See my other 30 Days To Fabulous Backyard Makeover Projects below!
You'll find my project linked up to these fabulous parties!
Love a good dose of DIY home decor, home improvement, the challenge of woodworking and creative ways to make your home look fabulous?
Me too!
I'd love to share mine with you. Click here to sign up for my post emails and I'll send a quick note when I have a new project to share.
Disclosure: I may have been compensated, given product or tools that I used in this DIY post. All opinions that I share are always 100% my own. I use affiliate links in my posts. If you should make a purchase I will receive an itty bitty commission at no cost to you. Thank you in advance for supporting my blog and two fur-ball cats who believe they are privileged.