Oh my gosh, looking at my backyard and trying to figure out where to start for the 30 days To Fabulous Backyard Makeover was a bit overwhelming. I figured I start with another big eyesore, the overgrown planting bed. I've wanted to make a coastal rope garden border for my front yard for months, so I figured testing my idea out in the backyard was a good place to start.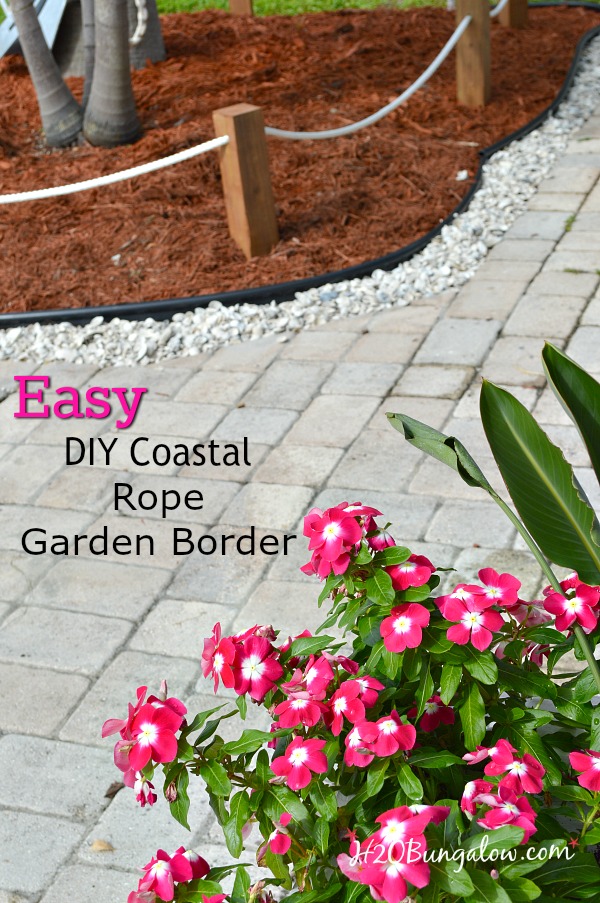 The picture below is my before shot of my yard. You guys know I just finished painting the outside of the house last week, and shared a video and tutorial on how to use a paint sprayer to paint your home.
The next thing on my list was to clean up the outside and get rid of things that don't work!
Like the 800 lb concrete table that was here when we moved in.
It was like a gorilla. Big and just there.
What you can't see is that it was two concrete tables side by side. Two heavy tops, two benches, six concrete pedestals and eight bench bases. This house was full of crazy concrete stuff when we moved in. I listed it all in the free section on Craigslist, and it was gone the next morning! I feel sorry for the poor husband who hauled this away. It took four people to lift the pieces onto dollies to move!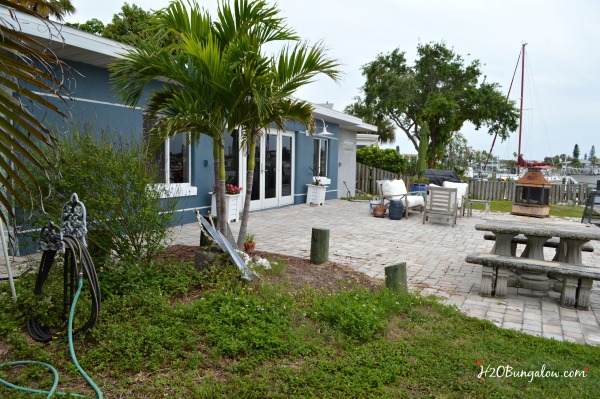 Next I had to prep my garden bed…or should I call it heavy weeding for my new DIY coastal rope garden border. Some might call it a coastal rope fence, either name works.
I'll share my little weeding secret with you guys.
Weed after it rains.
I always weed after it rains!! Weeds pull out all the way to the roots when the ground is moist, it's fast and easy. I like easy 🙂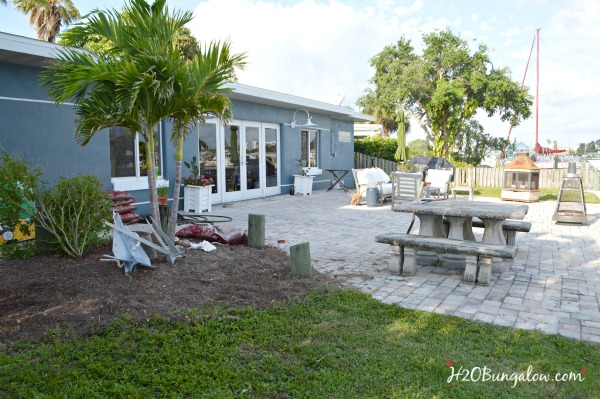 Supplies you'll need for a DIY coastal rope garden border.
18″ pressure treated 4″ x 4″ posts
3/4″ white nylon rope I found much better prices here than what I paid at my local store. I should have checked before I purchased.
electrical or painters tape
Tools needed to make a rope fence
Even though I was installing a rope fence border around my garden bed, I planned on installing plastic garden edging in the ground too. I wanted it to stop the mulch from spilling onto the concrete and looking messy. This happened all last year and it drove me crazy.
I share how to install plastic garden edging in my butterfly garden project. It's really simple to do.
I had to get creative when I discovered this cement footing from the pavers.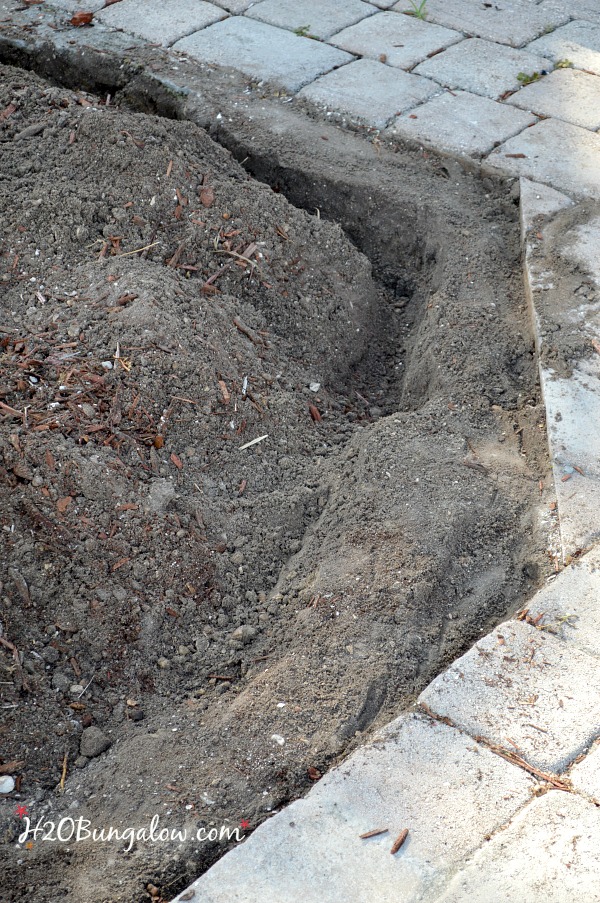 I filled the gap in with shells. It's perfect and I like it even more!
If you're local I used Larson's in Largo to have a load of crushed shells delivered. They have fabulous prices and deliver fast.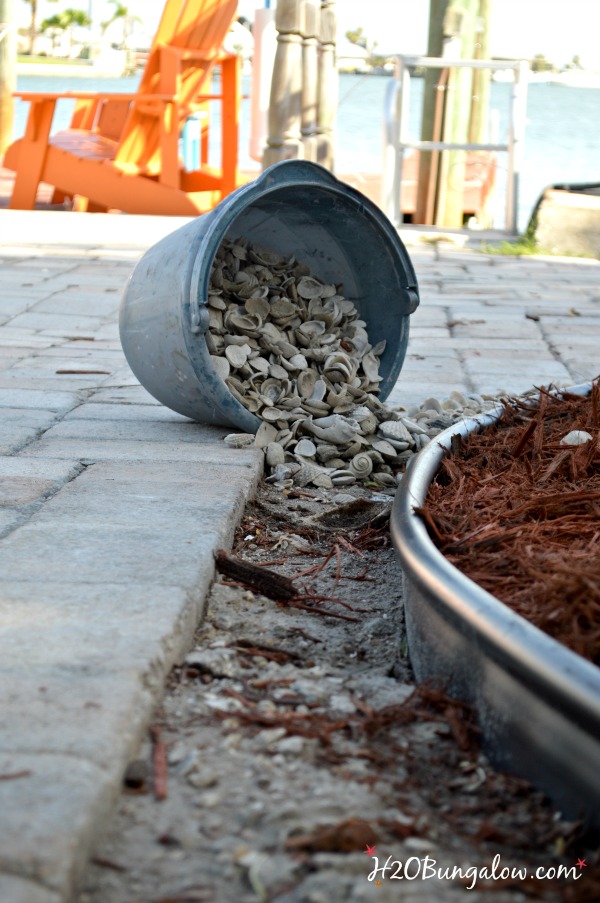 Next came the fun part. I started to work on my DIY coastal rope border fence. I cut my 4 x 4 posts. They fit fine on my Ryobi compound miter saw. The trick with big pieces is to go slow.
No worries if you don't have a saw, Home Depot will cut your pieces for you 🙂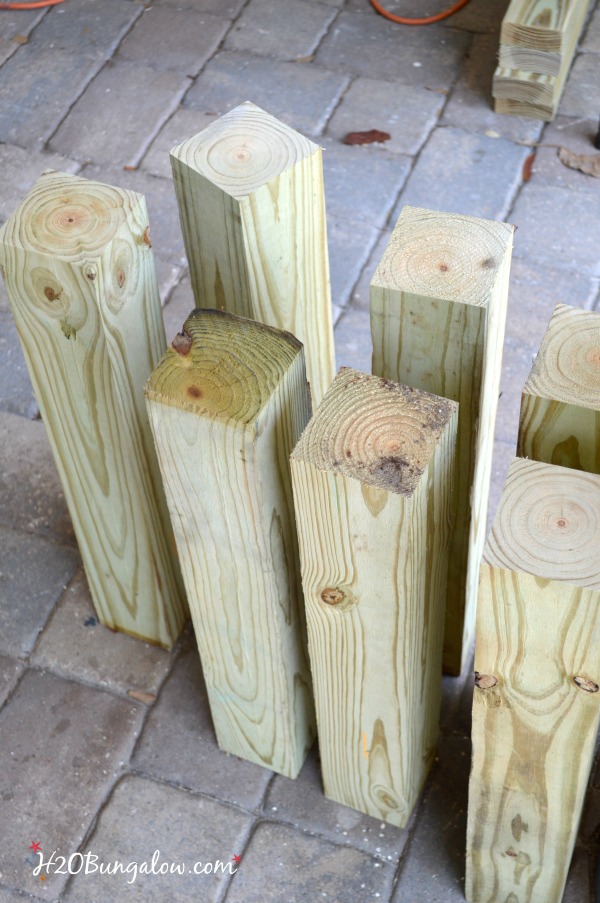 Drill a hole 3″ down from the top and in the center of each post. This was my first time using my new drill press. I loved it! I also discovered that using a spade bit, a wide flat bit to cut circles, requires again, slow progress and patience on thick pieces.
It wasn't the spade bit as much as it was that I was drilling all the way through a 4″ piece of wood.
This part was a challenge as DH watched and kept reminding me that I needed to be patient with this process.
Ugh..he was right. Don't tell him I said that though 😉
If you don't have a drill press, you could try to drill the holes using a drill and a spade bit. Another option is to use these pipe clamps and attach your rope to the side of your post instead of threading the rope through.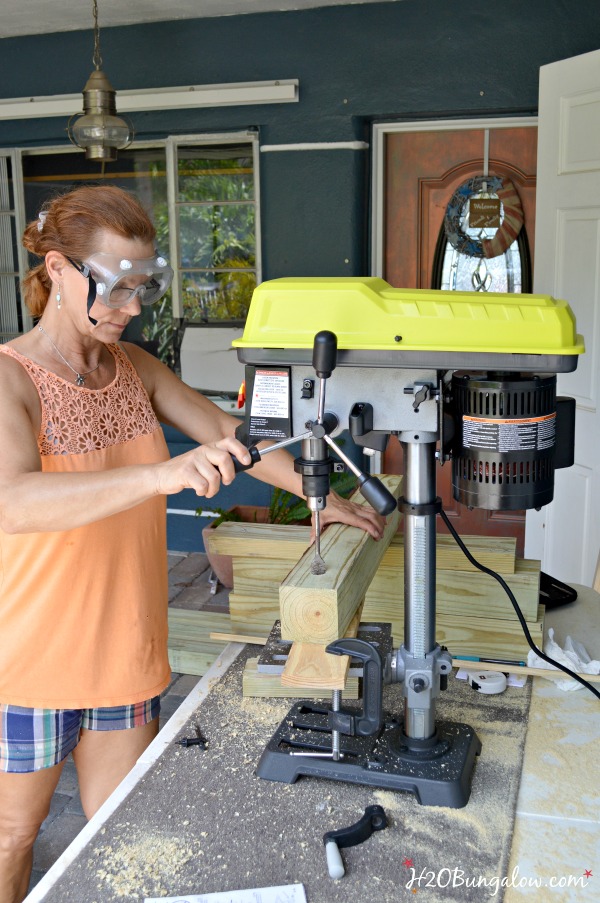 Once I had the holes for the rope done, I gave the all wood a good coat of my Thompson's WaterSeal, just like I did on my outdoor DIY Outdoor Sofa Table project a few weeks ago, and set it aside to dry. I'm loving the new line of semi-transparent finishes.
I'll call my garden area kind of an organic shape, it's not a square, exact or a circle. I laid out the posts before digging my holes,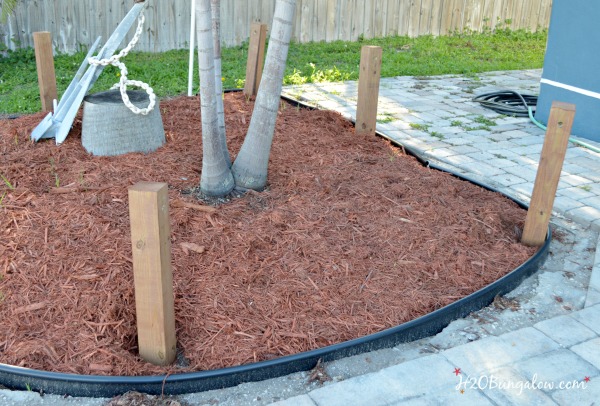 When I figured out where I'd put the fence posts, all I had to do was dig a hole 10″ deep for each post. Our dirt is pretty sandy and easy to dig. Since these are short posts, only 15″ tall from the ground, I didn't worry about anchoring them with concrete. This area won't be walked on or the posts bumped so I just put them in the ground as is.
Pop a post in, fill the dirt back around it and tamp the ground.
Done…move on to the next one 🙂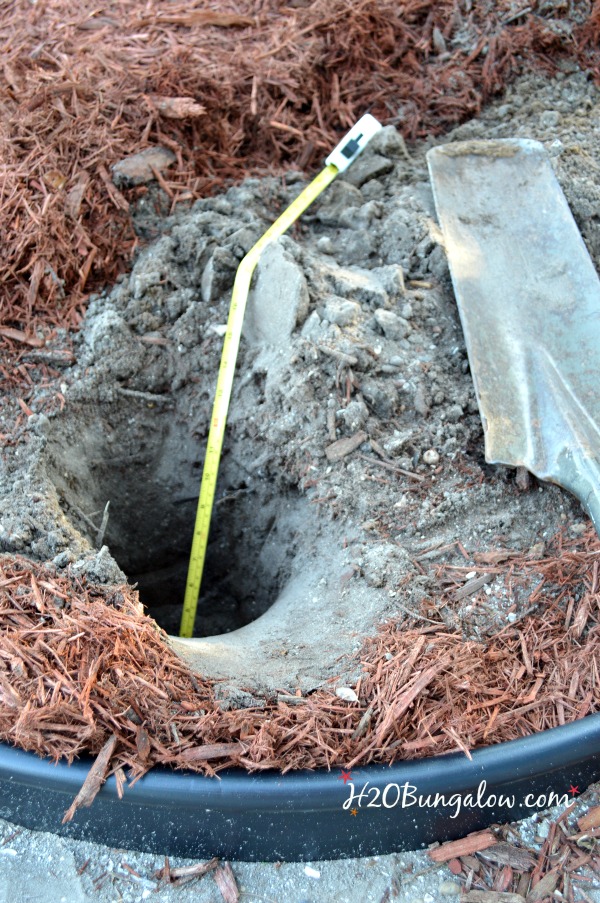 I ran a test line through all the holes in my coastal rope fence posts to see how much rope I needed before purchasing. That let me adjust the swag between the posts too. I used 35 feet of rope for this garden island.
I attached the two ends together by gluing them with liquid nails and taping them together to dry. I was leary of melting them together since if I melted too much the rope would be too short or it would be ugly and stand out. This way I can tuck the glued ends into a post and no one can see the beginning or end of the rope on my coastal rope fence.
If you need to cut your nylon rope, wrap a section tightly with electrical tape and use a sharp knife to cut down the middle of the tape. You'll get nice clean ends on both pieces.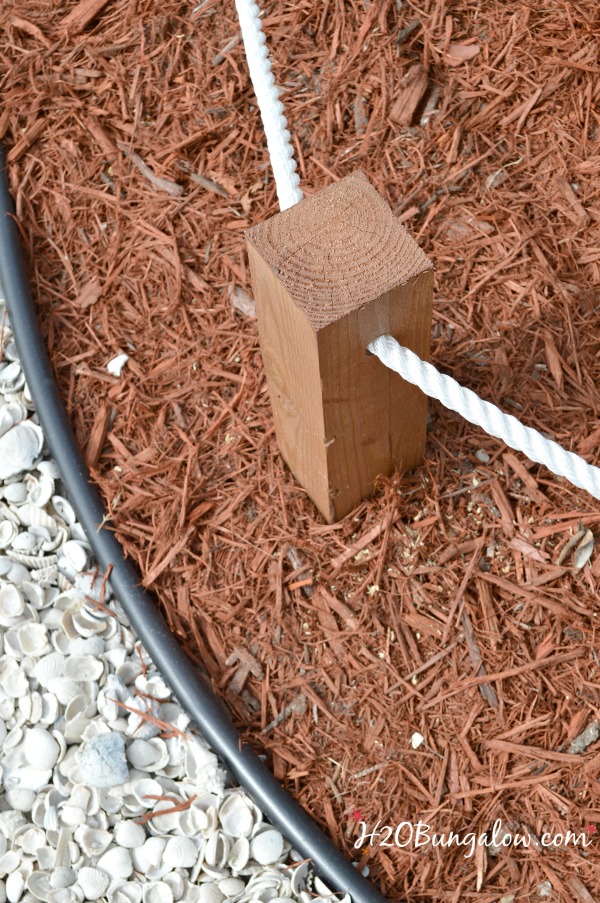 What do you think?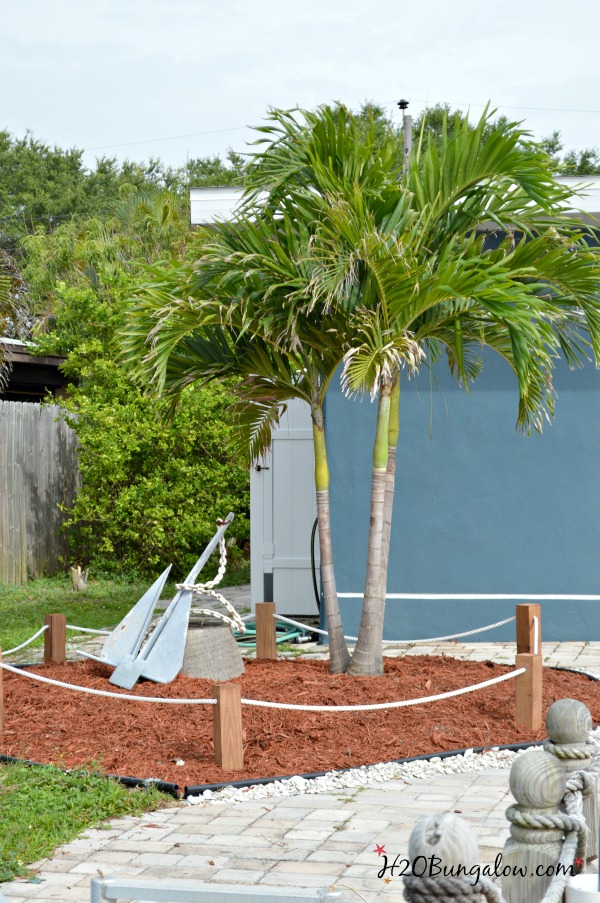 This is actually one of our hurricane anchors. They are big and heavy so I keep them out and use them for decoration;)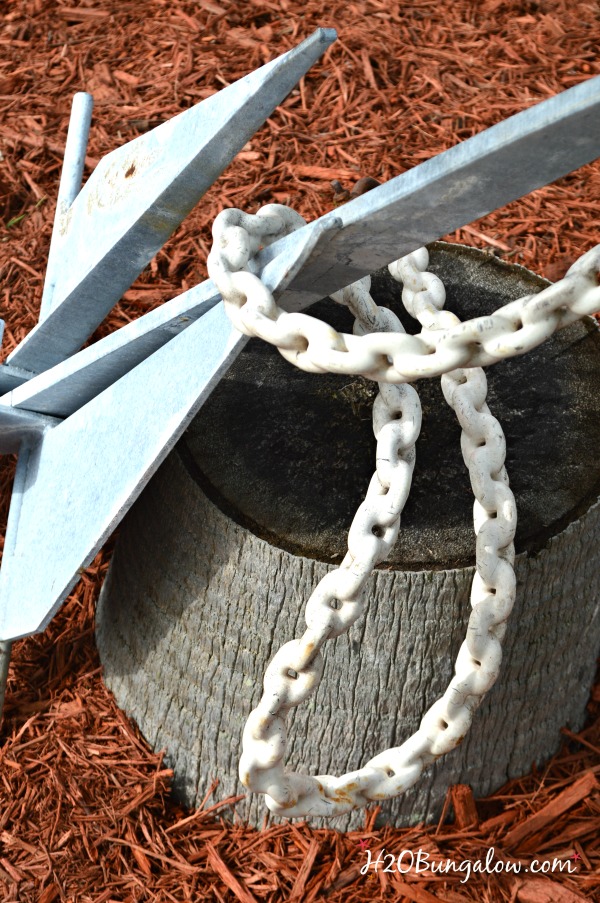 The contrast of the shells against the mulch and my coastal rope border fence are perfect. It looks much better than the before picture!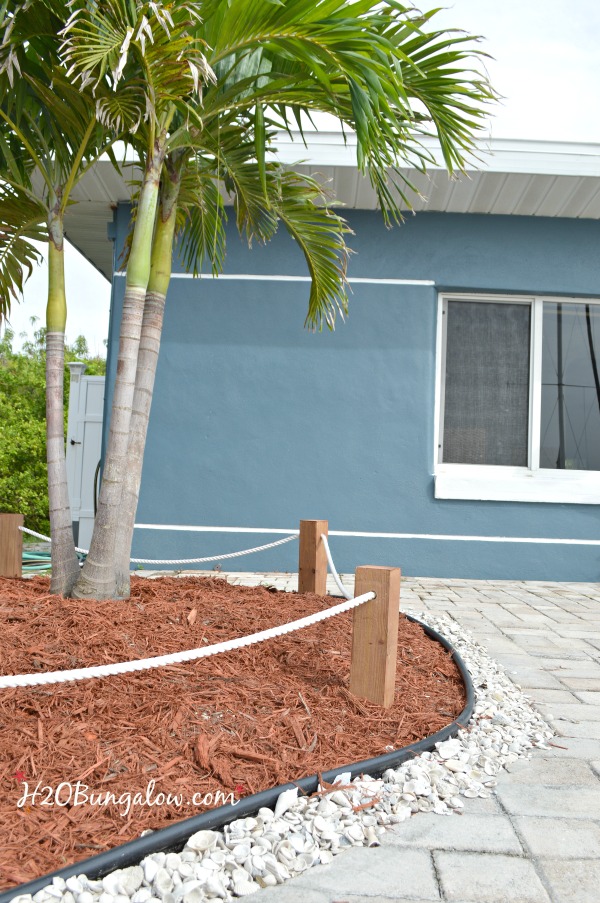 Doesn't the area look so much better with the gorilla concrete tables gone?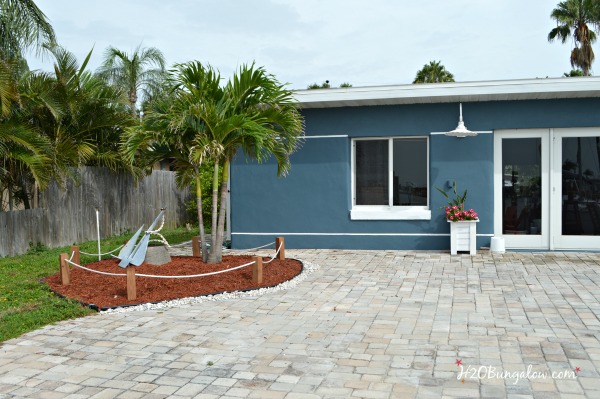 I may add plants to this area eventually but for now I have plenty more projects to keep me busy!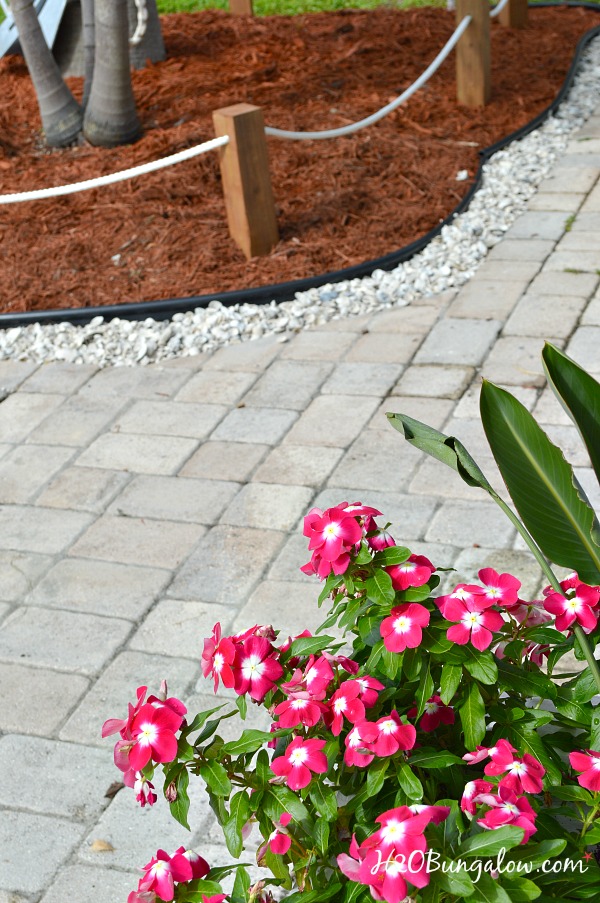 This is project #2 of my 30 Days To Fabulous Backyard Makeover.
See my other 30 Days To Fabulous Backyard Makeover Projects below!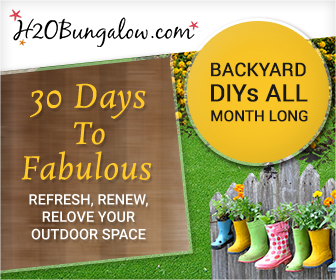 I'm looking forward to sharing the next project with you guys.
Next week is all about easy, easy projects that look great and work in any size yard or patio!
Do you have a garden bed you've wanted to tackle and clean up? What's holding you back? Share in the comments section below:)
Disclosure: I may have been compensated, given product or tools that I used in this DIY post. All opinions that I share are always 100% my own. I use affiliate links in my posts. If you should make a purchase I will receive an itty bitty commission at no cost to you. Thank you in advance for supporting my blog and two fur-ball cats who believe they are privileged.