Sometimes a project seems like it would be a really big deal and hard to do until you start thinking it out. That's how my DIY hammock stand project went.    I'm going to show you how to build a DIY hammock stand from posts.  It's easy and inexpensive, not a big deal at all.  Plus, you won't need to worry about a big metal hammock stand rusting and falling apart when it gets weathered.
This DIY hammock stand is solid and isn't going anywhere!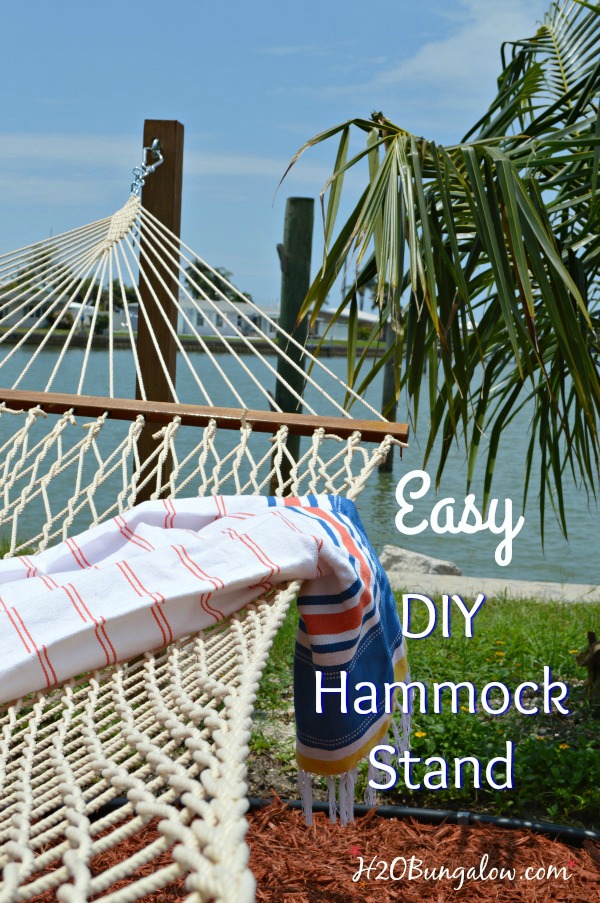 I had no idea what I was going to do with this strip of green on the side where we put our awesome master bath addition two years ago.
For weeks, I'd look out the window or over at this area when I was doing another part of the backyard makeover hoping to feel something, some little beginning of an idea, inspiration…
…something.
Nope, not a thing 🙁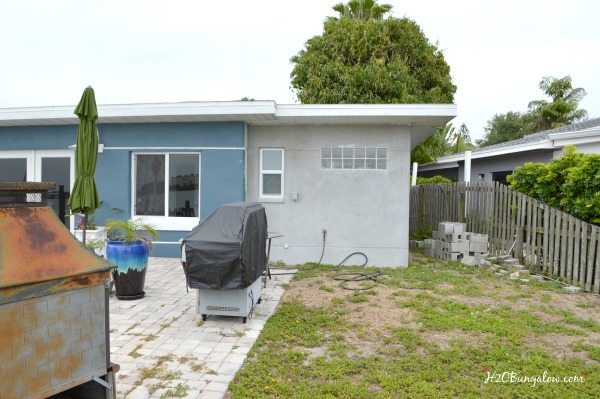 I finally made the decision to start by adding a palm tree. Shade, we needed shade, right?
My good friend who is also a Master Gardener said "Why don't you get a coconut palm"?  You mean the kind that makes coconuts I asked?  How fun! I was all over that idea!  Thrilled that I finally had some direction for this area, off I went to find my new coconut palm.
The fellow at the nursery helped me pick a beautiful healthy one.  Then he said, "If you have two, you can string a hammock between them".  Really? What an awesome idea! Gimme two of those beauties:)  Keep in mind, my new trees are about 15 feet tall and have maybe a foot of thick trunk on them.
Later that night, I realized it would be a few years before my coconut palms were tall and strong enough to support a hammock with people in.  Darn!  Yes, years.  I don't want to wait two – three years just to swing in my side yard!
I want it now!
How To Build A Durable DIY Hammock Stand From Posts
Supplies to make a DIY hammock stand from posts.  I use affiliate links to help you find the products and tools I used for this project.
I used pressure treated exterior pine posts and treated them both with my favorite Thompson's WaterSeal product.  This was one job where my drill press really made the job easy.  I drilled one hole for the eye bolt about 3″ from the top on each post.  It was a cinch to drill through the 4″ posts.  You can see I had to be creative in my drill press set-up since the posts were so long, at least I added a seat for myself!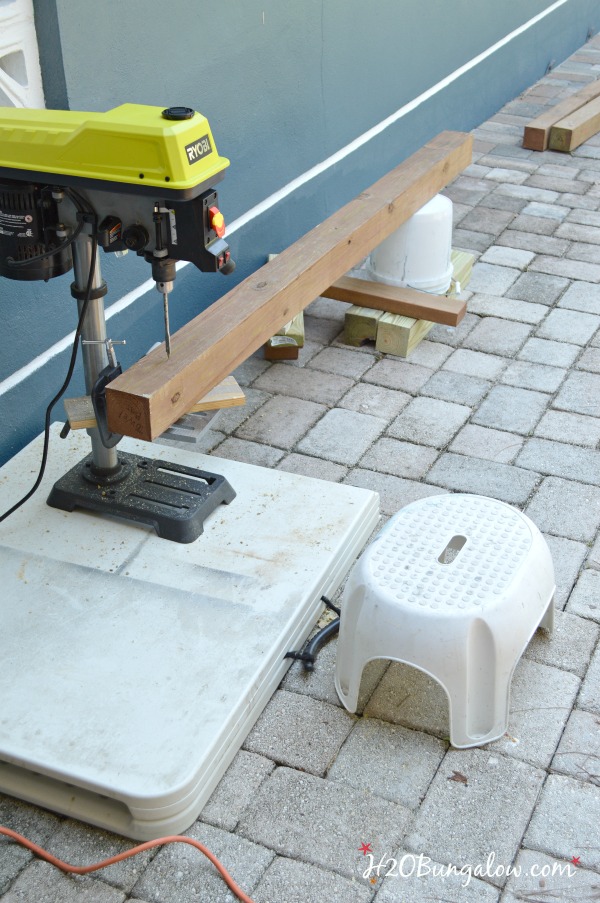 I bought a double wide hammock and wanted to be sure it would hold when DH and I are relaxing with a little frozen something swinging lazily together.  I read that we needed to have at least 3o% of the post underground, which is 29 inches on an eight foot pole.  We dug down 36 inches.  I was pretty surprised that by using the post hole digger it only took a few minutes per hole. My son handled this task, thank God for brawn and age:)
We used two bags of Quickcrete in each hole layering the water and the concrete mixture.  I gave it two days to cure and then back filled the holes.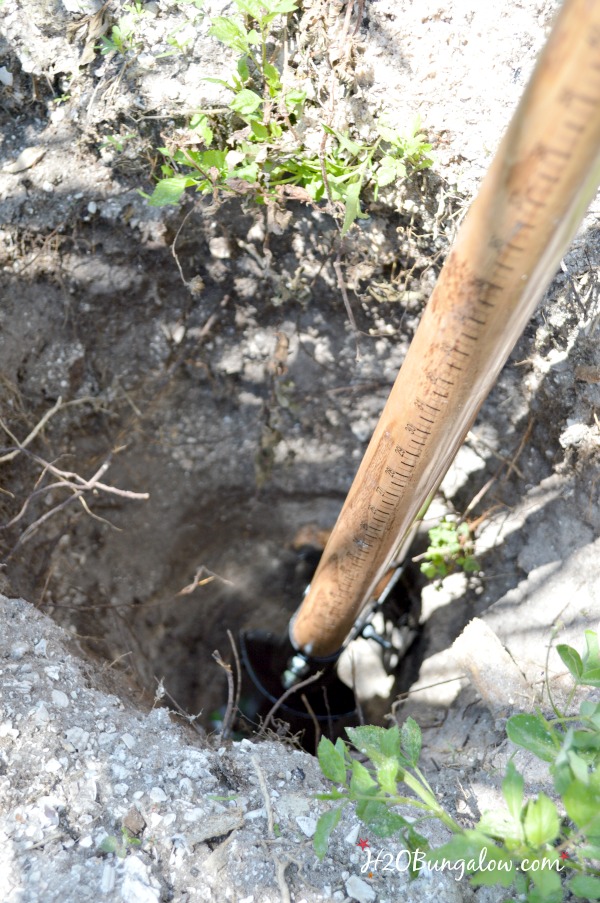 See those palm tree trunks?  What was I thinking… or not thinking?
When you build a hammock stand from posts, you'll want to space them about 15 feet apart.  If they are too close your hammock will hang at an uncomfortable angle.  I planned for my hammock hooks to be at least 57″  from the ground which was higher than what the manufacturer suggested.  I'm glad I did, with the hammock stretching, we'd have had our behinds dragging the ground even after bringing in the slack in the chains at the ends.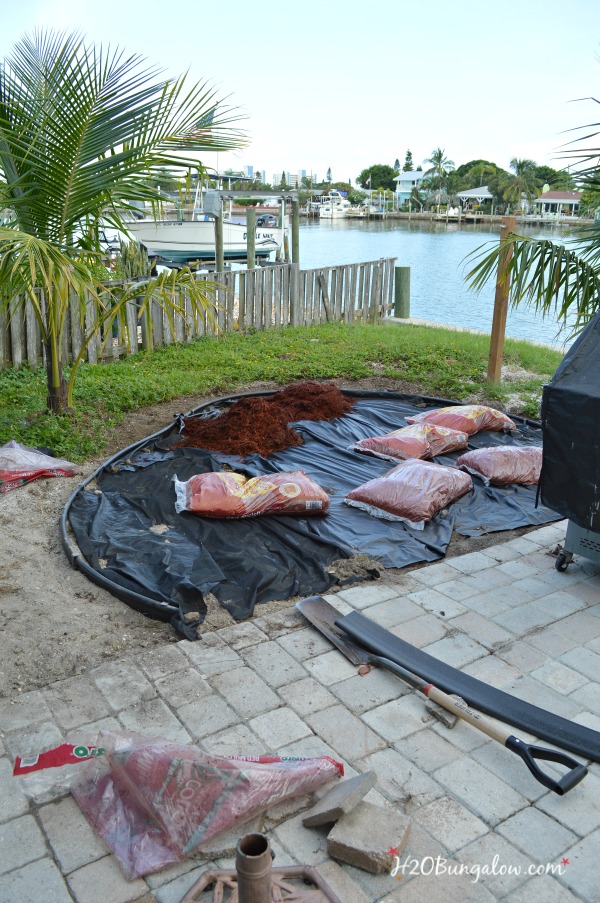 I wanted the area under the hammock to be mulch.  The rest of the landscaping I just kind of winged as I went along.  I know I should plan, but this is one of those projects that just kind of unfolded.  This garden boarder edging is the easiest stuff to install and it's crazy heavy duty.  I show how to put it in in my Butterfly Garden project from last year.  I also used it in my coastal rope garden border project.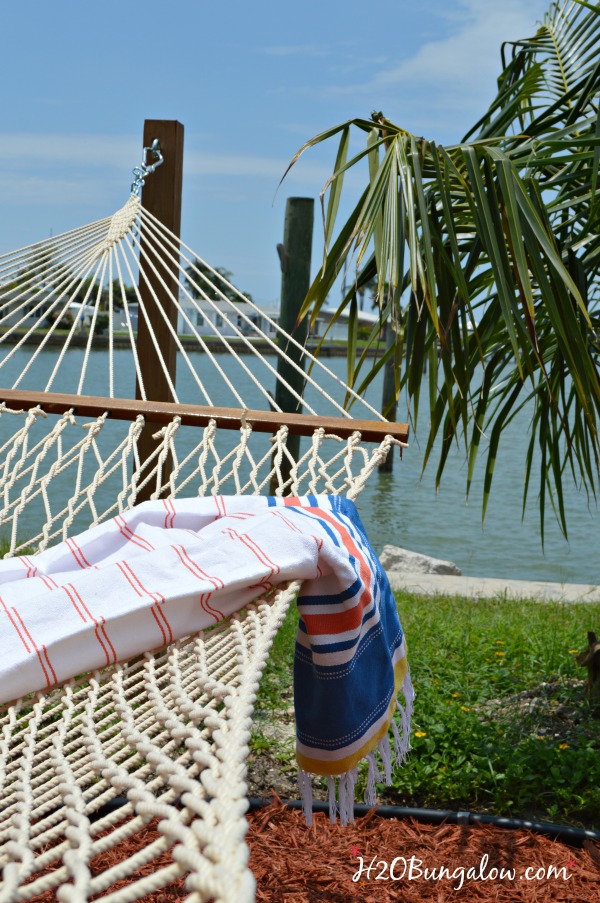 Plan on a new rope hammock to stretch with the first few uses.  When ours did, I took up excess chain by moving the carabiner up the chain.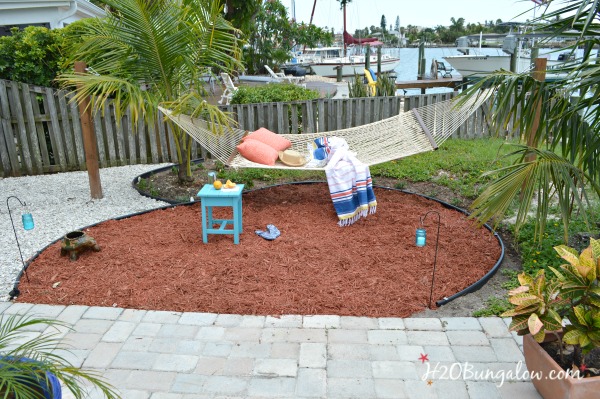 The area around the edging is tiny orange and red lantana and the rest are beach daisies that I'll nurse along to naturalize as ground cover. I want this area to look natural, like the beach dunes we have locally.
I'll probably add some sea oats on the outer edge later.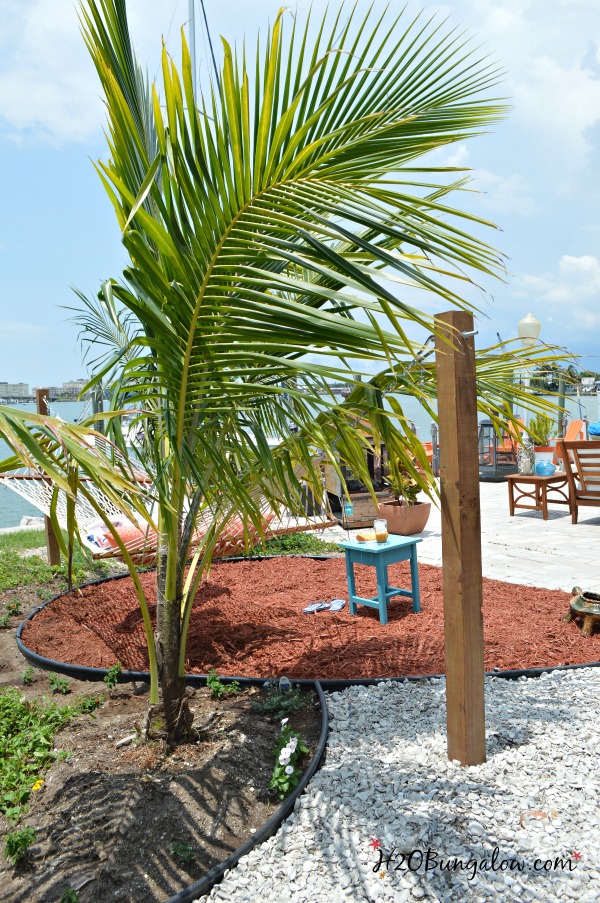 My new landscaped hammock area looks great with the rest of the backyard.  It was a good decision to build a hammock stand from posts for this project.  It blends well with my teak furniture I just finished redoing.  Plus, I'll never need to worry about it rusting and falling apart like metal hammock frames eventually do.
My coconut palms should start making coconuts in about two years and they'll be great for shade too. Thank goodness I don't need to wait a few years to use my hammock !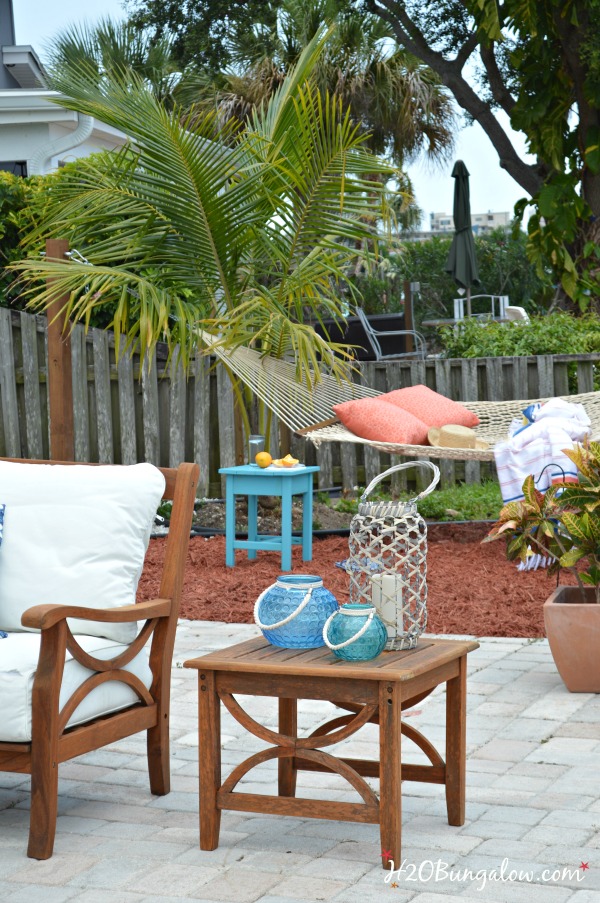 Now that I've shared how easy it is to build a DIY hammock stand are you ready to ad one to your backyard too?
One more area finished!  What do you think?
If you love it, please share it on your Facebook or Pin on Pinterest!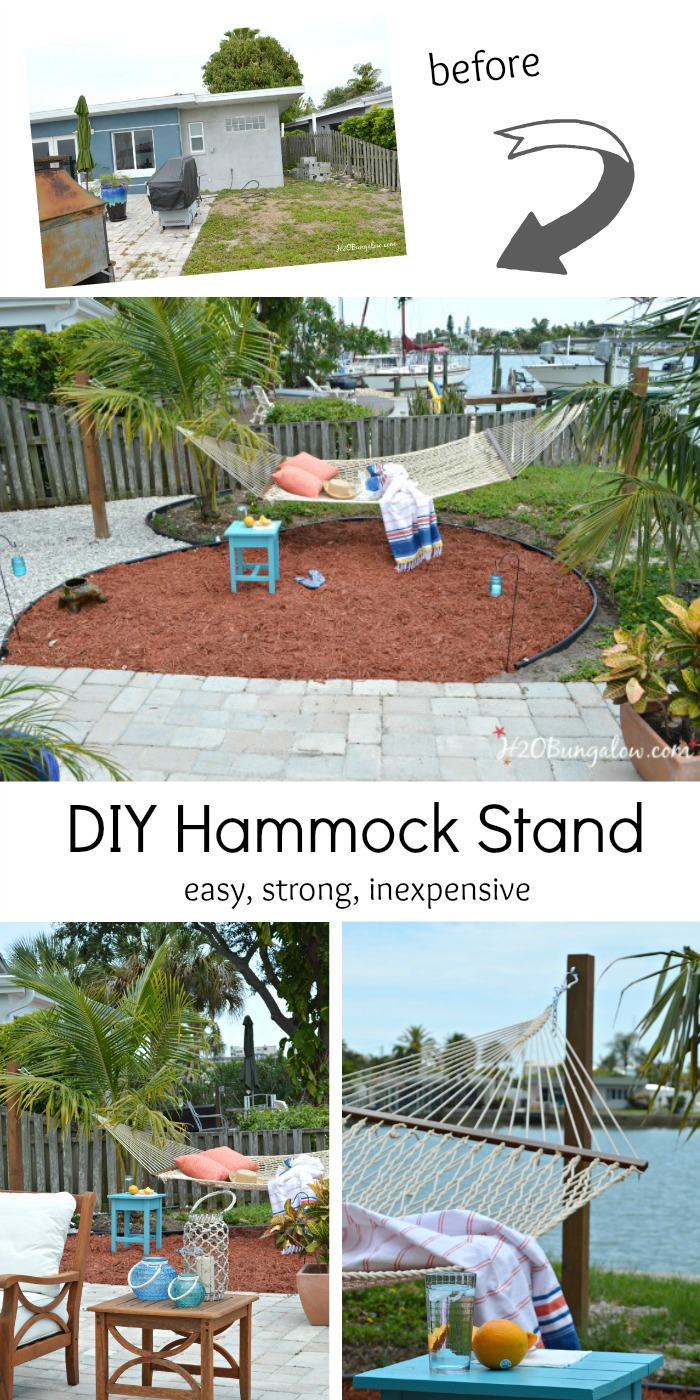 Project #10 of my 30 Days To Fabulous Backyard Makeover  
See my other 30 Days To Fabulous Backyard Makeover Projects below!
You'll find my project linked up to these fabulous parties!
Love a good dose of DIY home decor, home improvement, the challenge of woodworking and creative ways to make your home look fabulous?
Me too!
I'd love to share mine with you. Click here to sign up for my post emails and I'll send a quick note when I have a new project to share.
Disclosure: I may have been compensated, given product or tools that I used in this DIY post. All opinions that I share are always 100% my own. I use affiliate links in my posts. If you should make a purchase I will receive an itty bitty commission at no cost to you. Thank you in advance for supporting my blog and two fur-ball cats who believe they are privileged.