After 3 years I've finally adapted to life in a small kitchen. I'm not a quick study, it's taken time and some trial and error. I think I've finally got the hang of it, and today am sharing 5 of my best kitchen organizing ideas for small spaces that made this giant task of keeping my kitchen tidy and organized and keeping it that way.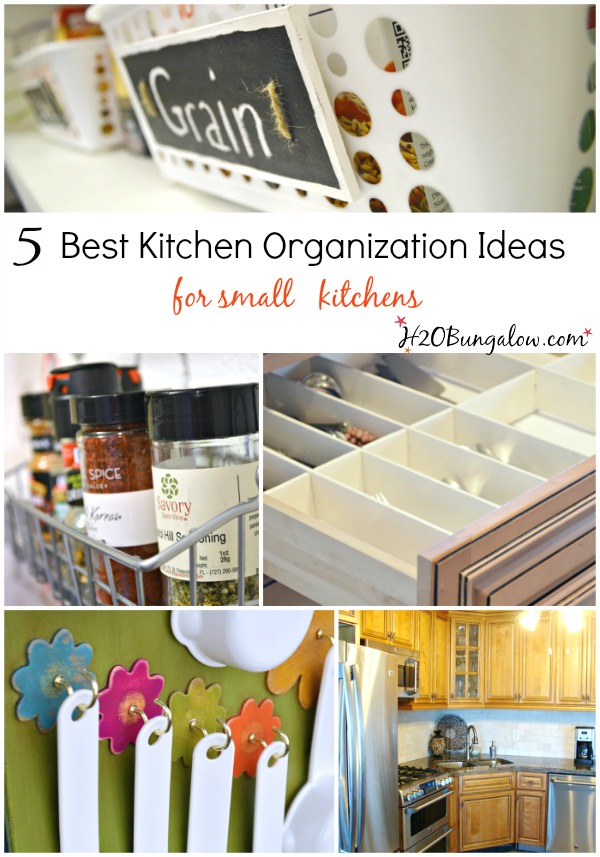 …keeping it that way is the million dollar phrase, right? We all start with good intentions and after hours of cleaning have a shiny perfect kitchen. Until real life, schedules, kids and spouses come into the picture. Then it goes right back to utter chaos, where it stays until the next round of cleaning and organizing starts.
Guess what?
It doesn't have to be that way. This collection of the 5 best kitchen organization ideas are what I use. I call them the best because they are not only easy, they are easy to maintain.
5 Best Kitchen Organizing Ideas
An organized spice rack makes cooking much easier. Hands down, this is the best way to store spices while saving shelf and drawer space!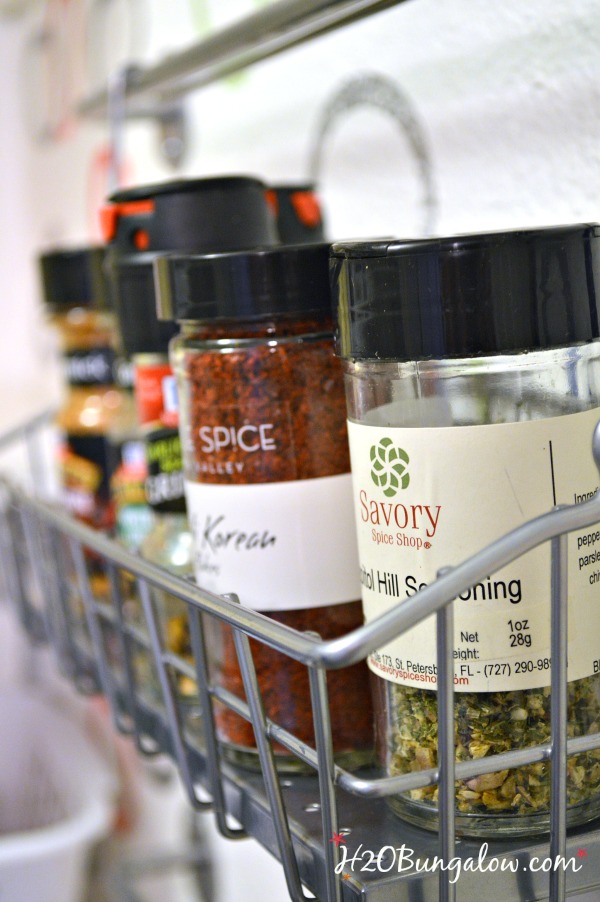 I made this hanging measuring cup and spoon organizer because it was cute, but after using it for the last year, I'm sold on how easy it is to grab what I need when I need it…OK, it's cute too!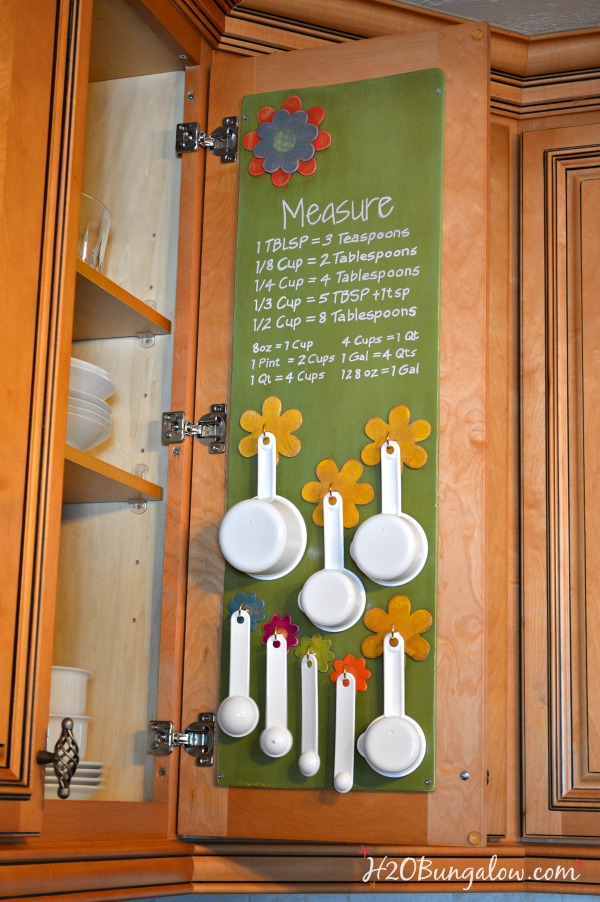 These drawers were just too big not to have some system of organization! I made these Easy Wood Drawer Dividers out of 1/4 plywood scraps I had. This is an easy project!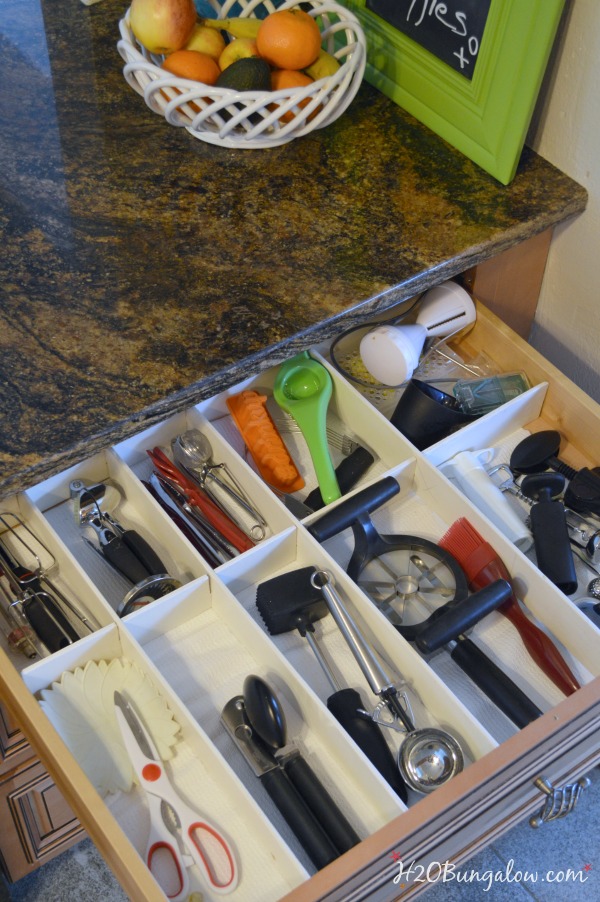 It's been almost 3 years and my pantry still looks like this. It's not just that I used baskets, it's how I used them. If you have shelf space to keep organized, you'll fall in love with my Organized Pantry System, it's the easiest one ever and you'd be amazed at how much more space you can make!
…OH and yes, I know my pantry is colorful:)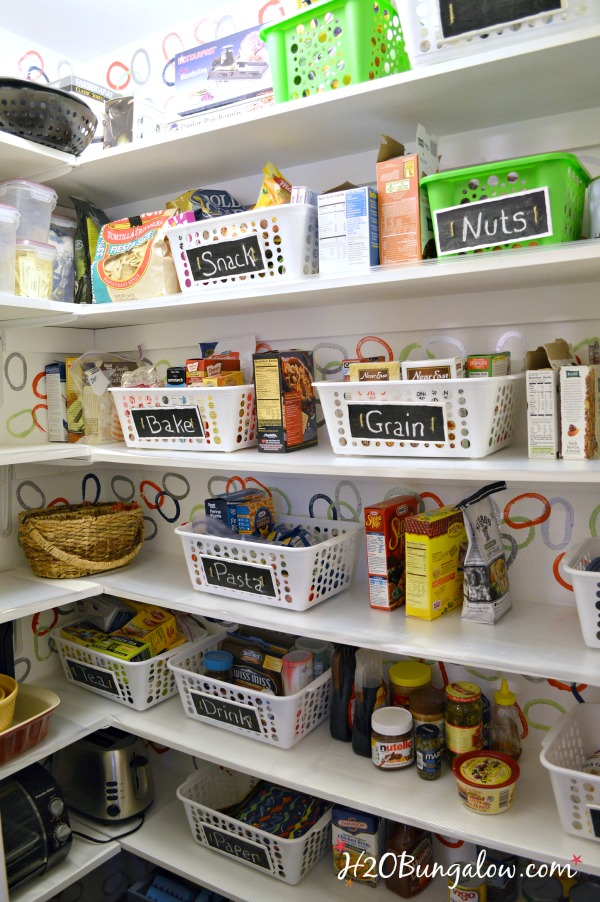 Organize A Kitchen And Get More Space is all about finding and using the hidden potential in your kitchen. Learning how to add extra shelves to kitchen cabinets definitely helped me utilize my space well.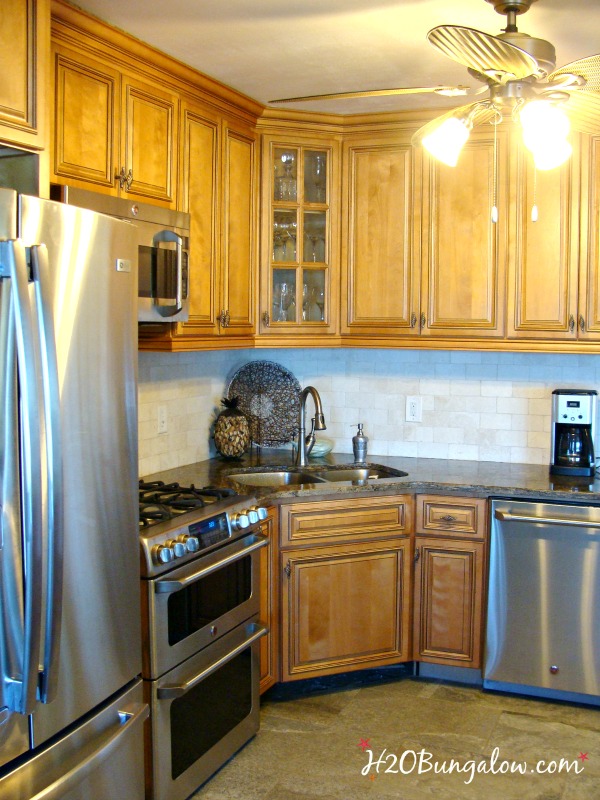 I love the simplicity of living in a small space. I loved my kitchen even more after learning and using the best kitchen organizing ideas I've shared today.
Do you have a favorite kitchen organizing idea you swear by? Share it below in the comment section!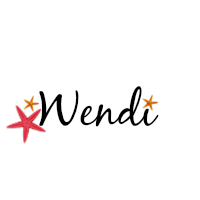 Love a good dose of DIY home decor, home improvement, the challenge of woodworking and creative ways to make your home look fabulous?
Me too!
I'd love to share mine with you. Click here to sign up for my post emails and I'll send a quick note when I have a new project to share.
Social media fan? Don't be shy say hello! I love when you guys do that! I'm interactive on Facebook and I share lots of other projects and, useful inspiration for the home and content I don't share anywhere else. Follow H2OBungalow on Facebook here
Oh heck, just follow me on all social medias. We'll have some fun…promise:) Follow H2OBungalow on Instagram , Follow H2OBungalow on Twitter , Follow H2OBungalow on Pinterest, I'm on Periscope! @H2OBungalow
I use affiliate links in my posts. If you should make a purchase I will receive an itty bitty commission at no cost to you. Thank you in advance for supporting my blog and two furball cats who believe they are privileged.