Welcome to my H2OBungalow Coastal Home Tour!
I've finally updated my H2OBungalow home tour. The nice thing about putting a home tour together and updating it from time to time is that it's always fun to see how far we've come. Which is good. Taking on a project house that needs literally everything is a long term commitment. A gentle reminder of just how much we've accomplished is good for the psyche and the heart.
One of my big initial projects was to paint the outside of my home. Yes, I did it all by myself..and saved a bundle too!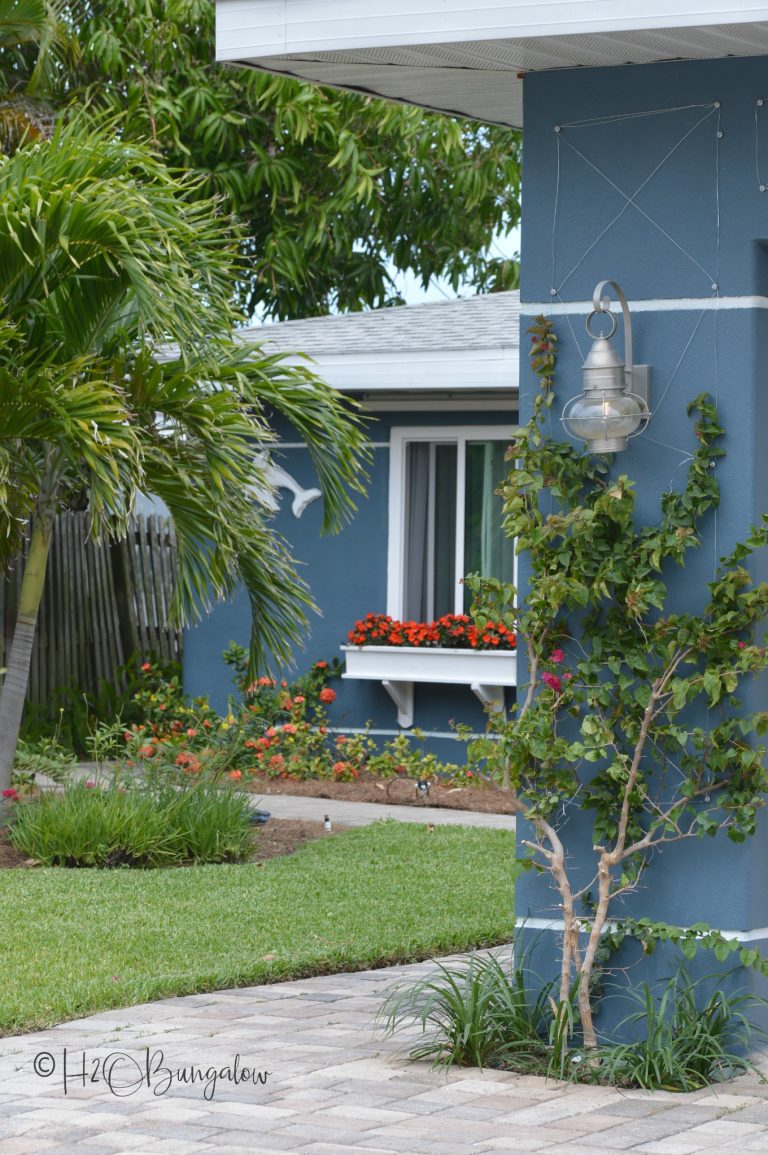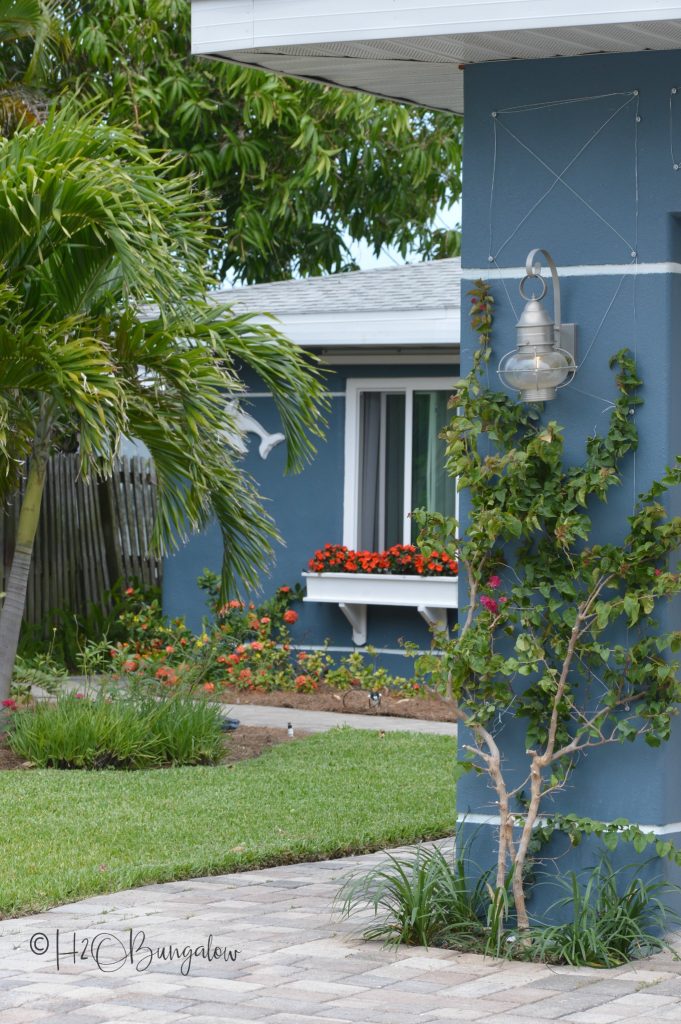 I've always wanted to upgrade our garage doors. What I wanted was expensive so I built these faux garage door windows. They look so real you can't tell that they are faux!
You can see a peek-a-boo-view of my DIY Sailboat Cutout Shutters of to the left. I designed and built them out of PVC. They'll never rot or need painting!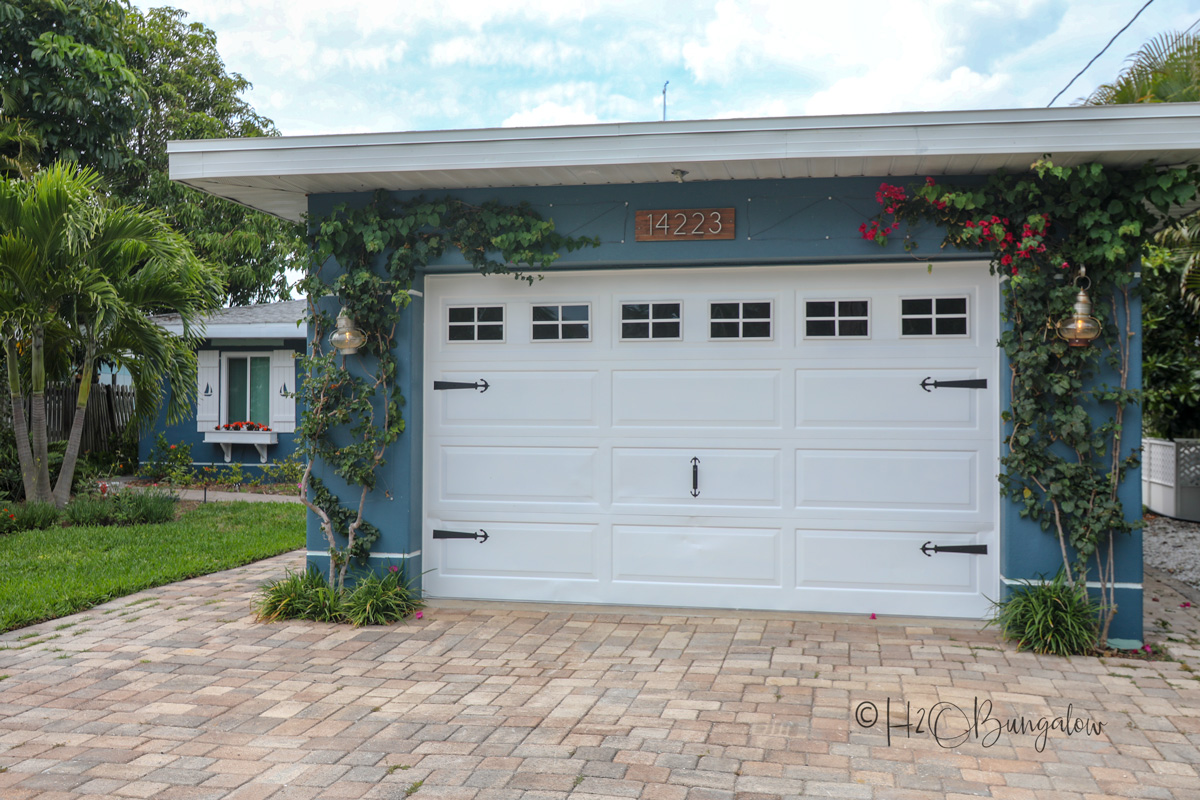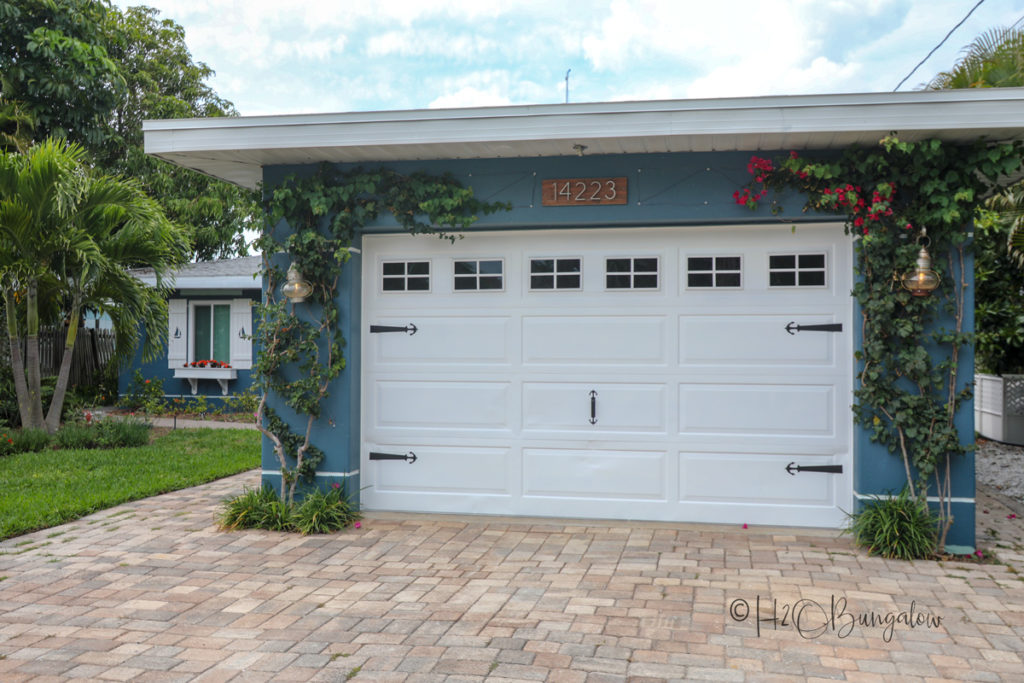 The front of our house has come a long way and so has the inside!
Come on in!
I'm a firm believer in surrounding yourself with pieces that you love and make your home feel good to you. I'm working my way there one DIY project at a time. My decorating style is slowly moving towards contemporary coastal. I'm choosing lighter colors in my decor and cleaner lines in my furniture like this Hairpin Leg Live Edge Table I built.
I'm loving the DIY Wall Mounted TV Cabinet and matching Media Console on this wall. The wall cabinet hides our TV and the media console hides the electronics.
Last year I added DIY Craftsman Window Trim to my living room, dining area and reading nook.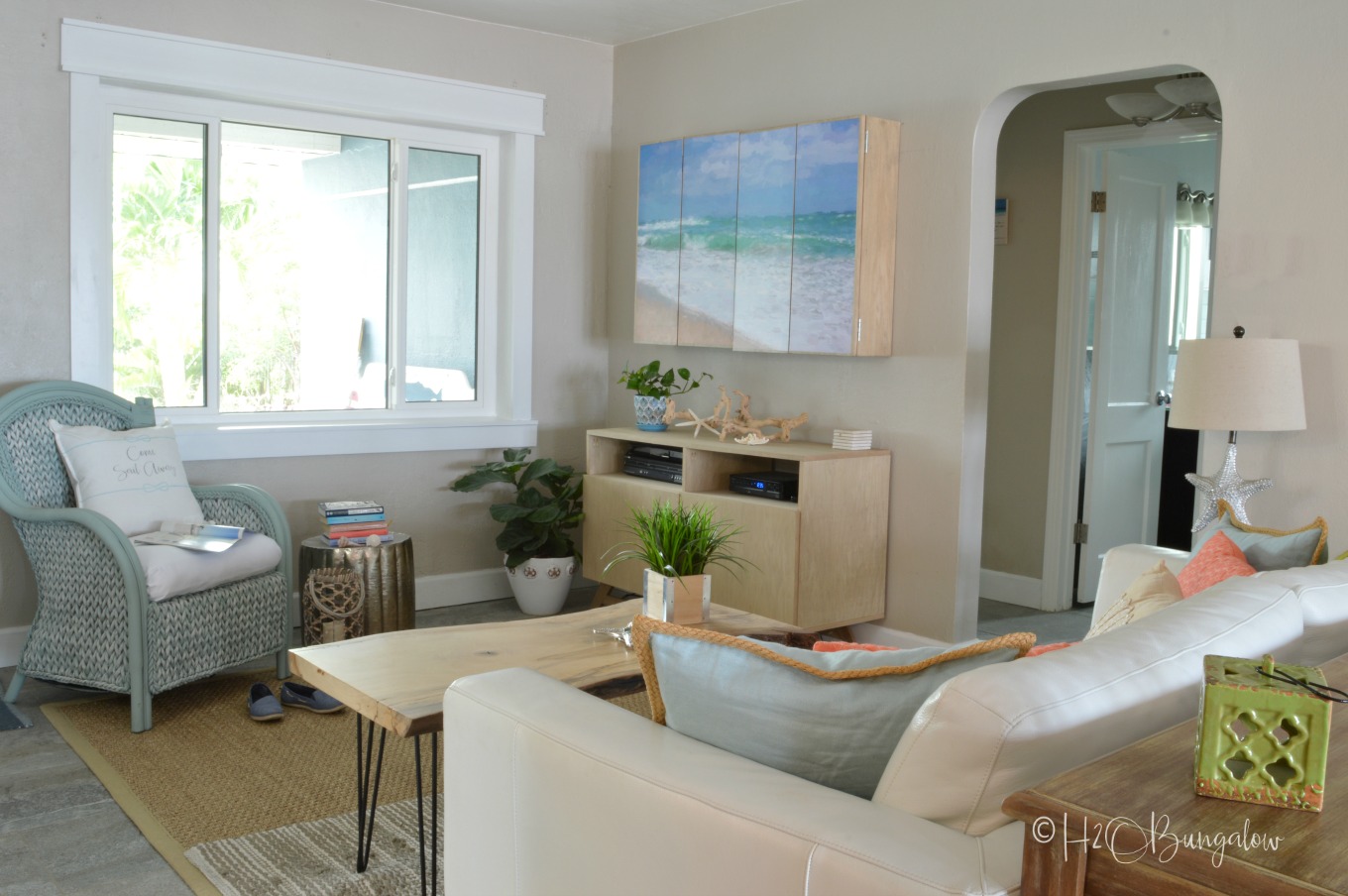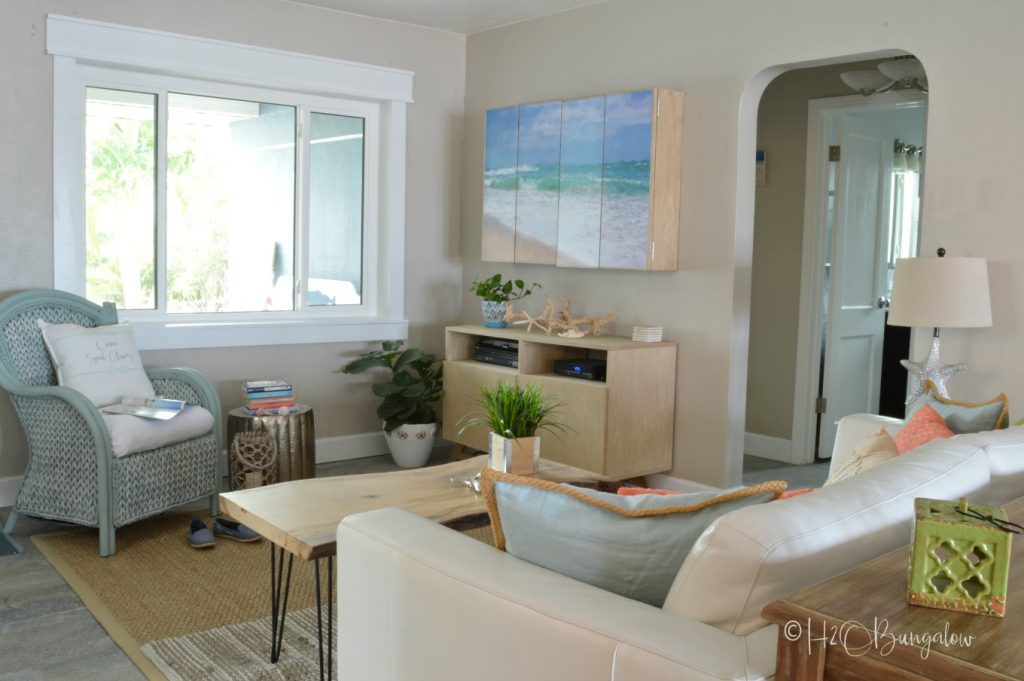 My office/studio is located to the right as you walk in the front door. When we moved in, it was the third bedroom. I closed off the door entry which was in our kitchen and added a doorway near the front door. It makes a perfect office/studio and has lots of natural light. My DIY Multi Colored Wood Plank Wall ties these two spaces together beautifully.
It's still a work in progress though. In other words, between all my own projects and working on the North House Lodge locations in VT, my own office space is always the last to be decorated!
This DIY wood slice Live Edge Coat Rack is perfect for a small entry.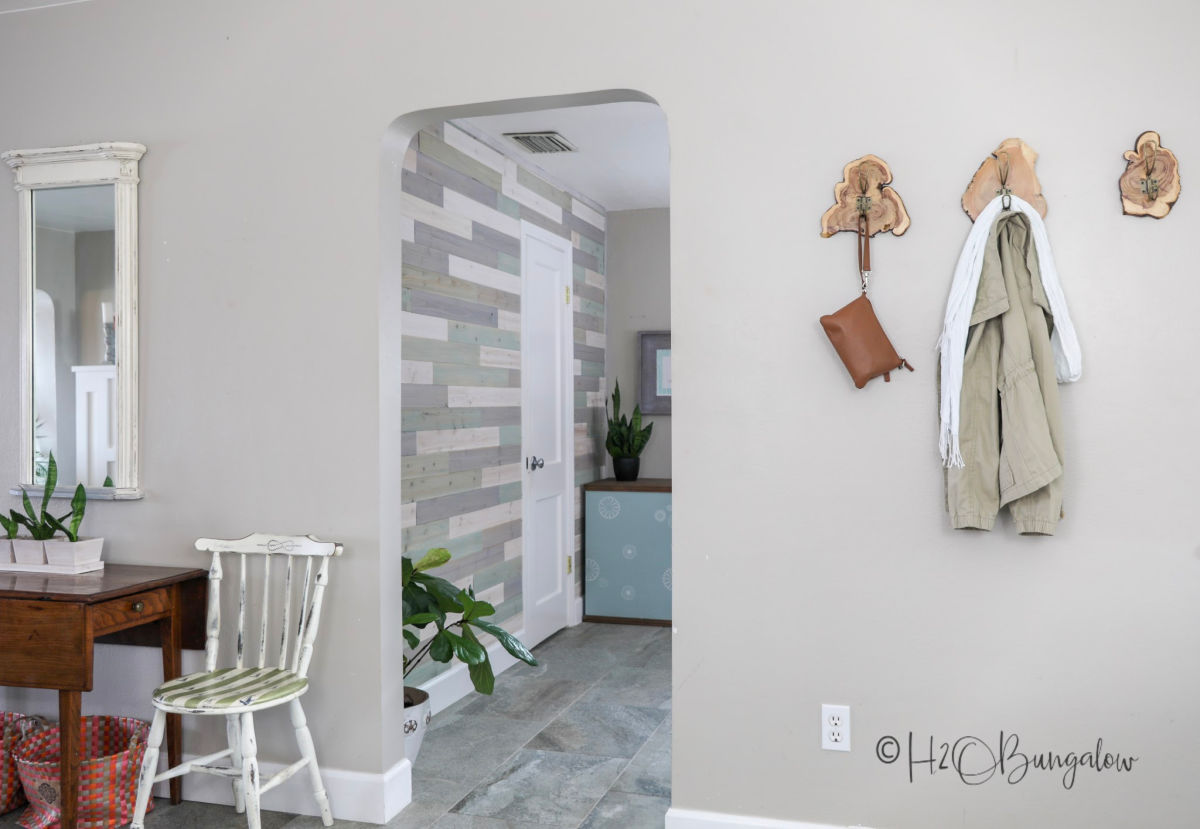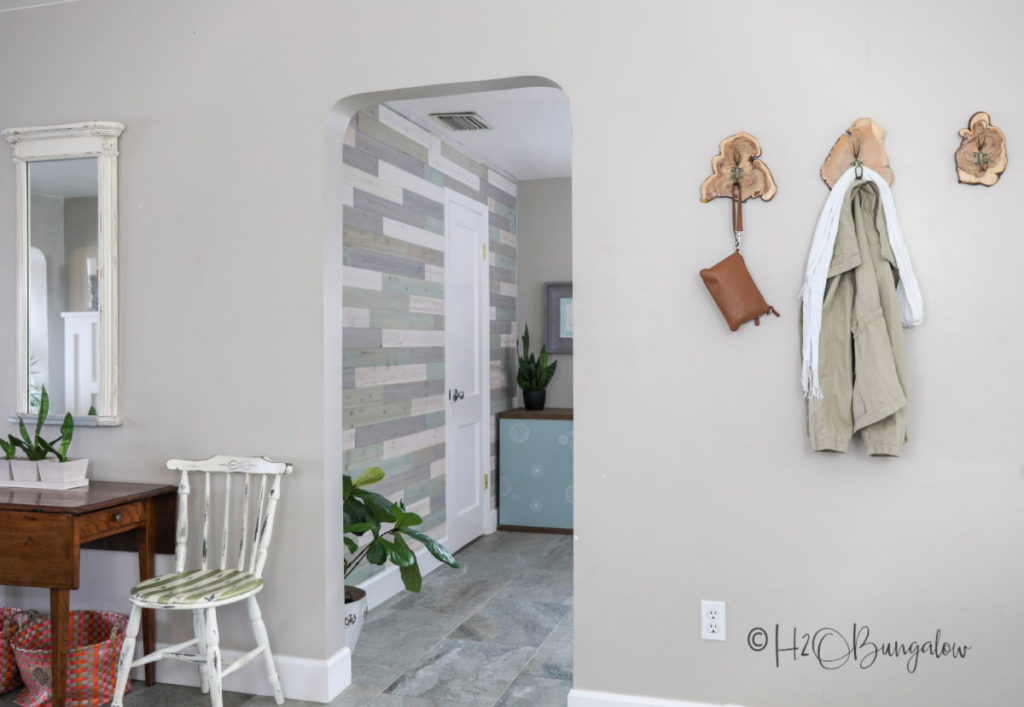 Our floor plan is one of the blessings and challenges of this house. It was modified to be kind of an open floor plan. Which is wonderful for helping our small space feel larger.
last fall, I talked the hubby into letting me build a DIY Fireplace With an Electric Insert in our second seating area! He thought I was nuts. But now he sees the light! LOL. He (and everyone else who visits) loves how cozy it's made this seating area.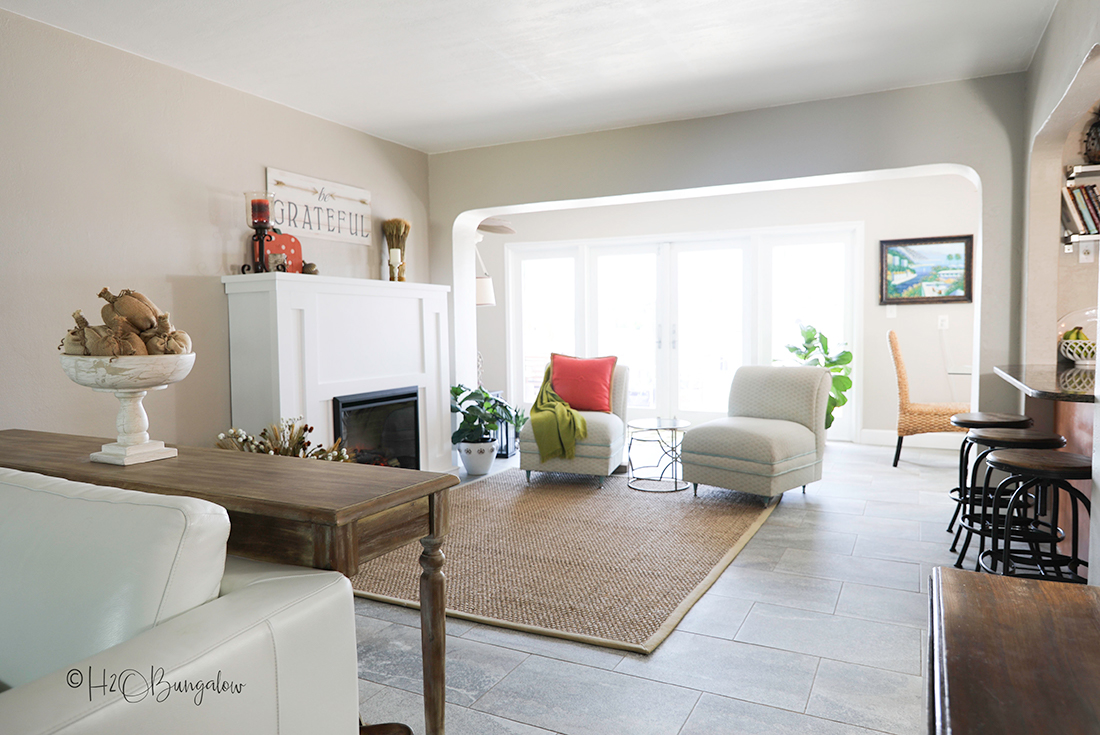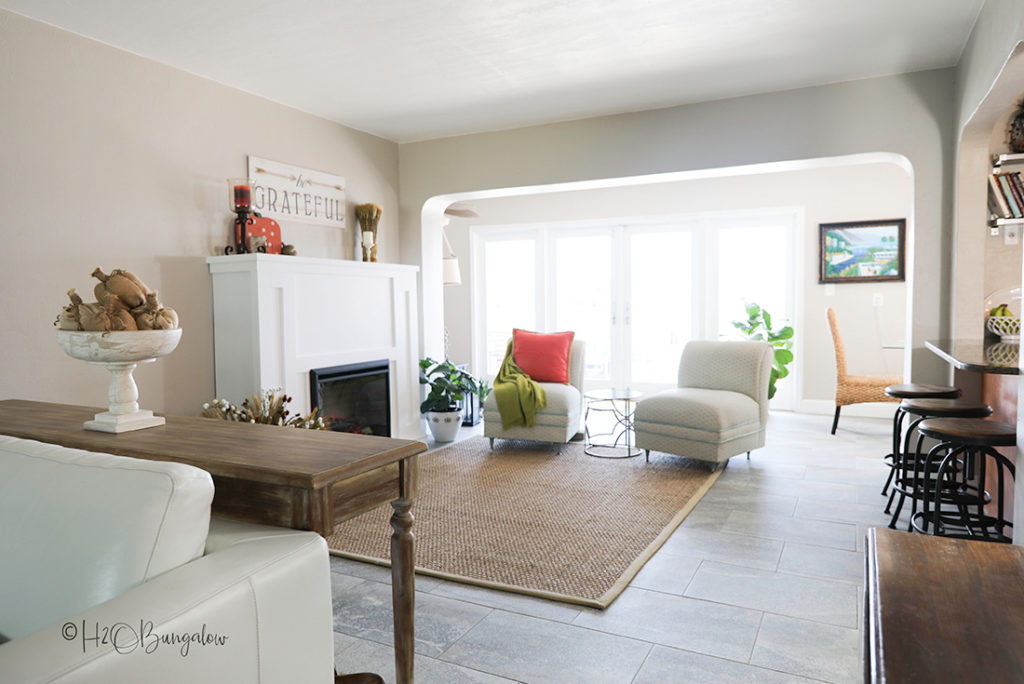 Living in an old house that's been modified a bunch of times can leave you with wonky spaces. Our challenges are a long living room that's 13 feet wide and 30 feet long, and a dinning area that is 7 feet wide.
This back wall was orange for the longest time! I just shared How to Paint Over Dark Colors . Look for more updates in this area soon!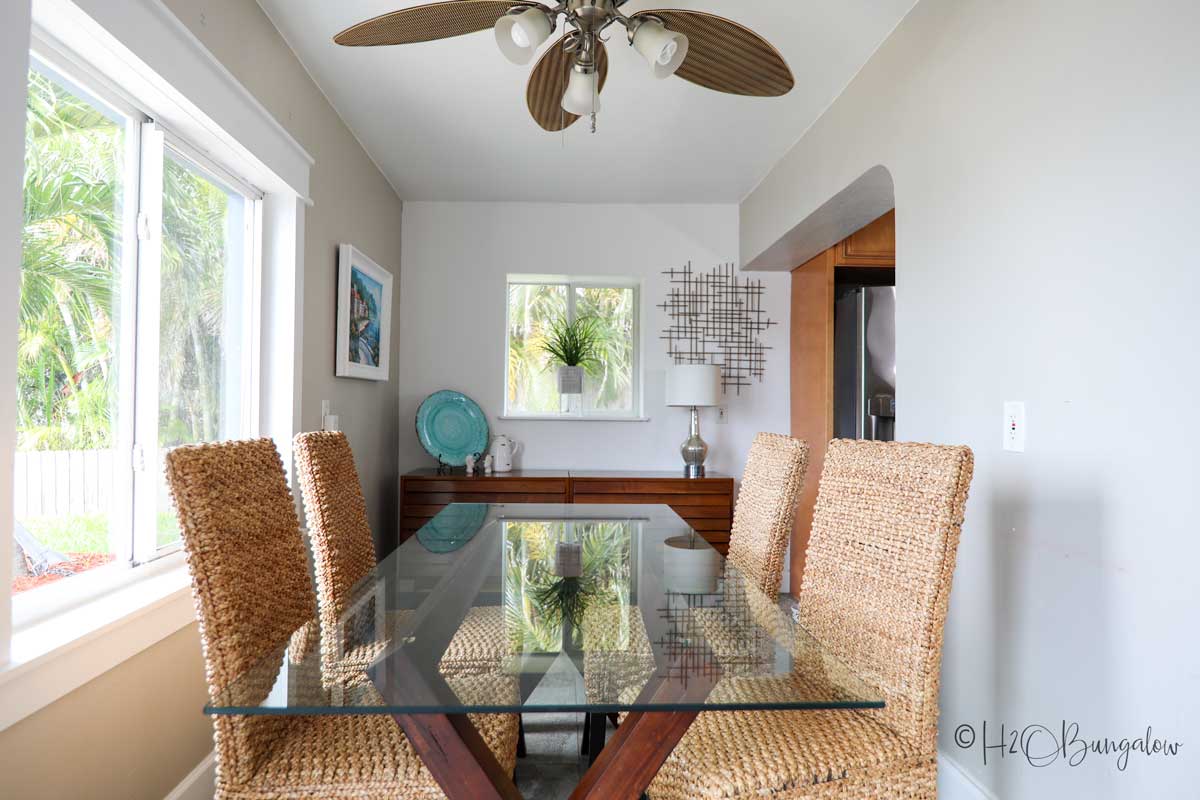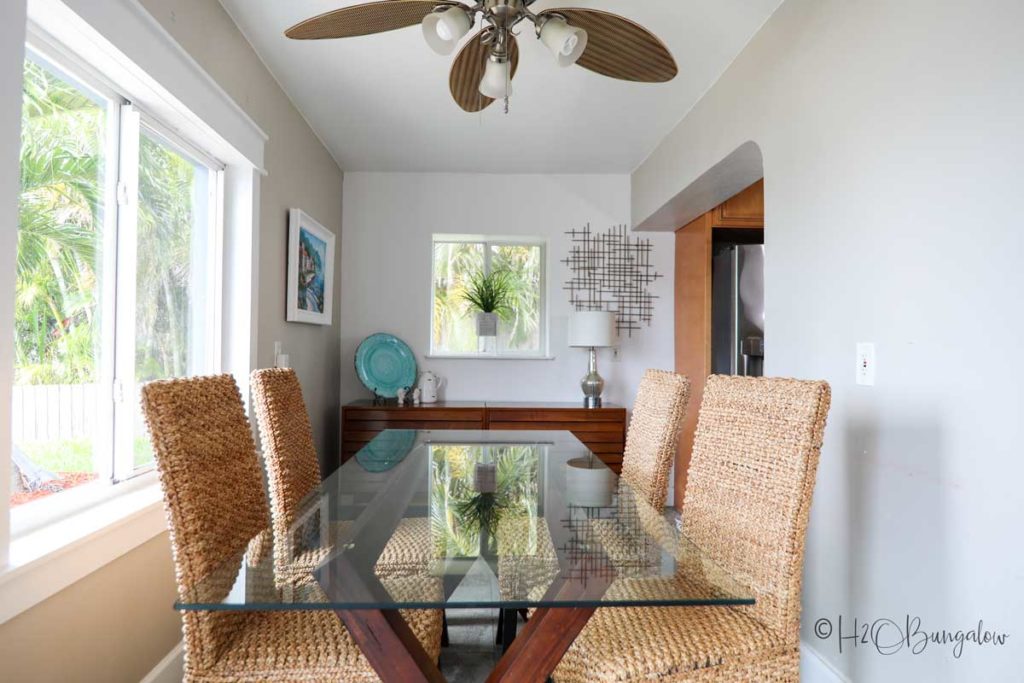 My kitchen is compact. What it lacks in space, I think it makes up for in style and functionality.
We moved the kitchen back to its original location and built a small island. It's a lifesaver, the long drawers on the other side hold my pots & pans, utensils and a wine fridge. I use this counter space for everything including my crafts:)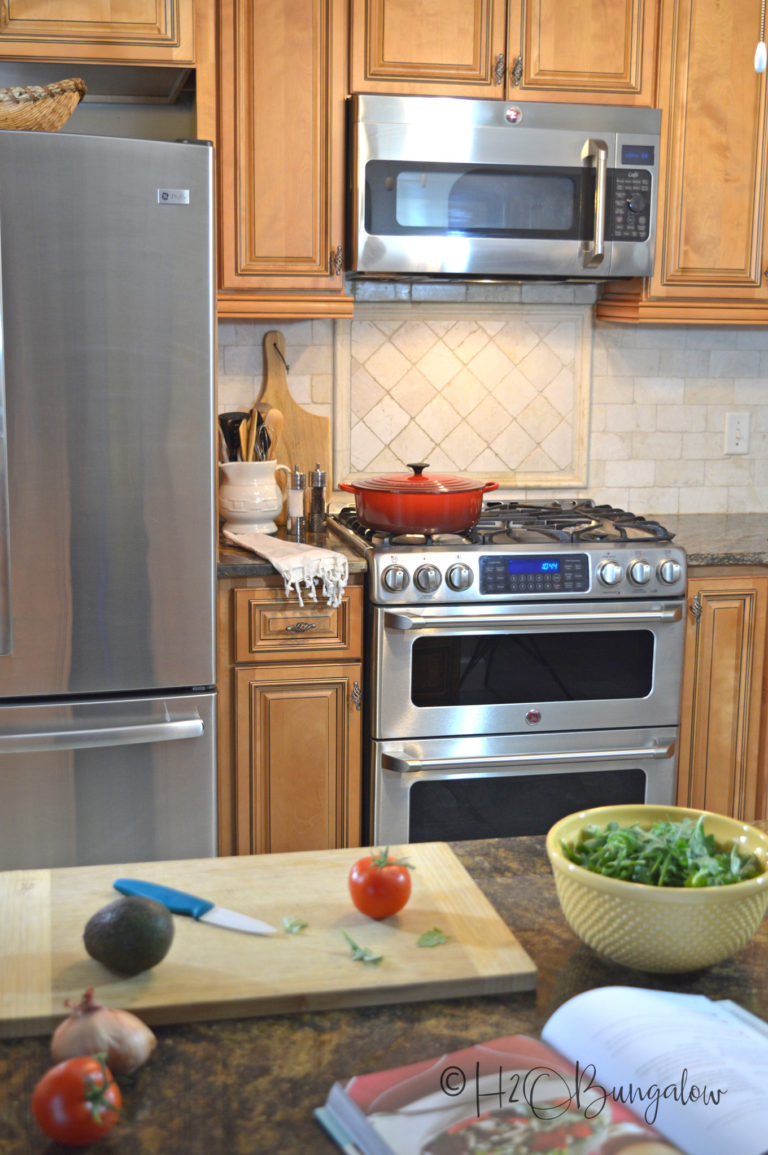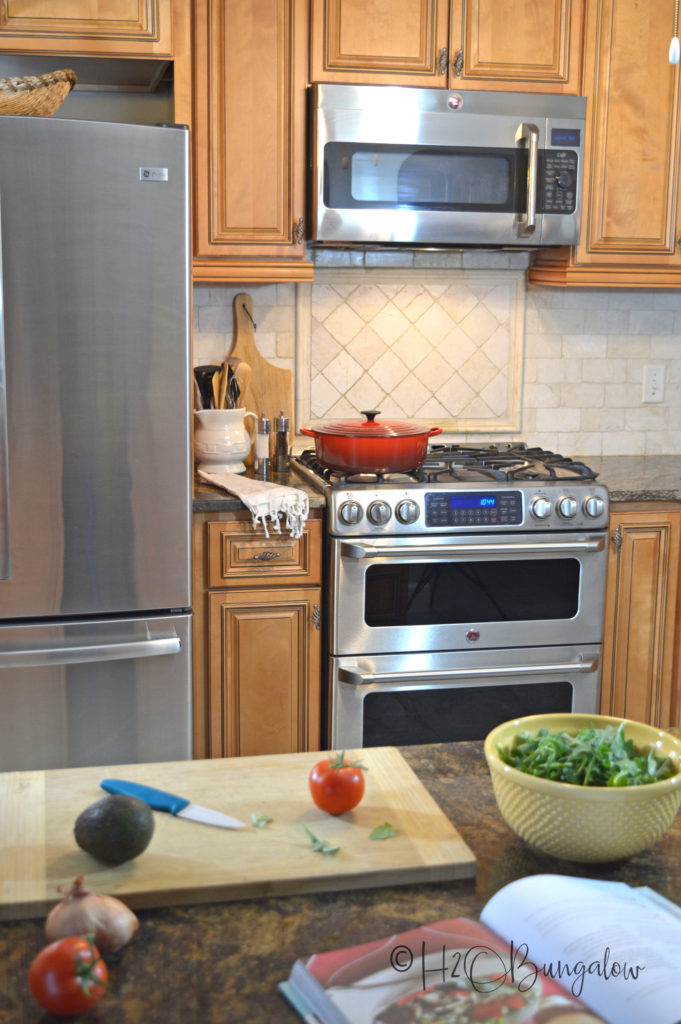 To help make the room feel bigger I installed the cabinets all the way to the ceiling. They are 36″ cabinets with crown molding and lighting trim at the bottom which gives the illusion of being much taller than they really are. I also moved them up 2″ from the standard cabinet height.
Small kitchens can still provide a lot of storage. I've organized this room to get the most useable space from every nook and cranny. Including adding extra shelves to my kitchen cabinets. The cabinets always look neat when I open them and it's easy to reach and get what I need.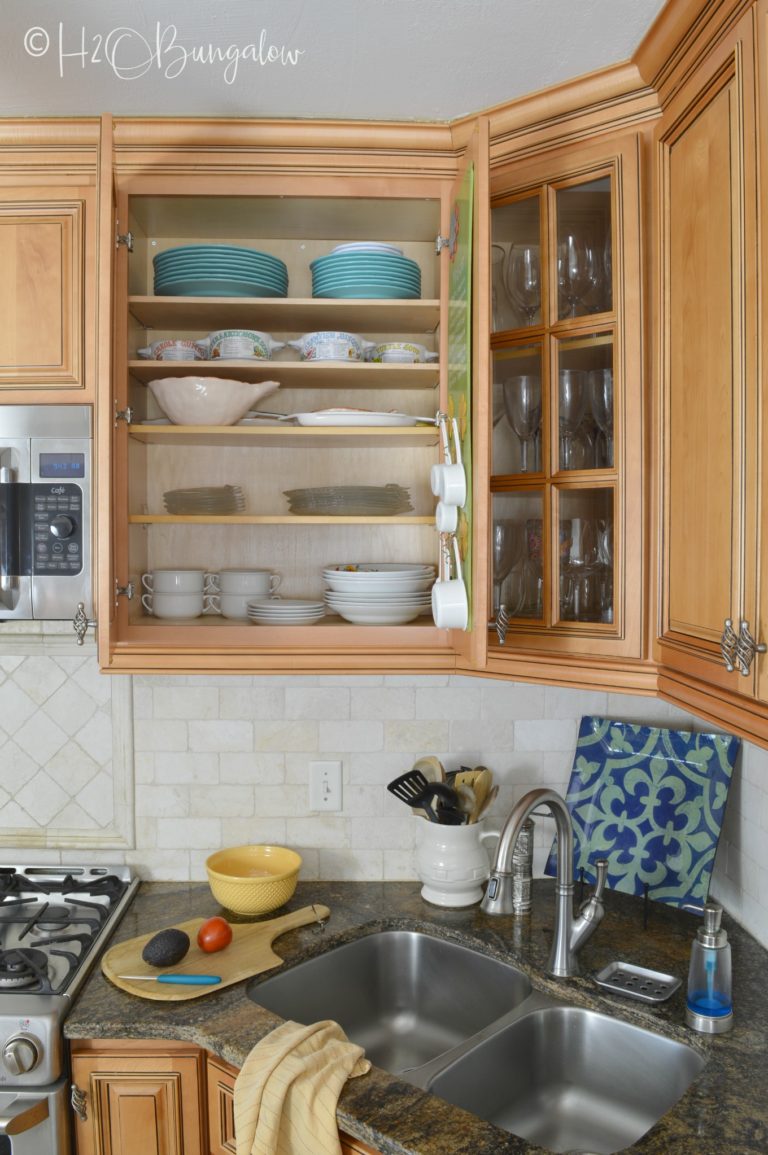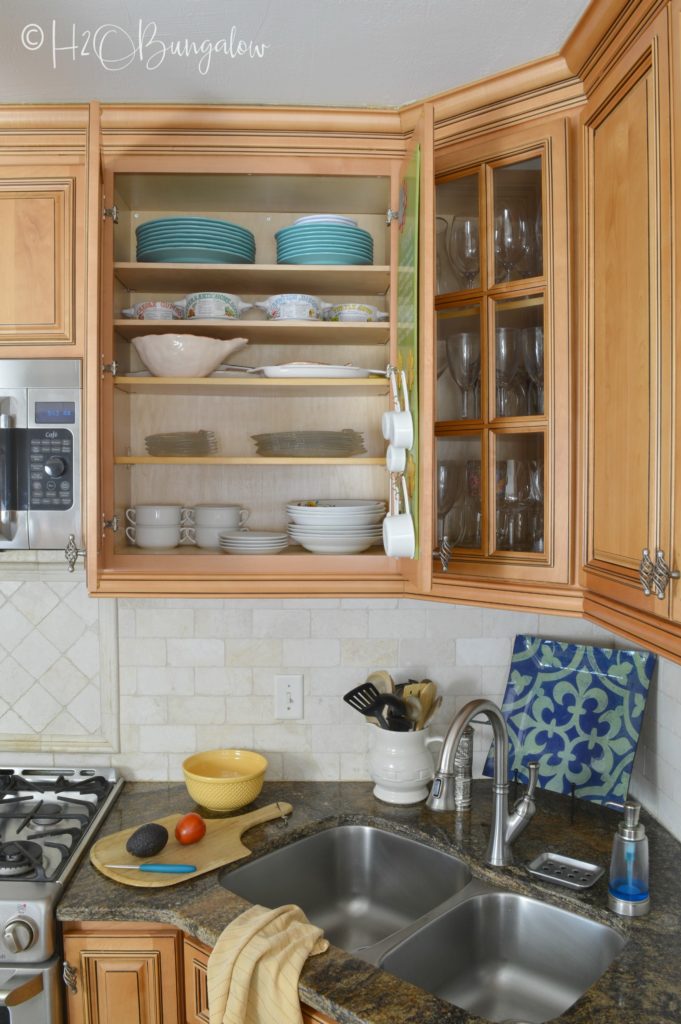 When a home has had lots of owners and a few additions over time, it begins to have odd spaces. I mentioned our dining area is 7 feet wide, well … there's a matching space on the other side of the room as well.
It was a perfect place to build a reading nook with industrial style bookshelves. We used chunky two inch slabs of fresh cut cypress and had custom steel brackets made to hold them. The slabs are fresh cut direct from a local saw mill. I wanted the rough wood cuts to be visible to add texture and character
I love my red leather comfy chair to sit and read… and it overlooks the water in our backyard. The Hanging Pendant Light is still a favorite project even though I made it years ago!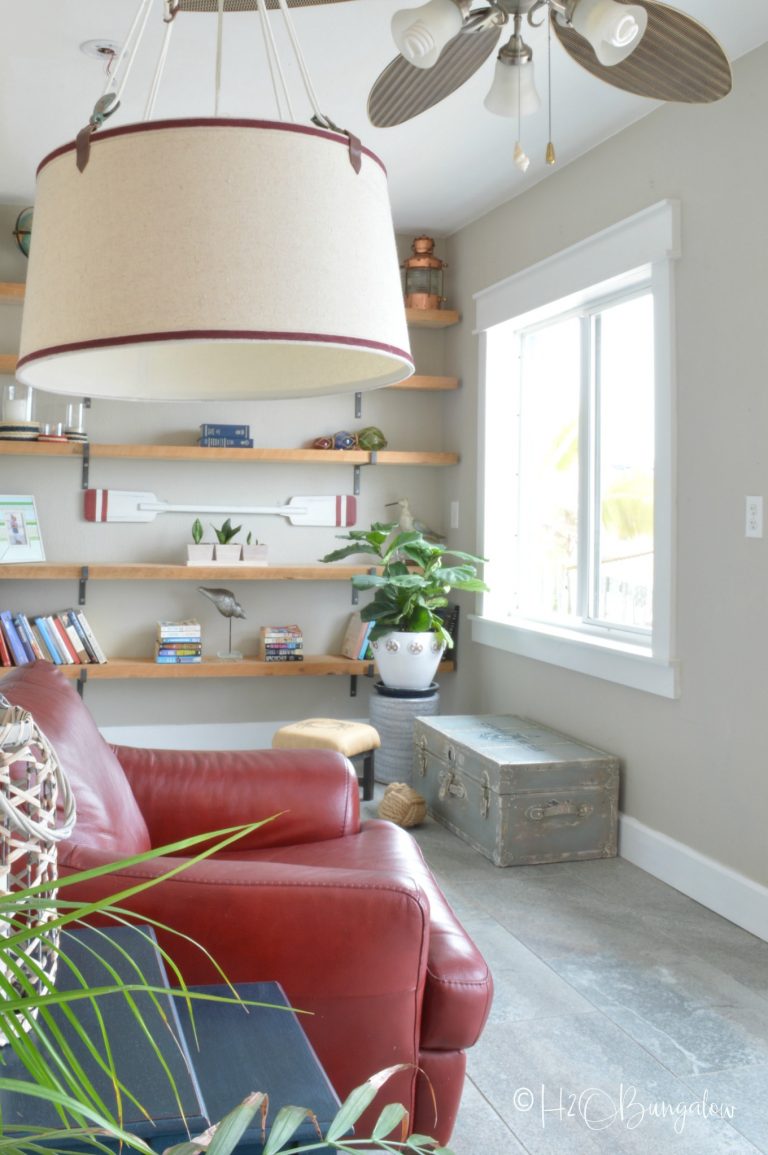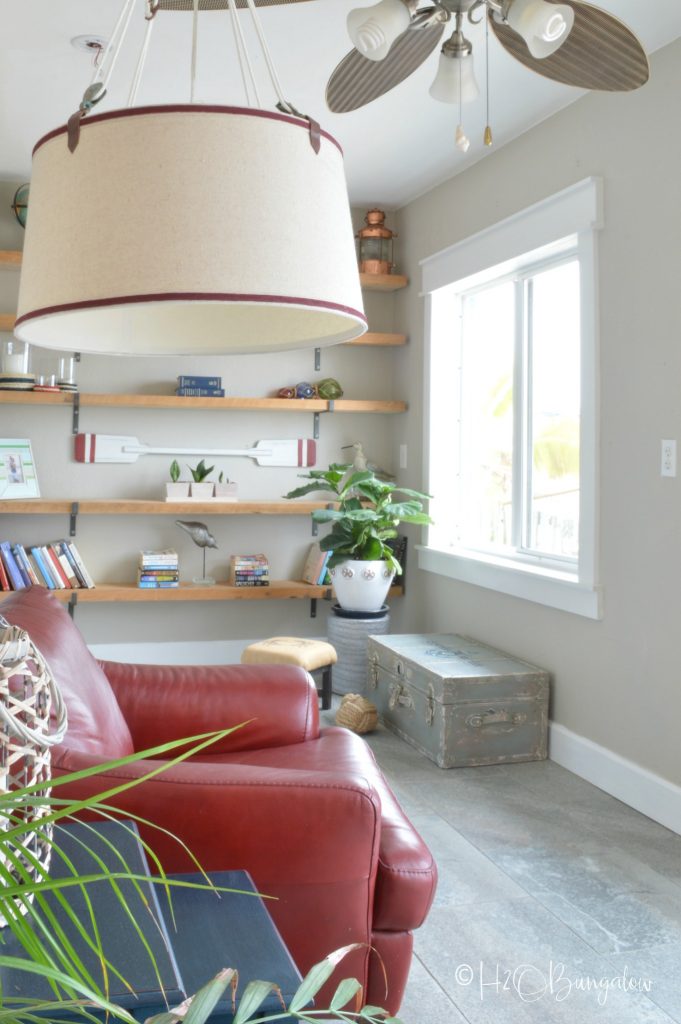 Our bedroom is just through the double doors. I changed the single to a double french door to have a water view from our room. I built our four poster contemporary bed out of maple and still love it more than anything I've seen elsewhere. Don't you love when that happens?
You can see a more of this room in my Modern Coastal Master Bedroom Makeover.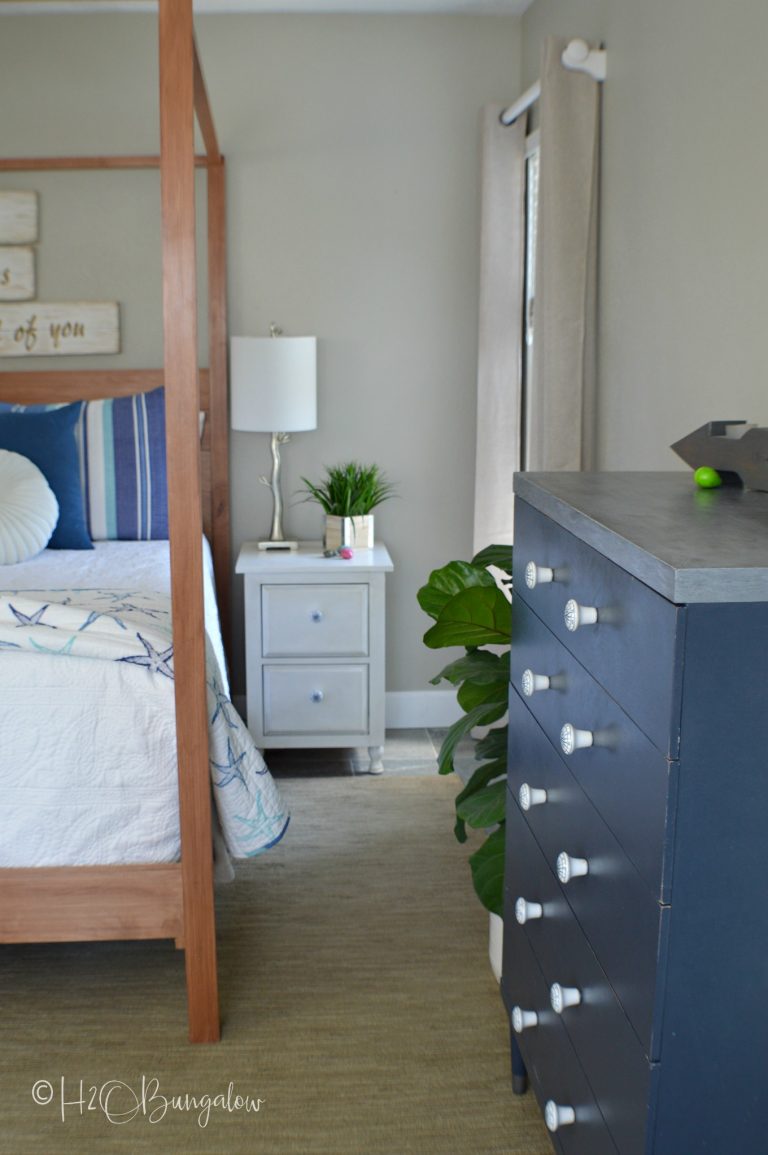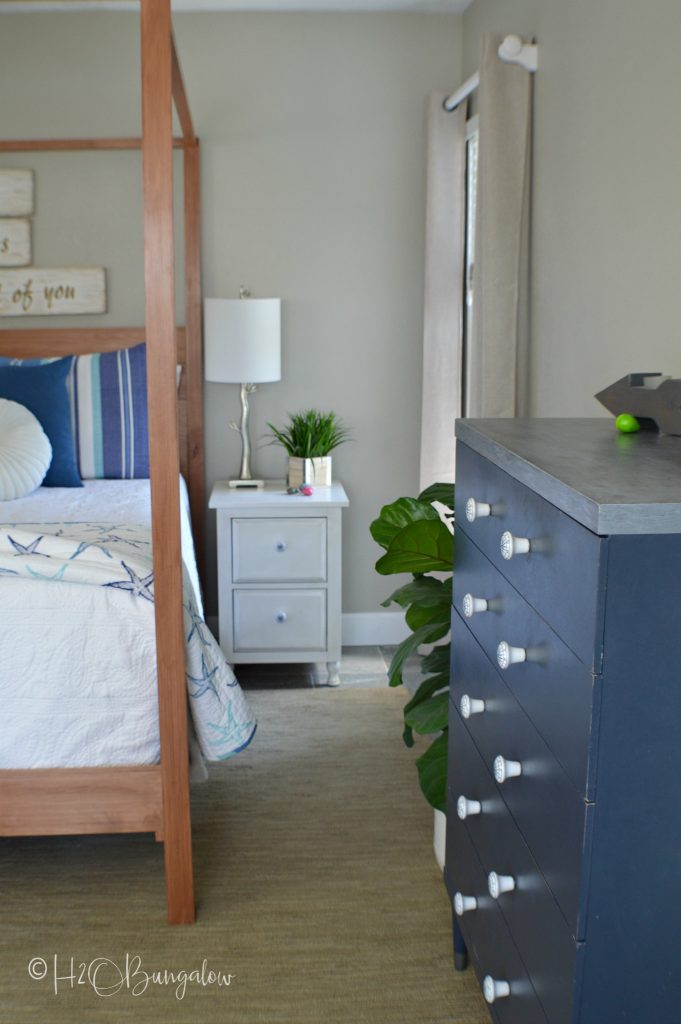 As you can tell from the pictures of my other bathroom renovations, I enjoy designing baths, and like them to have personality.
We tackled a small addition and gave ourselves a master bath, a closet and a little more space in our bedroom.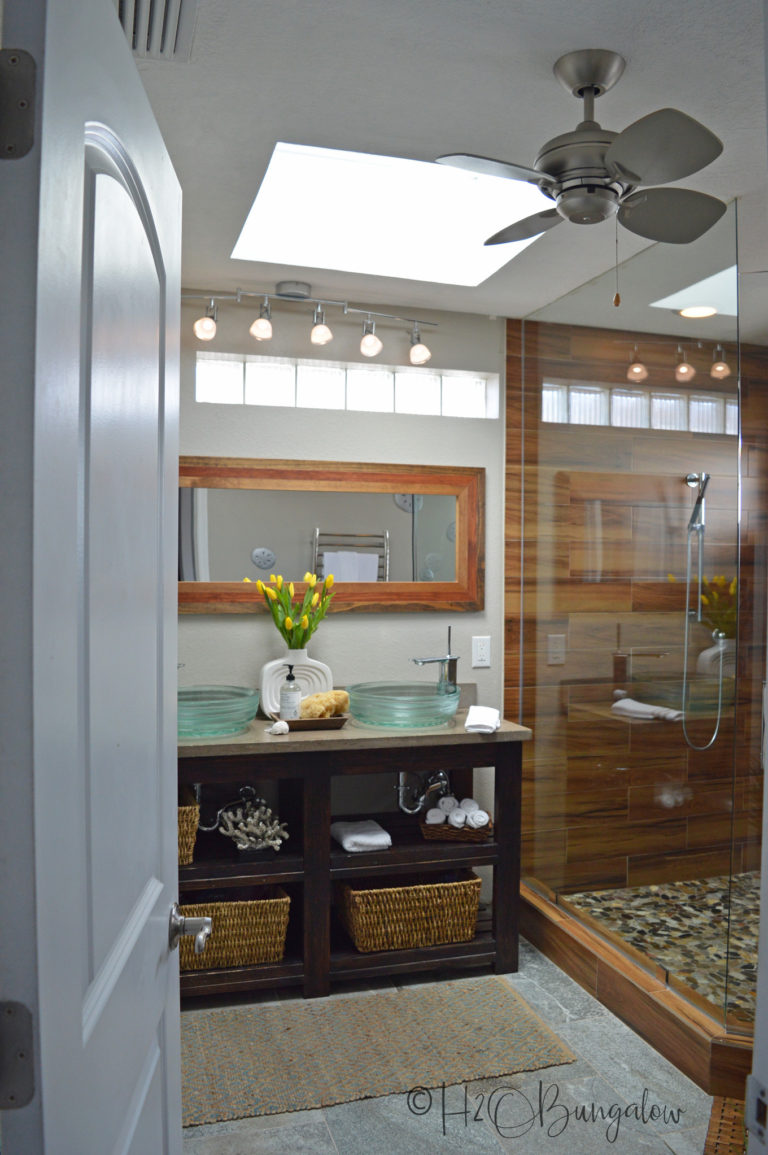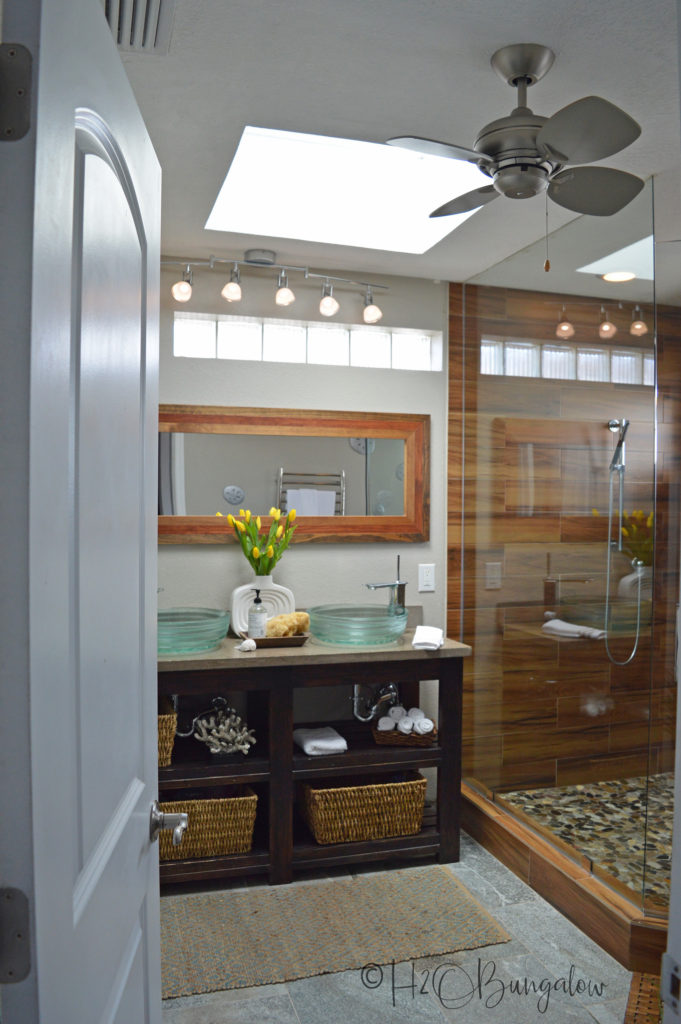 I had to give up my dream of adding a soaking tub since space was limited. I made up for it with an oversized luxurious shower design. The rain shower head is awesome!
I also wanted natural elements to be a big part of the design. DH and I built the Open Shelve Vanity and poured the concrete counter top ourselves. It came out pretty good, don't you think? I still love the rustic open shelves.
Later, I added the three layer modern rustic wood mirror above the vanity. I made it from an old over the door mirror the previous owners had left behind.
The last place I have to share is the reason we bought this home. We are avid sailors and water people. A home on the water was what my husband and I dreamt about having. When we moved to Florida it was the perfect opportunity.
I just finished my second backyard makeover. I feel like this area id finally coming together!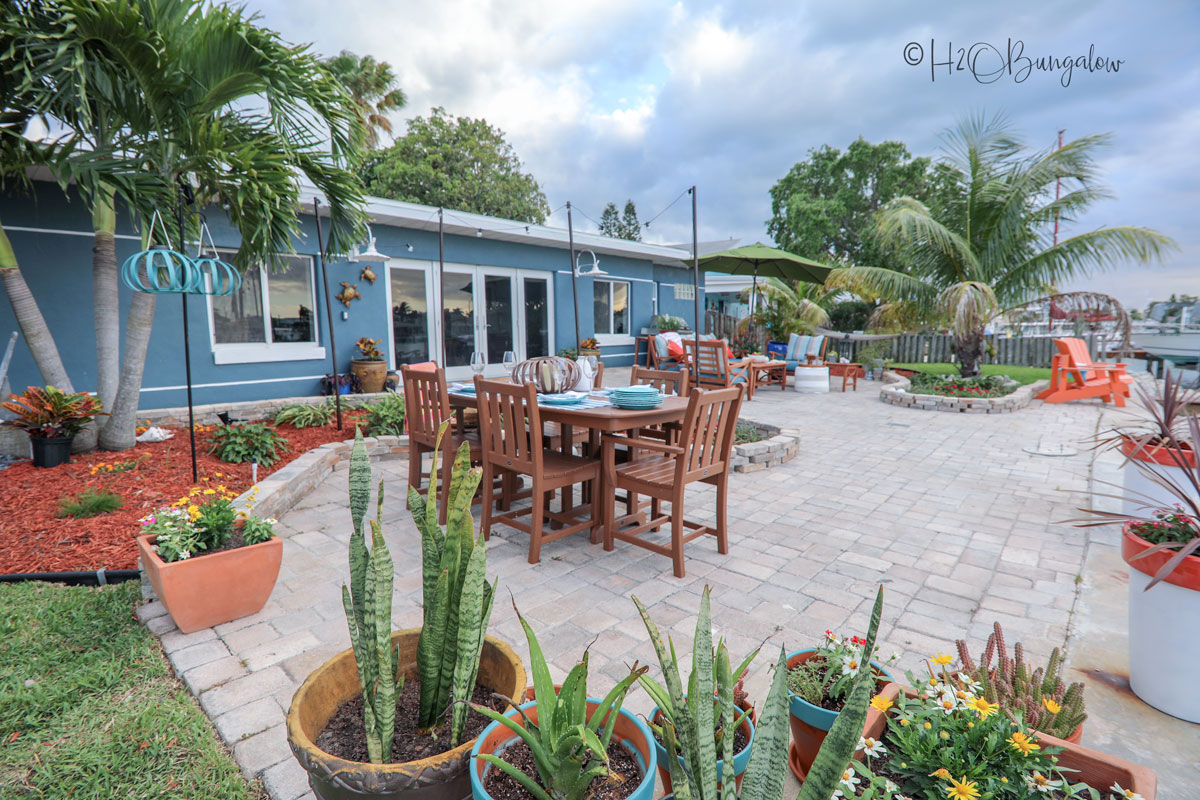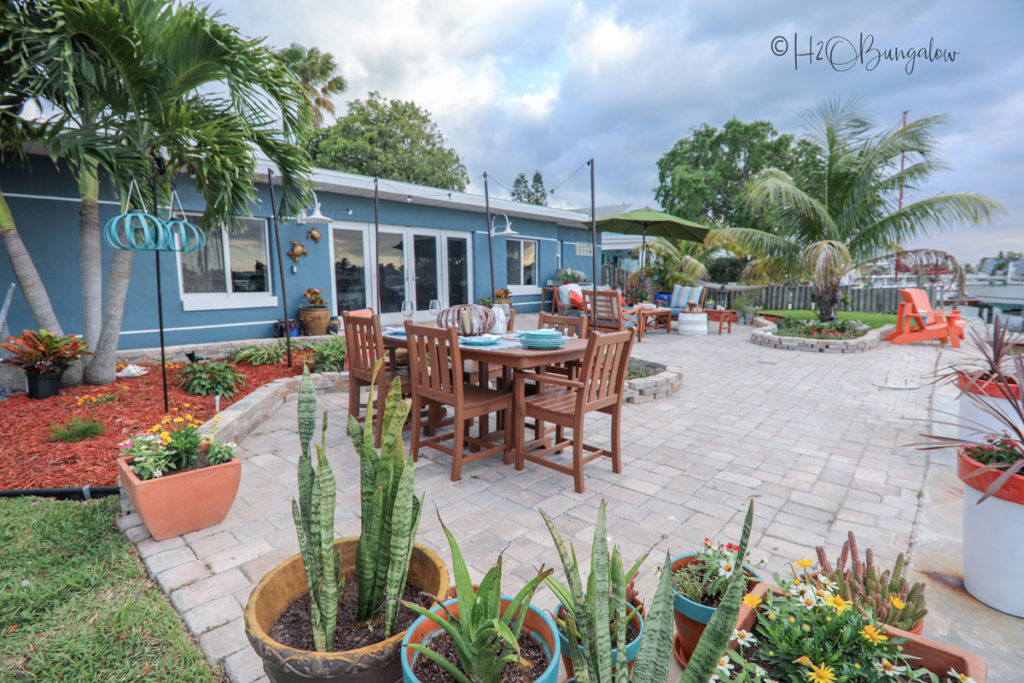 It was initially a wide open pavered area with no shade, no greenery. Basically hot and boring!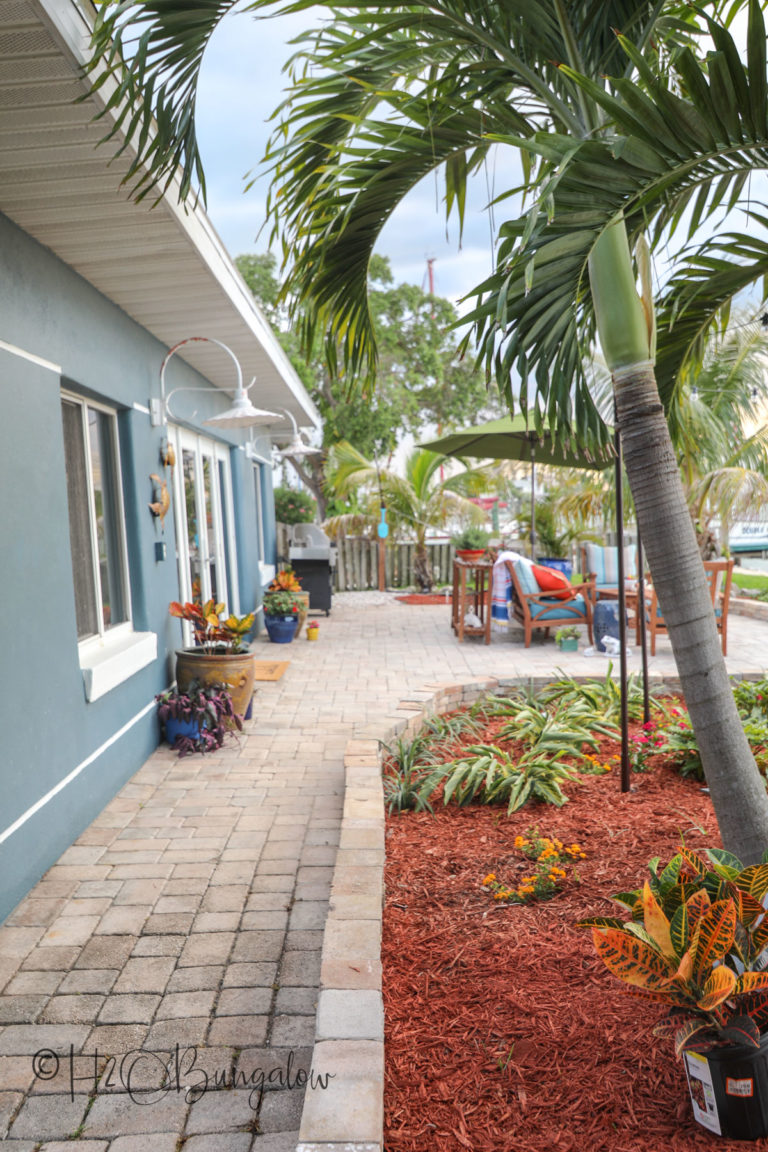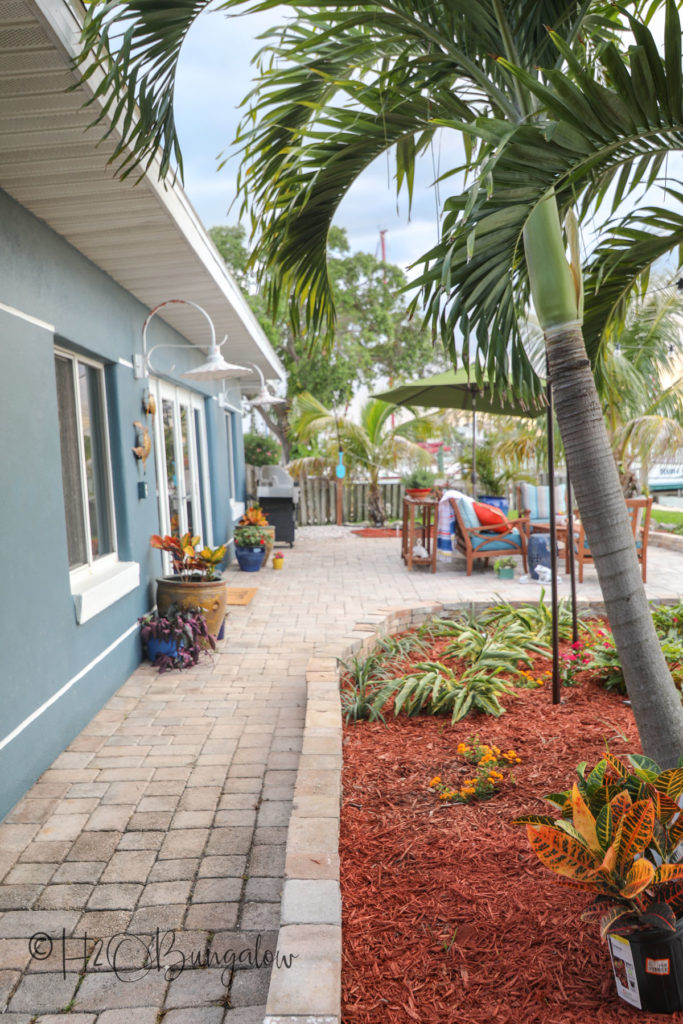 I created garden areas that would feel like mini-courtyards.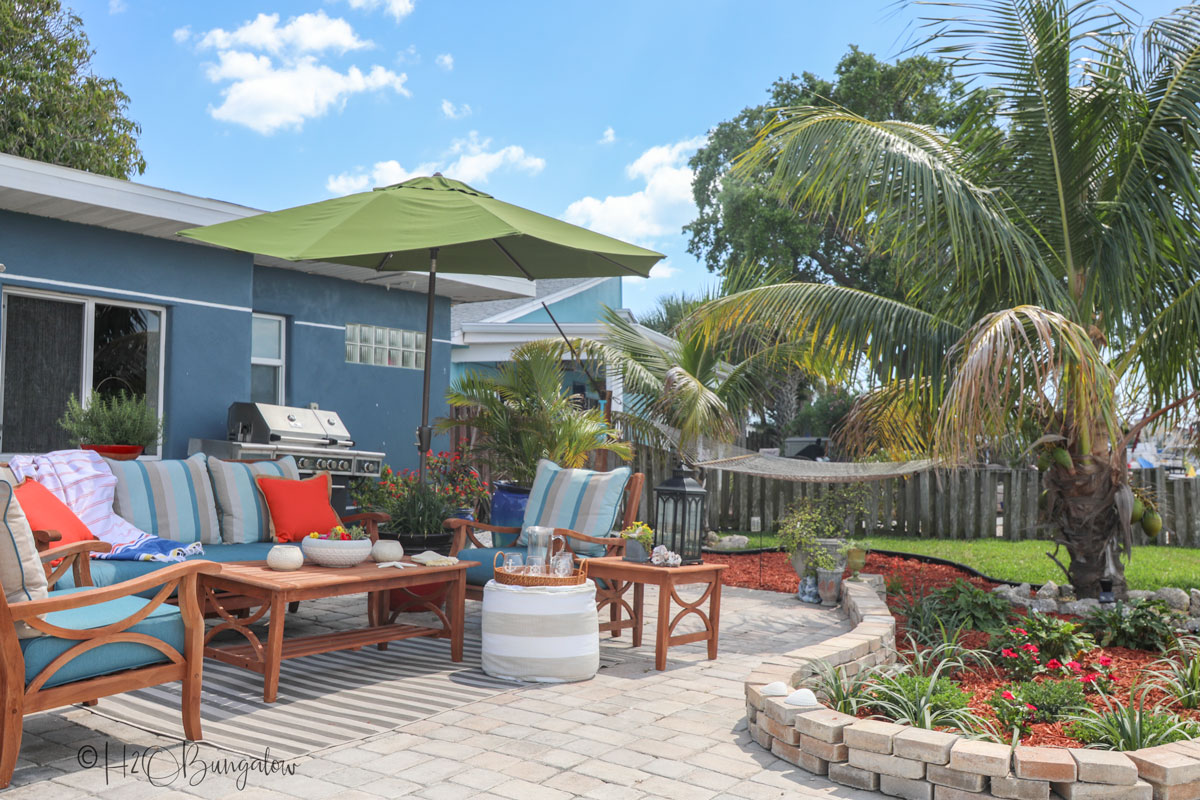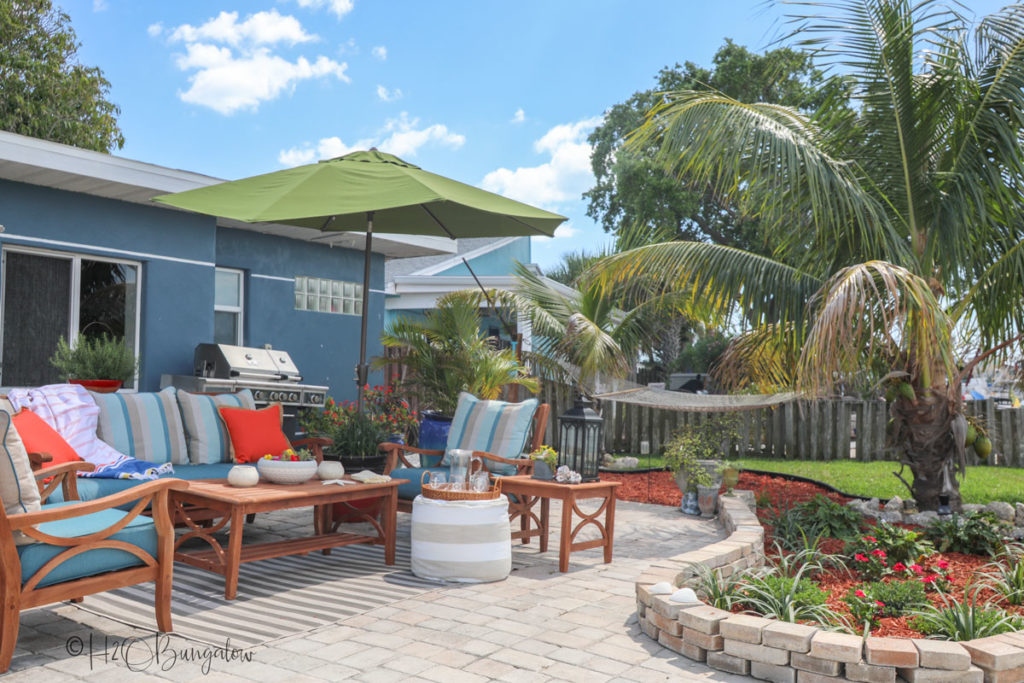 Separated the seating area from the dining area.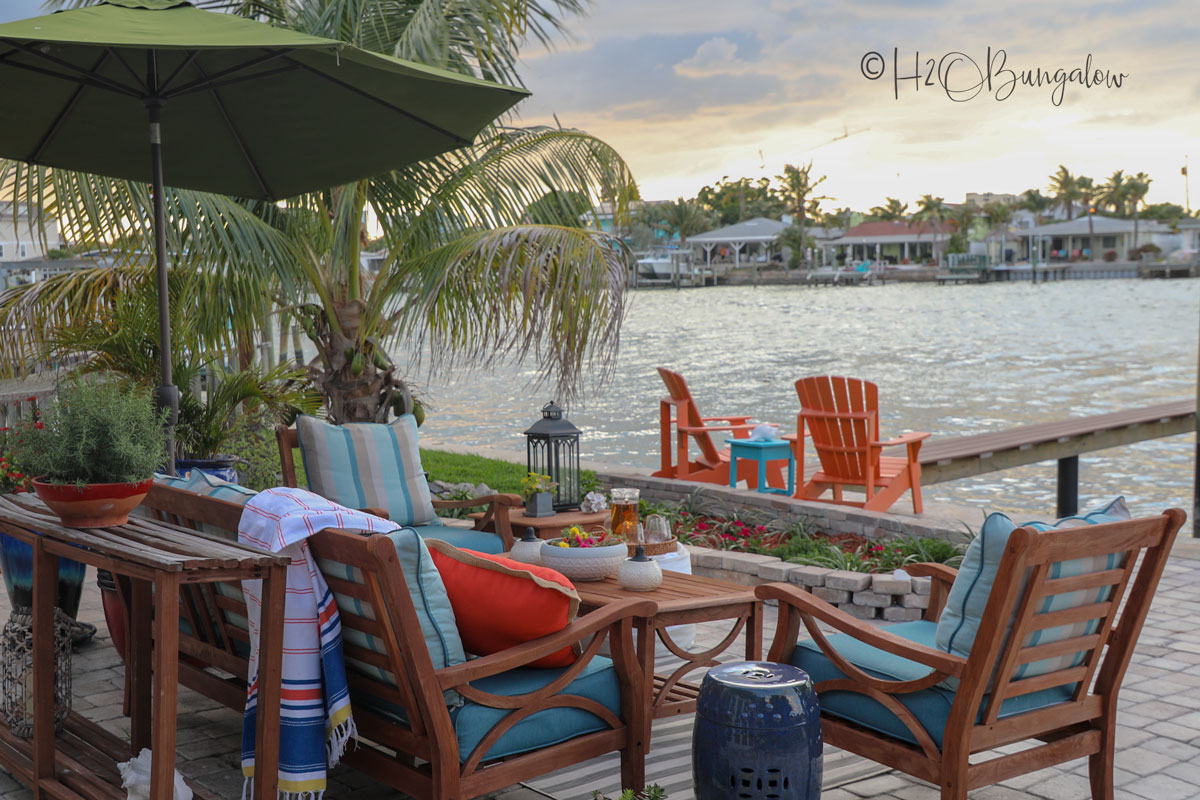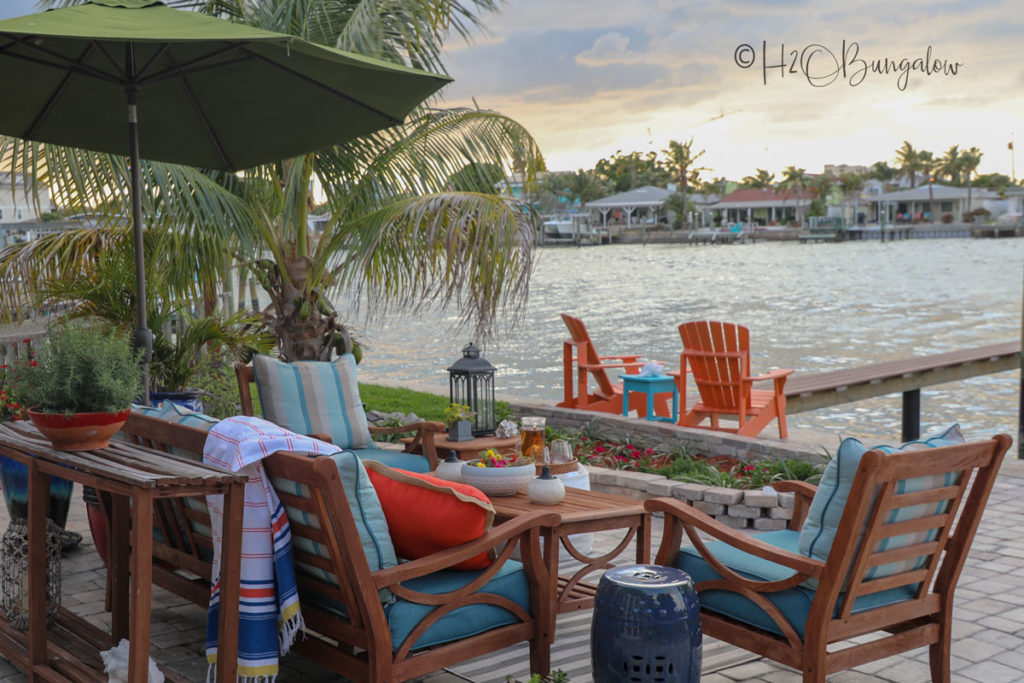 I'm happy I finally pulled the H2OBungalow home tour together. It's been nice to stop and take stock in how far we've come. I'm guessing that's something many of us don't do enough.
It's a house the day you move in and it takes time and love to make it a home 🙂
If you don't already subscribe, I'd love for you to subscribe to my blog. Inspiration comes from many places, sometimes we don't realize we can do something until we see it done elsewhere!
[embed_popupally_pro popup_id="5″]
Want to see more home tours in a different style? take a peek at our gorgeous Vermont boutique vacation rental places, the North House Lodge! Start here with #52 Pleasant Street home tour!